And it's empties time once again. For a pleasant change of pace, this month's empties is actually a big one! I used up a ton of products and I definitely made some discoveries. So grab a snack, turn on some tunes, and enjoy some empties!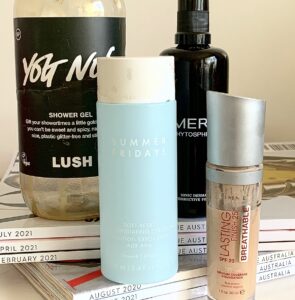 LUSH YOG NOG SHOWER GEL – Limited Edition
This is my second year of Yog Nog. And I have to say, I'm not sure that I'll be getting it again. This was a newer formula than the last time I got it and it's definitely not that same. It doesn't have the same creamy texture or the sweet, warm, cinnamony scent. Such a shame.
MERE PHYTOSPHERE IONIC DERMAL CORRECTIVE TONIC – $49.00*
I used this up a while ago now (I kept the bottle for reasons). And I have to say, I definitely miss it. The scent was delightfully herby and it was such a fine mist. I would definitely pick this up again!
SUMMER FRIDAYS SOFT RESET EXFOLIATING SOLUTION – $77.00
This was a weird one. It took me a while to get around to using it. But when I did, I flew through it. Definitely a toner that I would recommend for those people with skin that is already pretty tolerant to acids because it was pretty hardcore. But it did work for me and I would buy it again/
RIMMEL LASTING FINISH BREATHABLE FOUNDATION – discontinued
This is a legitimate shame. I utterly adored this foundation back in the day. And even though the shade range was garbage, I still had a soft spot in my heart for it. I did have it in my Project Pan. But it's way past it's use by date and every time that I tried to wear it, I had a bad makeup day. So, sadly we must depart.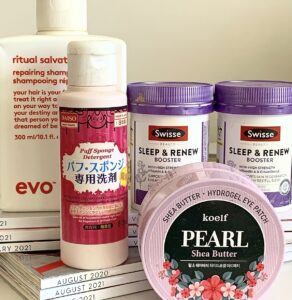 EVO RITUAL SALVATION REPAIRING SHAMPOO – $34.00
This smells really good and it did a great job at cleaning my hair! I would consider grabbing this again
SWISSE SLEEP & RENEW BOOSTER – $40.00*
Got the first pack of these in PR back in July. And I ended up loving them so much, I bought them again! I take these before bed and I find them to really help me relax and sleep a lot more easily. I have since repurchased again.
DAISO PUFF AND SPONGE DETERGENT – $2.80
I will own this forever.
KOELF PEARL HYDROGEL EYE PATCHES – $15.99*
Not bad. I kept these in my fridge and used them whenever my eyes were looking a little puffy. Would probably pick up again in the future.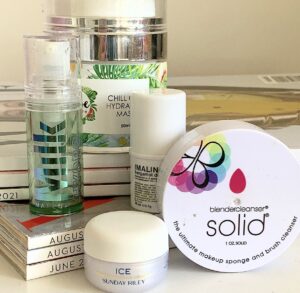 TRIBE CHILL OUT HYDRATING MASK – $65.00
This is such a great mask! Unlike a lot of moisturising masks, this is designed to be rinsed off. I would pop it on, leave it for 15 minutes and after I rinsed it off, my skin would be so plumped and hydrated. I know that Tribe is going through a rebranding (that launches today), so I'll have to pick this up again next winter!
MILK MAKEUP HYDROGROP PRIMER – $25.00
One of the best primers that I've ever tried. Will absolutely repurchase.
MALIN + GOTEZ BERGAMOT DEODORANT – $31.00
Sorry folks, but I just can't get the hang of 'natural' deodorants. I've tried heaps and none of them work as well as my Rexona cream. Still love Malin + Gotez though.
SUNDAY RILEY ICE CERAMIDE MOISTURISING CREAM – $93.00
Hey! My first Sunday Riley product! Sadly, I didn't like this one. It was the texture for me. It felt almost powdery as I was applying it to my face. And it wasn't nearly as hydrating as I would have liked. I am still interested in trying other things from Sunday Riley though.
BEAUTY BLENDER SOLID – $25.00
Is this overpriced for what it is? Yes. Is it good? Absolutely! I loved how soft this made my brushes. All the while getting them squeaky clean. I won't be repurchasing right now as I have picked up something else to clean my brushes with.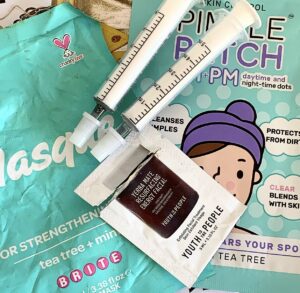 BRITE ORGANIX MASQUE – $10.00
A little heavy for my fine hair, personally speaking. But I am intrigued by this range.
SKIN CONTROL PIMPLE PATCHES – $9.00
I'm always going to have these in my cupboard. They are great! And they are special at Woolies this week!
SCOTT + SULLIVAN THE PEEL – $89.95*
Such a cool concept! The peel comes in a set of three and you're supposed to use half of the tube per week. It's loaded with a ton of skin loving ingredients. And when I use it, my skin feels incredible. I still have one to use up, but I would definitely pick these up again! A great little at home spa treatment
YOUTH TO THE PEOPLE YERBA MATE RESURFACING ENERGY FACIAL – $83.00
This one has been on my wishlist since it launched. And now that I've tried it, I have to have the full size! It's a very fine exfoliating scrub like texture that you apply to wet skin, leave for a few minutes, and then rinse off to soft, glowy skin. You will see this in my empties again soon!
And those are my August empties! I'm pretty proud of myself for finishing all of these (for the most part). And I'm so excited to see what September brings!
Cheers and love
Emily xo