Happy Tuesday everyone! I hope that everyone who got the day off yesterday enjoyed it. I've had the last few weeks off from work so I'm feeling particularly refreshed and relax. But I'm back on the blog today with a somewhat supersized empties! That's right. After months of putting it off, I finally made something of a dent in my obscenely large sample pile. I have a few other major empties to talk about too. So, let's not waste anymore time and jump into it!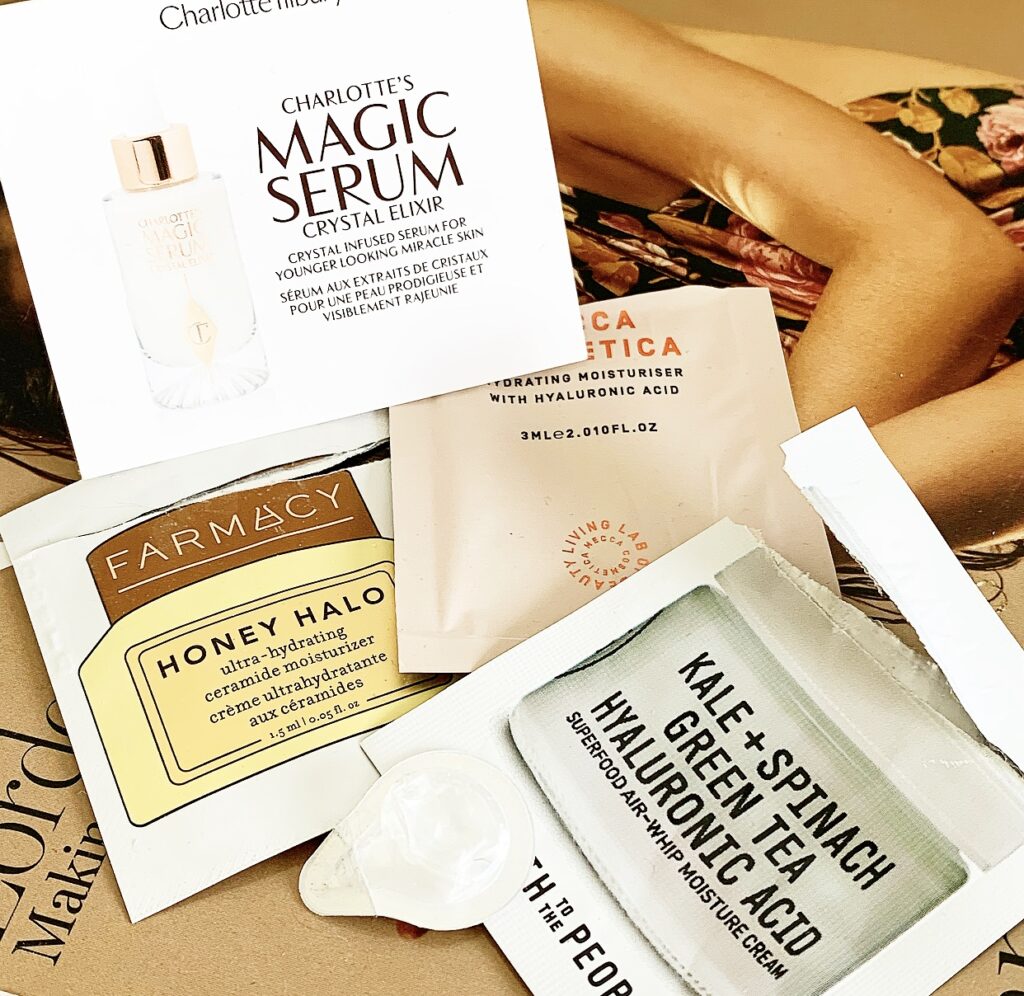 CHARLOTTE TILBURY MAGIC SERUM CRYSTAL ELIXIR – $110.00
Serum samples are always tough because you don't get nearly enough to say whether it works or not. This didn't break me out immediately after using. But I might have to try it a few more times.
MECCA COSMETICA HYDRATING MOISTURISER – $50.00
As you will quickly see, I used a ton of moisturiser samples in April. And out of all of the ones I finished, this will probably be the first I pick up in the full size. Such a lovely formula. Not too thick, not too thin. And super hydrating! Definitely worth seeking out.
FARMACY HONEY HALO ULTRA HYDRATING CERAMIDE MOISTURISER – $45.00US
This one, admittedly, didn't stick out to me that much. I remember the formula being on the balmier side. But that's it. Apparently Farmacy isn't being sold at Sephora Australia anymore either.
YOUTH TO THE PEOPLE SUPERFOOD AIR-WHIP MOISTURE CREAM – $74.00
I've had a few samples of this in the past and while I like it, I like the Adaptogen Cream better.
WISHFUL SKIN THIRST TRAP JUICE SERUM – $72.00
Another one that I've had multiple samples of. This is actually a goodie! Very underrated in the Wishful line.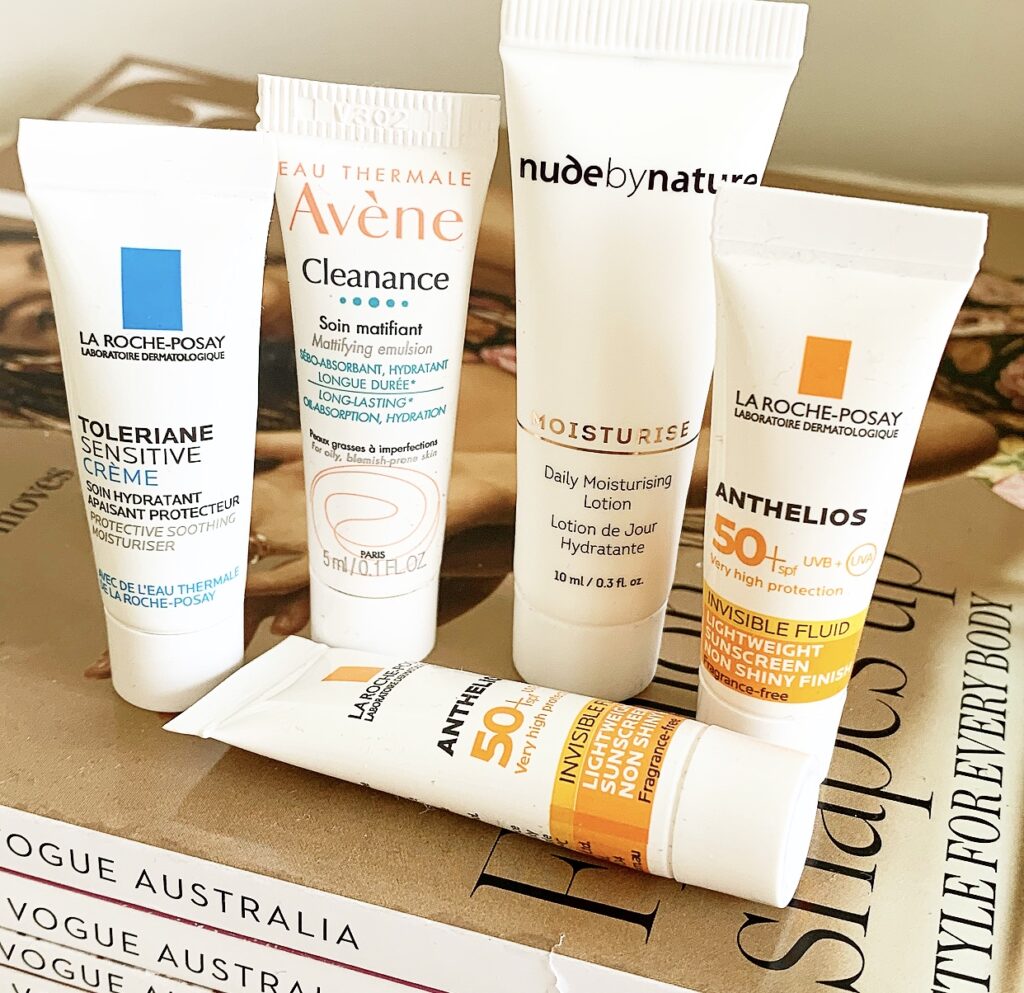 LA ROCHE POSAY TOLERIANE SENSITIVE CREME – $31.99
Nothing special. But not terrible by any means. La Roche Posay makes damn good skincare.
AVENE CLEANANCE MATTIFYING SOLUTION – $28.99
This one was actually pretty cool. And if you have oilier skin, definitely worth looking into. It somehow hydrates and mattifies at the same time.
NUDE BY NATURE DAILY MOISTURISING LOTION – $39.95
This was awful. And by far, the worst of the moisturisers that I tried this month. This took way too long to soak into the skin and left said skin feeling chalky.
LA ROCHE POSAY ANTHELIOS SPF 50+ INVISIBLE FLUID – $33.99
I completely forgot that I haven't tried this one before! The formula of this is so liquidy. But it's super easy to apply. And it wears well under makeup too.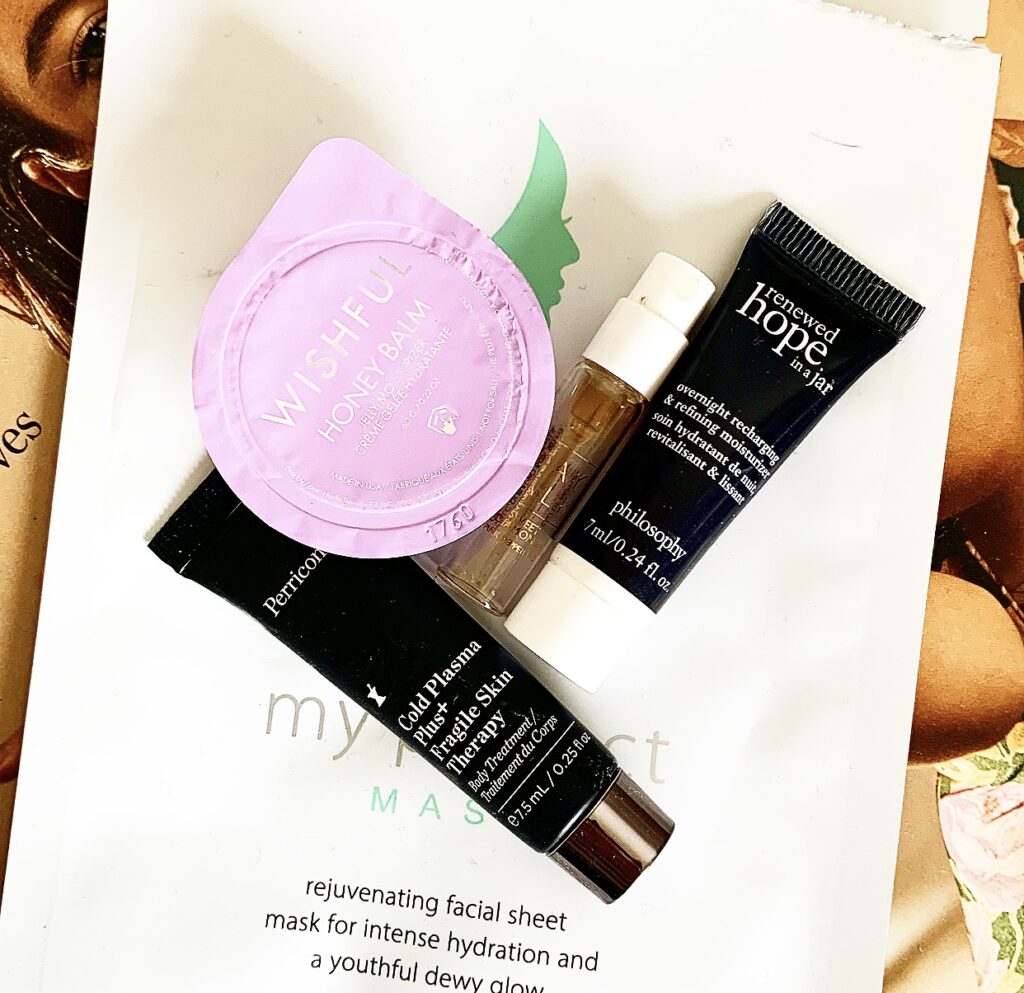 MY PERFECT COSMETICS MY PERFECT MASK – $49.99 for a pack of 3
First of all, I had no idea the mask was that much! Woah! But as far as the actual mask was? It was pretty good! I do enjoy a good sheet mask and I should do them more often.
WISHFUL SKIN HONEY BALM JELLY MOISTURISER – $66.00
This was another moisturiser that stood out to me. The formula was quite balmy and cool. The only thing that held it back was that the scent of lavender was really strong. I might look into the other honey moisturiser in this line.
KAYALI SWEET DIAMOND PINK PEPPER – $153.00
Love this! Obsessed with this! Already have the 50ml!
PERRICONE MD COLD PLASMA PLUS FRAGILE SKIN THERAPY – $73.00
This was fine, I guess. It's meant to be a body treatment. The sample covered one and a half arms.
PHILOSOPHY RENEWED HOPE IN A JAR OVERNIGHT MOISTURISER – $70.00
The most recent moisturiser that I finished up. Again, nothing special. But not bad either.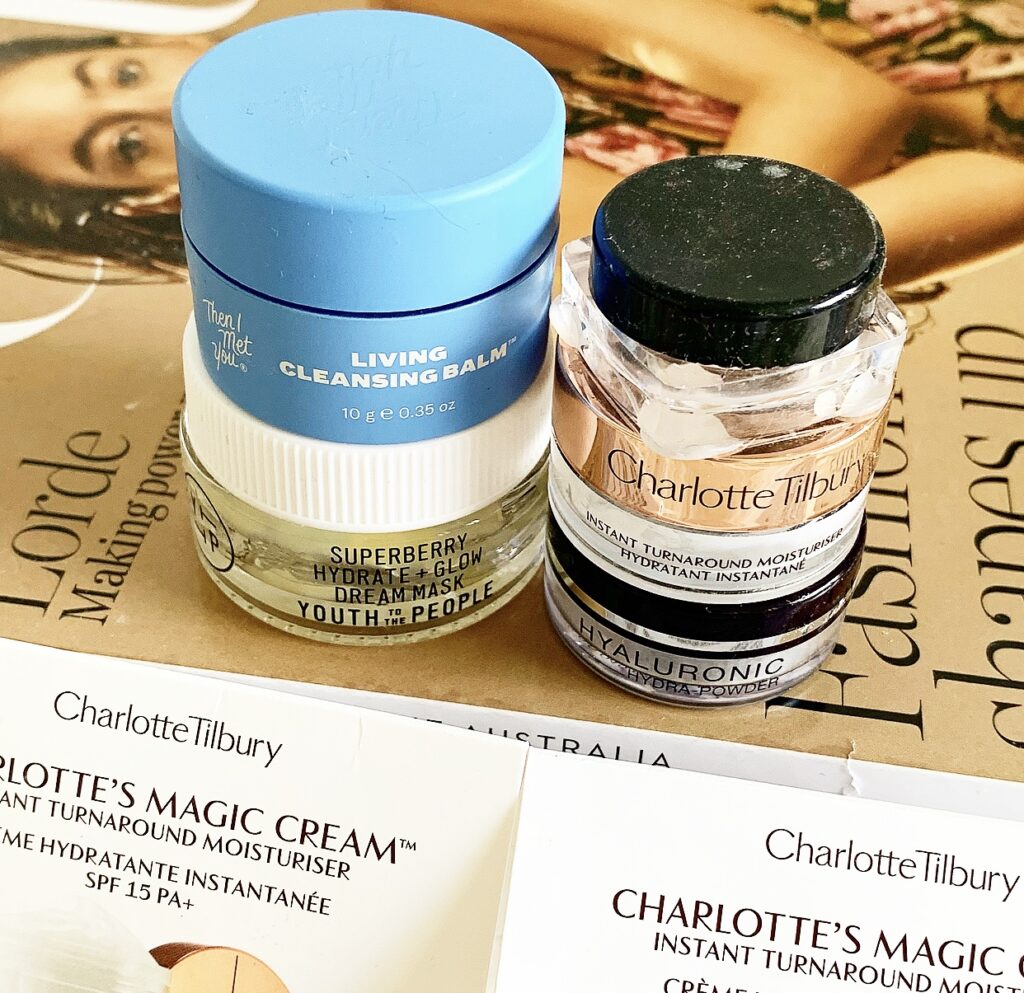 CHARLOTTE TILBURY CHARLOTTE'S MAGIC CREAM – $125.00
OK, this is my confession. I fucking love the Magic Cream. It's a pot of Gardenia scented heaven and I cannot get enough of it. This is the other moisturiser that I plan on picking up when I've finished my backlog.
THEN I MET YOU LIVING CLEANSING BALM – $73.26
I really didn't want to like this one as much as I do. Because it's expensive and hard to get a hold of. But if I ever saw it available and I didn't have a backlog of balms, I would buy this. It's gentle, yet it breaks down all of my makeup with ease.
TBH SKINCARE THIRST TRAP MOISTURISER – $39.00
I think out of the two TBH products that I have tried recently, I would be more inclined to pick up the sunscreen over the moisturiser. That's not saying that the moisturiser is bad by any means. But I enjoyed the consistency and texture of the sunscreen more.
YOUTH TO THE PEOPLE SUPERBERRY HYDRATE + GLOW DREAM MASK – $74.00
This took me an embarrassingly long time time to finish. And now that I have, I will be picking it up again in the future. It was precisely what my skin needed. Especially now that winter is quickly approaching.
BY TERRY HYALURONIC HYDRA POWDER – $89.00
Full disclosure, I haven't finished this per say. I did, however, add this to my loose powder cocktail. It does feel cool, though. Very silky smooth.
KLORANE DETOX DRY SHAMPOO – $15.99
Delightful scent aside, I still like Batiste better.
ERE PEREZ QUANDONG GREEN BOOSTER SERUM – $50.00*
You know, I was really enjoying this serum. I loved the vivid green colour and it was so lovely and soothing on the skin. Which is why it was such a shame when my asshole cat knocked it off the sink and spilled two thirds of it on my bathroom floor. Still mad.
THE INKEY LIST SALICYLIC ACID CLEANSER – $19.00*
In all honesty, if it was 8-10 years ago, I think I would have really loved this cleanser. But It's not really for me now. The Inkey List has another cleanser that I'm enjoying a lot more.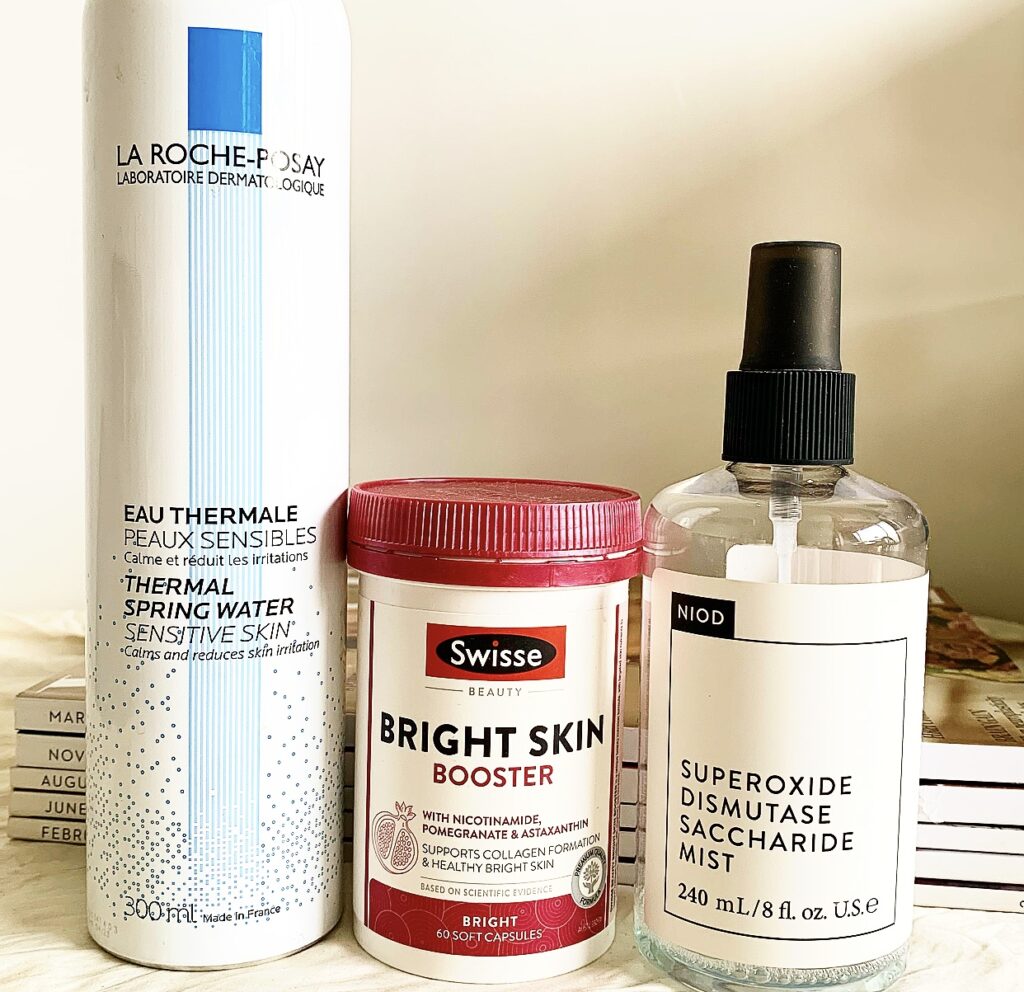 LA ROCHE POSAY THERMAL SPRING WATER – $25.99
My happy spray. I would use this between my serums and my moisturiser to add some moisture to my skin.
SWISSE BEAUTY BRIGHT SKIN BOOSTER – $40.00
I don't think that I used these consistently enough to see any real difference in my skin. But I have repurchased them to test them properly. Stay tuned.
NIOD SUPEROXIDE DISMUTASE SACCHARIDE MIST – $75.00
The hype is real. Get it!
And those are my April Empties! Now, go get yourself a snack and a coffee because you have earned your break. Have a happy rest of your week. And more importantly, Happy May!
Cheers and love
Emily xo