Quick question? Who else is freezing their little tail feathers off? Because I know it's not just me. In any case, now that's it's getting cooler, my skincare tends to change up in a big way. And seeing as it's been around a year since I last shared with y'all what my routine looks like. I figured it was high time to share it with you all today!
Now, before I get into the products that I use, a quick little note to answer one of the bigger questions that I got last time. Unlike my morning routine (which is pretty straightforward), my nighttime routine varies quite a bit. My first few steps are the same, for sure. But I do different things on different nights. A quick example, this is what my weekly evening routine looks like at the moment.
MONDAY – first cleanse, second cleanse, tone, repairing serum, lactic acid, eye cream, moisturiser
TUESDAY – first cleanse, second cleanse, mask, tone, repairing serum, eye cream, moisturiser
WEDNESDAY – first cleanse, second cleanse, tone, repairing serum, retinol, eye cream, sleeping mask
THURSDAY – first cleanse, second cleanse, mask, tone, repairing serum, eye cream, moisturiser
FRIDAY – first cleanse, second cleanse, tone, repairing serum, eye cream, sleeping mask
SATURDAY – first cleanse, second cleanse, tone, repairing serum, retinol, eye cream, sleeping mask
SUNDAY – first cleanse, second cleanse, mask, tone, repairing serum, eye cream, moisturiser
Some of the days appear similar, but I'll change up the products I use throughout the week frequently. Just to keep up with the products I have in my collection. Speaking of products, let's chat about what I'm currently using in my routine.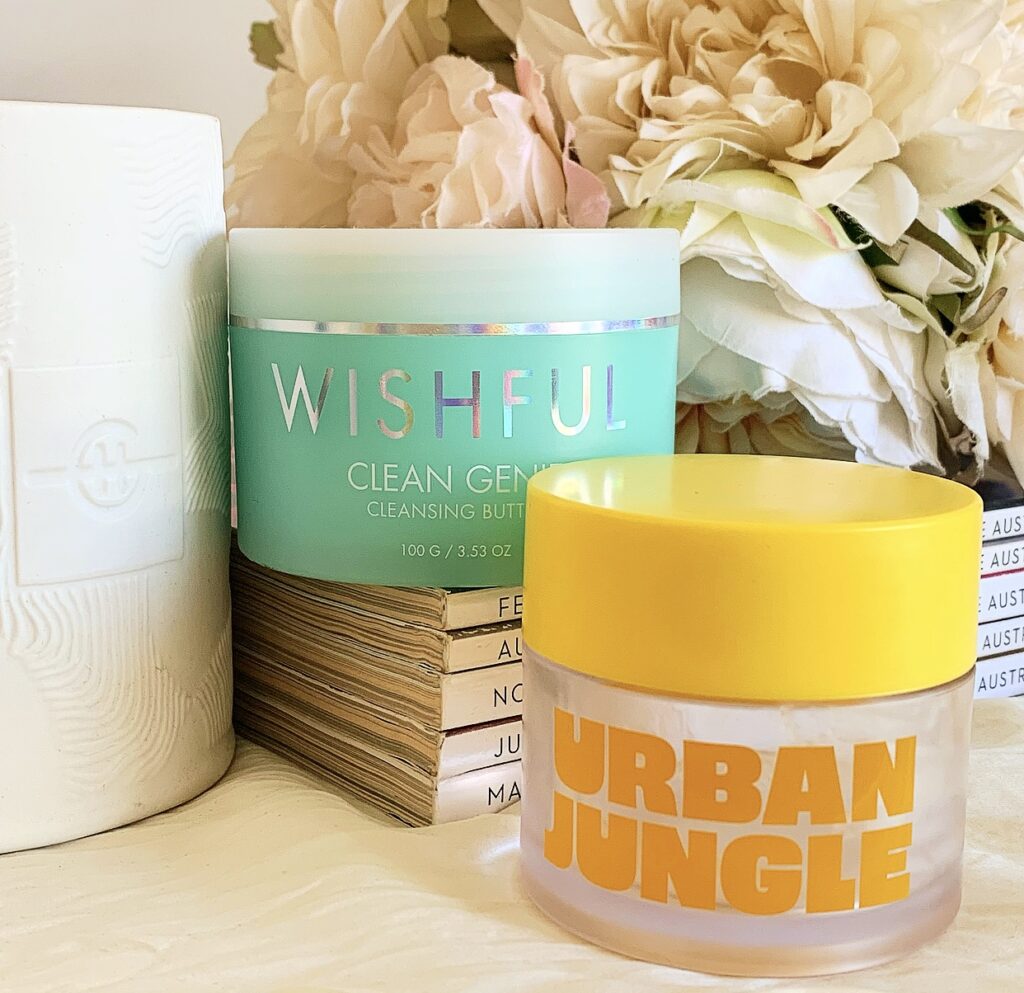 FIRST CLEANSE
Ok, my first actual step in my evening routine is brushing my teeth (a good tip for those who break out around the mouth, brush teeth, then cleanse). Then I move onto the skin. I pretty much always use some kind of oil based cleanser as my first cleanse. And I just finished the URBAN JUNGLE MELT ME SOFTLY CLEANSING BALM – $36.00*. I'll go more in depth on my feelings about this one in my empties. But this is a sunflower seed and chamomile oil based cleanser that broke down my makeup nicely.
The balm cleanser I'm using now is the WISHFUL CLEAN GENIE CLEANSING BUTTER MAKEUP REMOVER – $54.00. I've only used it a few times at the time of writing. But if you prefer a softer, creamier texture for your cleaning balms, this might be one to look into. After I remove my makeup, I'll jump into the shower to do shower things.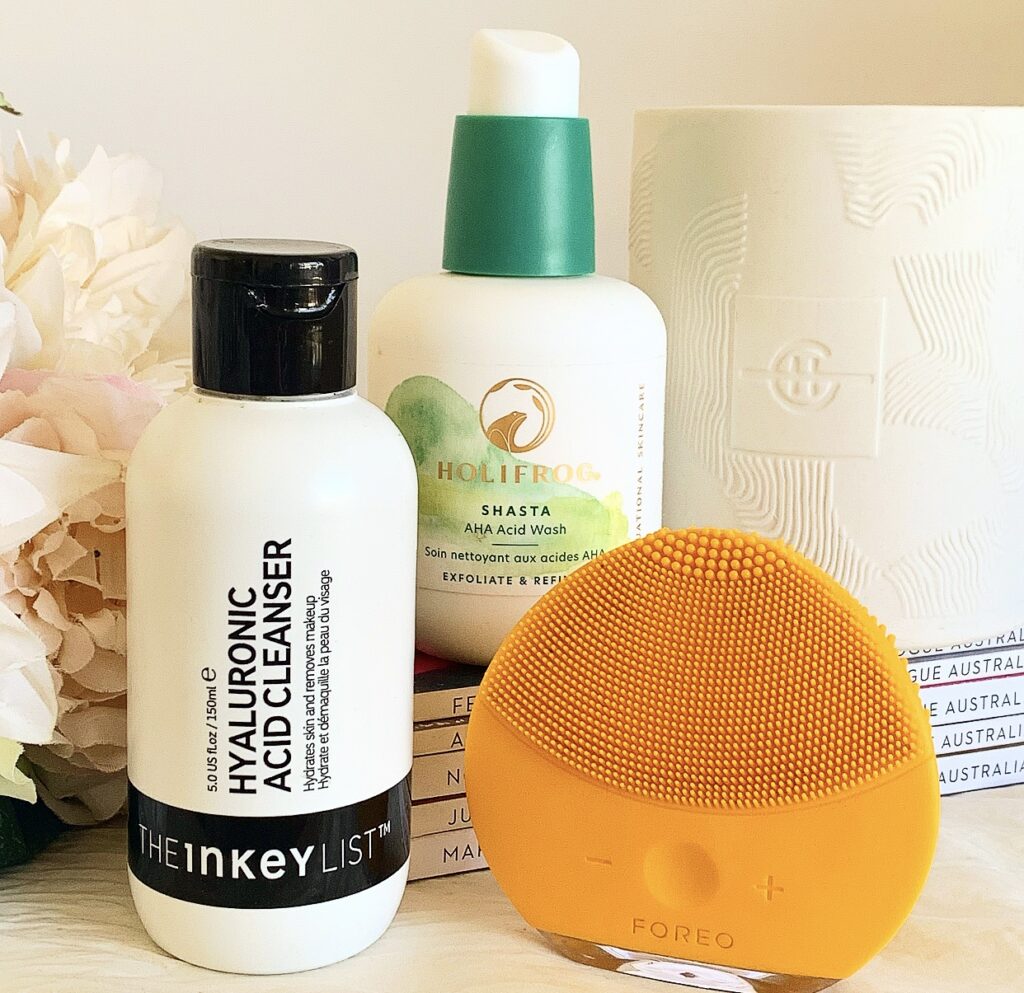 SECOND CLEANSE
After I pop out of the shower, I'll go in for my second cleanse. The cleanser I've been reaching for most often has been the THE INKEY LIST HYALURONIC ACID CLEANSER – $15.00*. I do like this a lot. Not at all stripping and leaves my skin soft and cleansed. If, however, it's been a particularly hectic and sweaty day. Or if my skin has been breaking out a bit, I'll reach for the HOLIFROG SHASTA AHA ACID WASH – $58.00*. This cleanser is a definite favourite. And it does a bang up job at leaving my skin looking and feeling less gunked up.
No matter what cleanser I'm using, I always use my FOREO MINI LUNA 2 – discontinued to apply it to my skin. I swear by my Foreo. I use it pretty much every night. And because I use it with a light hand, I've never had a problem with over exfoliation. I always rinse it after using and allow it to dry properly to avoid build up.
TONER
And here is the part where you're all going to yell at me. Because yes, I am cycling between two exfoliating toners at the moment. Namely, the YOUTH TO THE PEOPLE MANDELIC ACID + SUPERFOOD UNITY EXFOLIANT – $59.00* and the GLOW RECIPE WATERMELON GLOW PORE TIGHT TONER – $51.00. What I will say is that for exfoliating toners, these are two of the more gentle ones that I've come across (I use the YTTP one in the morning as well). But I do plan on introducing a more hydrating essence as soon as I run empty on one of these two.
MASKS
I do love me a mask. And these are the five that I'm currently cycling through. The NIOD FLAVANONE MUD – $59.00, the SWISSE MANUKA HONEY DETOXIFYING CLAY MASK – $21.99 and the ANDALOU NATURALS PUMPKIN HONEY GLYCOLIC MASK – $24.99* are all ones that I've talked to death about over the years (the Flavanone is my Sunday night tradition). But there are two new ones that I've yet to discuss.
The CAUDALIE INSTANT DETOX MASK – $46.00 is a mask I picked up purely because of TikTok. It went viral a few months back and I had to have it to see what the hype was about. Hype seen and hype understood! The main reason why I enjoy this mask is because it truly is instant. I can slap this on for 5 minutes right before bed and rinse off for smooth, declogged skin.
I also have the URBAN JUNGLE HEMP DAY CLAY MASK – $36.00*. This one needs to sit on the skin for a little bit longer. So I tend to do this one when I have a little extra spare time. This has matcha and hemp in it so not only is it decongesting my skin, it's soothing it at the same time. This mask is fab because it doesn't have a super intense dry down and it's very easy to rinse off. Also, it smells like lime cordial.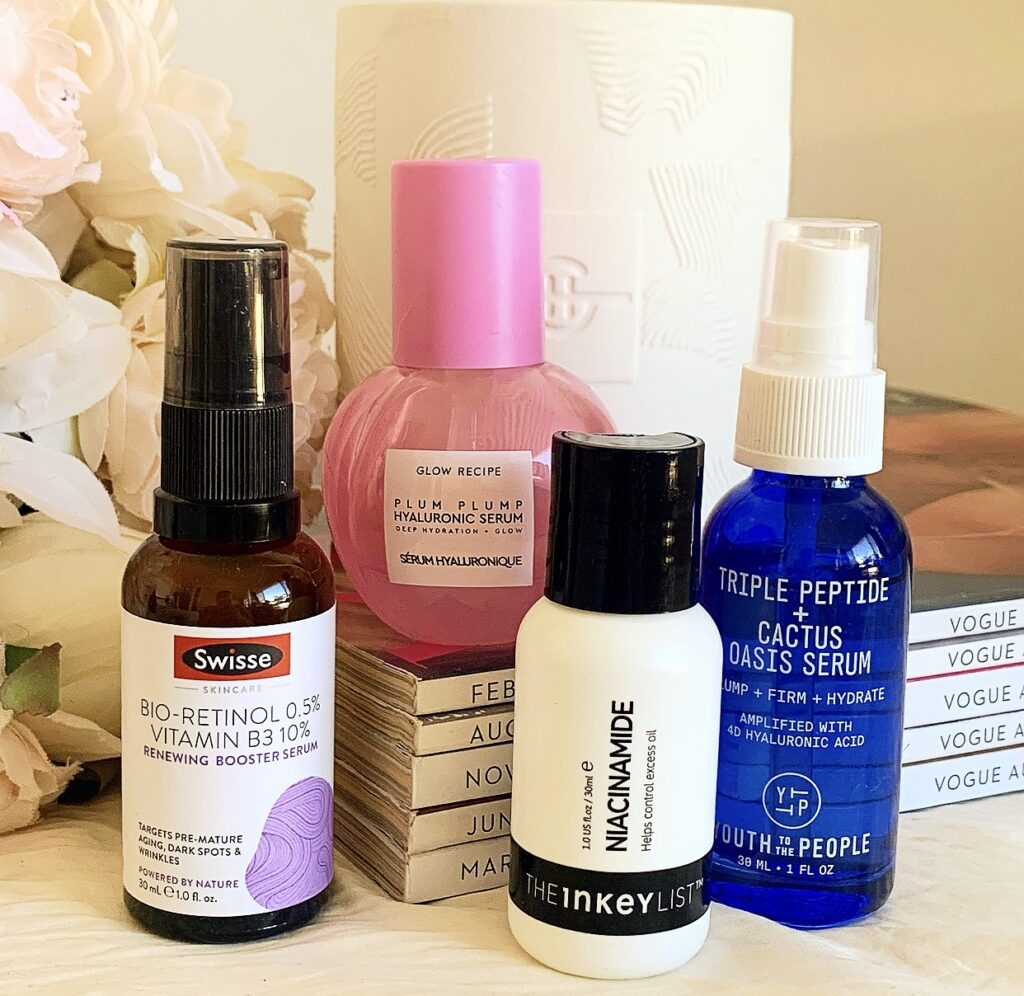 REPAIRING SERUMS
My skin needs all of the barrier support it can get. And I tend to rely on things like Ceramides, Peptides, Hyaluronic Acid and Niacinamide to help with that. This is probably the section I cycle through the most. But the four serums that I've been reaching for the most frequently have been the SWISSE BIO-RETINOL VITAMIN B3 BOOSTER SERUM – $24.99*, the GLOW RECIPE PLUM PLUMP HYALURONIC SERUM – $63.00, the THE INKEY LIST NIACINAMIDE – $14.00* and the YOUTH TO THE PEOPLE TRIPLE PEPTIDE + CACTUS OASIS SERUM – $83.00*. Something that I enjoy doing is making a serum sandwich. Where I do a layer of one of these serums, go in with a spicy serum, and then go in with another one of the above serums.
EXFOLIATING SERUMS
Now we are getting into the spicy serums. And these are the three that I've been enjoying. Every Monday night, I go in with the NATURIUM VEGAN LACTIC ACID EMULSION 5% – $44.00*. I've mentioned that I'm a fan of this one in the past. Very gentle, but extremely effective.
Usually, the lactic acid is enough to get me by. But when my skin is particularly blargh, that is when I break out the big guns. Namely, the OLE HENRIKSEN DEWTOPIA 20% ACID NIGHT TREATMENT – $85.00. As the name suggests, this an 'every now and again' kind of product. But oh boy, does it do the job. Very strong, but again, very effective.
Finally for the spicy trio, I have my current retinol of choice, the THE INKEY LIST RETINOL – $15.00*. At 1%, this is one I would recommend to beginners. But introduce it slowly into your routine. I'm currently using it twice weekly.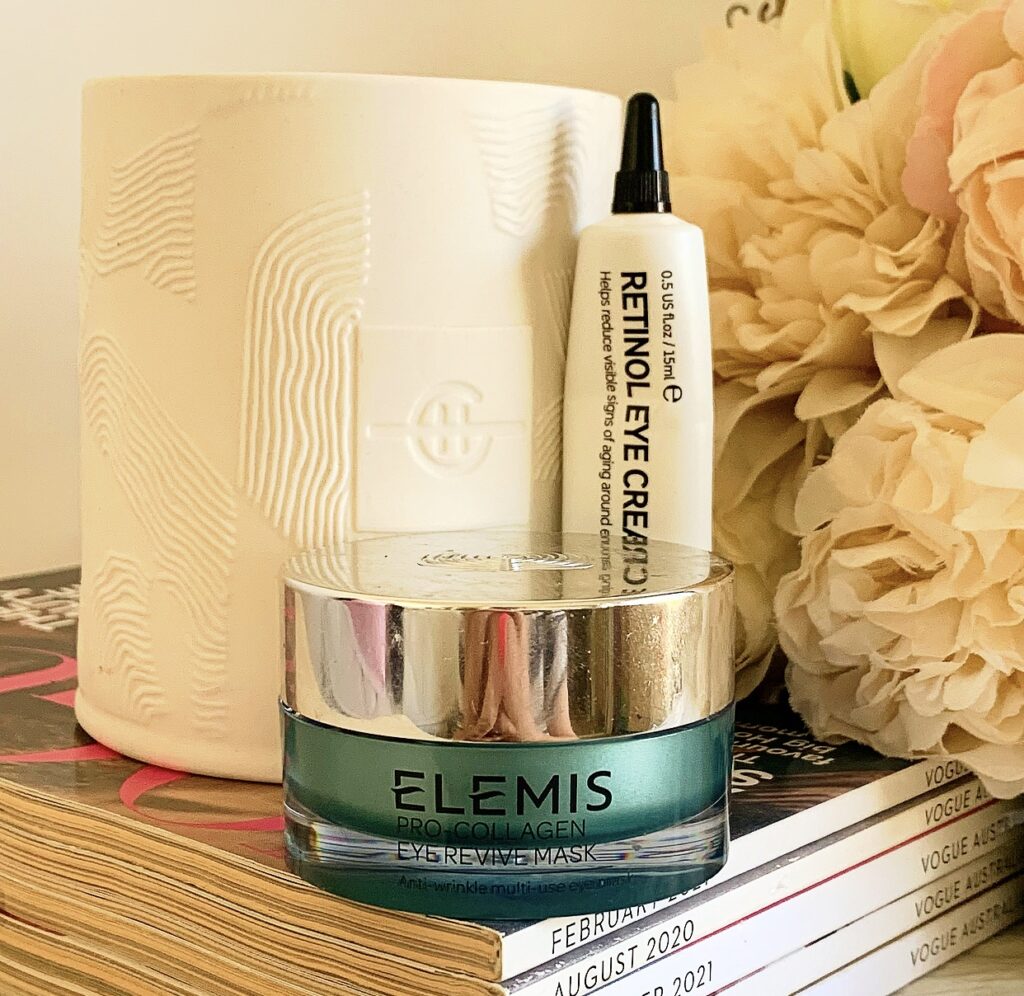 EYE CREAM
I'm still super lazy when it comes to eye creams. But when I do remember to use them, these are the two that I like. For the affordable option, I loving the THE INKEY LIST RETINOL EYE CREAM – $21.76*. And for my bougier moments, I'll whip out the ELEMIS PRO COLLAGEN EYE REVIVE MASK – $123.00*. Both of these are soothing and plumping for the eye area.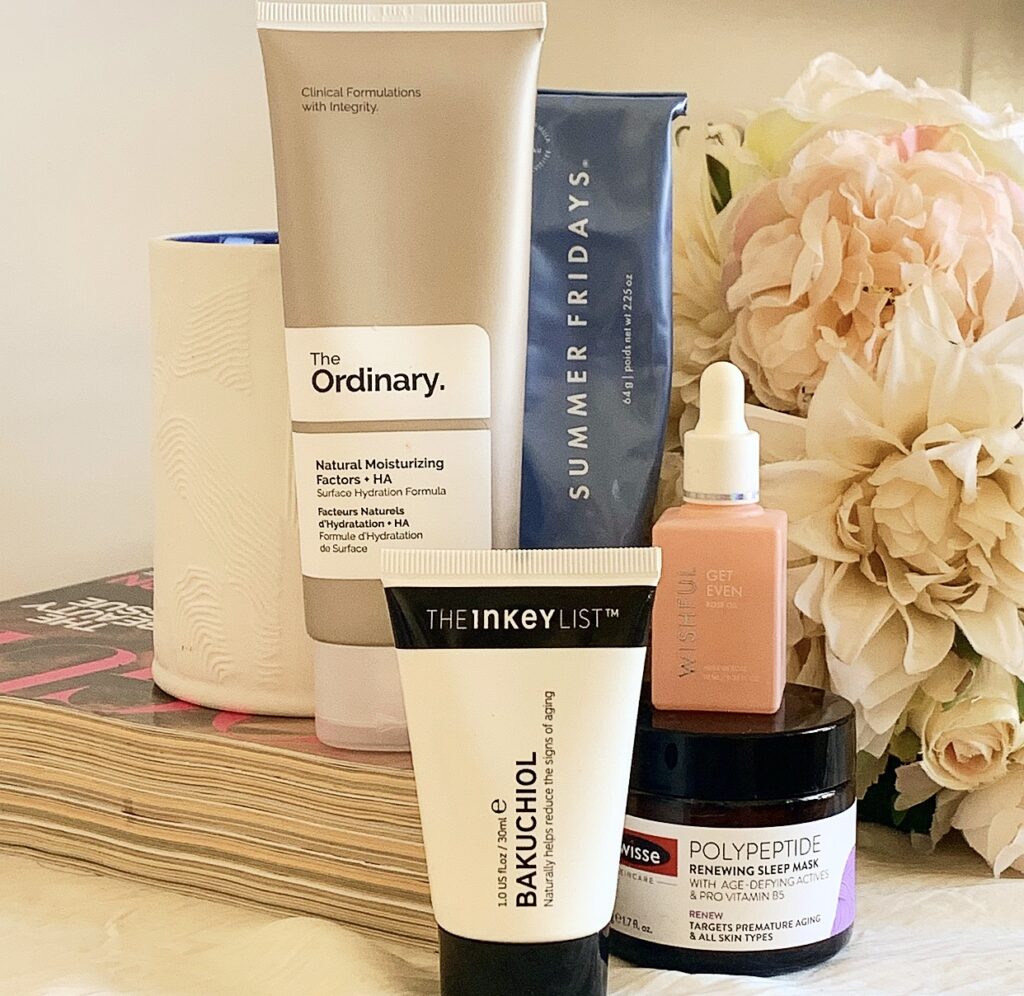 MOISTURISER
And, finally, we have moisturisers. And I know this seems like a lot. But now that winter is upon us, I like to drown my skin with as much moisture and hydration as I possibly can. As far as straight up moisturisers go, I'm currently using two. The THE INKEY LIST BAKUCHIOL MOISTURISER – $20.00*. Which is fine, I don't hate it. And the THE ORDINARY NATURAL MOISTURISING FACTORS + HA – $17.10* which I genuinely do not like and am about to quit on.
I also love to use sleeping masks on spicy serum nights to add a boost to the skin. The two that I've been quite liking have been the SWISSE POLYPEPTIDE RENEWING SLEEP MASK – $24.99* and the SUMMER FRIDAYS JETLAG MASK – $73.00. I'll used them either in conjunction with the above moisturisers or on their own as my final step. Both of these are fantastic because they soak into the skin super quickly and when you wake up, your skin is soothed and glowy.
As a final final step, if I need it, I will reach for a face oil. I don't use oils nearly as much as I used to. But I still like the WISHFUL GET EVEN ROSE OIL – $38.00 every now and again. This soaks in quickly and adds a nice radiance to the skin.
And we are now done! Phew, this was a biggie. But my skincare is a big operation. And I like to think that because of these products, my skin is in the best place it's ever been. What does your winter routine look like? Let me know in the comments.
Cheers and love
Emily xo