A week or so back, I found myself perusing the Charlotte Tilbury sale page (as I'm wont to do). When I got an email saying that she was also launching limited edition Mystery Boxes. And as someone who a) loves Charlotte Tilbury, and b) always on a hunt for content, I knew I had to pick one up. So that's what we'll be talking about today.
Now, the Charlotte Tilbury website does do these Mystery Boxes a few times a year. And from what I've seen, they are pretty decent value. This time, however, they released two Mystery Boxes. The Makeup To Mesmerise Mystery Box ($178.00 with a $356.00 value) with a makeup focus, and the Charlotte's Magic Hydrate & Glow Mystery Box ($209.00 with a $418.00 value) which was more skincare heavy. Both boxes are supposed to contain six full size products.
While I was tempted by both, I ended up with the Hydrate & Glow box because while I've tried a lot of Charlotte Tilbury skincare, I don't own a lot of Charlotte Tilbury skincare. And it's a range that I've definitely wanted to experiment with more. The box rocked up last Friday and I'm so excited to chat about it. So, let's dive into what I got!
CHARLOTTE TILBURY CHARLOTTE'S MAGIC CREAM LIGHT – $125.00
I have loved the OG Magic Cream for years. It's a phenomenal moisturiser in it's own right. And it works especially well as a primer as well. But I've never tried the light version before and I was excited to see it here. The scent is exactly the same as the original (think Gardenia's), but the consistency is more fluid than cream. This is something that my skin will enjoy especially now as we move into summer.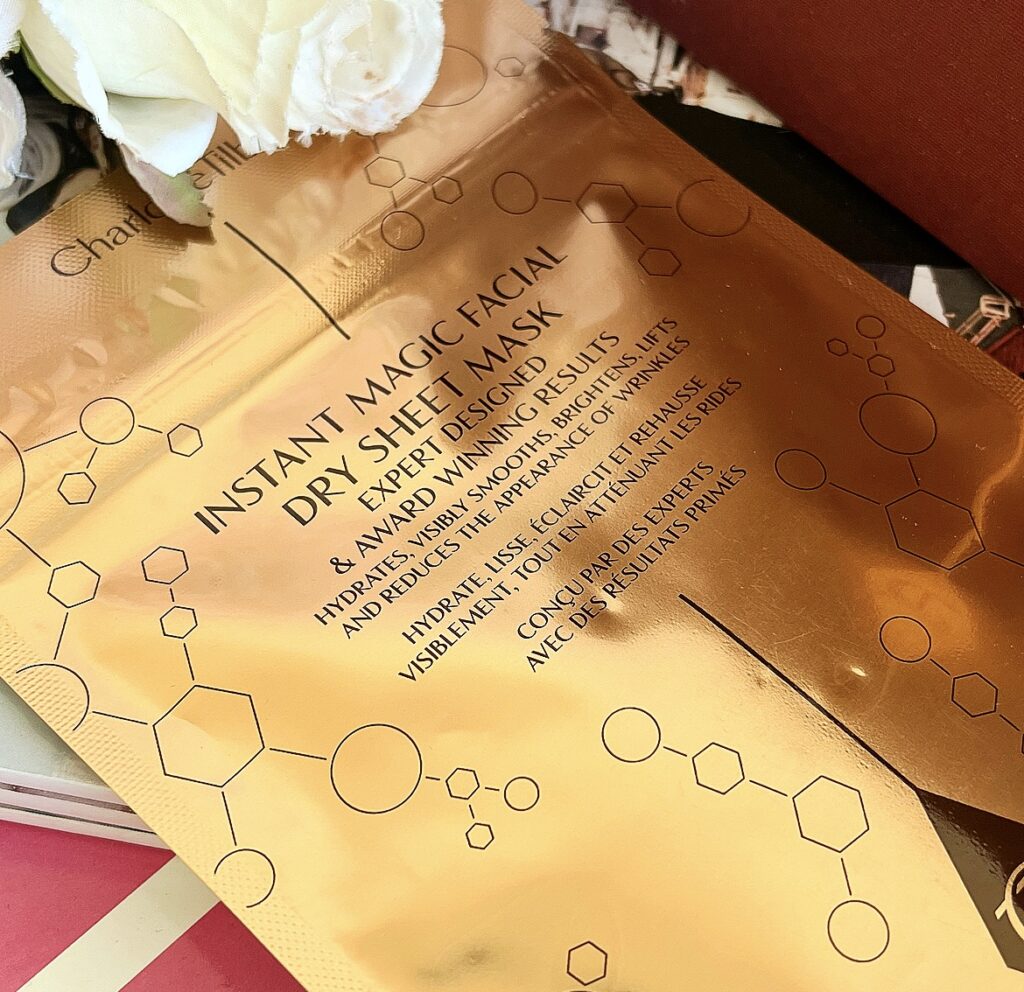 CHARLOTTE TILBURY INSTANT MAGIC FACIAL DRY SHEET MASK – $35.00
This was the one product that I automatically knew was going to be included in this Mystery Box. Because as far as skincare goes, this mask is just as iconic as the Magic Cream. And I have always wanted to try it. Mostly because it'll be one of the most unique masks I've ever tried. Unlike most other sheet masks, this one goes onto the skin dry! The mask itself is apparently infused with the skincare ingredients. And it gives all of the benefits of a regular sheet mask without it being a drippy mess. It can also be reused up to 3 times! Super excited for this one.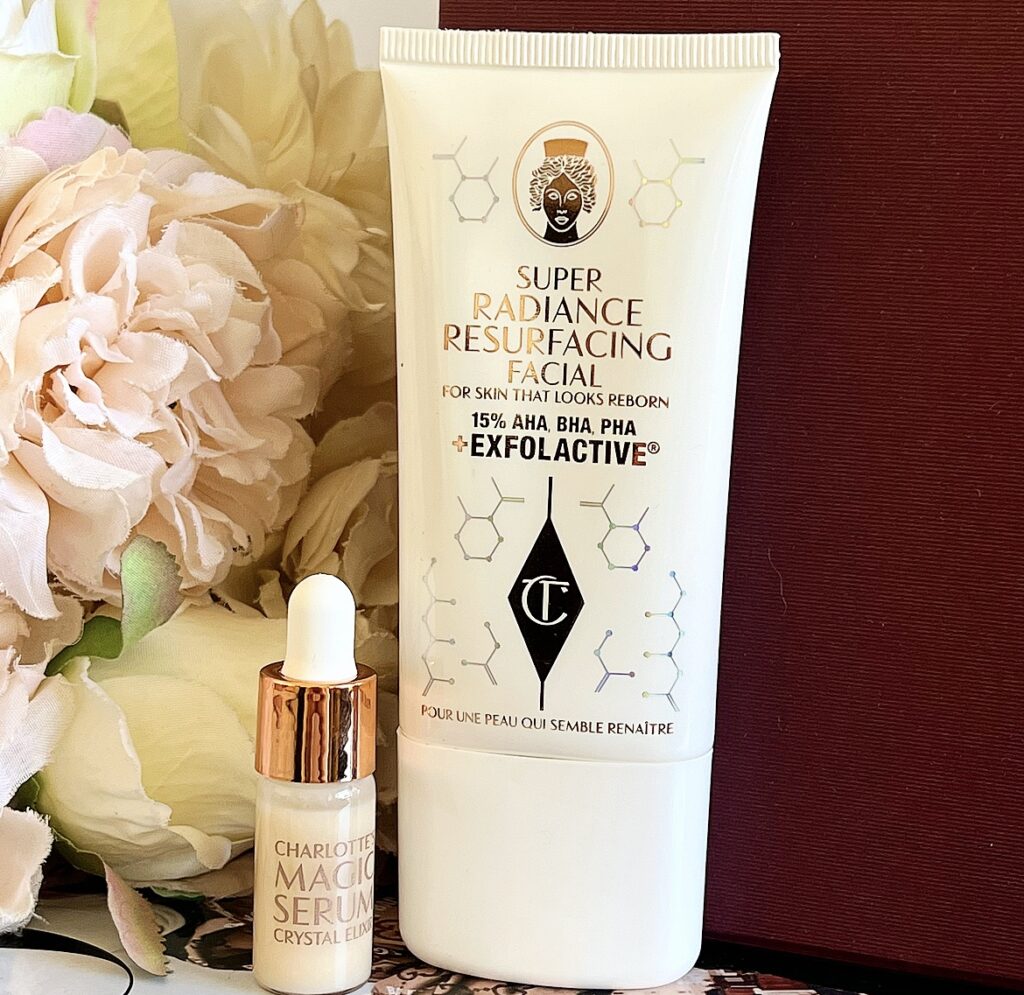 CHARLOTTE TILBURY SUPER RADIANCE RESURFACING FACIAL – $99.00
You know me, I love a spicy facial style mask. And this sounds right up my alley. The chemical blend appears to be Glycolic (AHA), Salicylic (BHA), and Bio Agave (PHA). All three of these will help clear up dead skin cells, unclog pores, and gently exfoliate the skin. And there is also a ton of hydrating ingredients such as Hyaluronic Acid, Polyglutamic Acid, Glycerin, and more to help nourish the skin. It also comes with a bebe sized Magic Serum. Which is too cute for words!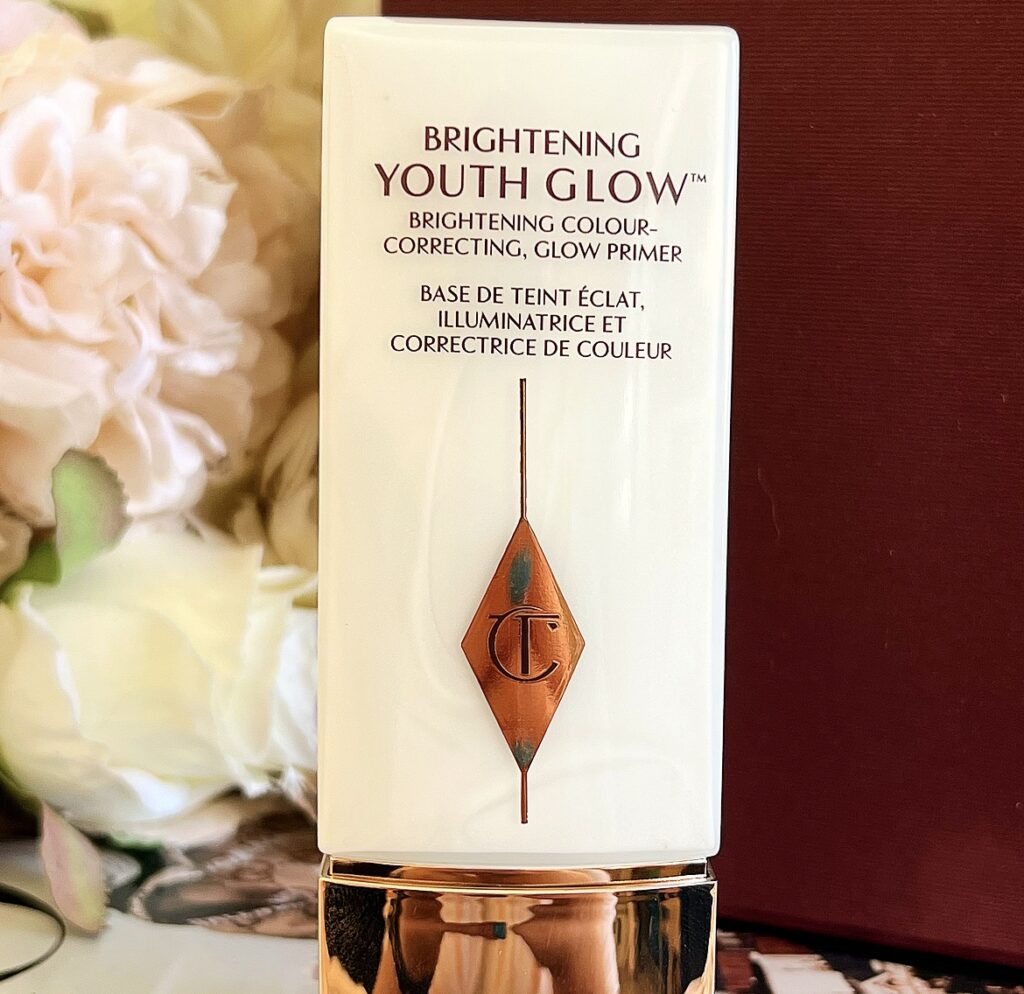 CHARLOTTE TILBURY BRIGHTENING YOUTH GLOW – $76.00
There were a few skincare style makeup products included with this box. And I ended with with two primers. The first being the Brightening Youth Glow. Which is supposed to not only add glow and radiance to the skin, but colour corrects as well. I do love products that even out my skin tone. So I'm excited to play.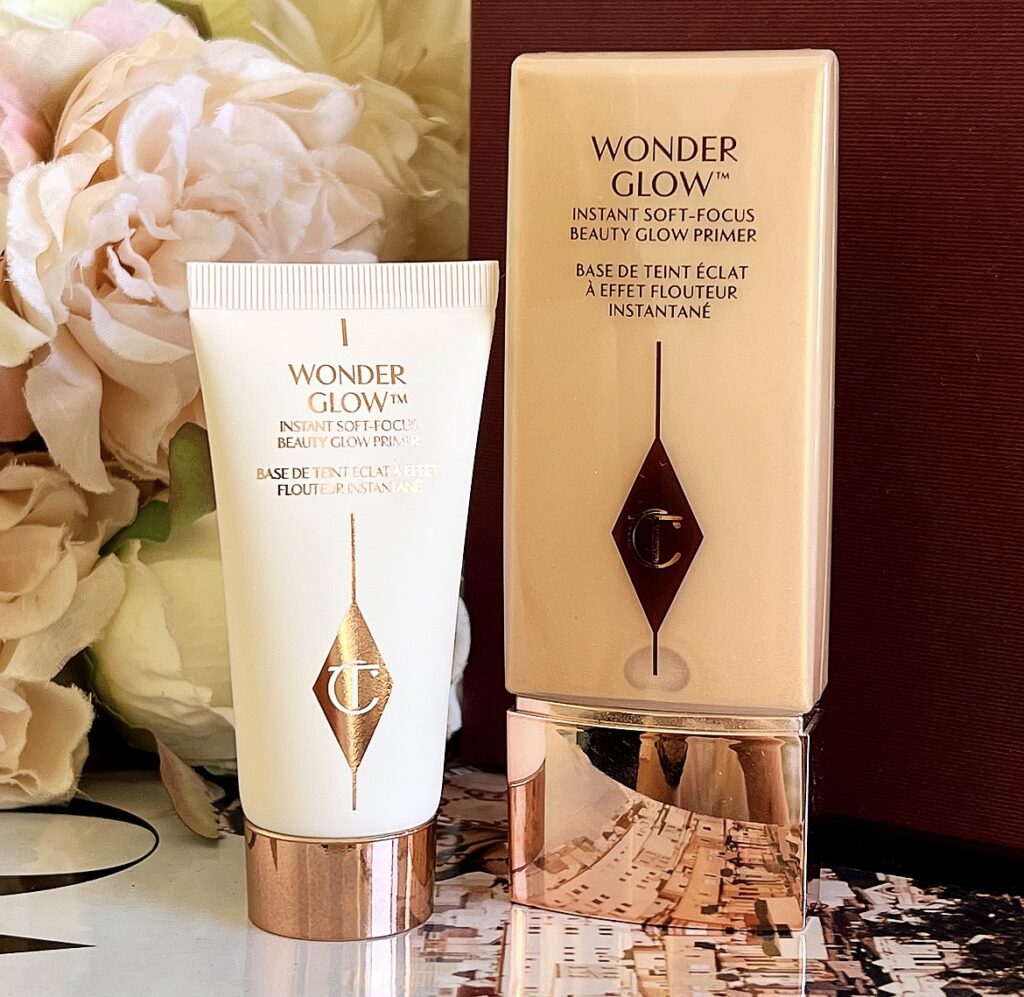 CHARLOTTE TILBURY WONDERGLOW – $35.00
The other primer included with this box. And this is the only product that I'm disappointed with. Not because it's bad (it's actually a lovely super glowy primer). But because this is where I felt that they stretched with the whole 6 Full Size Products thing. Because yes, you can buy the Wonderglow primer at that size. But it's not the full size. I know that because I own the full size already. A little cheeky, if you ask me. Maybe if they swapped it with another skincare product, I'd be more ok with it.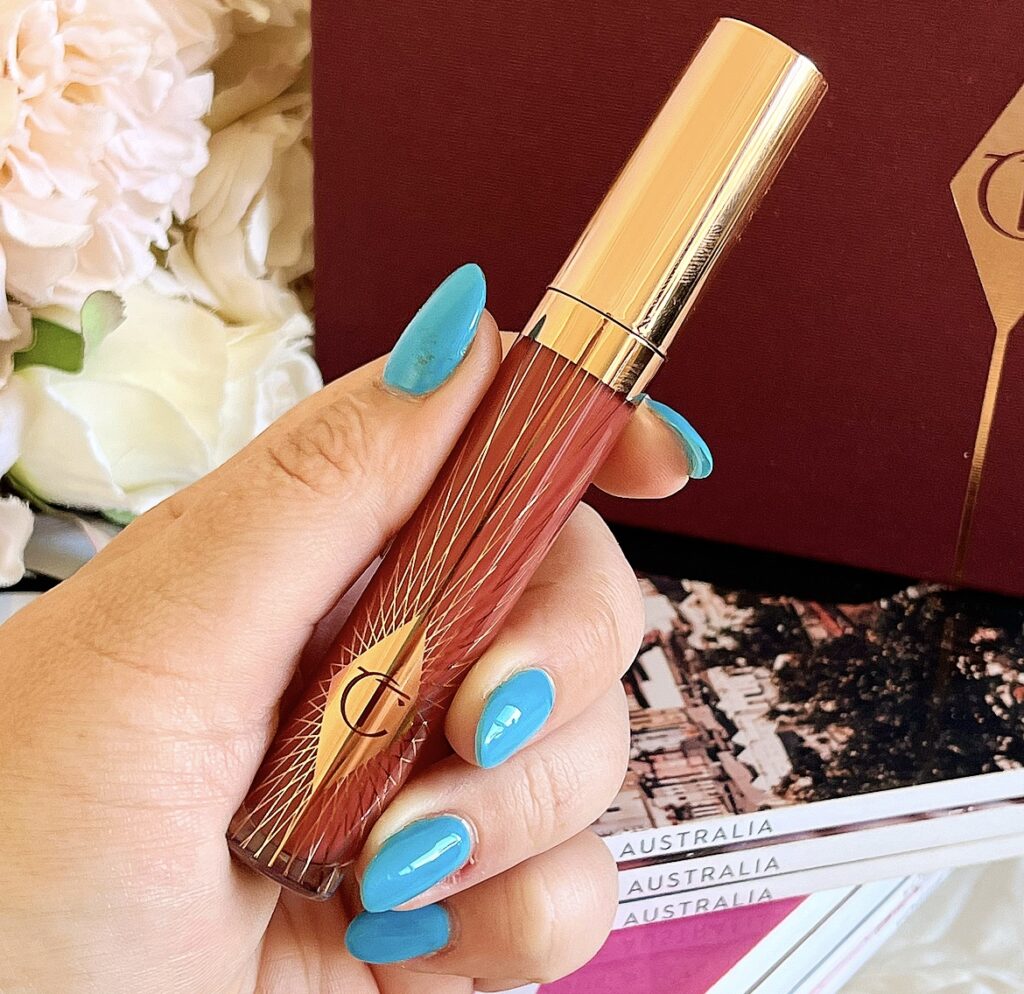 CHARLOTTE TILBURY COLLAGEN LIP BATH in WALK OF NO SHAME – $48.00
And finally, I was so delighted to see one of the Collagen Lip Bath's included in this box. This is easily one of her best lip products and I've recommended them on multiple different occasions. They are so glossy and nourishing. Best of all, they give your lips that plumping effect. I love that Walk Of No Shame was the shade that I got because if all of the boxes were the same, it means that it's a shade that can be worn by virtually everyone.
And that's a wrap on the Hydrate & Glow Mystery Box! All in all, while I would have liked to have seen one of the primer's swapped out for something else, I can't be too disappointed with what I got. And I'm definitely intrigued enough to maybe pick up one of the makeup boxes in the future. Both Mystery Boxes are still available at the time of writing. So, if you're interested, I do recommend it. Let me know if you picked one of these up in the comments.
Cheers and love
Emily xo