If you've been following me for anything length of time, you will know that I am extremely easily influenced by my fellow blogger friends to pick up new things to try. Especially when said product wouldn't normally be on my radar. Such was the case a few weeks back when I saw my gorgeous friend Centaine feature a few new products she had picked up on her Insta. One of those products was the Shiseido Synchro Skin Radiant Lifting Foundation, the glowy spin off to the extremely popular Shiseido Synchro Skin Self-Refreshing Foundation that launched last year.
When I saw her apply it, I was in utter awe. And I knew instantly that I had to try it for myself. I picked it up and I've been testing it ever since. So, if you want to know if the newest foundation from Shiseido has added a radiance to my life, just keep reading!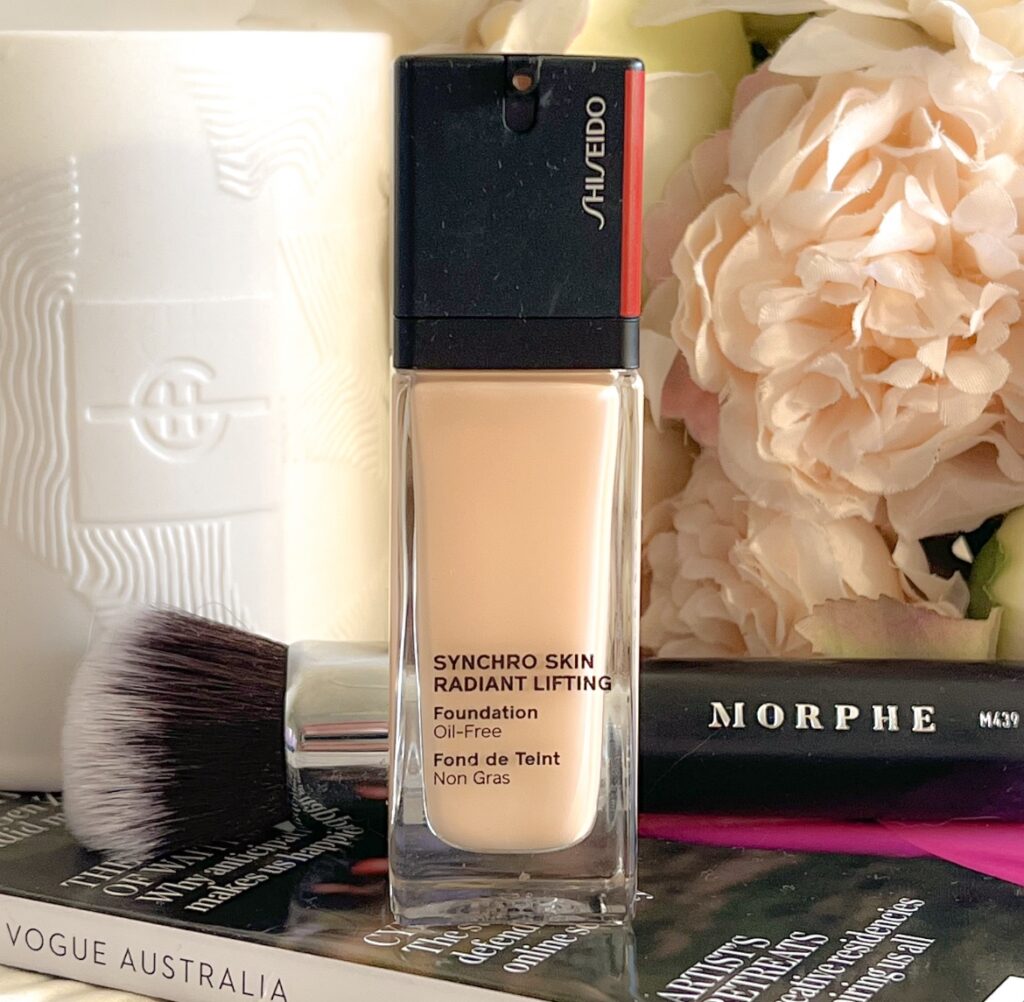 SHISEIDO SYNCHRO SKIN RADIANT LIFTING FOUNDATION – $70.00 – mecca.com.au (30 shades available)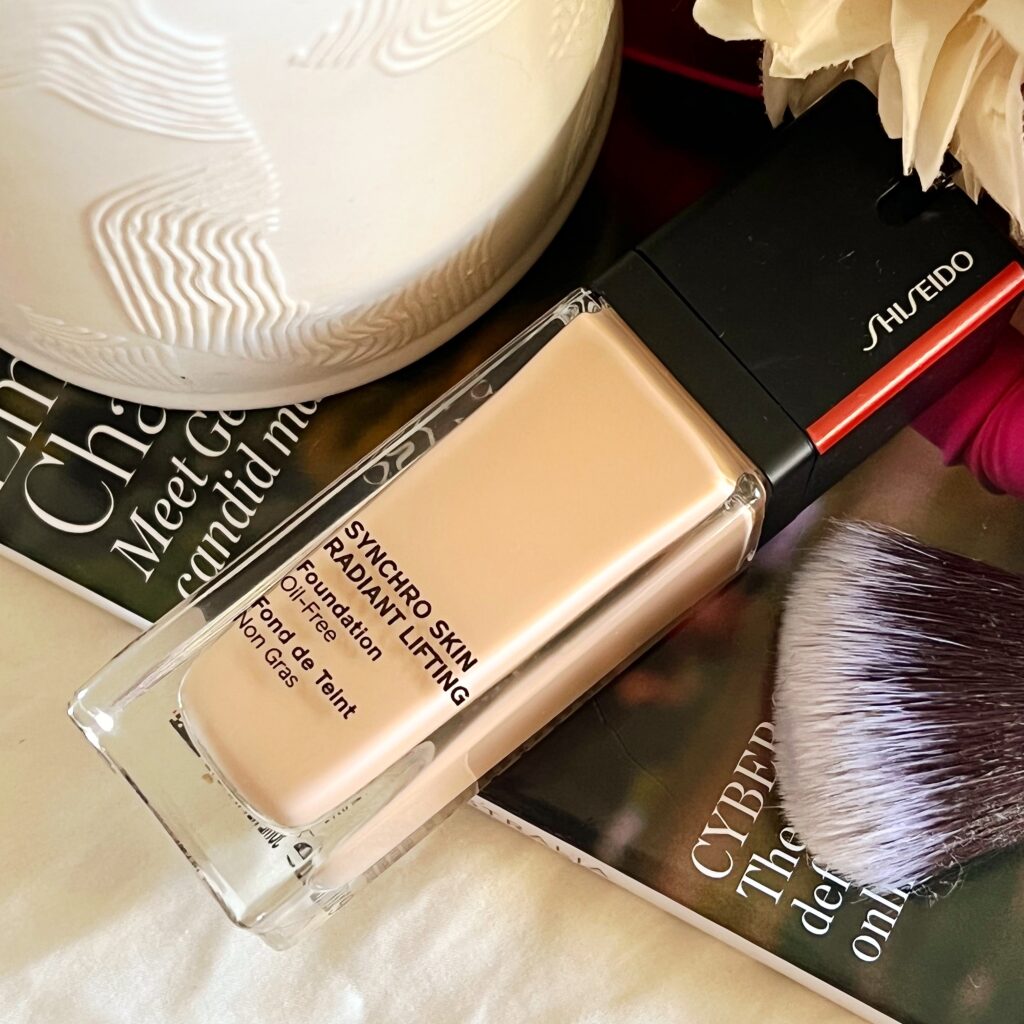 Packaging first, as always. The Shiseido Synchro Skin Foundation is housed in a sleek, rectangular, clear glass bottle with black detailing. The foundation shade is clearly visible. And the top is black plastic with red and white detailing. It's very elegant and chic, two things I tend to associate with Shiseido as a brand. The Synchro Skin Foundation contains 30ml of product.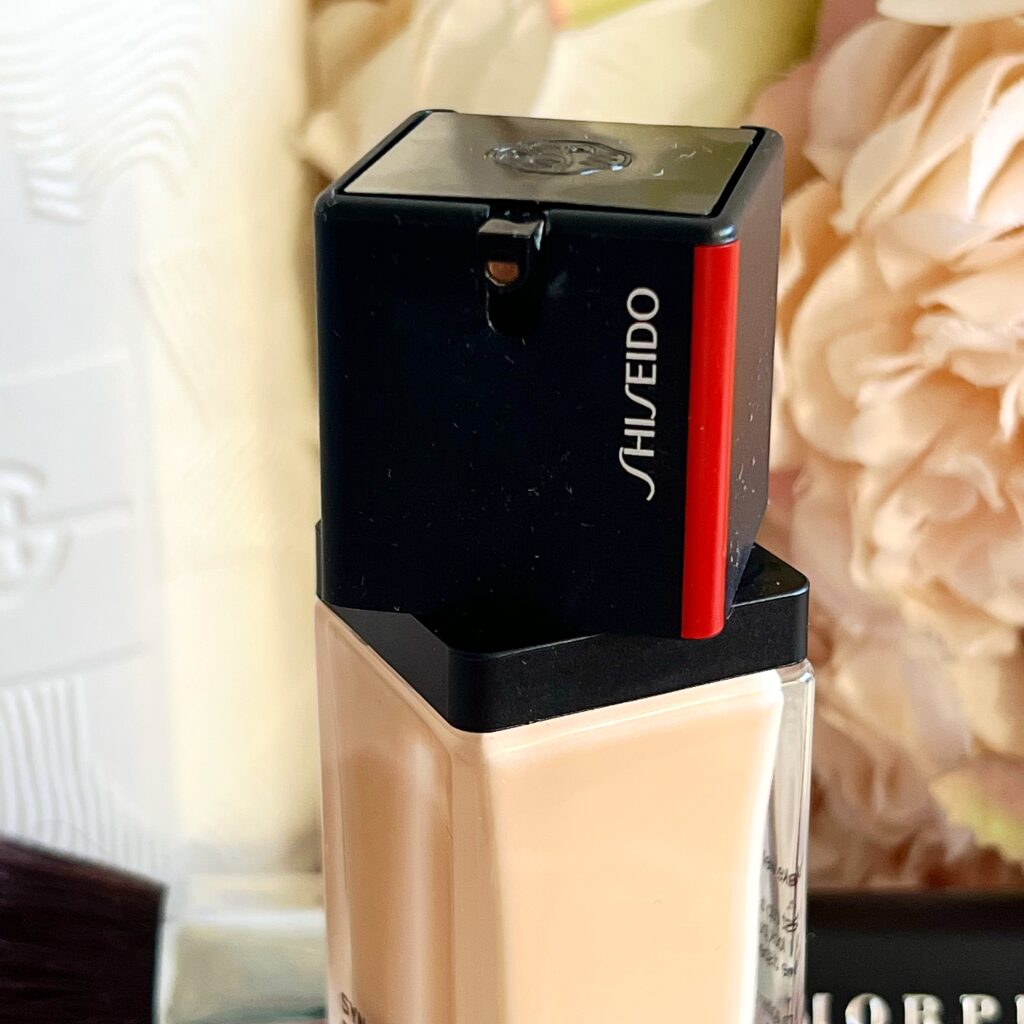 The foundation is dispensed with a pump mechanism. But in a cool move, you have to spin the top 90° to the right to be able to pump out the product. It also requires a non-zero amount of force to twist the cap (i.e., it would be hard to do accidently). This makes it a great option for travel because when the pump is facing the front 'lock' position, it can't accidently leak product. And the pump itself is very easy to control the amount of product it dispenses.
The Synchro Skin Radiant Lifting Foundation has 30 shades in the line. And from the online swatches I've see, it does seem to favour the lighter shades. With close to half the range suiting light to medium. I would love to see the deeper shades expanded. Especially within the deepest shades. I also thought the range of under tones could stand to be expanded. As there weren't a lot of options for cool or olive skin tones. I wear shade 160 – Shell (all of the shades are named after an earthly element). Described as being Balanced (neutral) for fair-light skin. It's the teensiest on the yellow side, but it otherwise matches well.
The texture of the Synchro Skin Foundation was fairly standard. Somewhere between a liquid and a cream. Basically, it was fluid enough to spread out, but not so much that it ran down my face while I was dotting it on. And as far as application goes, it was a brush or a sponge for me. In something of a rarity, the few times I tried it with my fingers, I hated how it looked.
Shiseido is best known for being a skincare brand. So, it was no surprise to see that the Synchro Skin Foundation came with a whole bunch of skincare benefits. As well as containing Light-Adjusting Technology to refine the skin's finish, there is a Smooth Trio Complex to help attract and retain moisture, Mandarin Peel Extract to help brighten and Transparent Luminous Pearl to help with radiance and even out complexion.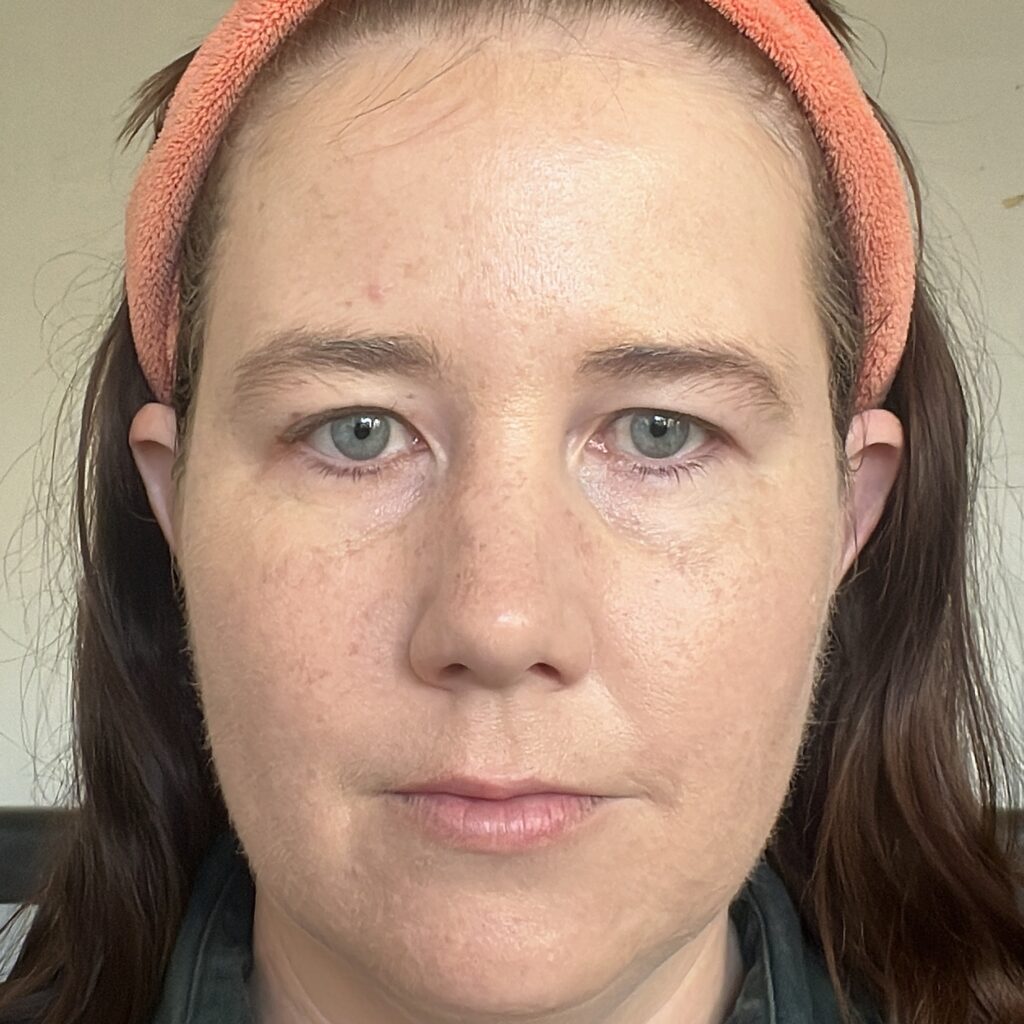 The Synchro Skin Foundation is described as being a medium to full coverage foundation with a natural radiant finish. And I definitely agree. The coverage and finish of this is absolutely gorgeous! It's probably less radiant that I initially expected. But that suits me just fine. As far as coverage goes, 2 small pumps is normally what I would use to get this level of coverage. Which does get me pretty close to full. It doesn't look heavy or cakey. I love it.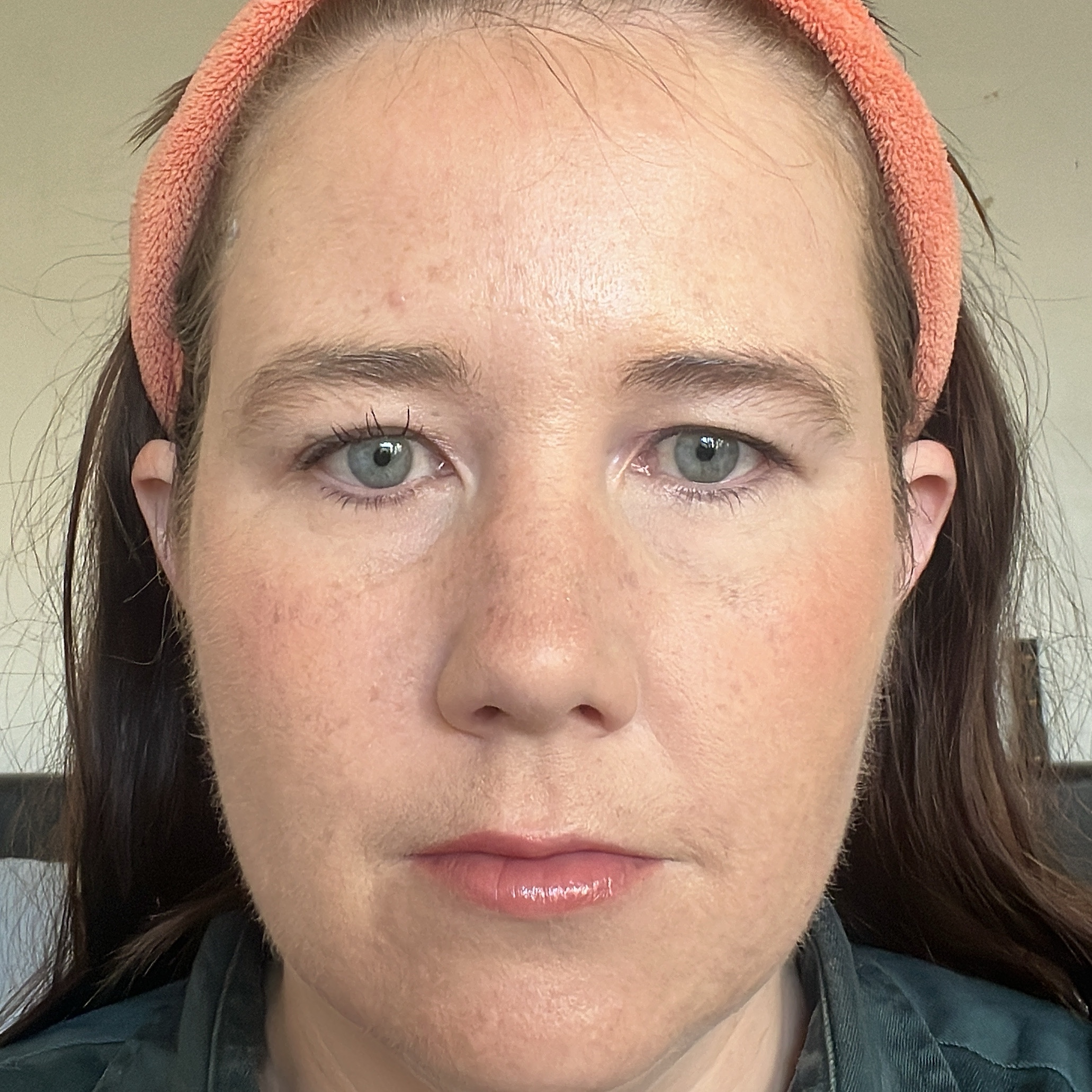 And now, it's wear test time! It was a good time to test this foundation out too because it's finally starting to warm up in my part of the world. What I will say is that for a foundation that isn't being touted as being long wear, this held up incredibly well. I did lose some on my forehead because of my hat. And I definitely had to powder throughout the day. Especially in the afternoon (take note, my oily skin friends). But otherwise, I'm really happy with how it wore on me. I didn't notice it cracking or sinking into lines. It stayed very smooth on the skin. Yeah, very happy!
So yeah, 2022 continues to be the year for skin. And the Shiseido Synchro Skin Foundation absolutely gets a thumbs up from me. I can happily recommend this to anyone who loves a natural, radiant finish! Have you tried the Shiseido Synchro Skin Radiant Lifting Foundation? Let me know in the comments below!
Cheers and love
Emily