And a year later, we are back with part 2 of my Pat McGrath Mothership collection. If you missed part 1, you can find it here. But for that, I swatched the Motherships I – Subliminal, VI – Midnight Sun, VII – Divine Rose, and VIII – Divine Rose II. Today, I'll be swatching my four newest purchases from Pat McGrath. Including her two newest releases. Let's get into it!
*Em's Note* Last time, I did this in purchase order. For today, I'll be going in release order.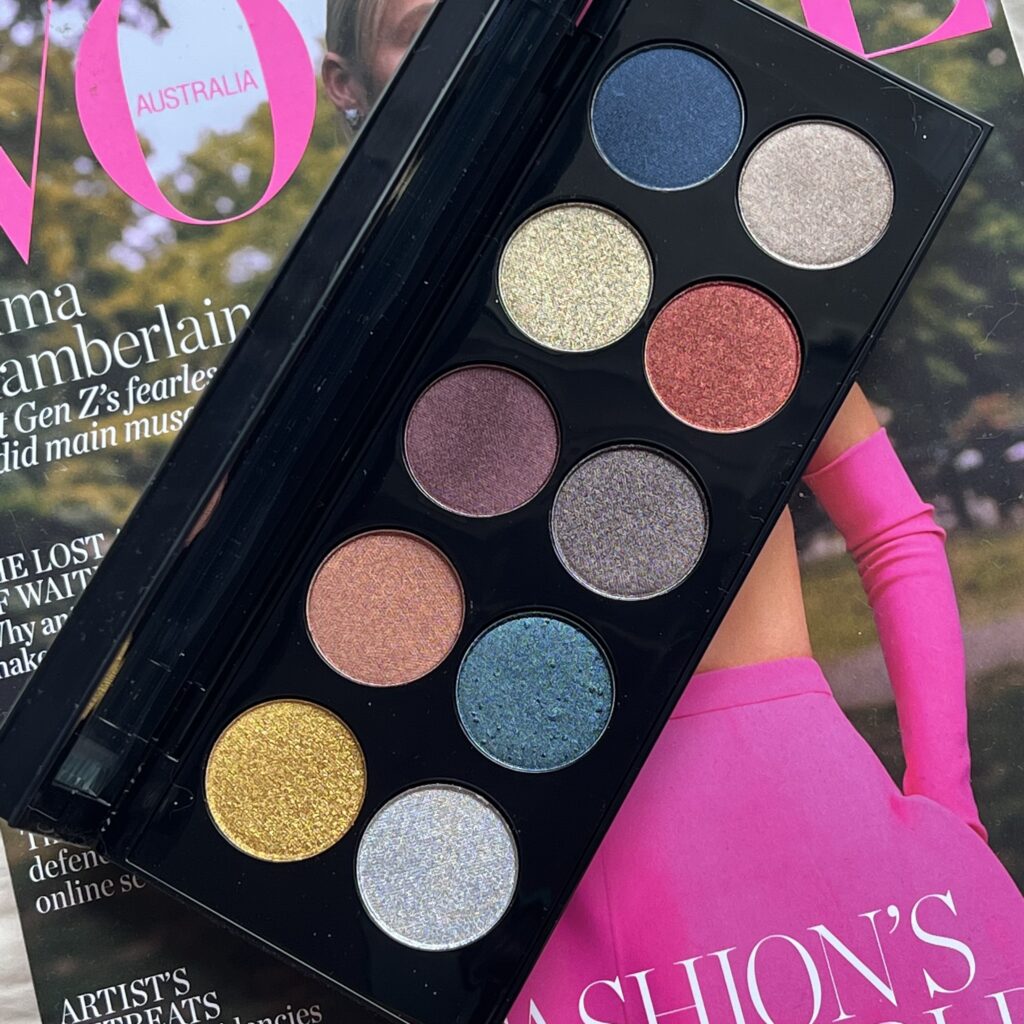 PAT MCGRATH MOTHERSHIP IV: DECADENCE – $215.00
From Pat McGrath – My box of crown jewels! These opaque mesmerizing metallic shades are the ultimate accessories to adorn the eyes. Fiery coppers, sophisticated sapphire, earthly metals and exquisite golds – a gem-like array of choices for every mood!
To date, this is still Pat's only all metallic palette. But when the formula is this good, who needs mattes? I mean, I occasionally do. But my point still stands. The shades are all creamy and pigmented as all get out. I find the metallic shades still apply well with a brush. But they truly pop when applied with your fingers. If I had one complaint about this palette, I do wish it had a green. Because a deep emerald green in this formula would be *chef's kiss*.
SHADES FROM TOP TO BOTTOM – Gold Standard, Inferno, Blue Blood, Sinful, Underworld, Sterling, Lapis Luxury, Divine Mink, Hedonistic, Enigma – All shades are in the Metallic formula.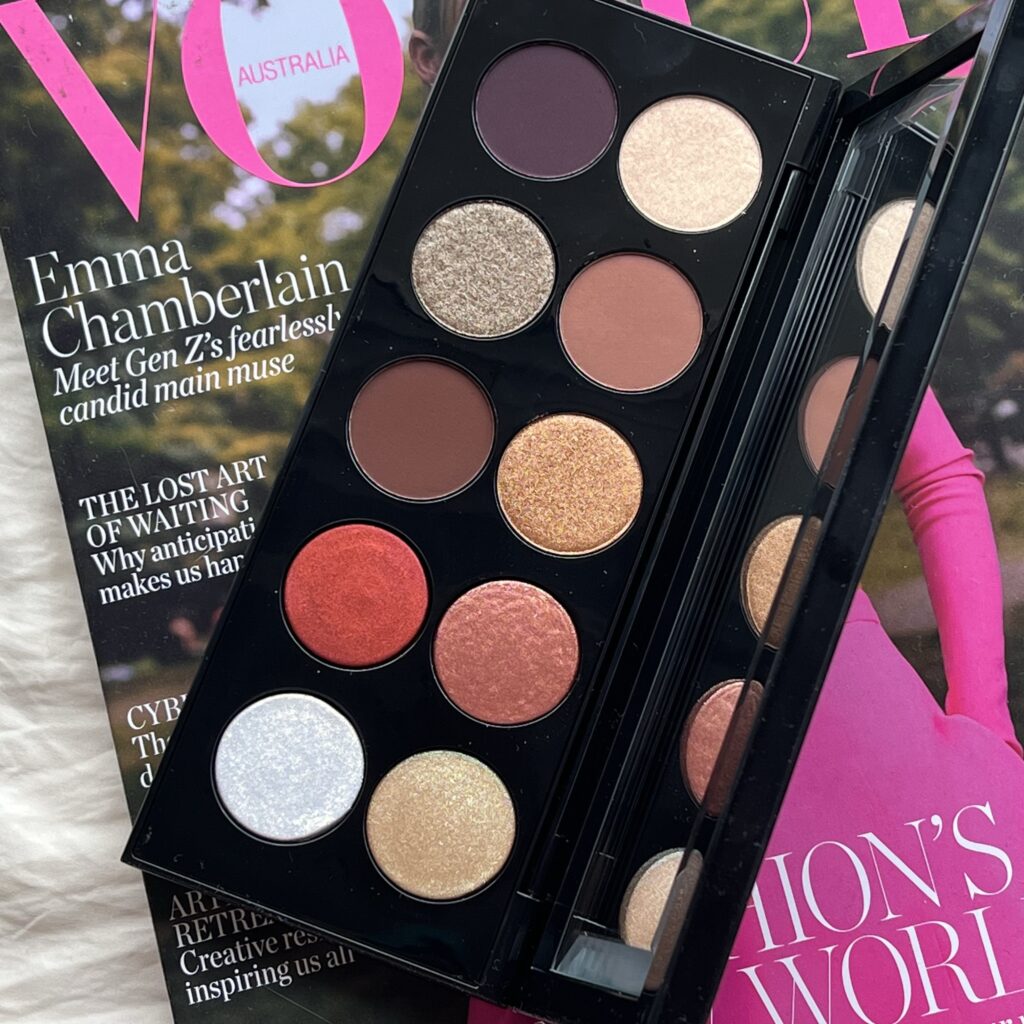 PAT MCGRATH MOTHERSHIP V: BRONZE SEDUCTION – $215.00
FROM PAT MCGRATH – This legendary eye palette allows you to transcend the spectrum and accentuate the natural beauty of the face with a collection of highly-advanced formulations that work together to highlight, sculpt, shape and transform the eyes with supernatural effects. Each shade is uniquely resplendent and offers the most sumptuous and sensorial application. Their powerful payoff, extraordinary blendability and lush textures glide and blend flawlessly within the contours of the eye and flexibly hug the skin to stay effortlessly in place. Defiant and instantly iconic, BRONZE SEDUCTION is a masterclass in unparalleled innovation and radical creativity.
Subliminal might have put Pat's palettes on the map. But the hype surrounding Bronze Seduction was inescapable. This palette was on everyone's Best Of list back when it launched in 2019. And I do see why. Is it the most original colour story? No. But it's concise. Which was rare for Pat at the time. And this shade range was endless practical. A favourite for a reason.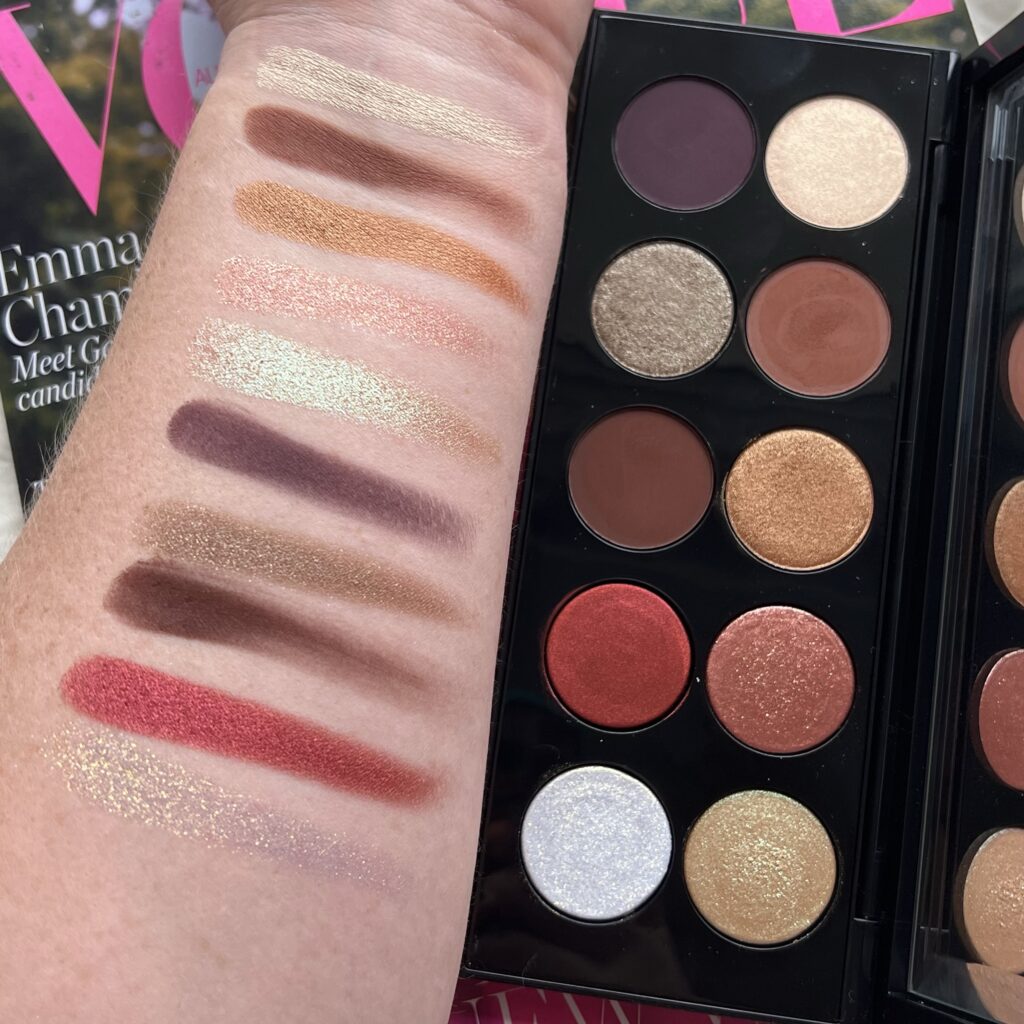 SHADES FROM TOP TO BOTTOM – Skinshow Divine Glow (shimmer), Entrapment (matte), Bronze Blaze (glittery metallic), Rose Gold 005 (glitter), VR Fire Opal (multichrome), Xtreme Aubergine (matte), Gilty Pleasure (metallic), Disobedient (matte), Blitz Flame (metallic), Astral Luna Gold (glitter)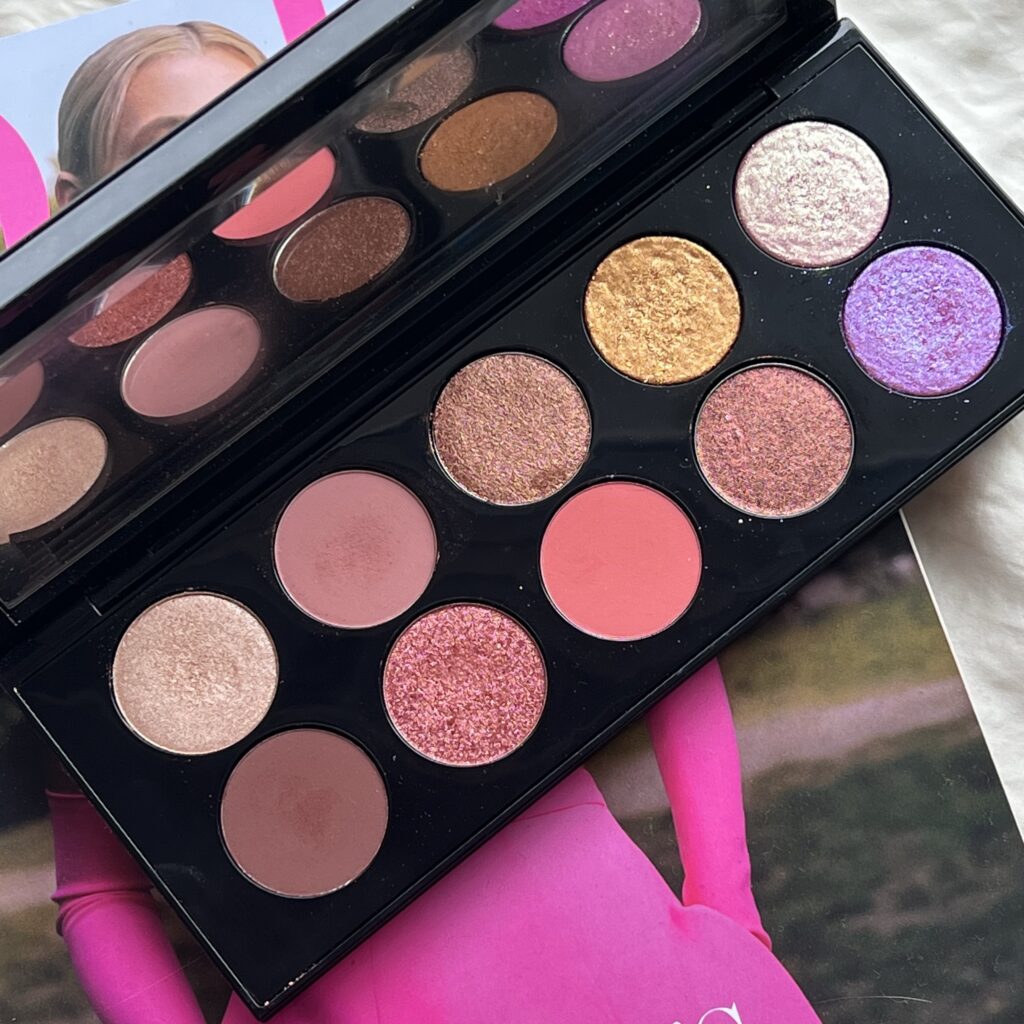 PAT MCGRATH MOTHERSSHIP IX: HUETOPIA DREAMS – $215.00
FROM PAT MCGRATH – Discover a cosmic destination for floral psychedelia in the ten stunning shades of Mothership IX: Huetopian Dream. I love to pair it with the new IntensifEYES™ Artistry Wand, my backstage secret weapon that effortlessly elevates pigment vibrancy and wear.
The palette that finally overtook the Divine Rose II as my all time favourite Pat McGrath palette. I mean? Just look at it. It's basically springtime in an eyeshadow palette. I'm frankly surprised that it's not in worse shape considering how often I've used it since I got it last year. I really love everything about this palette. No faults, no notes. It's perfect. Go buy it!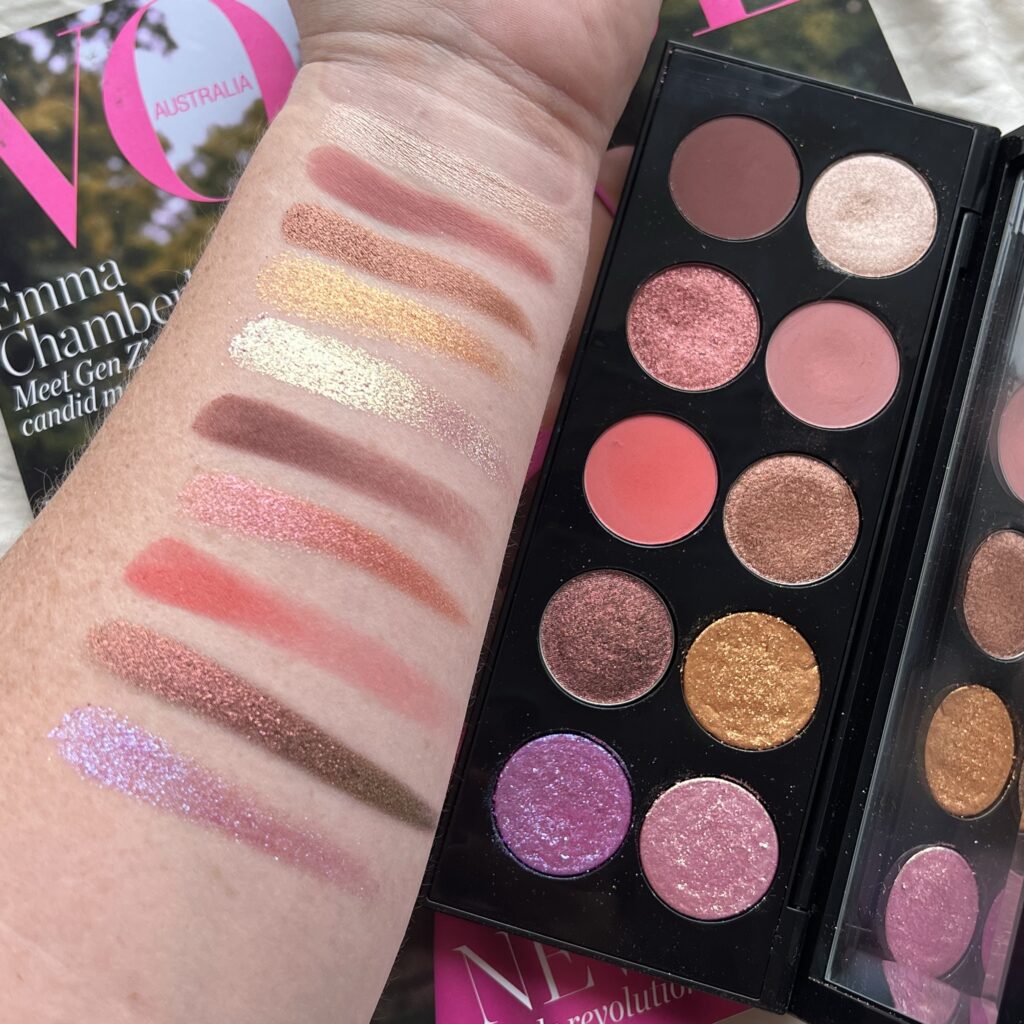 SHADES FROM TOP TO BOTTOM – Skinshow Nude Xtasy (shimmer), Secret Eden (matte), Bronze Desire (metallic), Bronze Solaris 005 (glitter metallic), Astral Venusian Orchid (metallic), Xtreme Plum Noir (matte), Cosmic Bloom (metallic), Shockwave (matte), Blitz Sextreme (metallic), Astral Amethyst Moon (glitter metallic)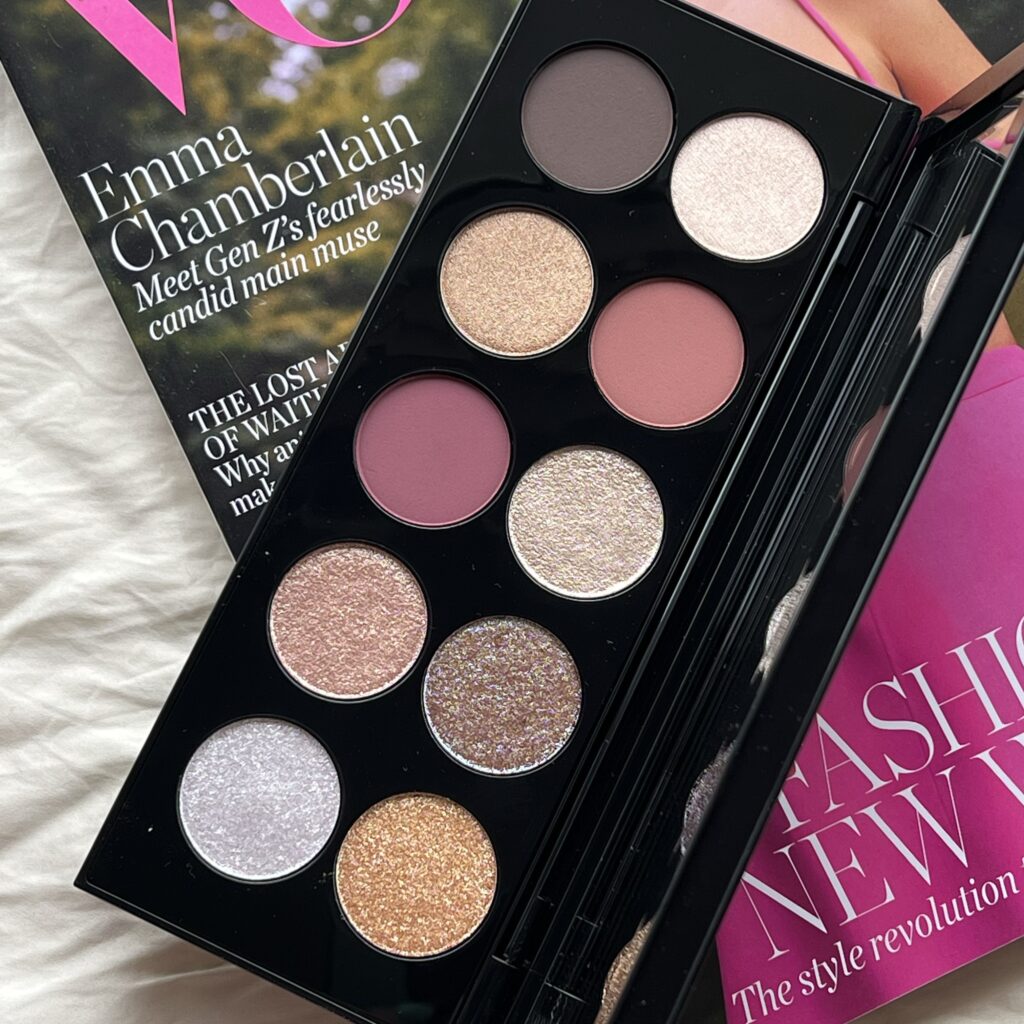 PAT MCGRATH MOTHERSHIP X: MOONLIT SEDUTCION – $215.00
FROM PAT MCGRATH – Dance the night away in a decadent, dazzling and discopulent array of hedonistic hues inspired by sensually starlit seductions under the mesmerising moon. Nocturnal neutrals inspire glamorous structure in ten warmly wearable shades with unprecedented single-stroke intensity. Regal, romantic and rebellious, this intoxicating collection of next-generation formulas features smokey mattes, alluring astrals, molten metallics and a sextatic duochrome. Silky smooth textures glide effortlessly onto the lids, offering beautiful blendability with buildable, multidimensional brilliance. Fête the fantasy, define the dancefloor and dominate the day in modern nudes that inspire endless eye looks with divine dimension
Finally, the new kid on the block! I do mean that literally as this came out like two months ago at the time of writing. This one is definitely for the collector in me. Because I do agree with the criticism that it's very similar to some of Pat's previous launches (Divine Rose I springs to mind). Having said that, it's still a stunning palette in it's own right. And perhaps a good starter palette for those who want to try the formula. Because, whilst they may be basic shades, they can still be easily worn every single day.
SHADES FROM TOP TO BOTTOM – Skintense Glow (shimmer), Rosewood Romantique (matte), Platinum Dusk (metallic), VR Sextasy (multichrome), Astral Gold Lust (glitter metallic), Xtreme Nocture (Matte), Bronze Devotion (metallic), Plum Cabaret (matte), Blitz Venus (metallic), Astral Lilac Aura (glitter).
And that is a wrap on part 2! That's 8 down, 2 to go. And then my Mothership collection is complete. Well, until she brings out no. XI that is. As always, let me know your favourite palette in the comments.
Cheers and love
Emily xo