I've been doing this blogging thing for over four years now. And I've had an interest in makeup long before that. As a result, I have ended up with a fairly extensive makeup collection. My problem, however, is that I'm really bad at switching up my makeup routine and I have to force myself to use something different. So, in a bid to hold myself accountable and actually use the products in my collection, I've started a new series here on Emmie's Beauty Life called Shop My Stash!
Now, the idea of Shopping One's Stash is hardly new. People have been doing it online for years. But it is a great way to actually use the products that we accumulate. The idea behind me doing it is that every two months, I empty out my everyday makeup drawer and replace everything that I was currently using with something else in my collection. Primers, concealers, bronzers, all of it! So, if you want to see what I'll be using over the next few months, just keep reading!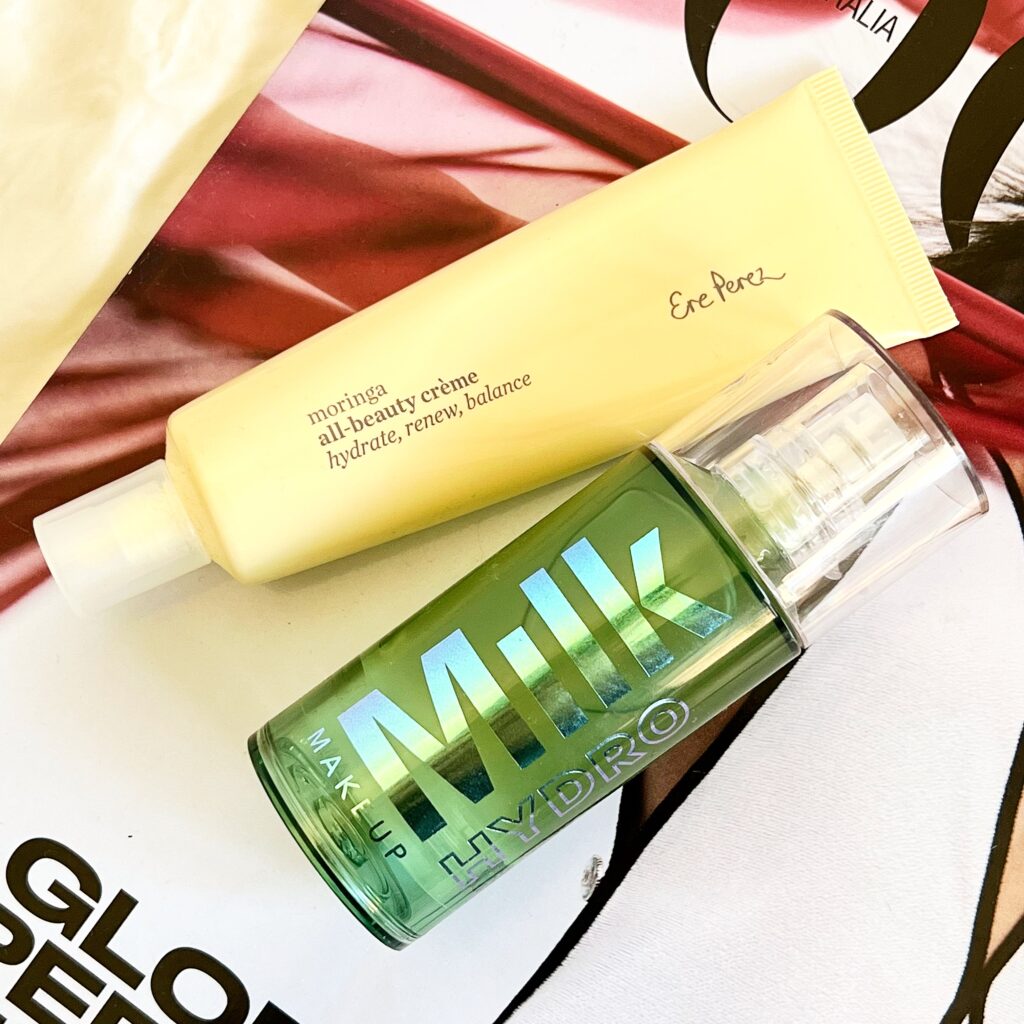 Starting with primer, I have maybe a weeks worth of use left of my Bobbi Brown Vitamin Enriched Face Base (not pictured). So, once that's empty, my moisturising primer of choice will be the ERE PEREZ MORINGA ALL BEAUTY CREME – $50.00*. I do like a hydrating primer for my dry skin and the texture of this is lovely!
Normally, I would stop there. But as we are heading into summer, I need a little extra tackiness to really help adhere the makeup to my skin. So, I'm welcoming back the MILK MAKEUP HYDRO GRIP PRIMER – $59.00. It's been a minute since I last used this and I know that it works well for me during the warmer months.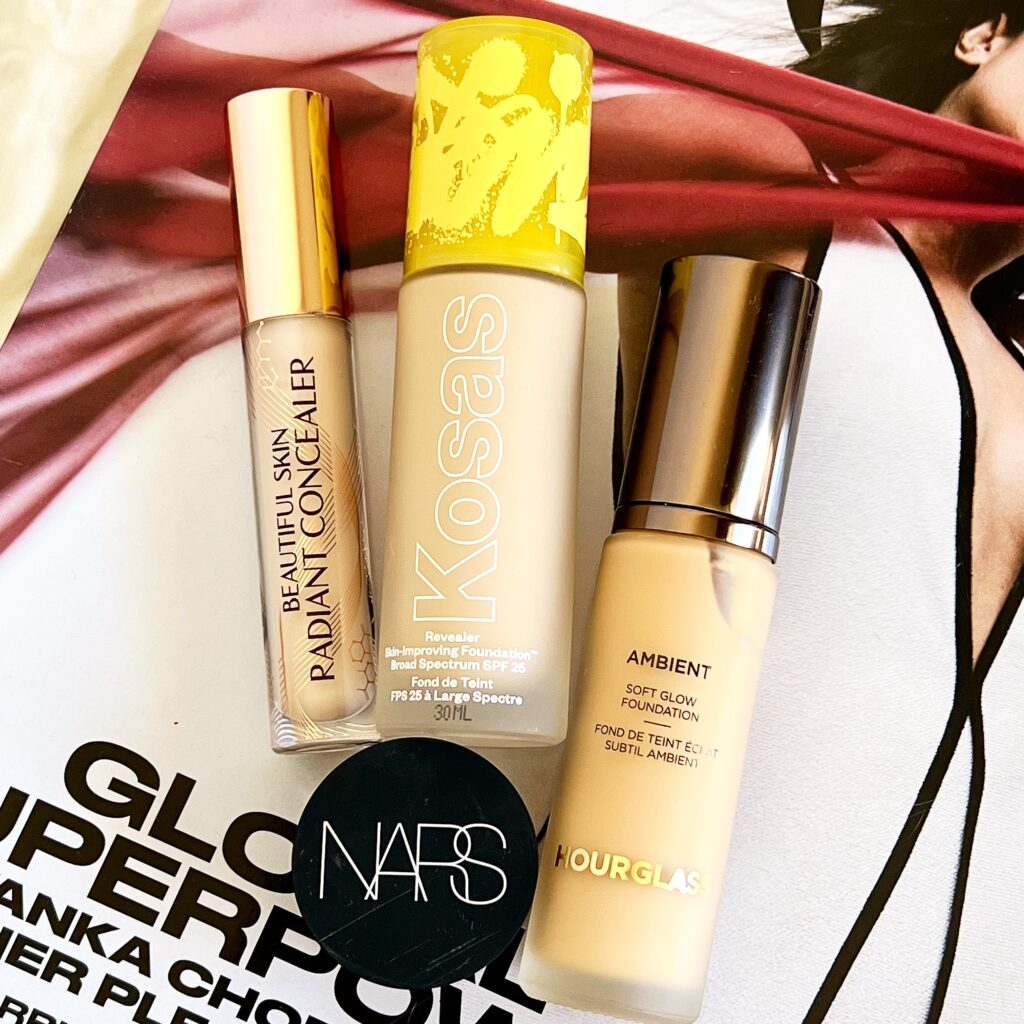 For foundation, I've recently started prepping for my review of the new HOURGLASS AMBIENT SOFT GLOW FOUNDATION – $91.08. This actually hasn't launched at Mecca yet (I got it off Cult Beauty). But I should have this review out by the time it does launch. Following that, my next review will be of the also newly launched KOSAS REVEALER SKIN IMPROVING FOUNDATION – $63.00. See, this is the advantage of doing a shop my stash. Y'all get all of the exclusives.
Concealer next, and I've decided to keep out the CHARLOTTE TILBURY BEAUTIFUL SKIN CONCEALER – $49.00 as I'm still on the fence as to whether I like it or not. I'll let you know my thoughts when I get there. I'm also keeping out the NARS SOFT MATTE CONCEALER – $45.00. This is the only concealer I like for covering breakouts. This will probably be the only permanent product you'll see in these posts.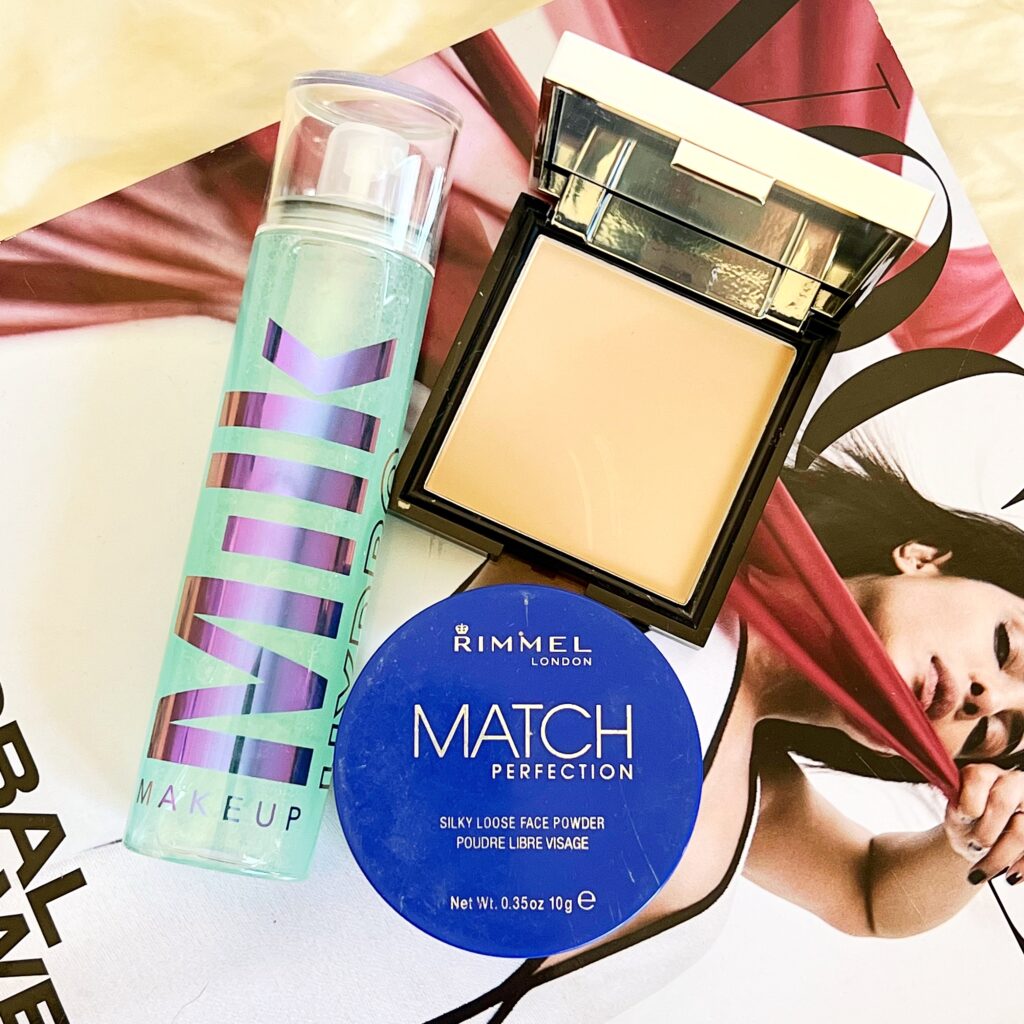 For powder, I've picked out the new INNOXA EVERY DAY PROTECTION PRESSED POWDER – $29.95*. Innoxa very kindly sent this to me a little while ago. But pressed powder is a product that I rarely change (I was using the Charlotte Tilbury Flawless Pressed powder previously). So I haven't had a chance to really test it out and I'm very excited to. I also have to have a loose powder. And for that, I have my powder cocktail that I keep in my Rimmel jar. This is just a assortment of random loose powder samples that I have received over the years. Finally, for setting spray, seeing as I've just used up my beloved Charlotte Tilbury (icon), I've chosen the MILK MAKEUP HYDRO GRIP SETTING SPRAY – $59.00 as my next one to try.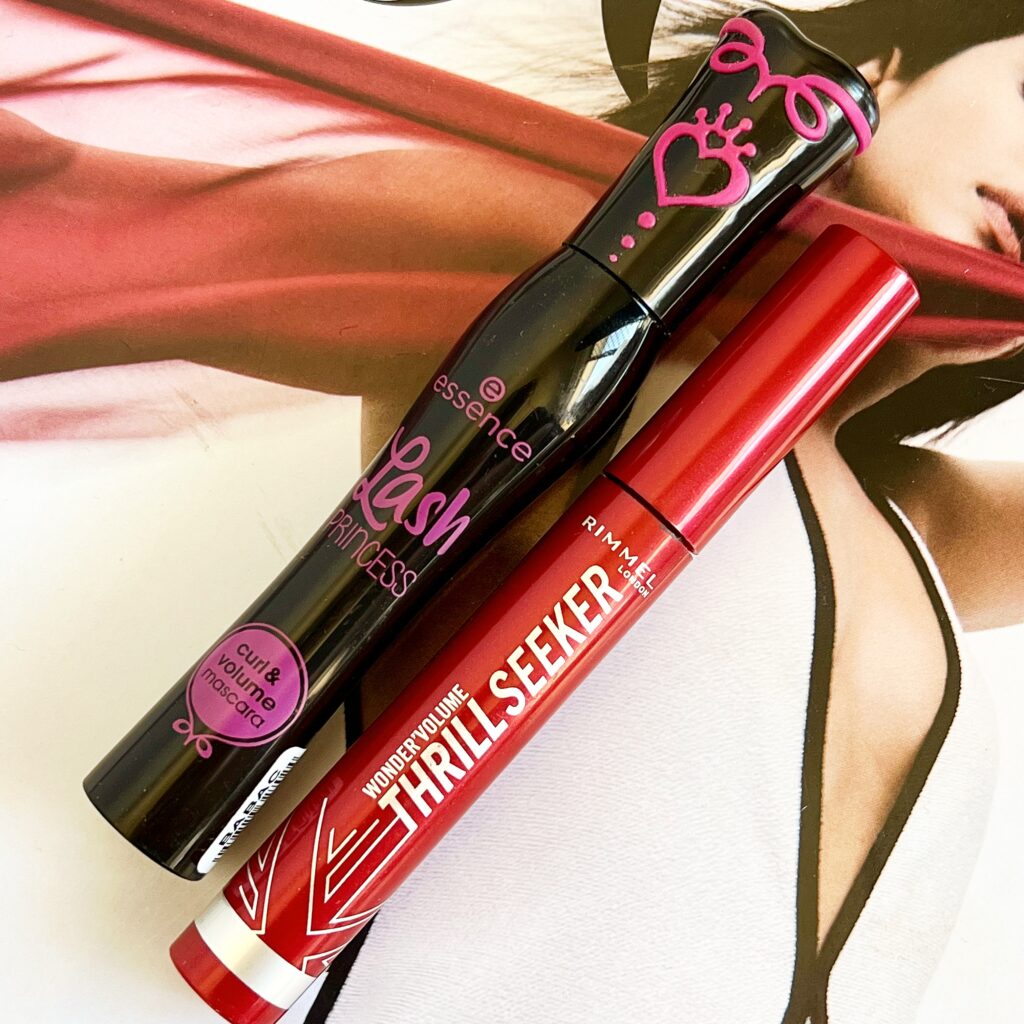 Getting into mascaras now. And here are the real sneak peeks! My review of the brand spanking new RIMMEL WONDER'VOLUME THRILL SEEKER MASCARA – $23.95 should be up very soon. But next in line is the ESSENCE LASH PRINCESS CURL & VOLUME MASCARA – $7.99*. I know how much y'all love anything Lash Princess so I'm super excited to try it out!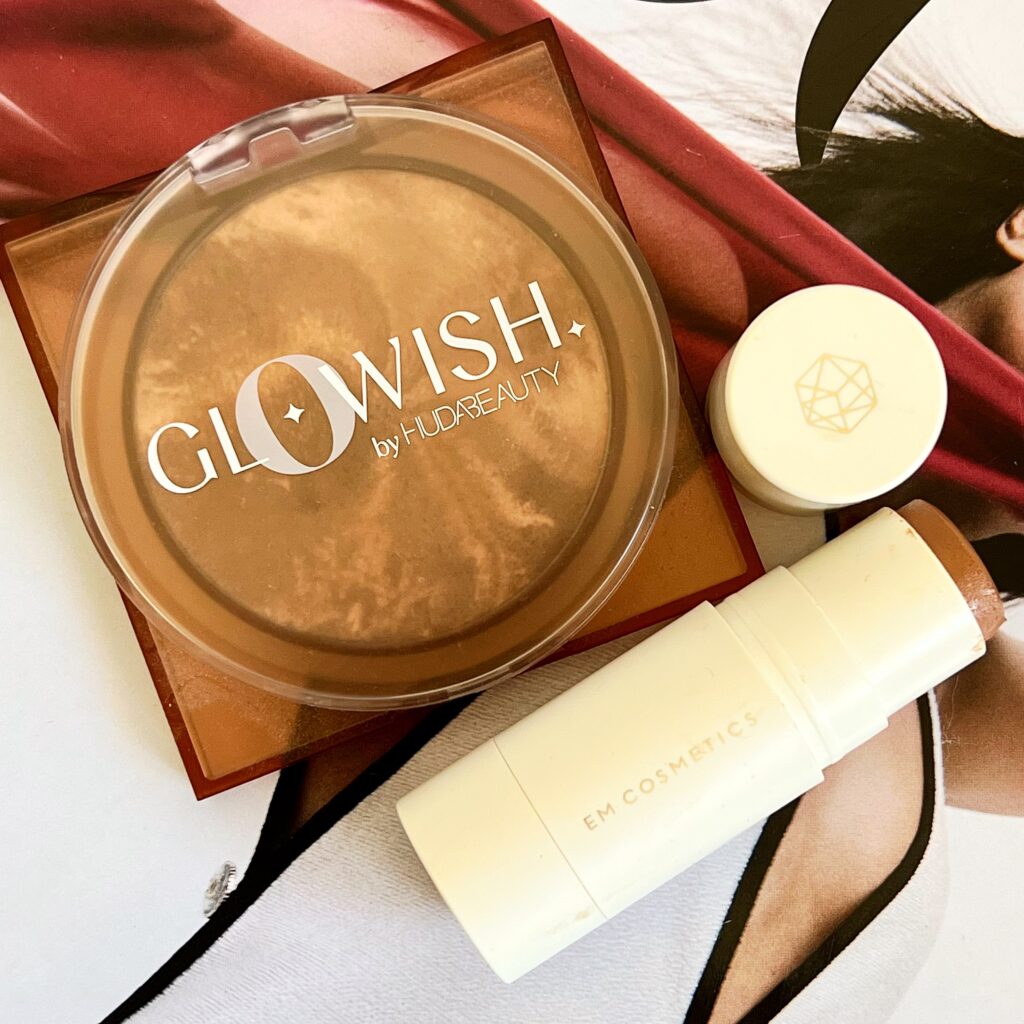 For bronzer, I like to keep my options open. Which is why I have a cream and powder as my picks. For the cream, I have the EM COSMETICS SOFT SCULPT MULTI FACEPLAY BRONZER in SUMMER – $47.00. And for the powder, I went with the GLOWISH BY HUDA BEAUTY SOFT RADIANCE SCULPTING BRONZER in 03 TAN LIGHT – $47.00. I've owned both of these for a while, but I haven't really played with them since I got them.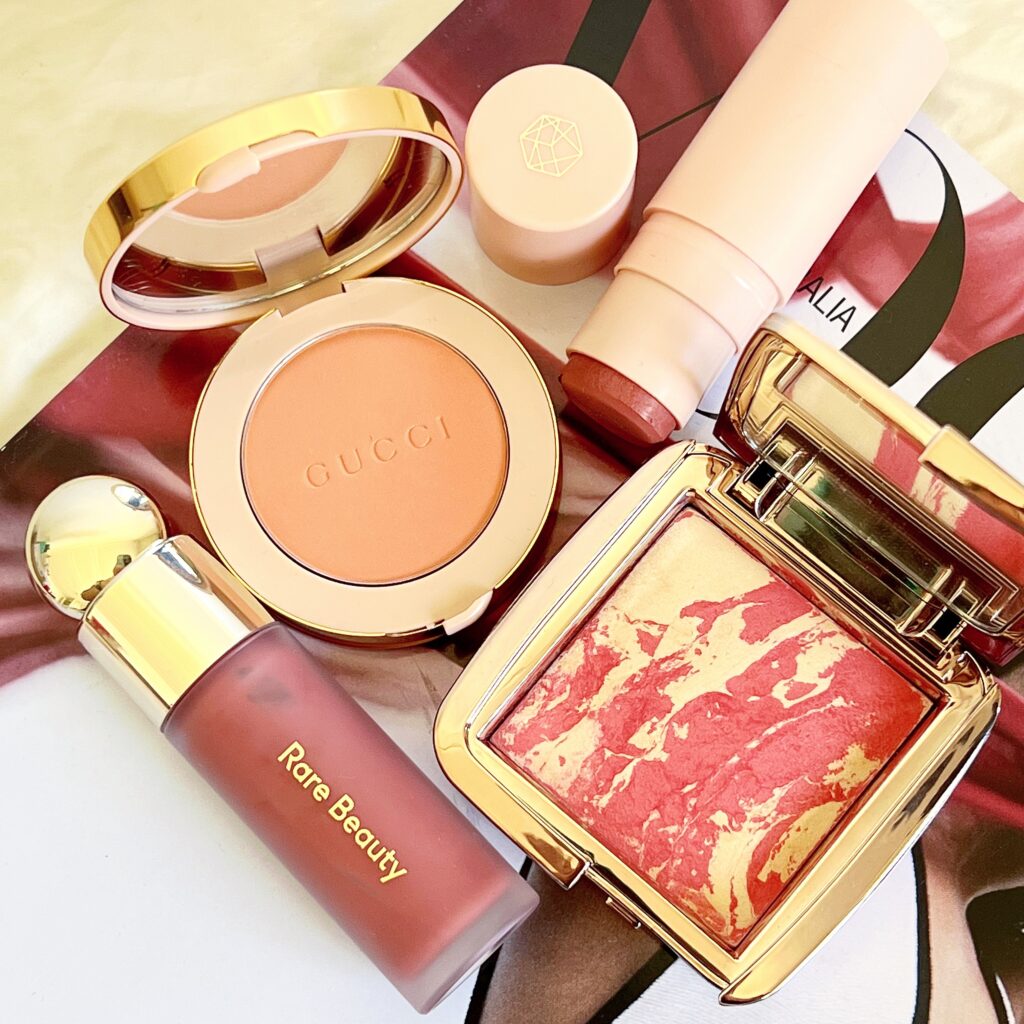 Finally, we have blush. And like I mentioned earlier, I like to keep my options open. Which is why I have a liquid blush, a cream blush and two powder blushes! I do like my blush. For the liquid, I went with the RARE BEAUTY SOFT PINCH LIQUID BLUSH in ENCOURAGE – $34.00. These went viral earlier in the year and I picked one up because hype. I just haven't used it yet. For the cream, I picked the EM COSMETICS SO SOFT BLUSH in VENETIAN ROSE – $47.00. I genuinely love this formula because it's so easy to blend out. Lastly, for the powders, I went with the one two bougie punch of the GUCCI BLUSH DE BEAUTE in TENDER APRICOT – $83.00 and the HOURGLASS AMBIENT LIGHTING BLUSH in DIFFUSED HEAT – $65.00. Both of these are on the newer side and I can't wait to put them to the test.
And that's a wrap on this first part of my Shop My Stash journey. I skipped over lips and eyeshadows because I change them up all the time already. And my brow routine is pretty set in stone. But I am looking forward to using these products and seeing if they were actually worth the purchase. Do you do a shop my stash? Let me know in the comments below!
Cheers and love
Emily xo