Well, November was a write off. Thank goodness the end is finally near! Y'all, I am so ready for my week off, I could cry. But, I still have three weeks to go. Until then, I write! What am I writing about? My trash! This month is actually much bigger than normal. I have a few declutters and a couple of products that were on their last leg at the start of the month. Let's get into it!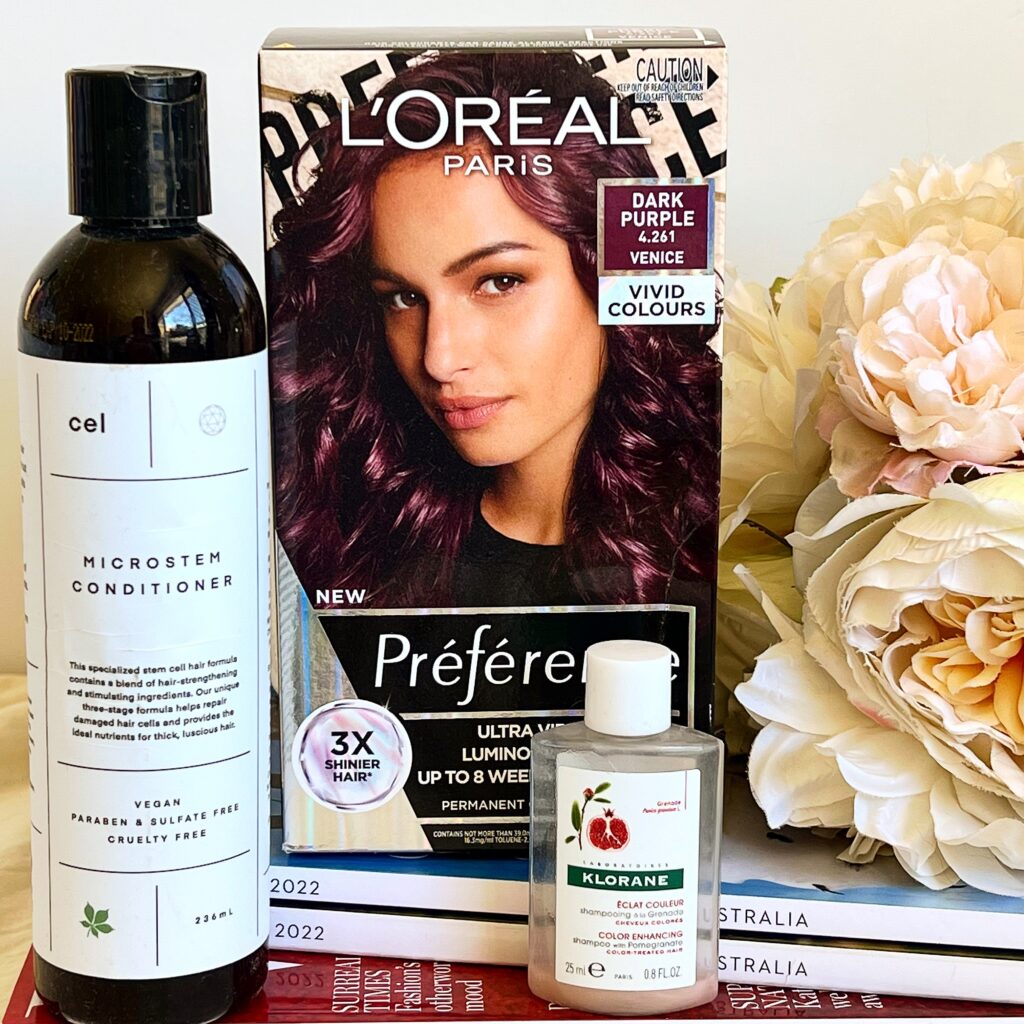 CEL MICROSTEM THICKENING CONDITIONER – $38.95
I got this in my Bellabox back in May. And I gotta say, I went through it super fast. Other than that, no notes really. Pretty rock solid conditioner. I will say that in the time between me getting this and me using it up, they have gone through a packaging change and a pretty steep price rise ($8.00!). So keep that in mind.
KLORANE COLOUR ENRICHING SHAMPOO WITH POMEGRANATE – $19.99
First of all, I took this to Townsville back in August thinking it was a conditioner. I have to learn to read. Weirdly though, I do believe that this has been discontinued because I couldn't find it in stock anywhere.
L'OREAL PREFERENCE VIVIDS HAIR COLOUR in DARK PURPLE – $24.00
I rarely stray away from my beloved Schwarzkopf when it comes to dyeing my hair. But I had a queer moment at the start of November and decided to dye it dark purple. Yeah, do not recommend this dye. The colour leeched out for about a fortnight afterwards. Staining my hats and pillowcases purple. And now my hair is more red than anything else. When I get my trim in two weeks, I plan on grabbing my normal dark brown dye and fixing my hair up.
CANCER COUNCIL FACE DAY WEAR FLUID MATTE SPF 50+ – $18.50*
(TGA Disclosure – This was sent in PR) Ultra lightweight sunscreen with SPF 50+. Leaves a matte finish to the skin. I will note that the packaging has since changed with this one.
PAULA'S CHOICE DAILY SMOOTHING TREATMENT 5% AHA – $51.00*
I got sent this ages ago and I did love it for a long time. I unfortunately got distracted by other spicy serums. And in a bid to not burn my barrier to pieces, stepped away from this for a while. The formula has since turned funky and I no longer feel comfortable putting it on my face. I will buy this again though because I did enjoy it.
WISHFUL GET EVEN ROSE OIL – $38.00
Y'all, I didn't want to like this. But I so do. Doesn't leave the skin feeling greasy and soaks in super fast. I might actually get this again. This bottle lasted ages!
HOLIFROG TASHMOO WATER LILY MILKY WASH – $54.00
This will be in my year end favourites. Enough said.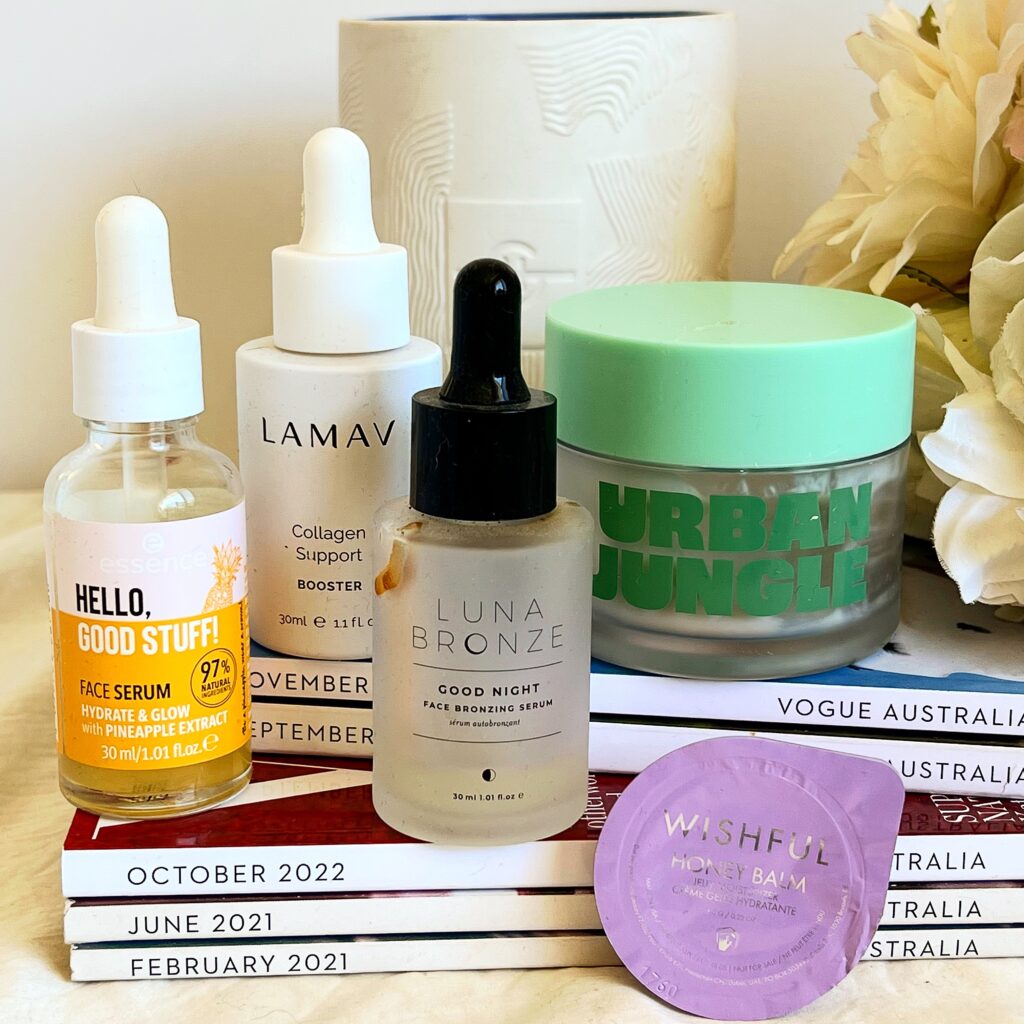 ESSENCE HELLO GOOD STUFF FACE SERUM – $9.04*
Wasn't wild about this one. Left my skin feeling sticky. I think this has been discontinued anyway.
LAMAV COLLAGEN SUPPORT BOOSTER – $85.00*
Not entirely sure that this did anything for me. But I enjoyed it while I had it!
LUNA BRONZE GOOD NIGHT FACE BRONZING SERUM – $47.75
This was perfect during winter when my skin just needed a little bit of colour. This was best used mixed into my moisturiser.
URBAN JUNGLE HEMP DAY CLAY MASK – $36.00*
Out of all of the Urban Jungle products that I was sent, this mask is what I would repurchase first. First of all, it smells awesome (just like lime cordial). And it didn't have that super harsh dry down that some clay masks have. I do rate this one.
WISHFUL HONEY BALM JELLY MOISTURISER – $66.00
Yeah, a better formula for winter. It's a bit too thick for this time of year. Also, Miss Huda, please make a version of this without the lavender?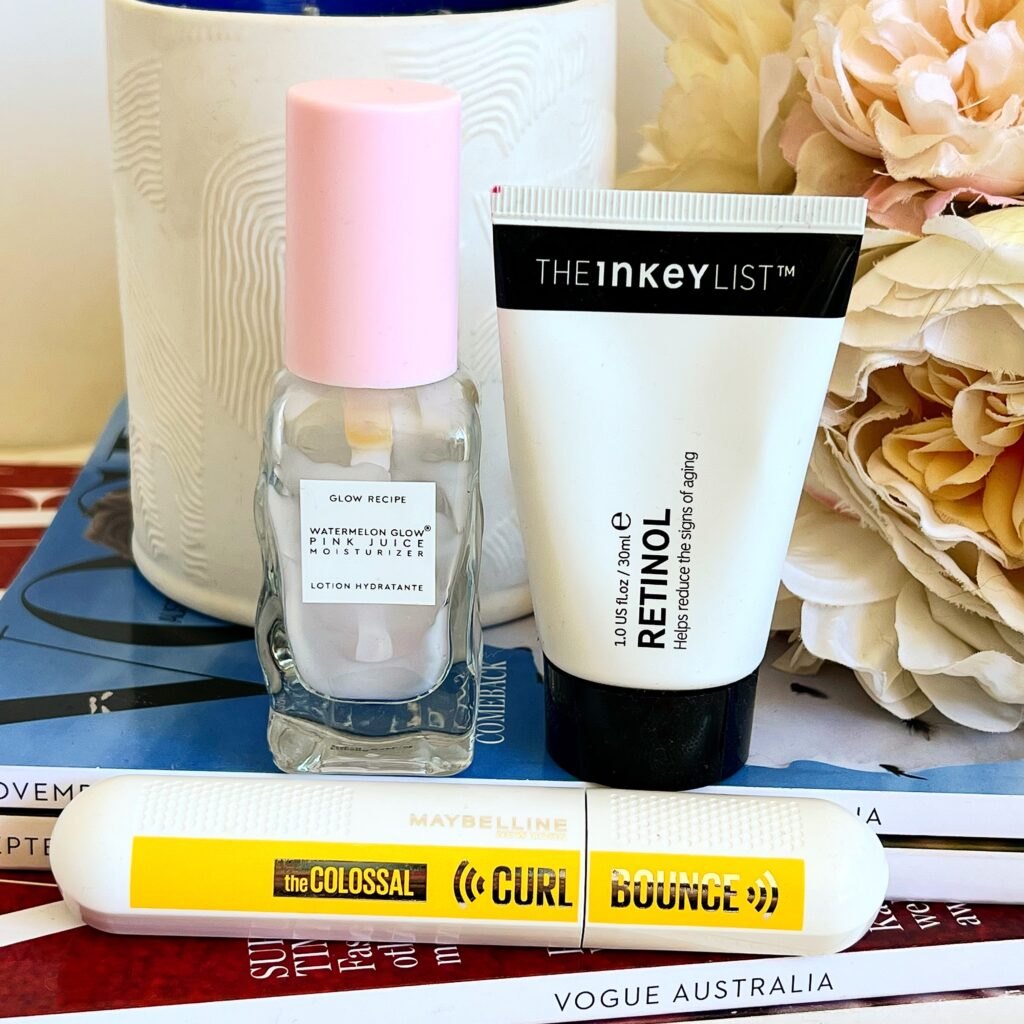 GLOW RECIPE WATERMELON GLOW PINK JUICE MOISTURISER – $25.00
On the flip side, this moisturiser is maybe a bit too thin. If you're a teen, this moisturiser would be perfect for you.
THE INKEY LIST RETINOL – $15.00*
I got asked the other day how old I was. I said I was 33. They said bullshit. I liked this retinol.
MAYBELLINE THE COLOSSAL CURL BOUNCE MASCARA – $25.99
It always hurts when a Maybelline mascara doesn't work out. And this was a flop for me. Stick to Sky High or Falsies Lash Lift.
And those are my November empties! If you made it to the end, grab yourself a cookie! You earned it. Now, y'all have a good weekend.
Cheers and love
Emily xo