Happy Friday! I'm gonna keep the intro for this one short and sweet. Which is not at all like me. But it is for a good reason. Today, I'm going to be chatting about the Ultra Violette Dream Screen SPF50 Tinted Veil. And why maybe putting reviews off for much longer than normal isn't necessarily a good thing. Let's get into it!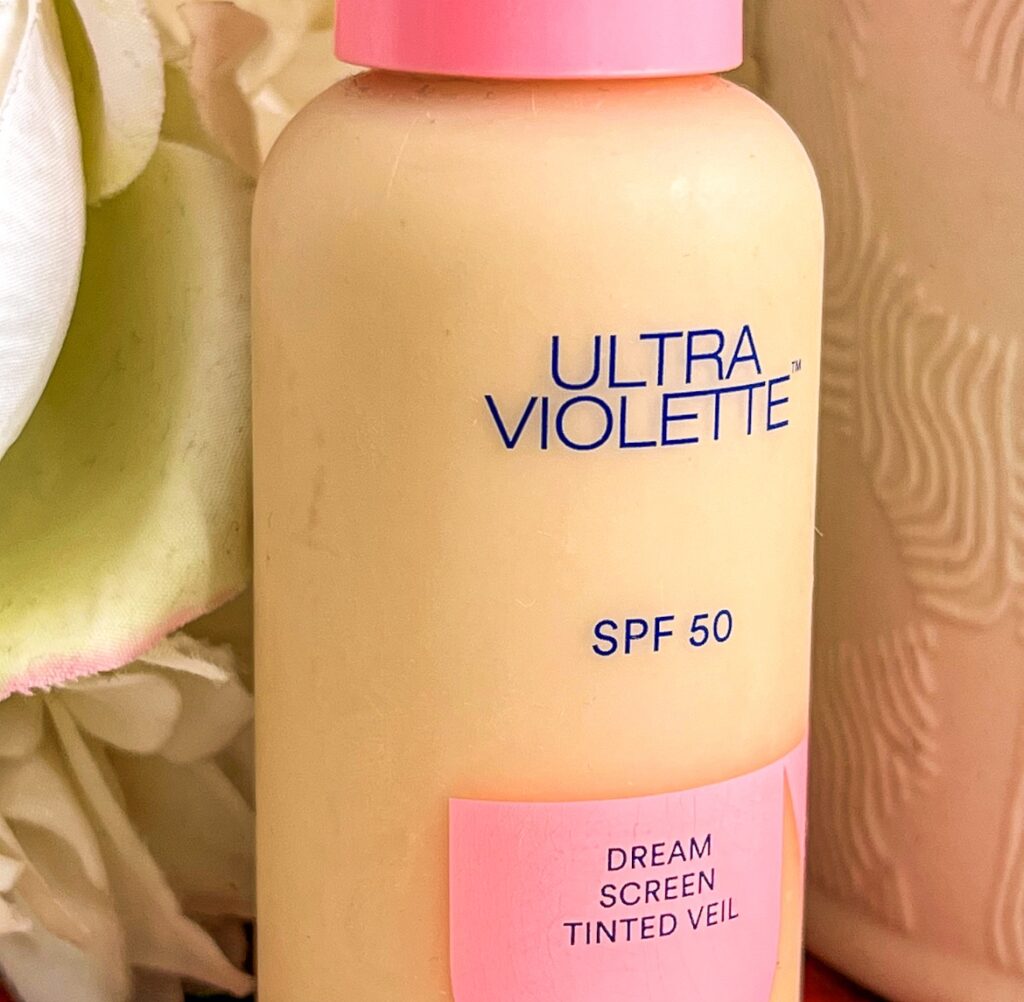 ULTRA VIOLETTE *DAY*DREAM SCREEN SPF 50 TINTED VEIL – $55.00 – ultraviolette.com.au
(15 shades available)
*Em's Note* TGA Declaration – I purchased this sunscreen November 19, 2021. Always read the label. Follow the directions for use. Reapply every two hours and avoid prolonged sun exposure.
Use five methods of sun protection: protective clothing, eyewear/sunglasses, a broad-brim hat and shade.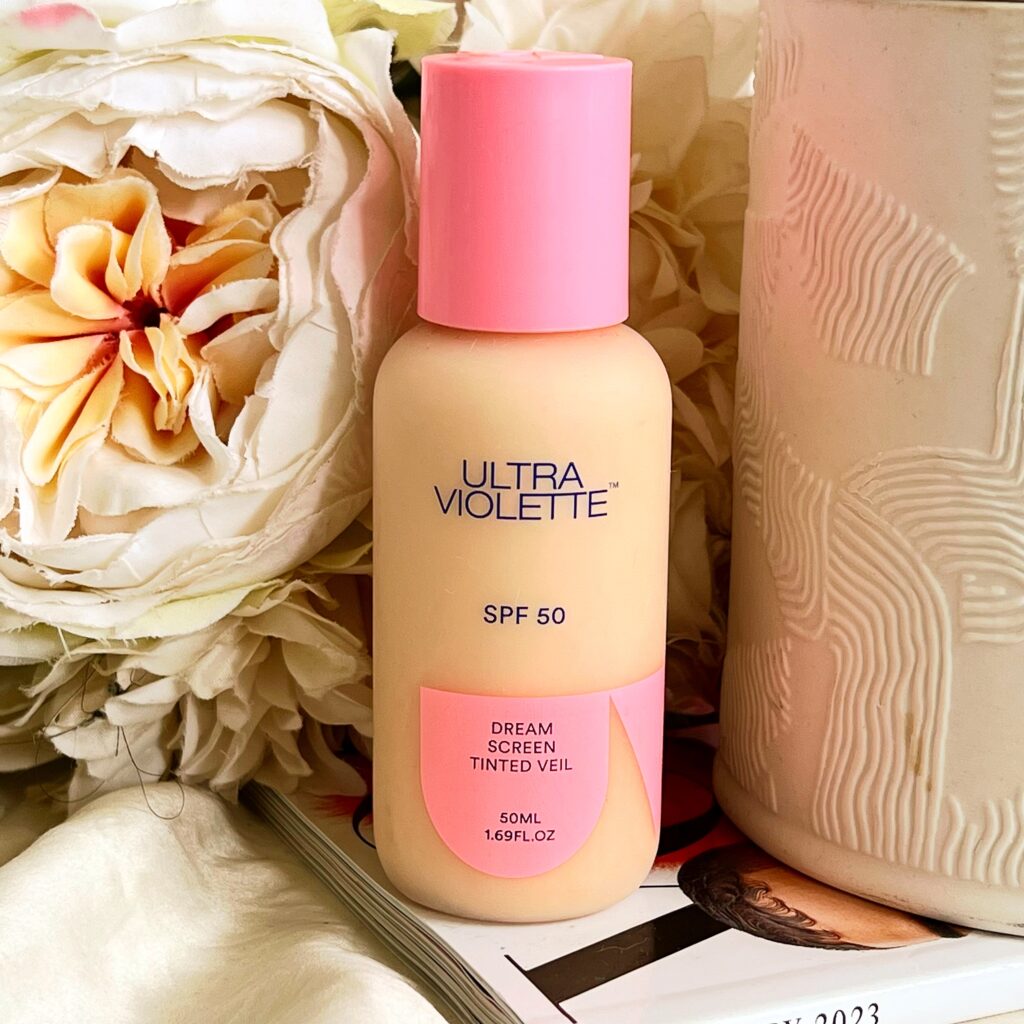 Starting with the packaging, the Dream Screen (I'll just call it that for this review's purposes) is housed in a soft, squeezable plastic bottle. The bottle has a pink cap and pink and navy blue detailing (If you're familiar with Ultra Violette's other packaging, the navy blue is the same colour as the rest of their sunscreen packaging). The Dream Screen Tinted Veil is vegan, cruelty free, and contains 50ml of product.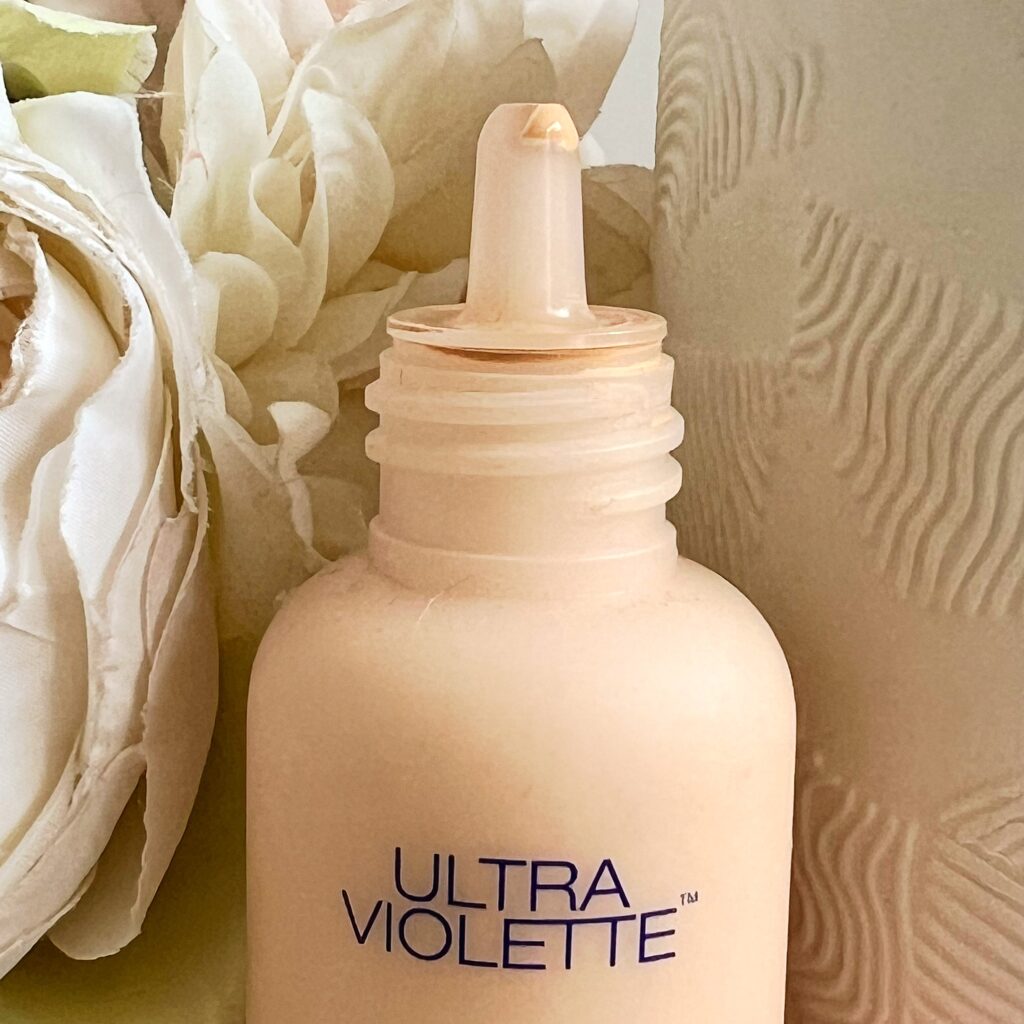 The Dream Screen is dispensed through a spout style dropper. I don't mind this because the hole isn't too big. And because the plastic is easy to squeeze, I do have a lot of control over how much product I dispense. The cap that goes on is also quite secure. So I don't have to worry about it leaking all over my stuff.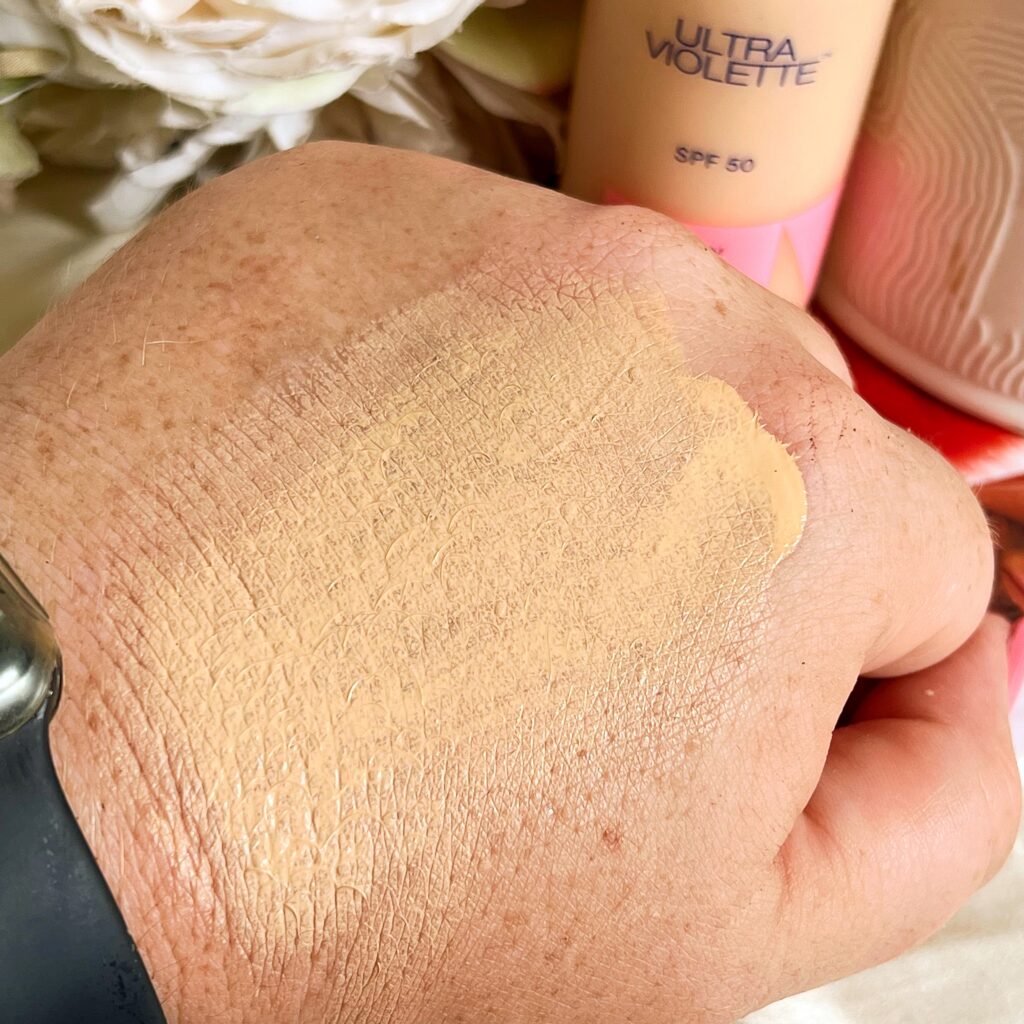 When the Dream Screen initially launched back in November 2021, they launched it with 11 shades. Which on the surface seemed well balanced. However, it was when the initial promo shots came out that the gaps in the range became clear. The vast majority of the shades leaned on the fair/light side. With two shades being suitable for deep skin tones. If you sat somewhere in the middle, you were out of luck. And I'll admit, the backlash was part of the reason why this review took so long to see the light of day (well, that and Covid. And my Executive Dysfunction).
They would later add 4 new shades to the line when they rebranded to Daydream Screen. And those shades were definitely better suited for medium skin tones. Looking at the range now, it is actually very well balanced. But I would still love to see Ultra Violette expand further in the future. As for me, I wear shade V3. Ultra Violette doesn't do shade descriptions on their website. But it's a light with neutral/warm undertones. And it's a pretty rock solid match for me!
Now, to address the other elephant in the room. I have mentioned before that I tend to avoid skin tint style products that have UV filters in them because you never wear enough of the skin tint to get any of the protection from it. But Dream Screen is very unique in that it's entire design is to be worn in conjunction with your sunscreen. While Dream Screen does offer UVA and UVB protection in it's own right. If you to pair it with your favourite sunscreen, it works like a secondary sunscreen on top without affecting your primary sunscreen. In fact, it's like an added boost of protection! (They've done all of the testing to back this up. You can find it here).
As far as application goes, my favourite way was to use my fingers to blend it out, then going over it with a sponge to even things out. The formula is quite thin and runny, so a brush was just out of the question. I would use the length of the top of my middle finger as my initial first coat. And then dot more on if I wanted extra coverage. I could quite easily get this to a medium coverage. But I generally preferred it on the light side. Enough to cover up my acne scarring. But still have my freckles poke through.
One thing I did want to point out with this product though is that it's very glowy! Not tin man metallic, but I did notice that I was very dewy when I first applied it. I definitely had to hit it with some powder to help alleviate that. And I really loved the finish when I did. But if you're oily, definitely keep this in mind.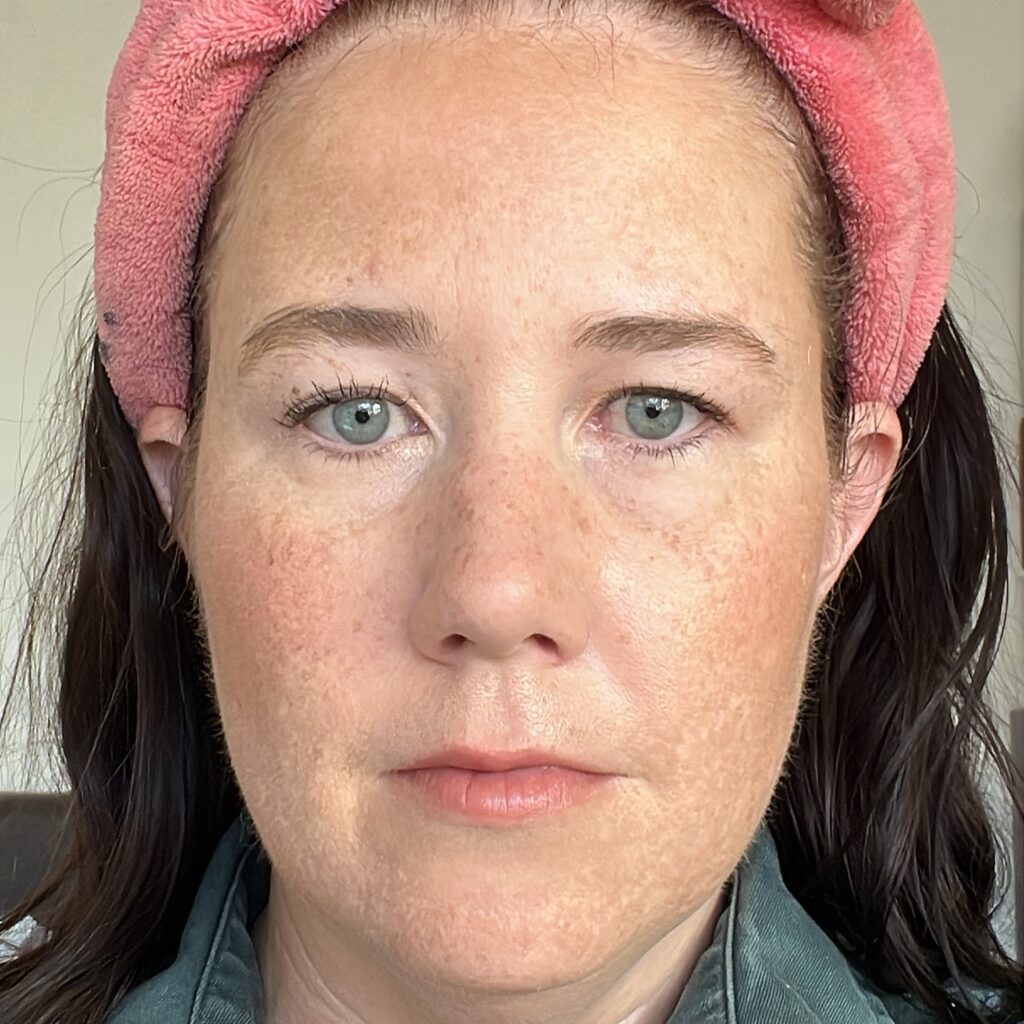 But now it's time for the wear test. And y'all, the Dream Screen wore absolutely beautifully on me. Now, yes, I did lose some on my forehead (it was 38° when I did this wear test). But it held onto the rest of my face so well. It didn't sink into my lines or pores, it didn't fade, it didn't break me out, and the rest of my makeup layered well on top. Honestly, no notes or critiques here at all!
So yeah, I have to say this review was definitely worth the wait. I cannot recommend the Dream Screen enough and I give it an enthusiastic thumbs up. I can't wait to see what Ultra Violette comes out with next. Have you tried the Ultra Violette Dream Screen Tinted Veil? Let me know in the comments.
Cheers and love
Emily xo