When it comes to really giving my skin that deep clean, there are few products I turn to more than a good old clay mask. And I have seen many a brand bring out their own version. The newest trend in clay masks at the moment appears to be coloured clay. With brands like Sand and Sky and Alya popularising the pink clay mask.
Now a new kid has appeared on the game with an all new clay mask. The Blu Ocean Skin Blue Clay Mask. And this one looked so appealing, I had to reach out and get my hands on it. I was actually very kindly sent this for review and after trying it for around three weeks, I definitely have some thoughts. So, if you want to know how the Blu Ocean Skin mask leaves my skin feeling, just keep reading!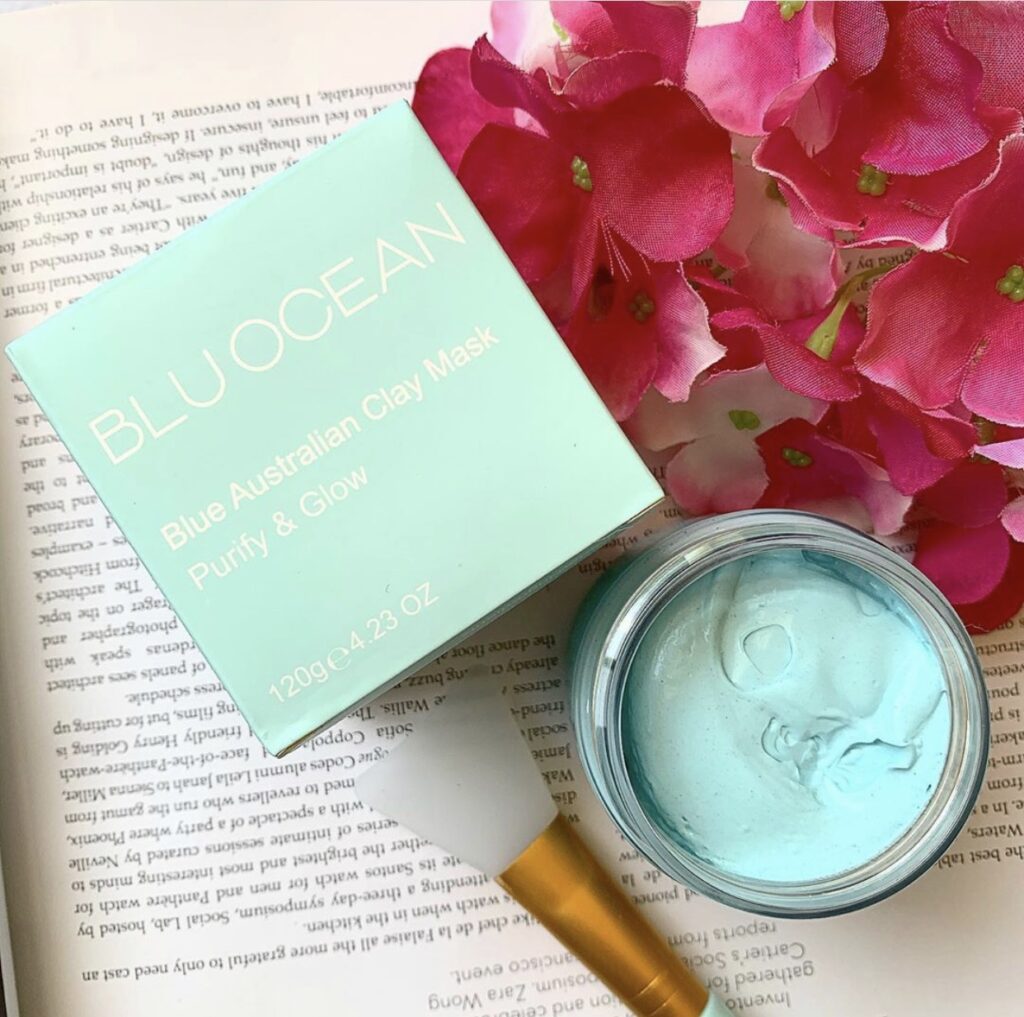 BLU OCEAN SKIN BLUE CLAY MASK – $49.00 – bluoceanskin.com.au*
The mask is housed in a very simple plastic container with a screw on lid. I always like when my skincare is in plastic because it means I'm less likely to break it. The Blu Ocean Blue Clay mask is cruelty free, vegan, suitable for all skin types and contains 120g of product. Which is apparently enough for 2-3 months use
The mask also came with a silicone spatula. I personally love when potted masks come with some form of applicator because it means you're not having to dig your hands into it. Having the applicator be silicone also means that in theory, you'll be wasting less product. While I love the silicone applicator for the wider parts of my face, I do also use a smaller paddle brush for around my nose.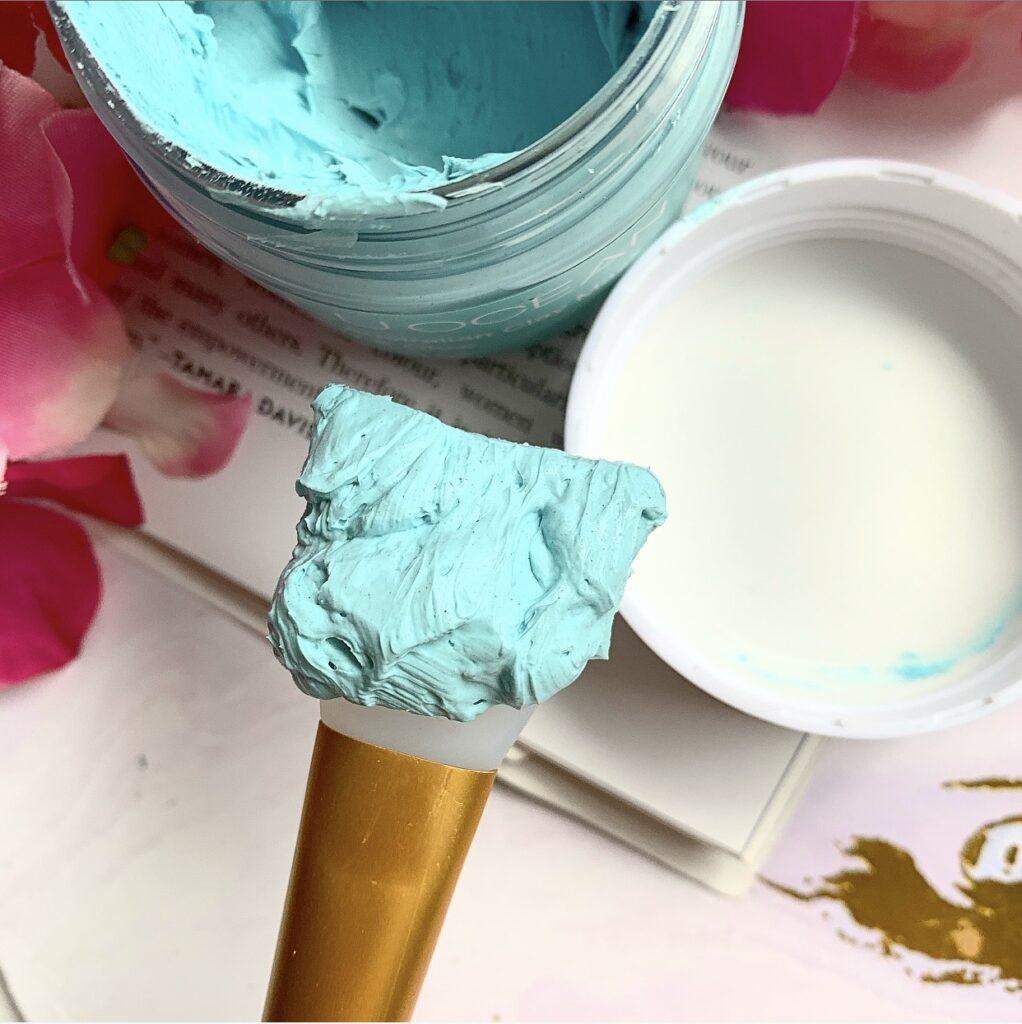 Having a quick poke around at the ingredients, and it's quite impressive what they crammed in this little jar. The main clay's they used were Kaolin and Bentonite. Both of which are excellent at drawing out impurities .There is also Vitamin E and Coconut Oil Extract, which gives a boost of moisture back into the skin. The two ingredients that interested me the most though were the Sophora Angustifolia Root Extract (which has anti inflammatory properties) and the Paeonia Albifloria Root Extract (which according to some studies can reduce pigmentation).
One ingredient I didn't see in any form was fragrance, which is a massive thumbs up from me. That isn't to say that the mask smells bad. Far from it. It has a lovely, light coconut scent from the Coconut Oil. But it's good to see that this mask wasn't loaded with unnecessary fragrance.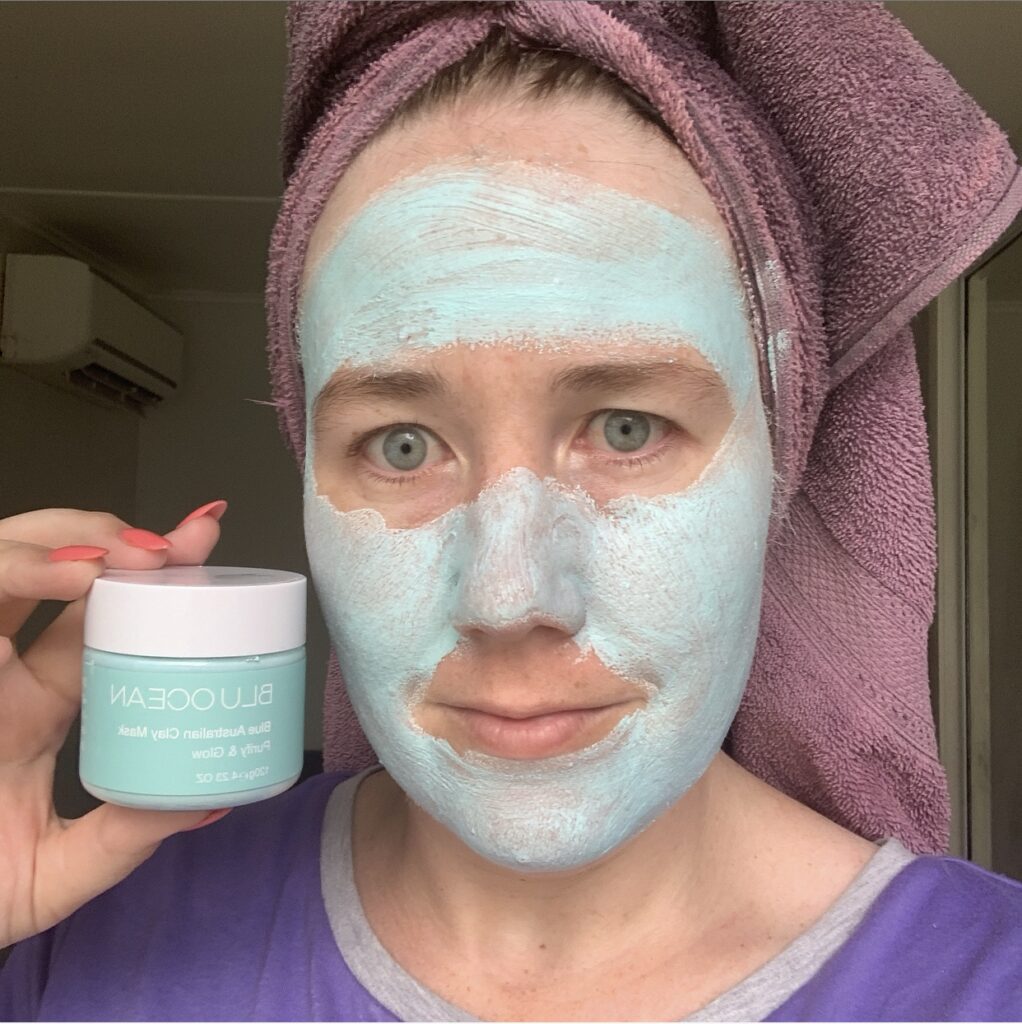 The first time I used this mask, I quickly noticed how light it felt and how easy it was to pick up on my applicator. The consistency was almost whipped. It was very easy to spread out on my face (like I previously mentioned, I used a small paddle brush for around my nose). And I did feel like I had a little bit of time to apply it before it started to dry down.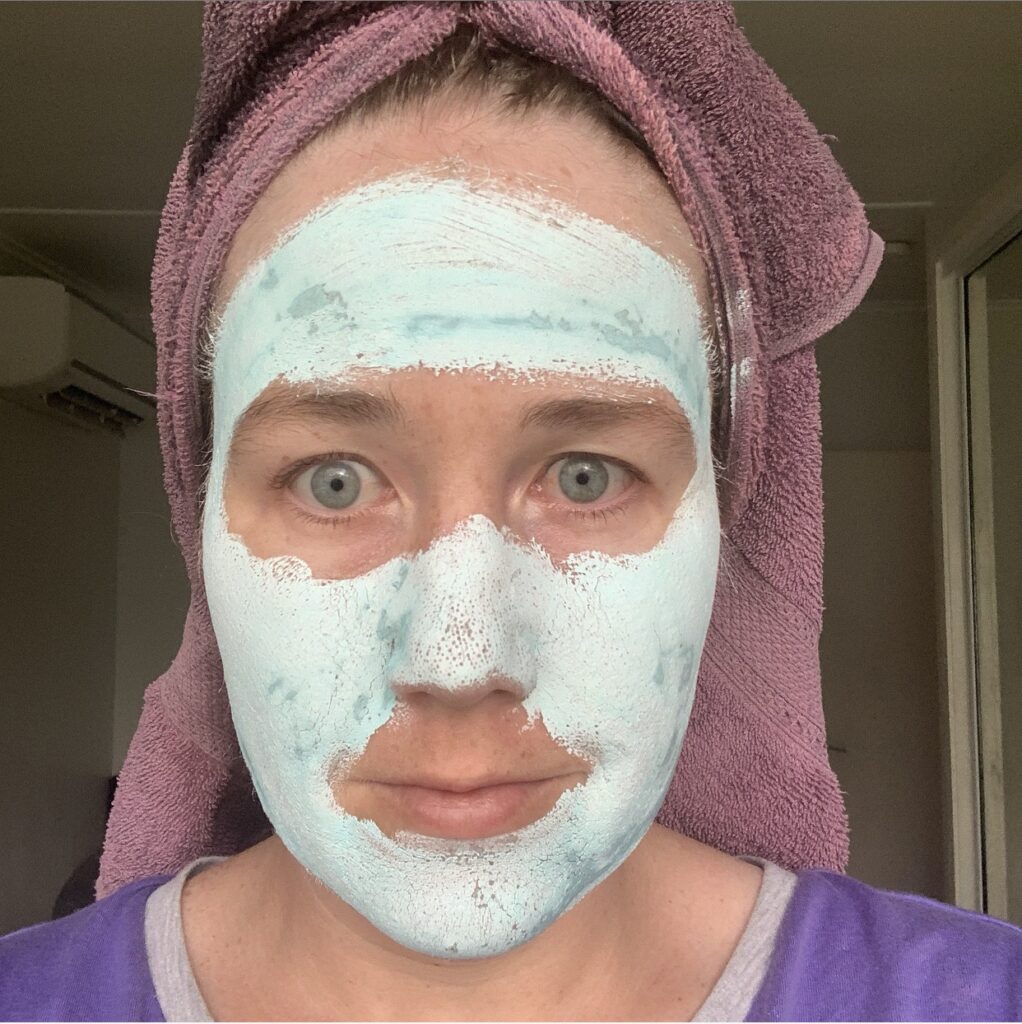 Blu Ocean recommends leaving the mask on for 15 minutes. I usually go 20 (mostly out of laziness). This mask does have a strong, stiff dry down. Very reminiscent of the Glam Glow masks. But unlike the Glam Glow mask or quite a few other masks I've tried, this didn't have that burning sensation. It was actually quite soothing. I did have the little oil spots on my nose and chin that showed it working, which I always like to see.
Rinsing this mask off was easy. My favourite way of taking it off was by splashing water on my face and then going in with my Face Halo to remove what was still on my face. And speaking of my face, wow! I loved how my skin felt after using this mask. It felt soft and smooth without feeling overly dry. And it worked well with my other skincare. I would go in with my serums after using this mask and I felt like they were working more effectively because my skin wasn't as congested and my pores were cleared out
I've also used this mask as an overnight spot treatment (I had been testing this mask while I was having some unfortunate hormonal breakouts). And I noticed a considerable difference in the size of my spots. So I definitely like it for that purpose as well.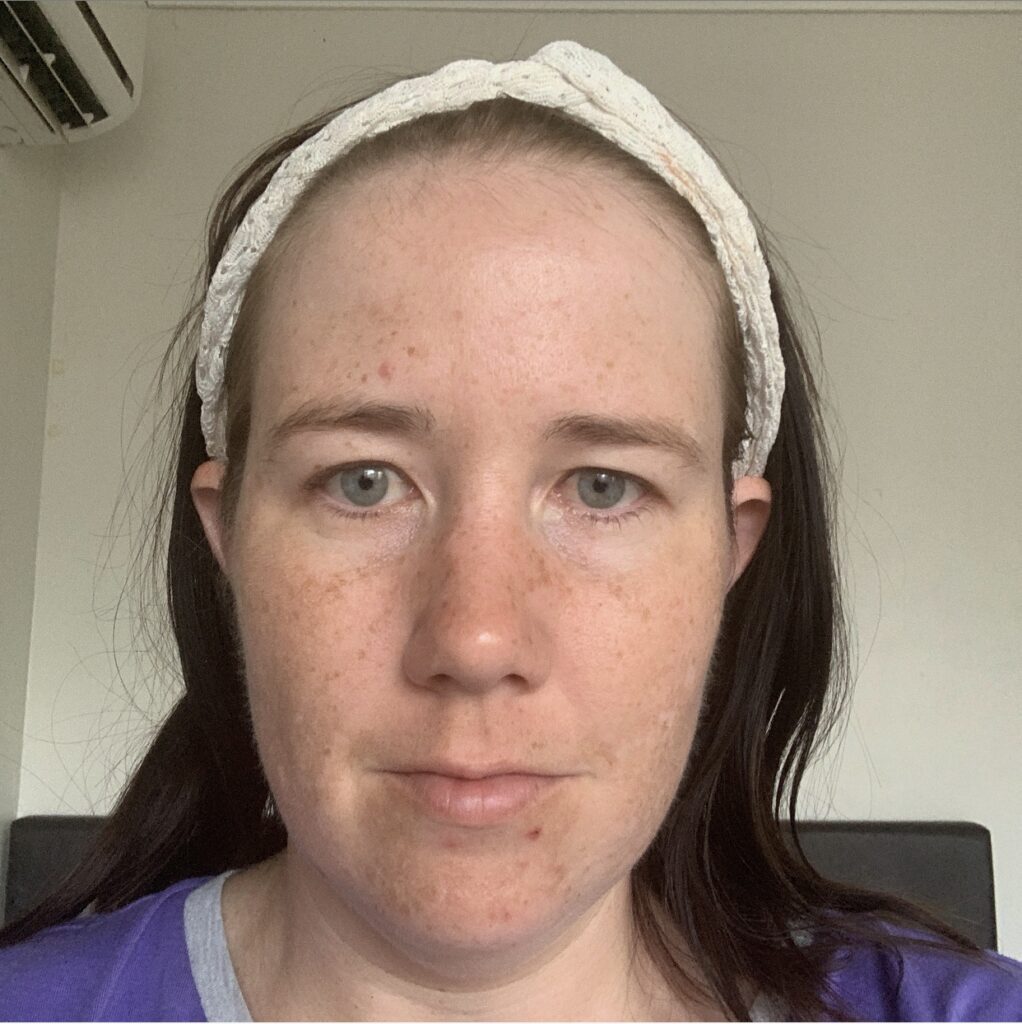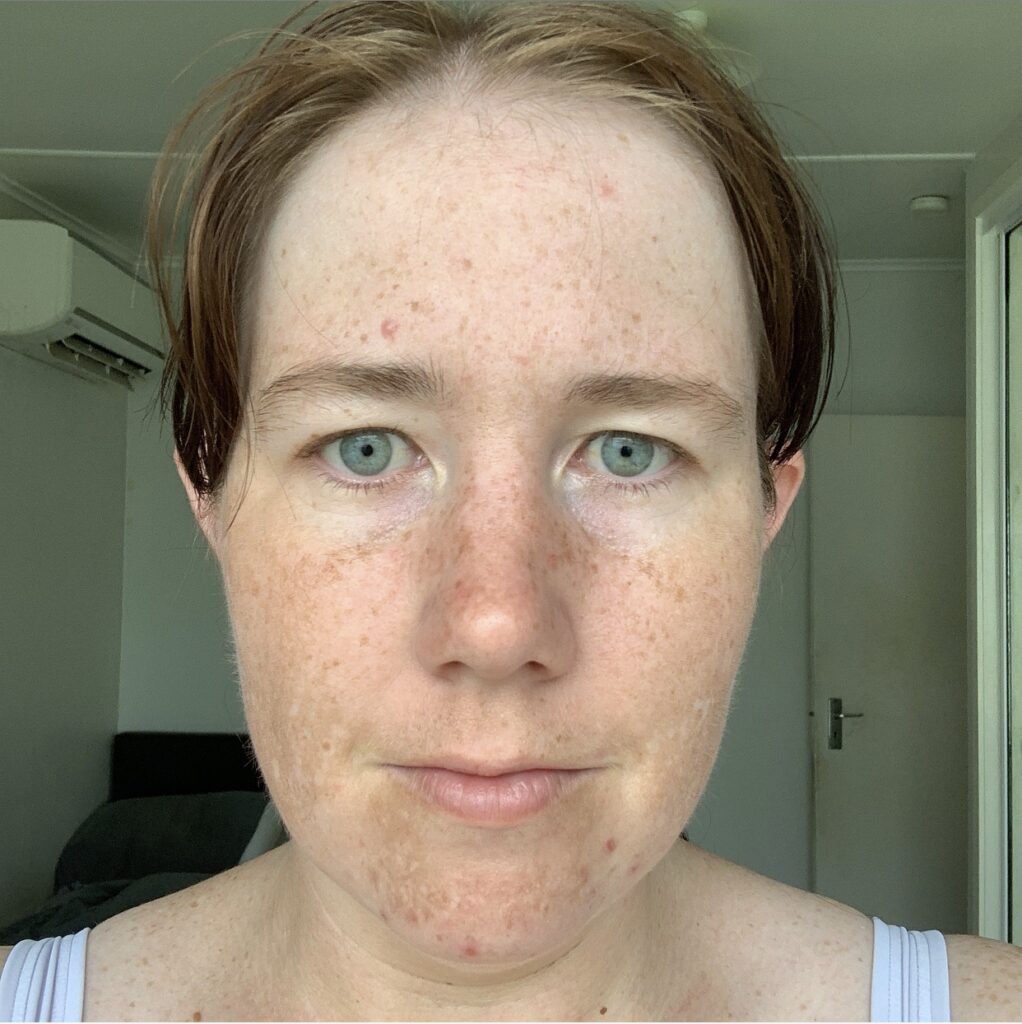 All said and done, I really love the Blu Ocean Blue Clay Mask and I definitely recommend picking it up. My skin feels less congested overall and I have noticed my nose in particular feeling a lot smoother. I would especially recommend it to people who are beginners to clay masks. I want to thank the people over at Blu Ocean Skin for allowing me to try this mask out. And let me know down below if you've tried this out!
Cheers and love
Emmie xo
*This mask was provided for review by Blu Ocean Skin. All opinions are my own.