When it comes to the great, wide world of beauty, I feel like everyone has their beauty blind spot. And for me, it has to be self tanning. The reasons why are obvious. I wear long pants 99% of the time when I leave the house. So there is no reason to 'jazz my legs up' so to speak. But this year, I have finally been crawling out of my comfort zone, fashion wise. And because my legs are normally so pale, they reflect light, I figured it was high time to break into the safe tanning game. But where do I begin?
One of the other reasons why I avoided fake tanning for as long as I did was I was afraid of screwing it up. Would the tan be too dark, too orange, too streaky? I've heard all of the horror stories. Fortunately, I was given the answer to my fears in the form of gradual tanners. And with renowned Australian tanning brand, Bondi Sands recently launching the Pure Gradual Tanning Lotion, I figured that was a good place to start. I've been playing with it behind the scenes for a while now and I have some thoughts. So, is the Pure Gradual Tanning Lotion the answer I've been looking for? Just keep reading!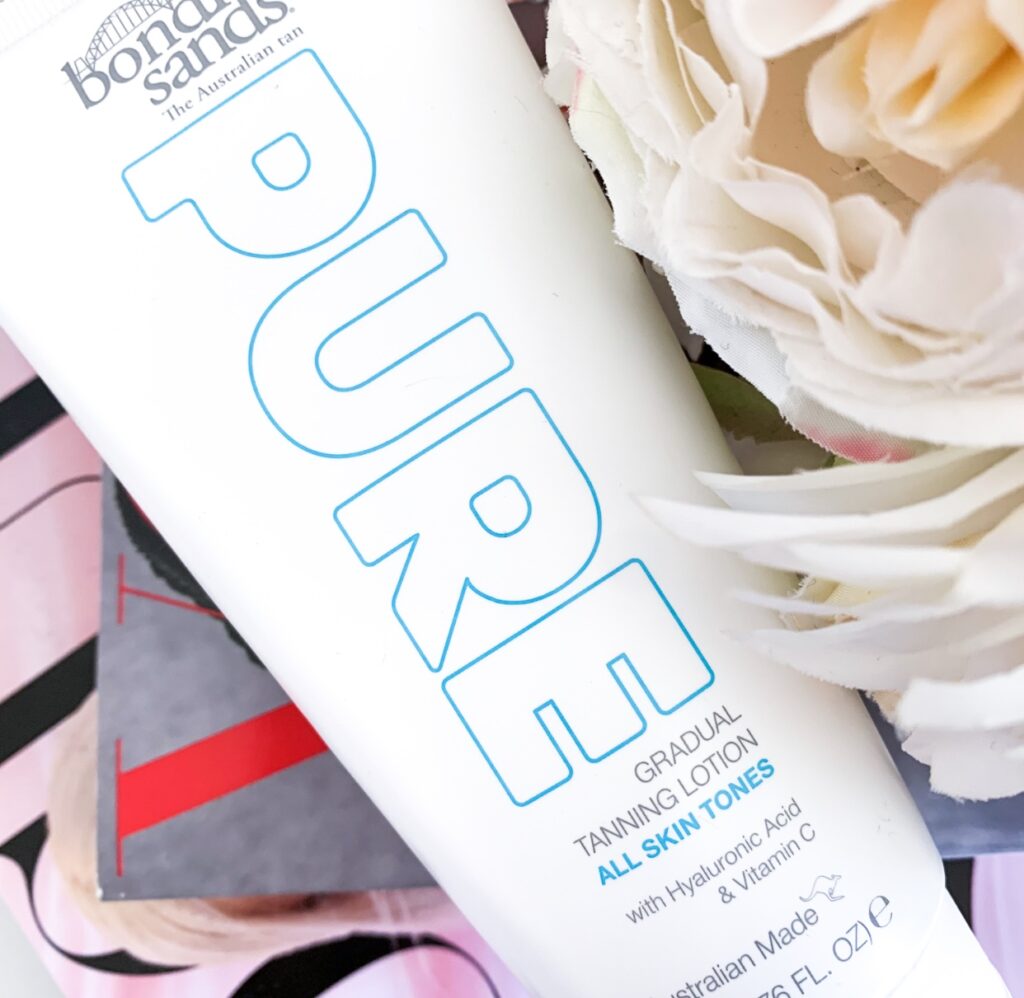 BONDI SANDS PURE GRADUAL TANNING LOTION – $19.99 – priceline.com.au
Starting with the packaging, the Pure Gradual Tanning lotion is housed in a sleek, white plastic bottle that is made with 100% recycled plastic. I do wish the bottle wasn't white (I'll admit that I did have to clean it off to get this pic). But that is my personal preference. The Pure Gradual Tanning Lotion is vegan, cruelty free, and contains 200ml of product.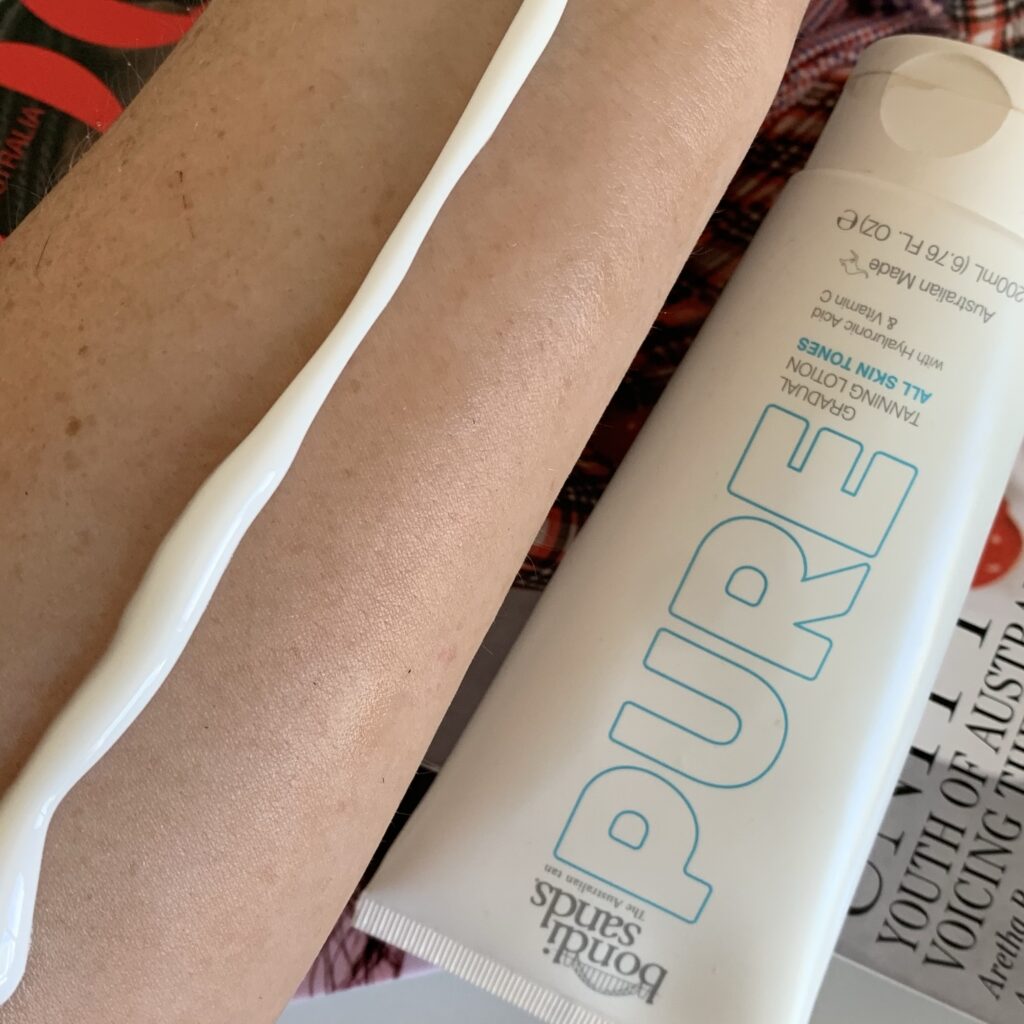 The actual consistency of the lotion itself is quite nice. It's loaded with a bunch of really great, hydrating ingredients like Vitamin E and my good friend, Hyaluronic Acid. But there is also Vitamin C in the mix to add a healthy glow to the skin. As for the main tanning ingredient, it's Dihydroxyacetone, which is an extremely common ingredient in self tanners. And is basically the ingredient that reacts with the amino acids found in the top layer of the skin, creating the tanned effect on the skin.
The amount you're going to need is going to vary from person to person. Because I am a plus sized person, I used approximately one and a half tablespoons of product per section of leg initially. I would apply this to cleansed, exfoliated, and dry skin and rubbed it in in a circular motion (Bondi Sands said to do it that way, I just listen).
The lotion went from white to clear when rubbed into the skin. And because it leaves such a nice, initial hydrated glow to the skin, I knew whether or not I had missed a spot. I always washed my hands well immediately after use (tan hands are real). I found that the lotion soaked into the skin fairly quickly. I usually did my tanning after my shower and I left it to soak in for around 20-30 minutes before I went to bed.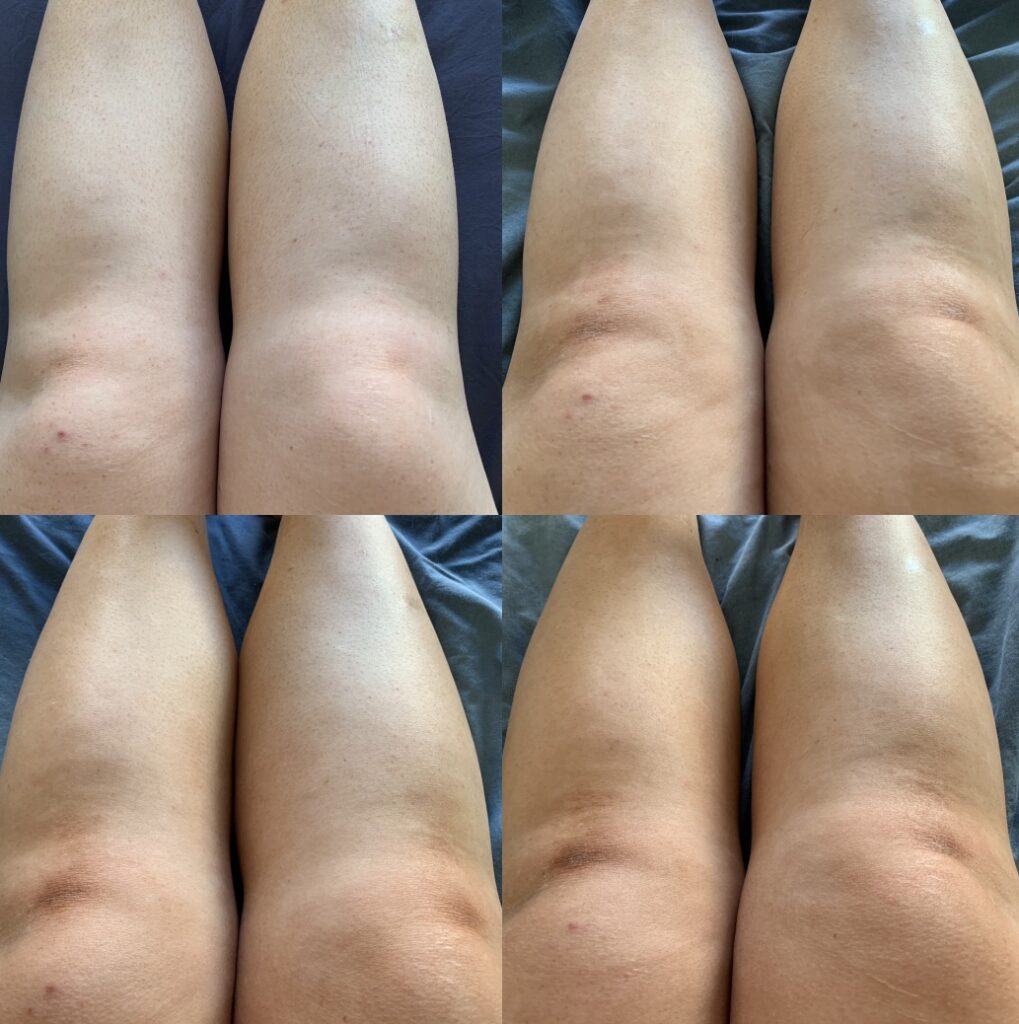 I will say, when I used it for the first time and saw how the colour developed overnight, I liked the colour enough. It was the lovely, golden shade I was hoping for. But I was disappointed in how I applied it. I guess it's like a pancake. The first one is always going to be a little dodgy. Once, I got the hang of it and knew what I was doing, I was walking around with streak free legs!
I love the colour of it. Like I said, it leaves a natural looking, golden hue to the skin that compliments the already tanned parts of my body. And once it's on, it's on! I had no transfer on my sheets or my clothing. I will note that this product does not have an SPF in it, so I always apply sunscreen to my legs if and when I'm leaving the house.
I found that when I wasn't reapplying every second night, I could get a good 5-7 days out of this tan before it started it look patchy. And removing it wasn't that hard either. I found that my best technique was to soak my skin in a body oil (I love the one from Bettyquette) and then after 30 minutes I would scrub it off in the shower.
All in all, the Bondi Sands Pure Gradual Tanning Lotion is a dang good tanner in my books and is a great intro to the world of safe, sunless tanning. It's fuss free, mess free and does exactly what it says on the bottle. I'm very excited to experiment more with fake tanning and I can't wait to take you all on that journey with me. Have you tried the Bondi Sands Pure Gradual Tanning Lotion? Let me know in the comments below!
Cheers and love
Emily xo