Charlotte Tilbury. The name alone is synonymous in the makeup world with sophistication and classic beauty. As a makeup artist, she is one of the most recognizable names working today. And as a brand owner, her products are famous for being high quality and extremely lust worthy.
Now, I've talked a lot about my Charlotte Tilbury favourites over the years. But I do not think that I've ever given any of her products the full review treatment. So, seeing as I've been on something of a pricey foundation review kick (and the fact that I've had this sitting in my collection for more than a minute), I figured it was about time that I did a full breakdown of the best selling Airbrush Flawless Foundation. This has been one of my most requested reviews as of late and I definitely have thoughts. So, if you want to know if Charlotte Tilbury's Foundation leaves me feeling flawless, just keep reading!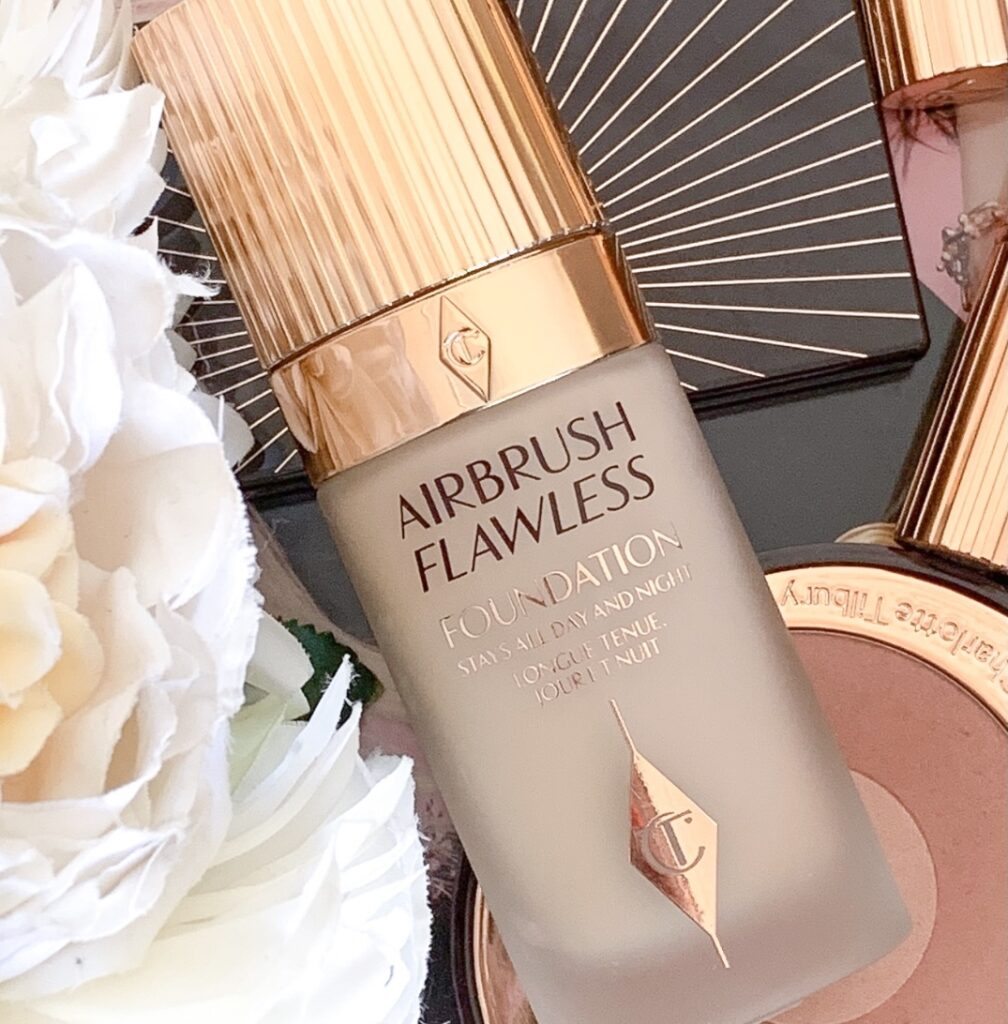 CHARLOTTE TILBURY AIRBRUSH FLAWLESS FOUNDATION – $65.00 – charlottytilbury.com (44 shades available)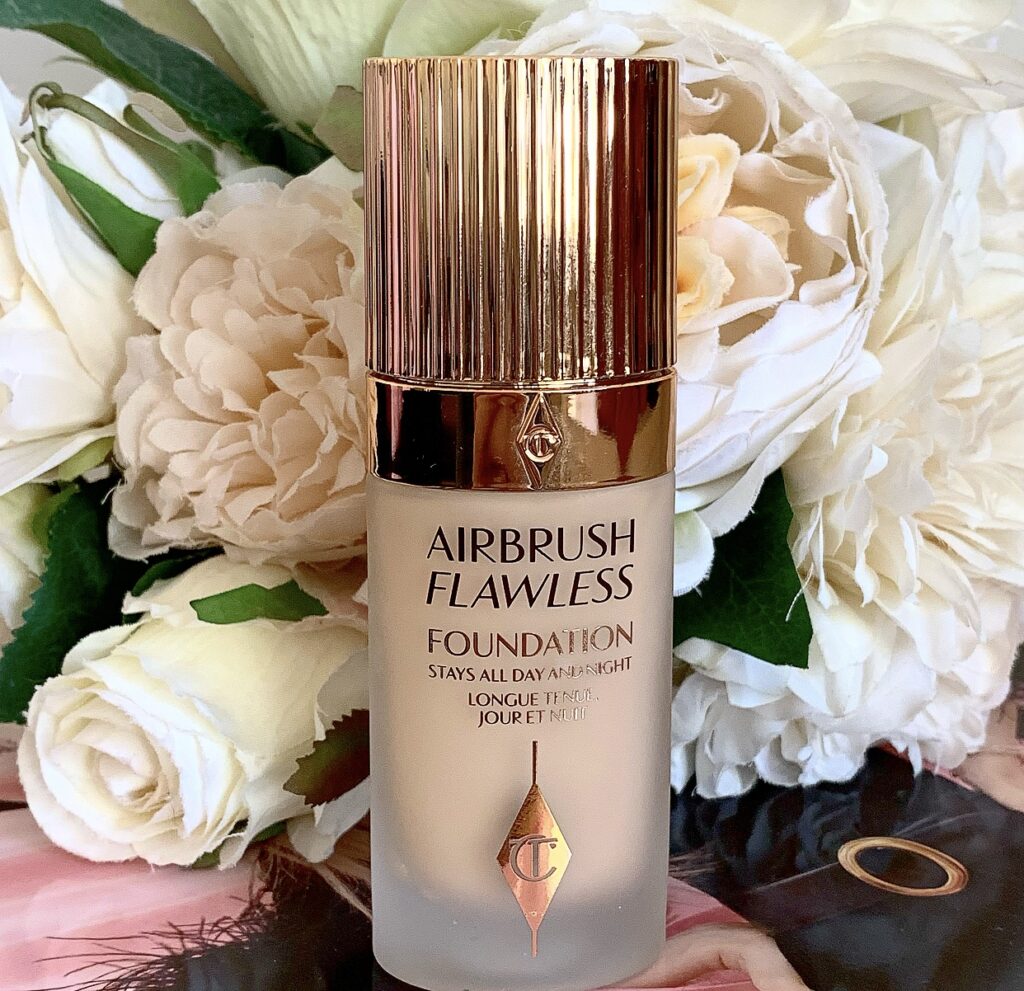 Starting with the packaging, the Airbrush Flawless Foundation is housed in a very classic oval shaped bottle. The bottle is frosted glass and the lid and details are yellow gold. It's all in line with her overall aesthetic. Very much classic, vintage beauty. The Airbrush Flawless Foundation is Cruelty Free*, does contain a noticeable fragrance, and contains 30ml of product.
*Em's note* While the Charlotte Tilbury website states that their products are cruelty free, there is some dispute as to how valid that claim is.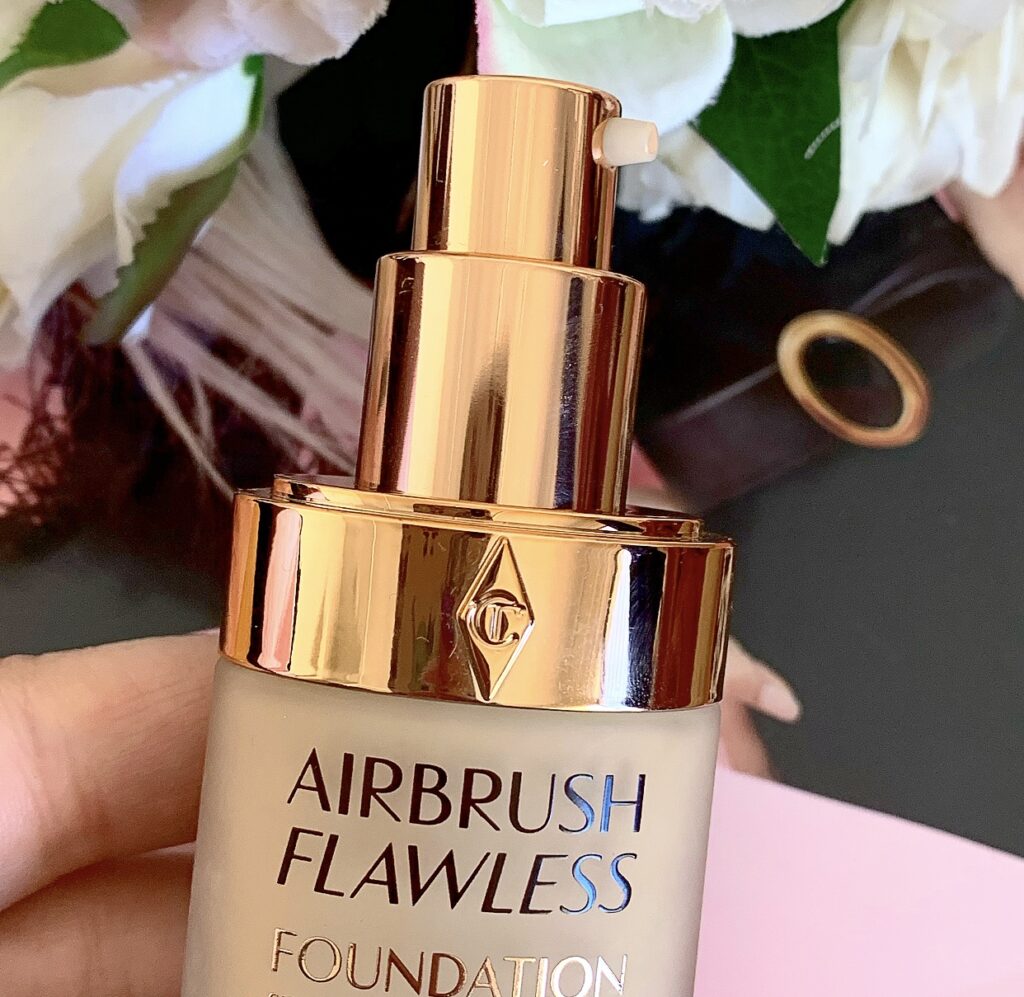 The Airbrush Flawless Foundation uses a pump as it's dispersal method. And like a lot of higher end brands, the pump is well crafted and you are able to control how much product you disperse. I do wish that the hole was a little wider though. I say that because the consistency of this foundation is quite thick and can occasionally block up the pump after a while between uses.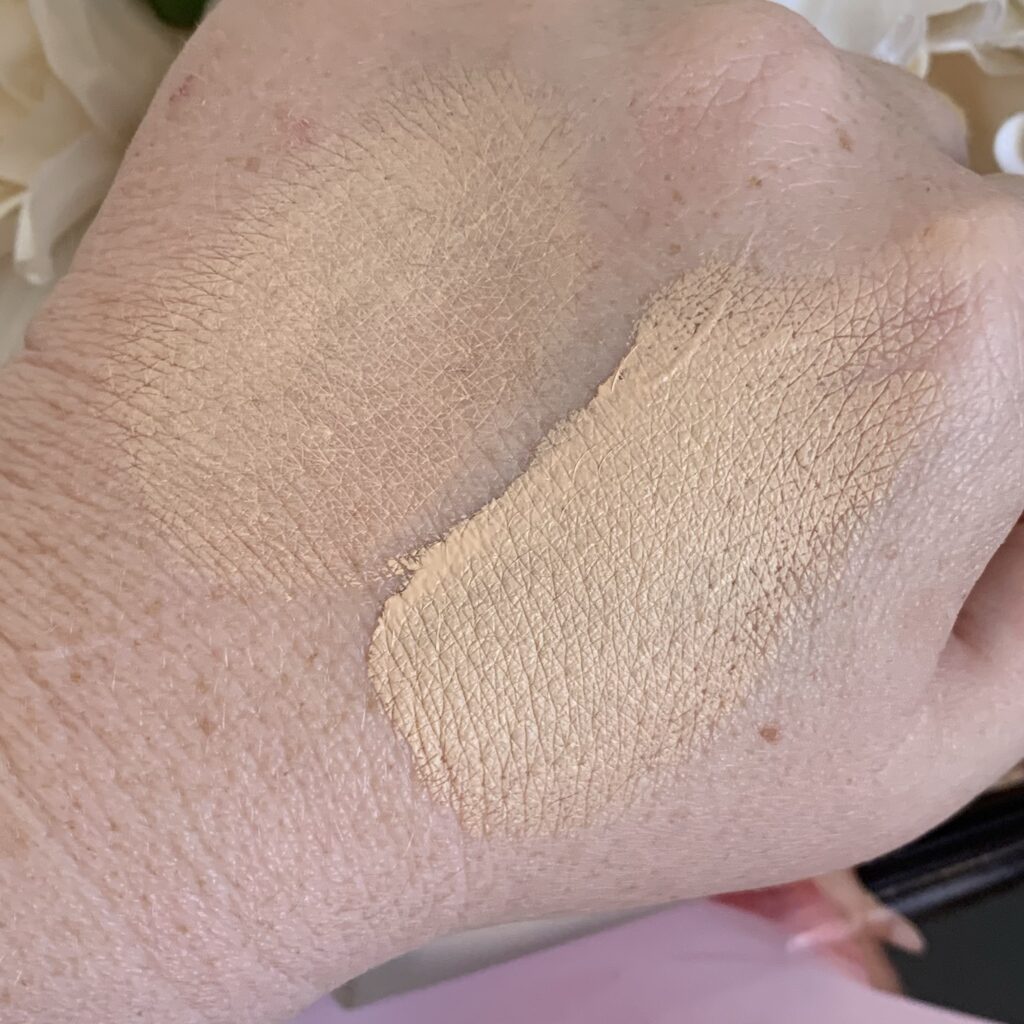 The Airbrush Flawless Foundation has a whopping 44 shades in their line. And they are divided up by cool, neutral and warm undertones. When I was researching this foundation, I discovered that Charlotte Tilbury really did her homework when developing her shade range. She did a massive colour study of over 600 skin tones and actually developed the deepest shades first. I genuinely love this because it shows that she wanted to make this range as inclusive as possible. And I do think it's an inclusive range. There is a really good balance of light, light medium, medium and deep shades here. But as I always say, there is space for improvement.
Because I always mention it, I wear shade 3 Neutral. Which starts off a smidge on the pale side, but eventually evens out to be a pretty perfect match for my skin tone. It does state on the Charlotte Tilbury website that this foundation will oxidise slightly while it's setting on the skin, so maybe go for a slightly lighter shade where possible. And I strongly suggest getting colour matched if you can.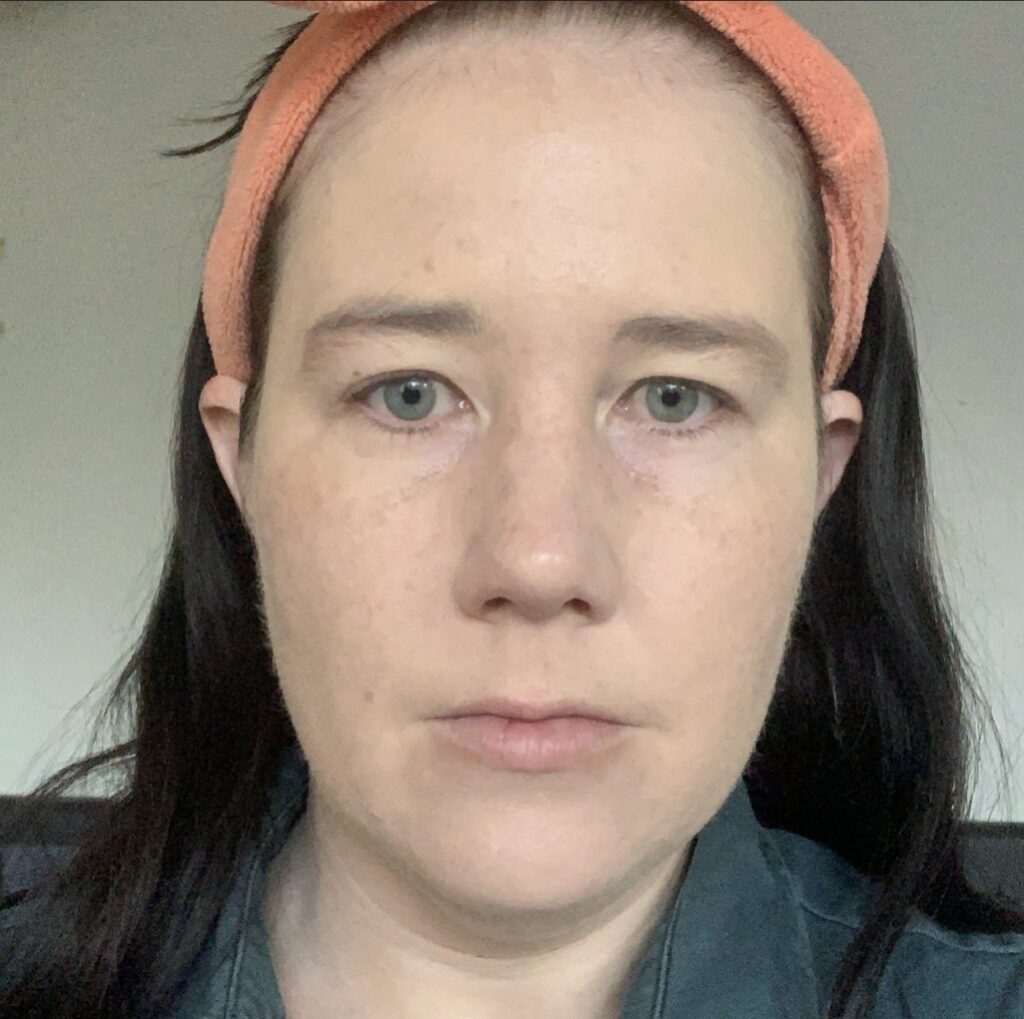 The Airbrush Flawless Foundation's consistency is much thicker than a lot of the foundations that I've tested recently. And it is very easy to dot across the face without it running all over the place. It's also by far one of the easiest foundations that I've come across to blend out. I was astonished when I first applied it. I used all three methods of application and I found that I had the easiest time with a brush (I use the Morphe M439). I had no real issues in terms of it not sitting properly, lifting or moving around once blended out. Once this foundation is on, it's on!
The Airbrush Flawless Foundation is described as being a full coverage foundation with a flawless, natural finish. And oh boy, do I agree with that statement! This foundation looks phenomenal on the skin. It really does an excellent job at blurring my acne scarring and smoothing everything out. The thing with this foundation is that I did have to change my foundation habits while using it. Because this is so full coverage, a little bit goes an insanely long way. I will use 1/2 a pump and that will cover my entire face and neck. Any more than that and I would immediately enter cake face territory. I also still set this with a pressed powder around the whole face. But if you have drier skin, because this foundation is self setting, you could easily skip that.
As for the all important wear test, the Airbrush Flawless Foundation almost completely passes! I have worn this foundation for upwards of 13 hours and it looks just as good at the end of the day as it did when I first applied. It doesn't get excessively shiny, it doesn't crack, it doesn't cling, it's transfer proof, it's waterproof (the day I took the above photos, I actually had a hose explode on my face early in the day). I absolutely adore the wear!
I said almost because there is one small caveat that I couldn't ignore. Because this foundation is so full coverage, I can't actually wear it for more than a couple of days in a row. I noticed if I wore it for 3-4 days consecutively, that I started breaking out. Specifically on my forehead (a place that I rarely if ever break out). And this was despite the fact that I doubled cleanse every night. So, that is one fairly sizeable negative.
So, all in all, the Charlotte Tilbury Airbrush Flawless Foundation gets a mostly thumbs up from me. While this isn't an everyday foundation for me, this is one that I can easily use for events and those occasions where I need the best skin of my life. I would, however, maybe steer clear if you're someone who is sensitive to fragrance. And I am curious to see how this fairs on more oily skin. I would strongly recommend getting a sample of this before you committed to the full size (I'm writing this on the same day that Mecca Maxima announced that they would be stocking Charlotte Tilbury later this year). But I do genuinely love it. Have you tried the Charlotte Tilbury Airbrush Flawless Foundation? Let me know in the comments below.
Cheers and love
Emily xo