The term 'Pillow Talk' is basically synonymous with Charlotte Tilbury. With at least 3 Pillow Talk branded products sold every minute around the world. We all know about the iconic lipstick, the stunning blush, and the eyeshadow palettes. But did you know that there was a mascara in this line too?
Well, it's true! Back in August 2020, Charlotte Tilbury launched the Pillow Talk Push Up Lashes Mascara. A mascara that gives that sky high, falsies effect to your lashes effortlessly. Naturally, I had to try it. Mostly because I am the Mascara Queen. But also because we are 11 days away from Charlotte Tilbury launching in Australia! So, if you want to know whether this mascara is a must have, just keep reading!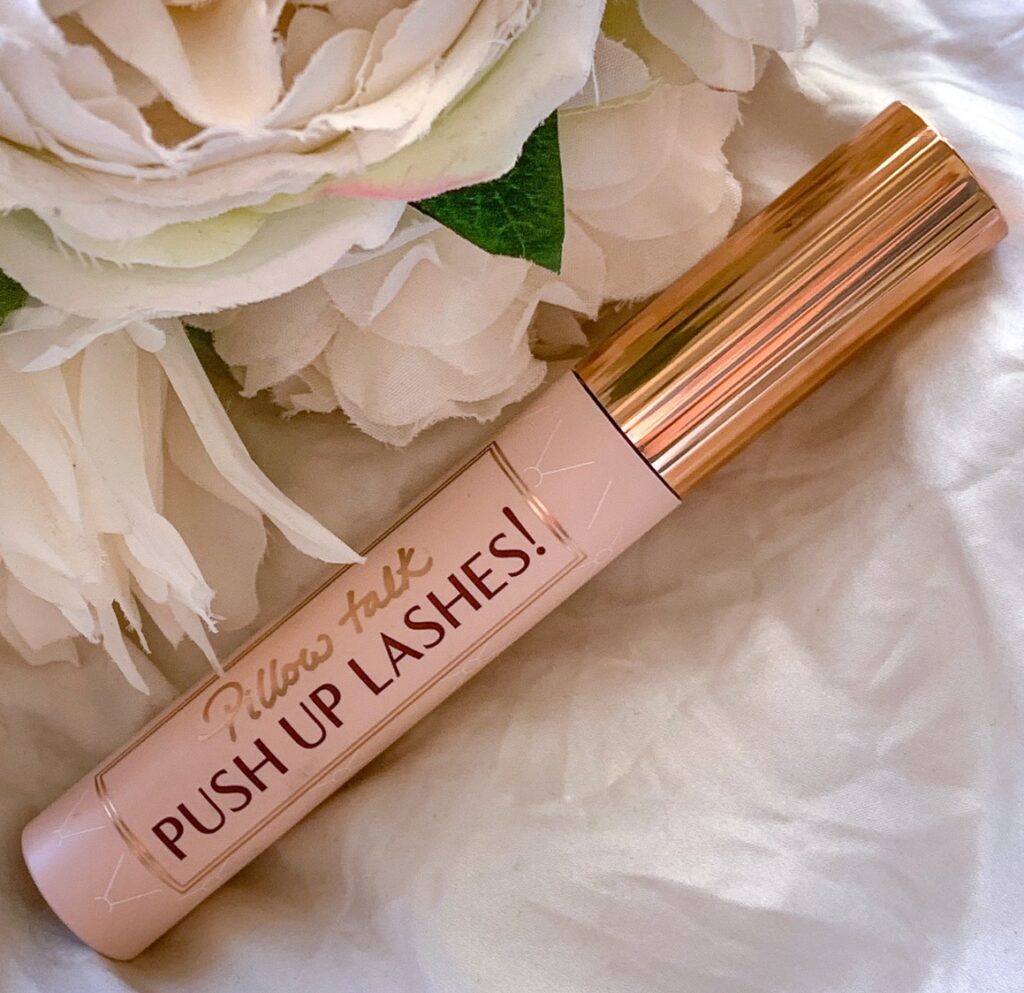 CHARLOTTE TILBURY PILLOW TALK PUSH UP LASHES! MASCARA – $46.00 – charlottetilbury.com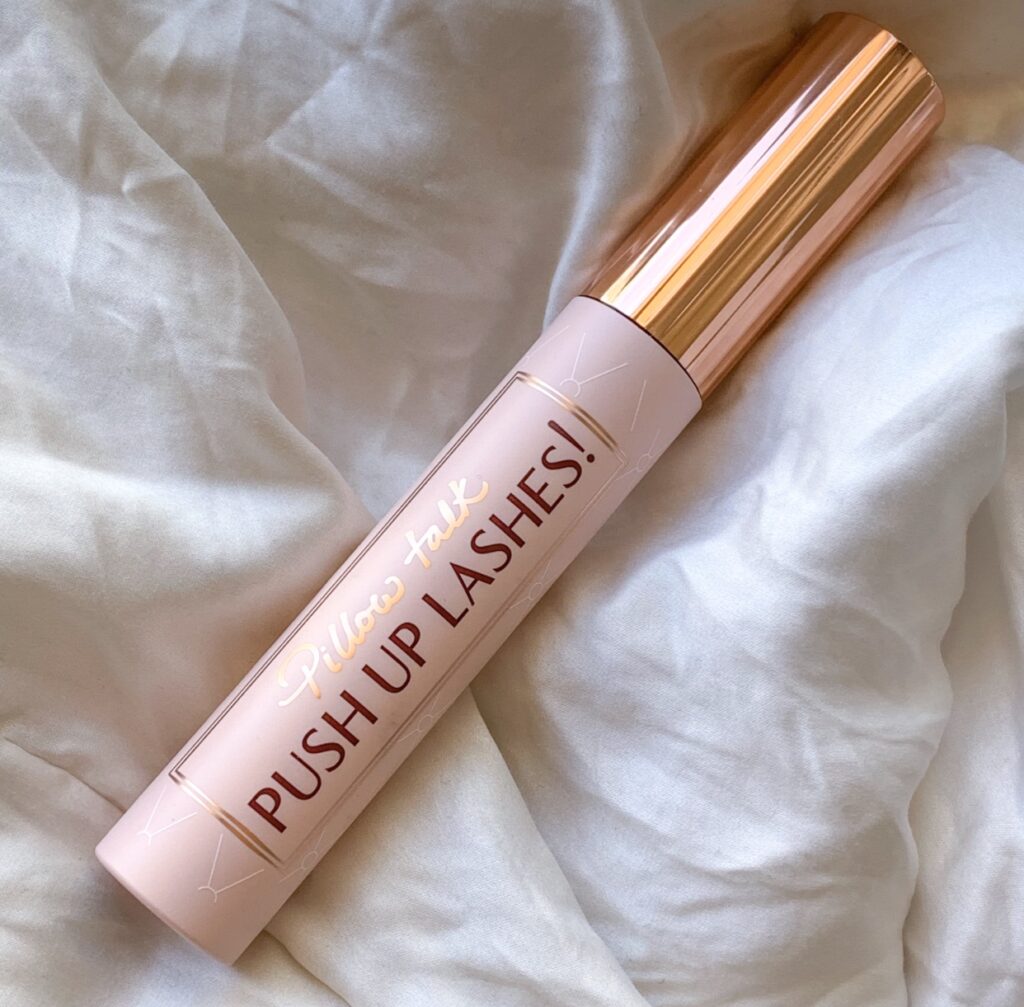 Ok, time to get my biases out of the way. I can't even pretend to be impartial when it comes to Charlotte Tilbury's packaging. It is always so elegant, so well crafted. And the Pillow Talk mascara is no exception. The tube is a soft, millennial pink with rose gold detail. very much in keeping with Charlotte Tilbury's aesthetic. One thing I will note is that while the inner packaging is definitely plastic, the outer packaging almost feels ceramic like. It feels like if I were to drop it on a hard surface, I'll probably break it. The Pillow Talk Push Up Lashes Mascara is cruelty free (the whole brand just got certified) and contains 10ml of product.
Continuing 2021's trend of different mascara wands, the Pillow Talk Push Up Lashes Mascara's wand is a paddle shaped wand with plastic bristles along the side of the brush. The idea behind the design is that you start with the flat side to apply the product, and then use the bristles to comb it through you lashes. I wasn't that huge of a fan applying it that way (I'll explain why in a minute). I would simply use the bristles though my lashes like a tradition mascara.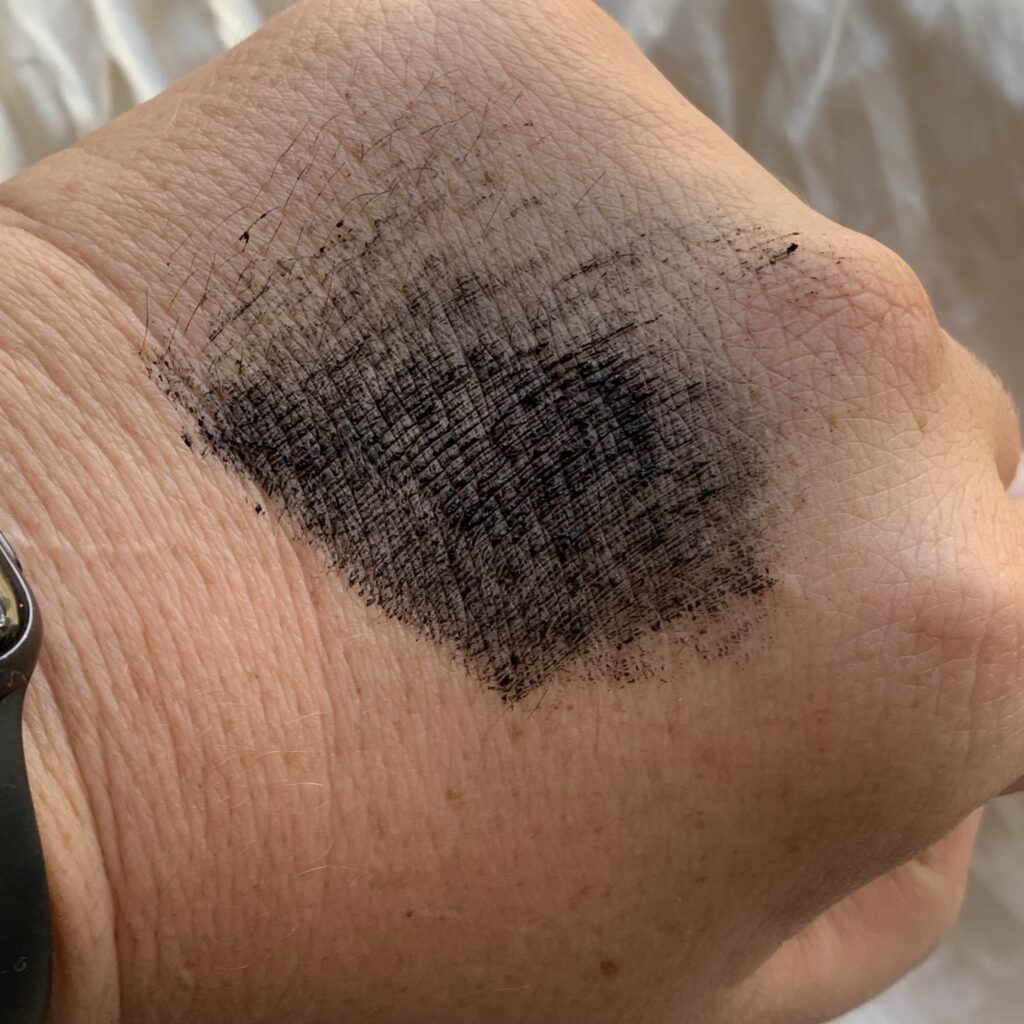 As for the formula itself, it's very black and quite thick. I knew from that alone that this mascara was going to be volumising. It contains natural waxes, a natural polymer that helps lift the lashes, and a keratin based compound to hep condition the lashes.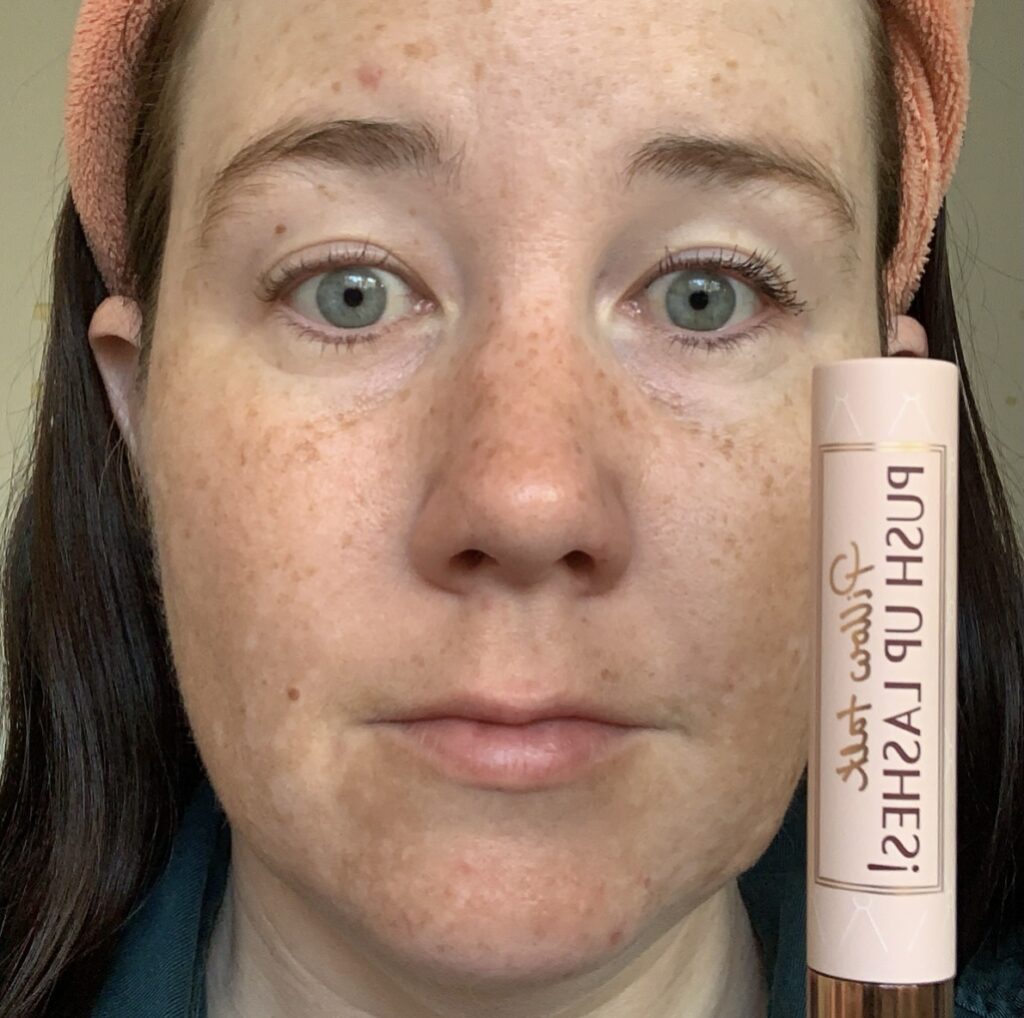 This mascara took a little while to get the hang of. I found it to be quite easy to go 'too far' and add way too much product to my lashes if you go with the recommended application method. And because it has a quickish dry down, I found that my lashes looked clumpy and would stick together.
When I just used the bristles on their own (as in the above picture), that's where I had the most success. It still added volume to my lashes. But my lashes had separation, definition, lift, and most important, length! I adored the way it made my lashes looked. They were fluttery and flirty. So gorgeous!
But now, we have to get to the wear test. And this was the reason why this review took so long to come out. Because I swear, every time I wore this mascara, I would get a different result. Some days, I would have minimal to no smudging (like the above right picture), some days I would have very noticeable smudging, and on some occasions, I would have full on panda eyes. With flaking for good measure. Generally, it would depend on how heavy handed I was when applying.
I also noted that the transfer and smudging was much worse when I was wearing makeup. No matter how well set my under eyes were or how light I applied the mascara, I would have thick, black transfer. I genuinely cannot explain that one.
Another thing that I noticed was that I had to make sure that I removed it properly with an oil based cleanser, and then wiped it off with a face cloth. Despite this formula not being a tubing one, I noticed when I was lazy with removing it at the end of the day, I found that the broken down formula would occasionally collect and settle in my tear ducts. And in some extreme cases, I was pulling thin, black gunk off my eye ball. Which is, well, ick.
All in all, the Pillow Talk Push Up Lashes Mascara is definitely a mixed bag. While I did sincerely love the effect it gave to my lashes once I figured out how to use it, I hated how it was all over the place with it's wear. So, considering how expensive it is, it's probably going to be a thumbs down for me. If you do want to give it a go, I would either wait for a sale (which the Charlotte Tilbury website does do), or pick up the mini. Have you tried the Charlotte Tilbury Pillow Talk Push Up Lashes Mascara? Let me know in the comments below!
Cheers and love
Emily xo