Over the last two years, I have tested countless overnight or sleeping masks. And the vast majority of them would fall into the category of boosting hydration. In fact, for a while, I hadn't actually come across a sleeping mask that did anything else. So colour me intrigued when I was given the opportunity to test out an overnight mask that helped not only hydrate, but exfoliate and repair my skin while I slept!
That mask being the ESK Hydroxy Overnight Mask. Which I've been testing out behind the scenes for the past few weeks. So, if you want to know how this mask went for me, just keep reading!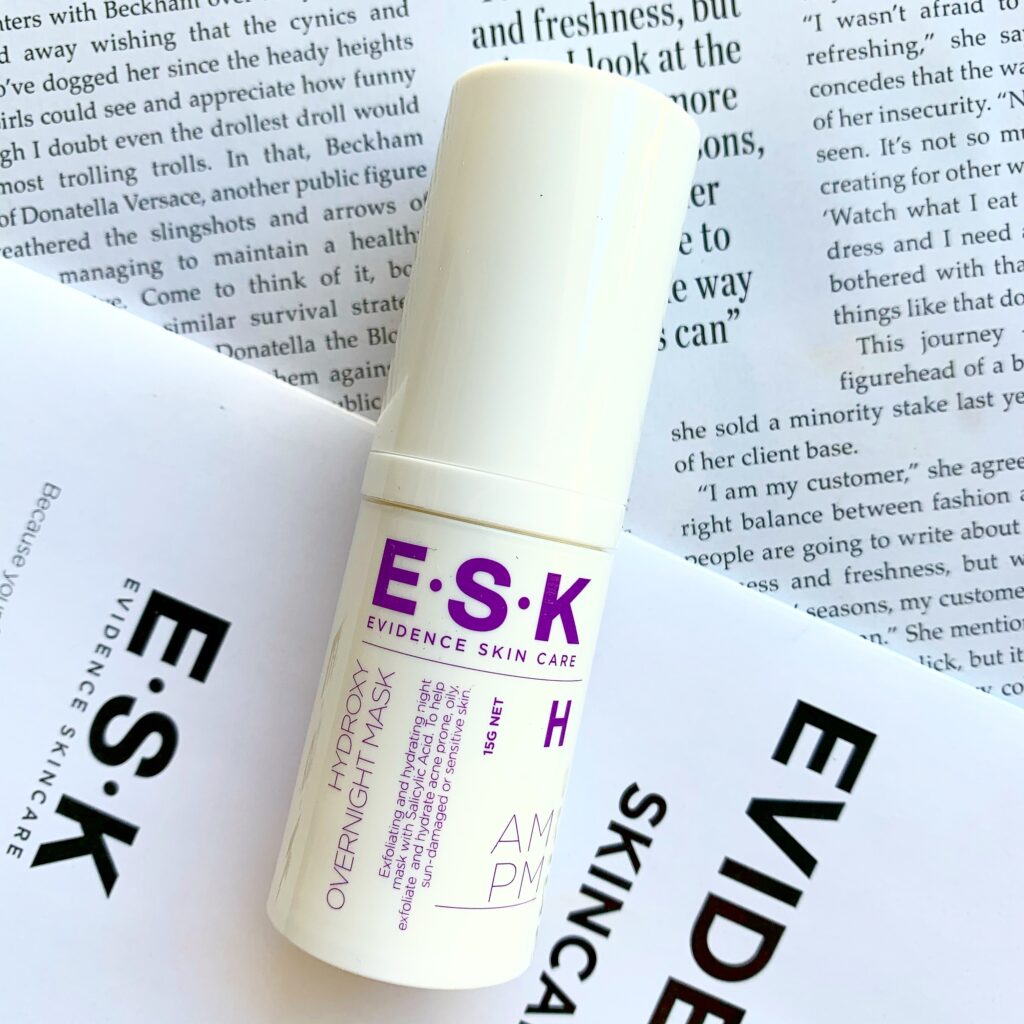 ESK HYDROXY OVERNIGHT MASK – $50.00 – eskcare.com – *PR sent for review*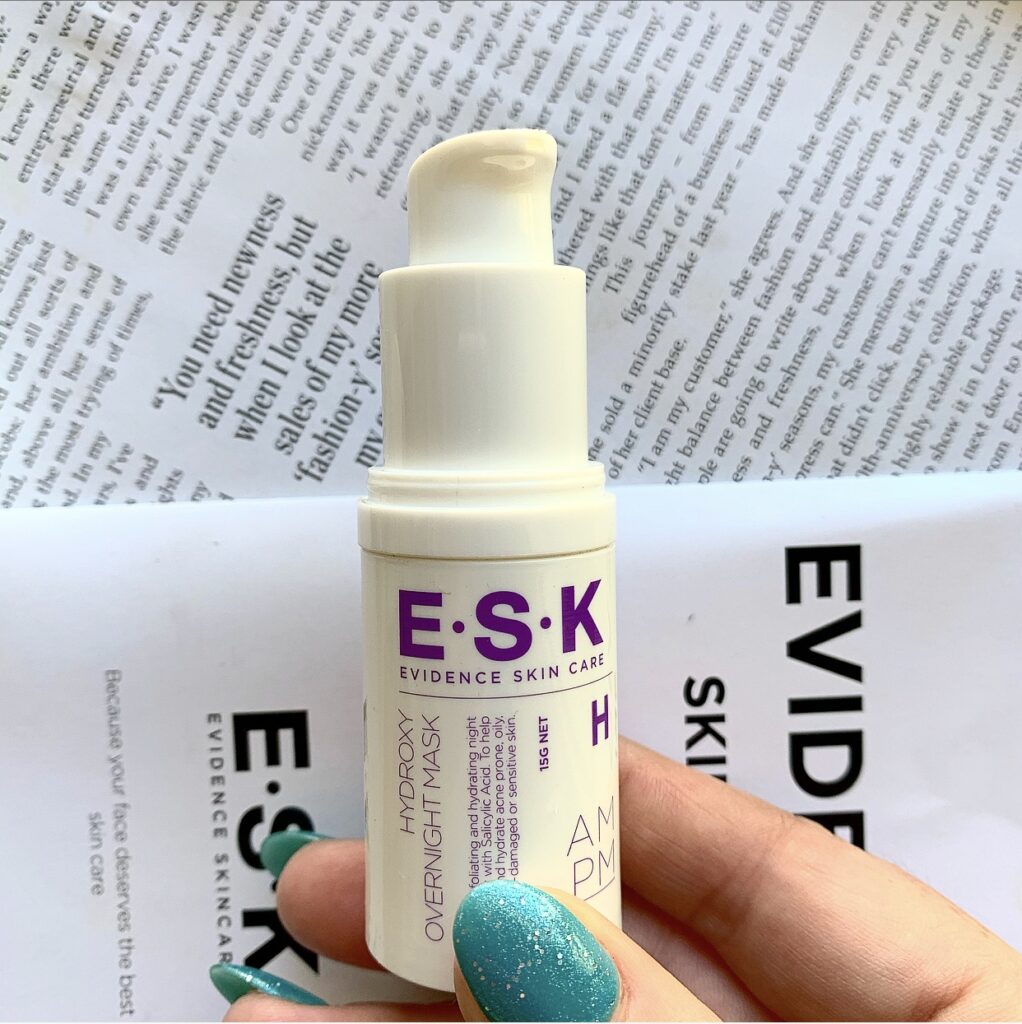 I'll start with the packaging. The mask is housed in a sleek, opaque plastic bottle which is actually made with recycled plastic! The dispenser uses an airless pump, allowing me to be able to use all of the product without leaving anything behind. Meaning no waste! ESK is cruelty free and the Hydroxy Overnight Mask contains 15g of product.
Before I get into how I go about using this mask, I want to talk about some of the ingredients in this mask. This mask has some pretty rad ingredients like Aloe and Lanolin (soothing and hydrating respectively). But the two main heavy hitters are Salicylic Acid and Urea.
Now, Salicylic Acid is an ingredient that I'm all too familiar with and as someone who had acne prone skin growing up, I'm very aware of it's beneficial properties. On a baseline level, what Salicylic Acid (otherwise known as Beta Hydroxy Acid) works best as is a chemical exfoliant. Penetrating the skin and pores and loosening dead skin cells, making them easier to shed and clearing the skin as a result. That's why you will often see Salicylic Acid as an ingredient in anti acne products.
Urea on the other hand is a new one for me. And I was very interested to discover that this is probably an ingredient that I've probably used many times before. As it's often marketed as Carbamide. But what does it actually do? It's actually a hydration booster! Urea seeks out and binds itself to water molecules, helping improve your skin's barrier and repair damage like flakiness and irritation. It's often used as a treatment for conditions like Eczema and Psoriasis.
Now, these two products combined have apparently shown signs of anti aging properties. As the Urea helps the Salicylic Acid penetrate deeper into the skin. And as someone who is now in her 30's, this is good for me.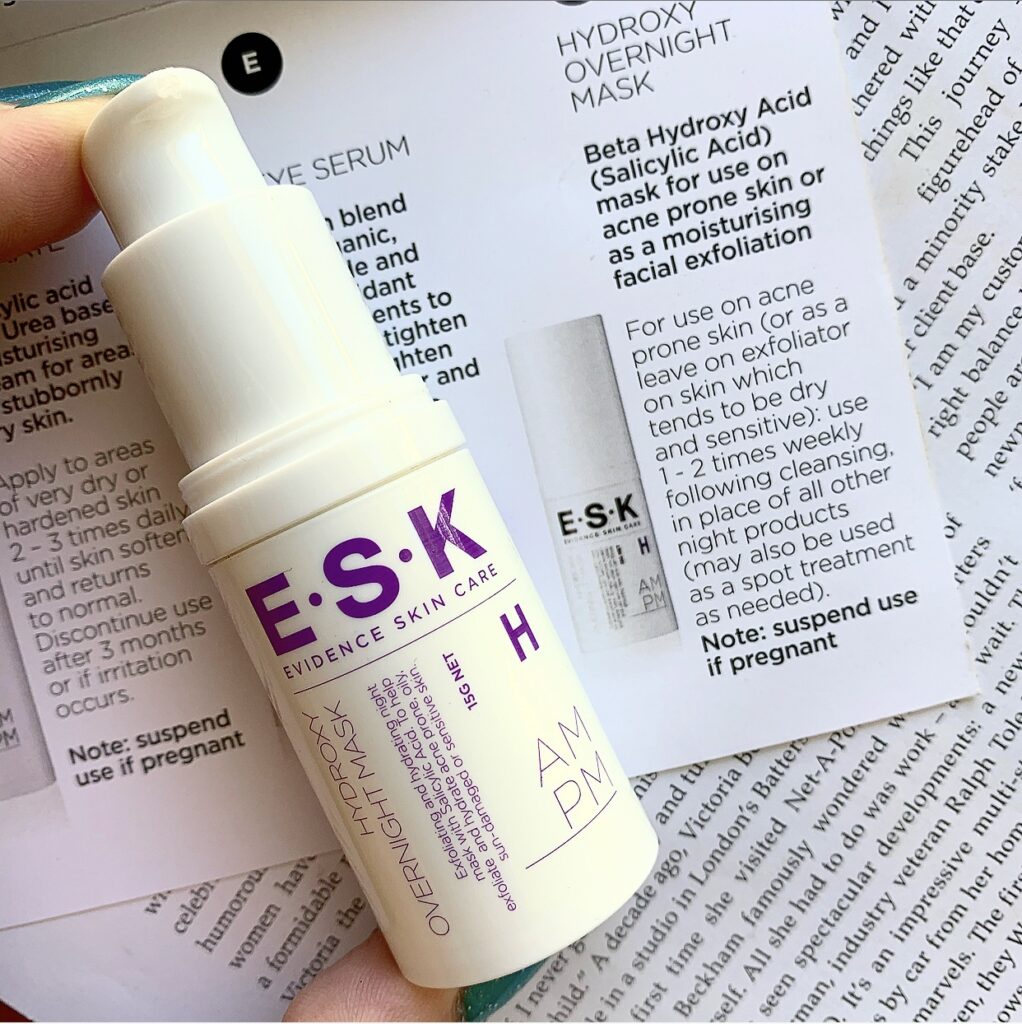 So how do I go about using it? The mask advises that it's to be applied to cleansed skin in place of all other night time products. You heard that right! This little bottle is supposed to substitute my serums and moisturiser. And I'll admit, it was a little weird using this on cleansed and toned skin (hey, I still gotta tone).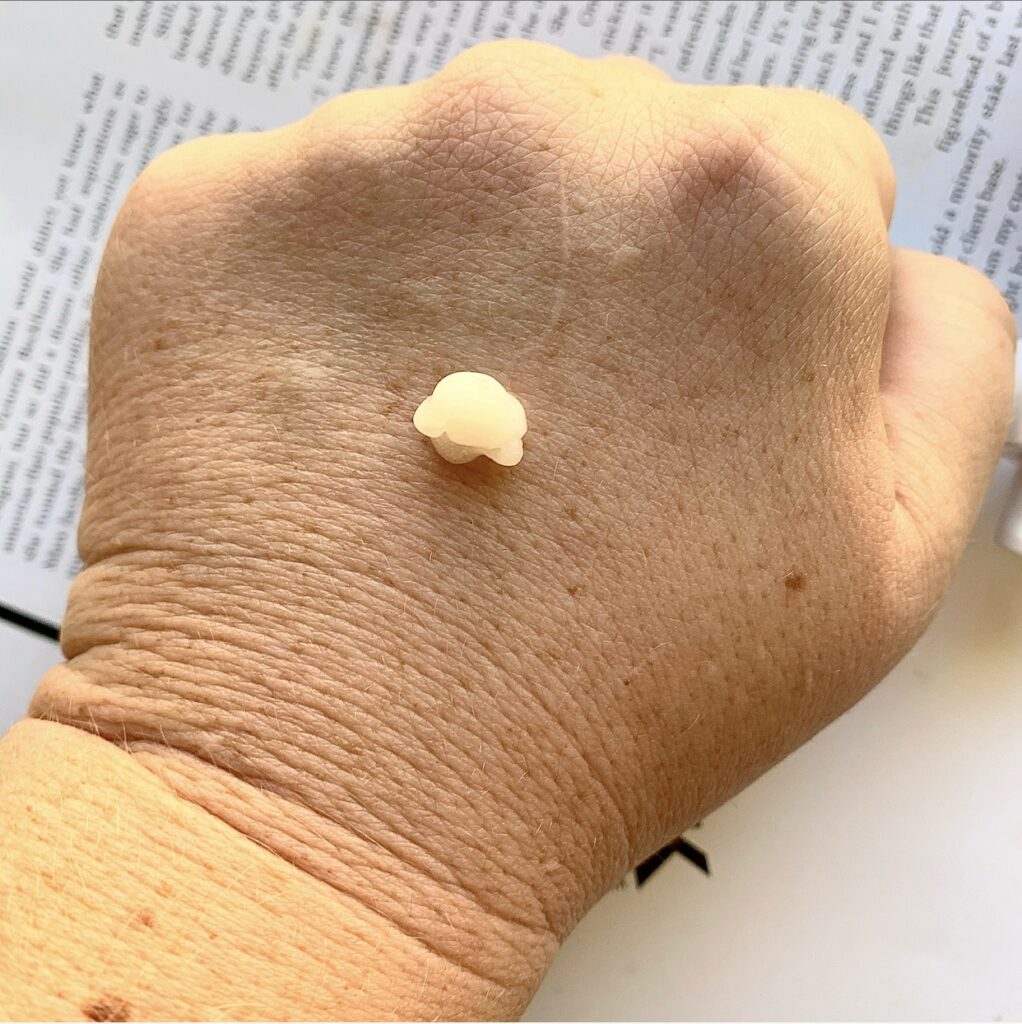 The consistency of this is a very light gel-cream with no discernible scent. It soaks into the skin, leaving it a little tacky but not too unpleasant otherwise. The first time I tried this, I did notice a slight tingly sensation. I do happen to have skin like old boot leather so your mileage will vary as to how much you'll be annoyed by it.
One big thing with this mask is that you skin will become more sensitive to sun exposure so it's so important to wear sunscreen while using products like this. Having said that, you should be wearing sunscreen anyway. Also, It's been advised if you are pregnant or allergic to Aspirin, you should probably forgo using this product.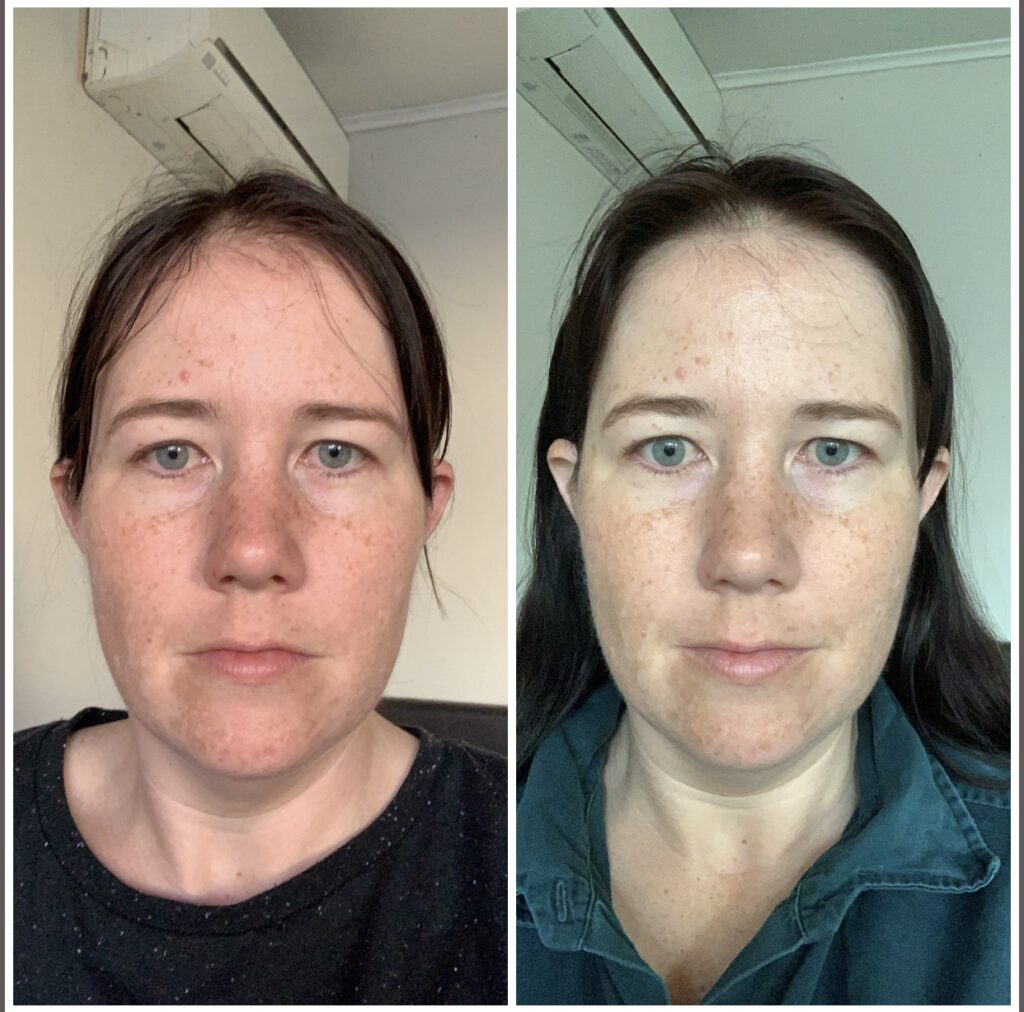 After using this mask twice a week for the past 3 weeks, I have noticed a considerable difference. The biggest difference being the overall texture of my skin. It's much smoother and I've noticed a reduction in millia. My skin also appears much brighter and a lot less irritated. I also began to notice a reduction in my acne scarring and prolonged used will probably see a larger reduction.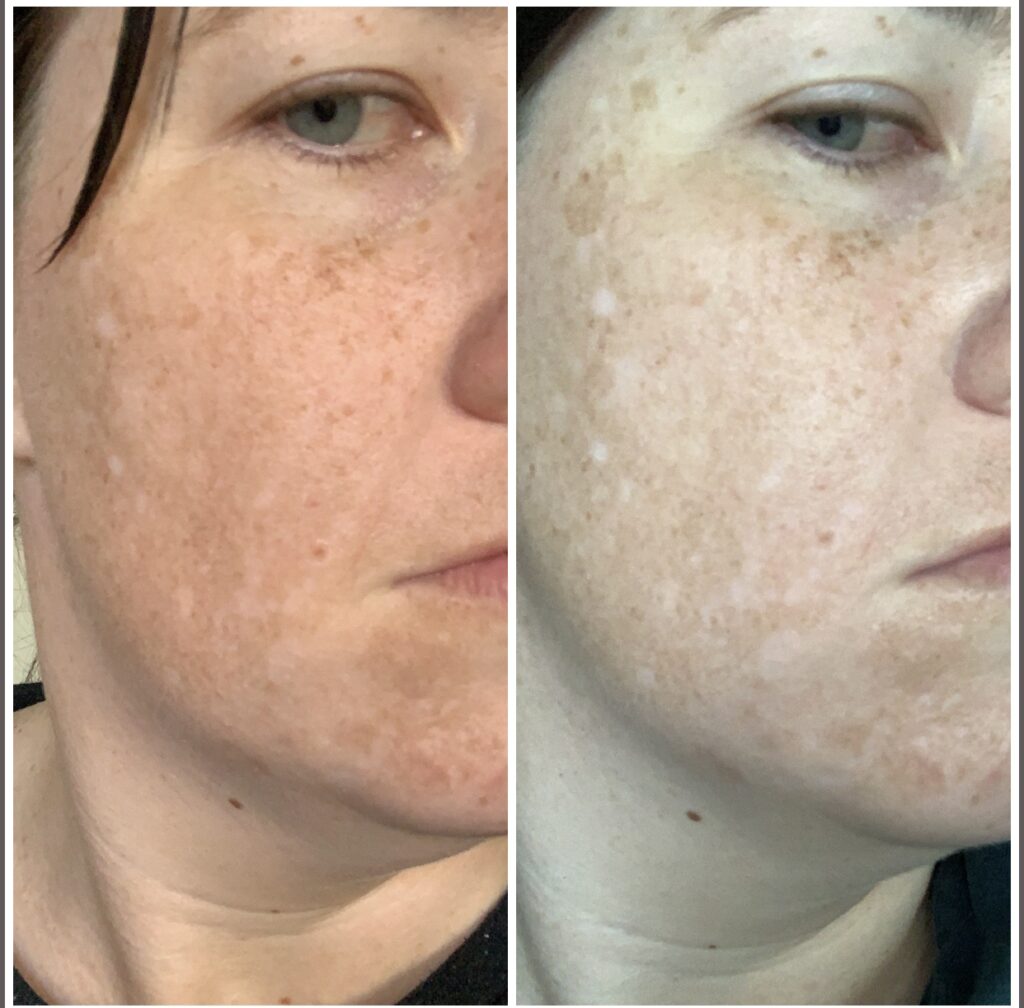 So, am I impressed by the Overnight Hydroxy Mask? Definitely! I'll definitely continue to use this mask and I'll keep you all posted on how further use goes for me. But so far, I'm super happy with the results. I want to thank Scott over at Black Sixteen Agency for sending this mask for me to try and if you have acne prone skin that needs a little extra help, keep an eye out for it. It's currently out of stock but it should be back soon. Have you tried the Overnight Hydroxy Mask from ESK? Let me know in the comments below!
Cheers and love
Emmie xo