With the beauty world growing larger and larger, it was only a matter of time before prominent fashion houses either jumped on board or revamped their existing cosmetic lines completely. One of the more notable brands to do the latter was Gucci, who relaunched their cosmetics line, Gucci Beauty, in May of last year. Initially, they just had lipsticks (which are actually fantastic). But they have been expanding into face products. And in December, they launched the Natural Finish Foundation.
Now, I love a drugstore foundation as much as the next girl, but I'm also a bougie bitch. And I knew that I had to at least try this foundation for you guys. So, I picked this up at the start of the year and I've spent the last few weeks testing it behind the scenes. So, if you want to know if this foundation has me feeling Gucci, just keep reading!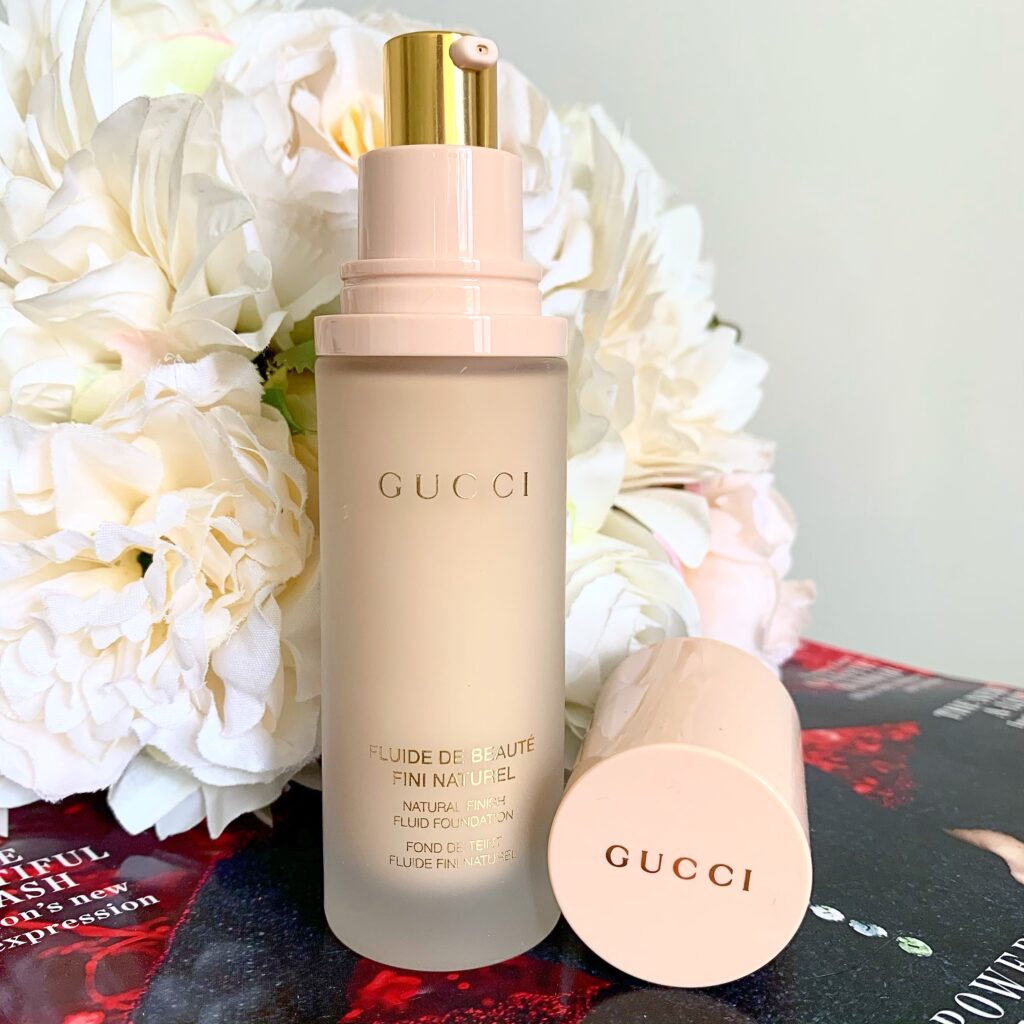 GUCCI BEAUTY NATURAL FINISH FOUNDATION – $98.00 – davidjones.com.au (40 shades available)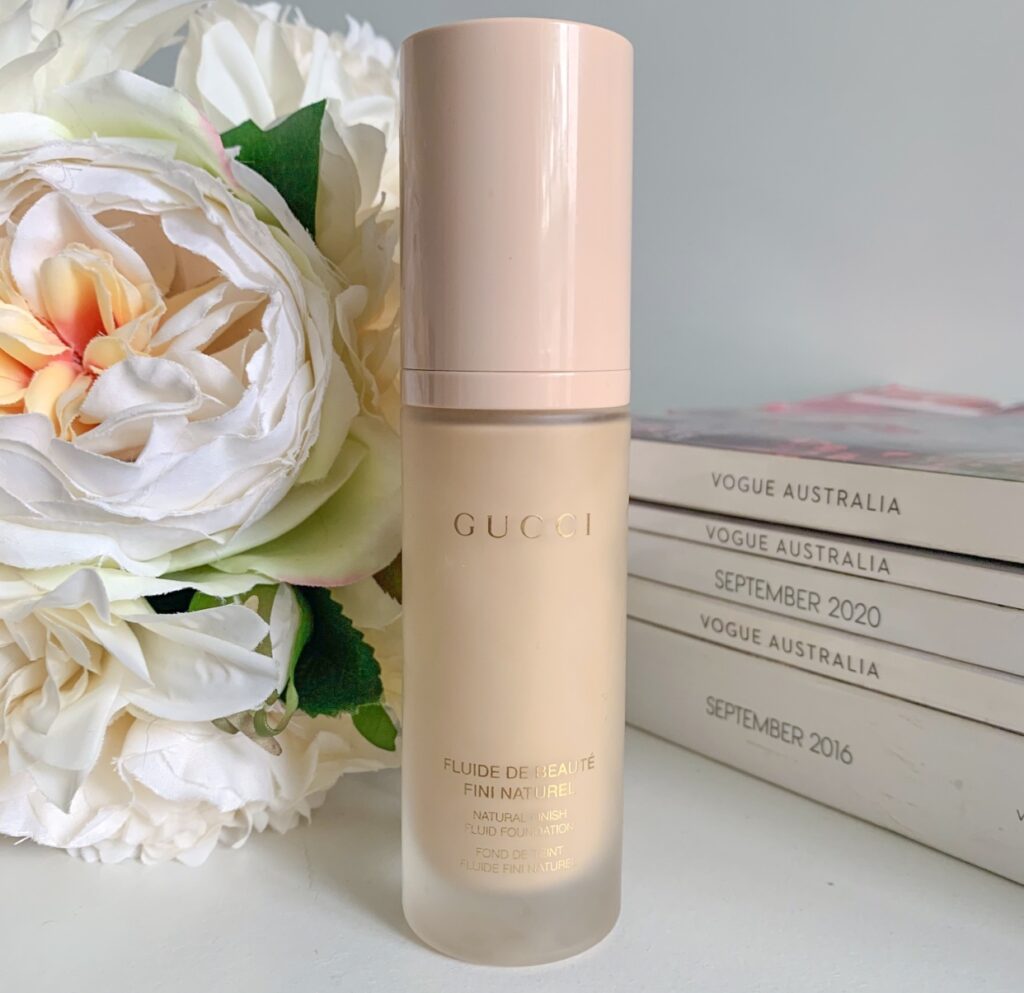 Starting with the packaging, the Natural Finish Foundation is housed in a very sleek, frosted glass bottle. The lid is a soft pink, which is in line with much of the Gucci packaging. The bottle is well weighted and sturdy (I took this traveling with me and it survived in my makeup bag) The Natural Finish Foundation contains 30ml of product.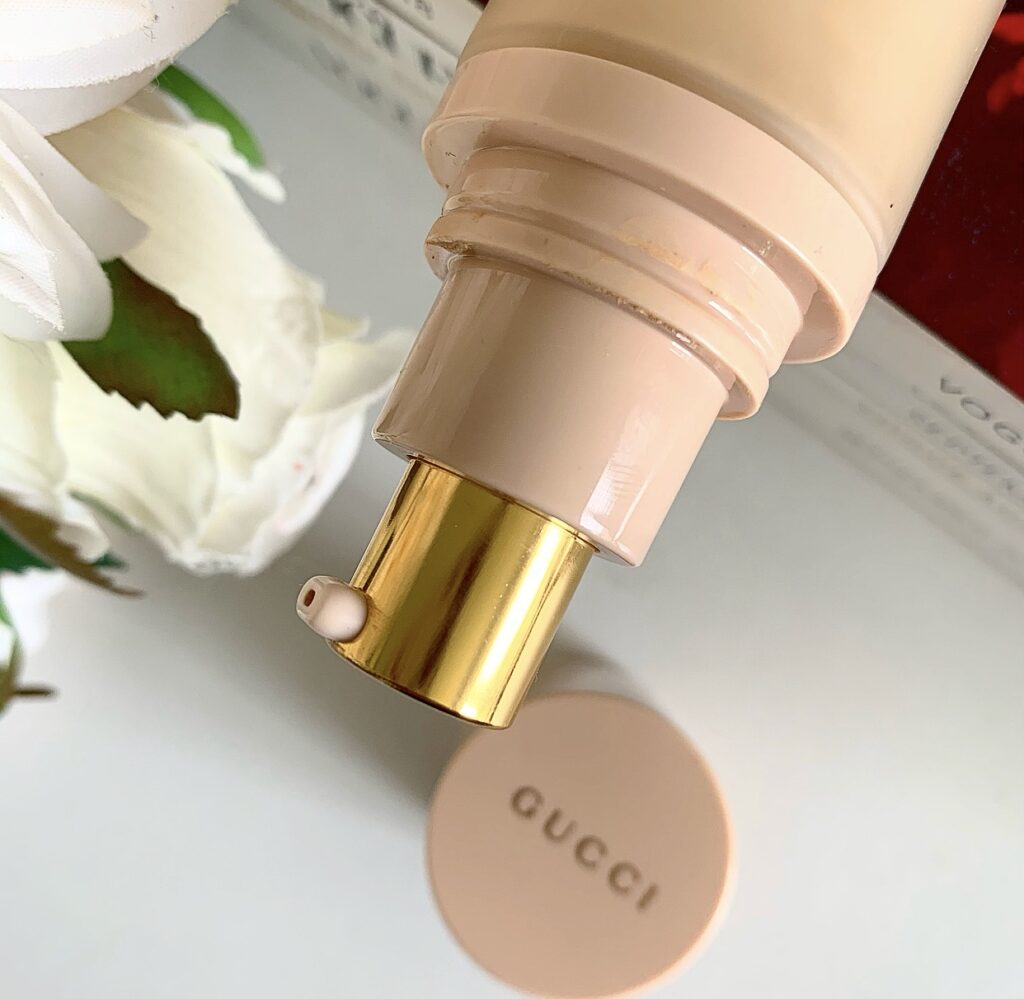 The foundation is dispensed with a pump. And it's one of those pumps where you can control how much product comes out depending on how much pressure you put on it. I tend to prefer pumps like this because it stops me from wasting product. Also it's gold and shiny and I kinda love it.
One thing that I will quickly note is that this foundation does have a light, floral fragrance. It's doesn't irritate my skin, nor does it linger for that long. But it is worth noting for those who might be sensitive to such things.
The Gucci Natural Finish foundation comes in 40 shades. And in something of a rarity for luxury brands, the deepest shades actually go pretty deep. This was what really gave me the push to try this foundation out. In an industry that still often forgoes BIPOC customers for the misguided notion that they 'can't afford luxury products', it is pretty rad to see such a prominent brand like Gucci actually cater for all of their customers. It's something that all brands should be working towards.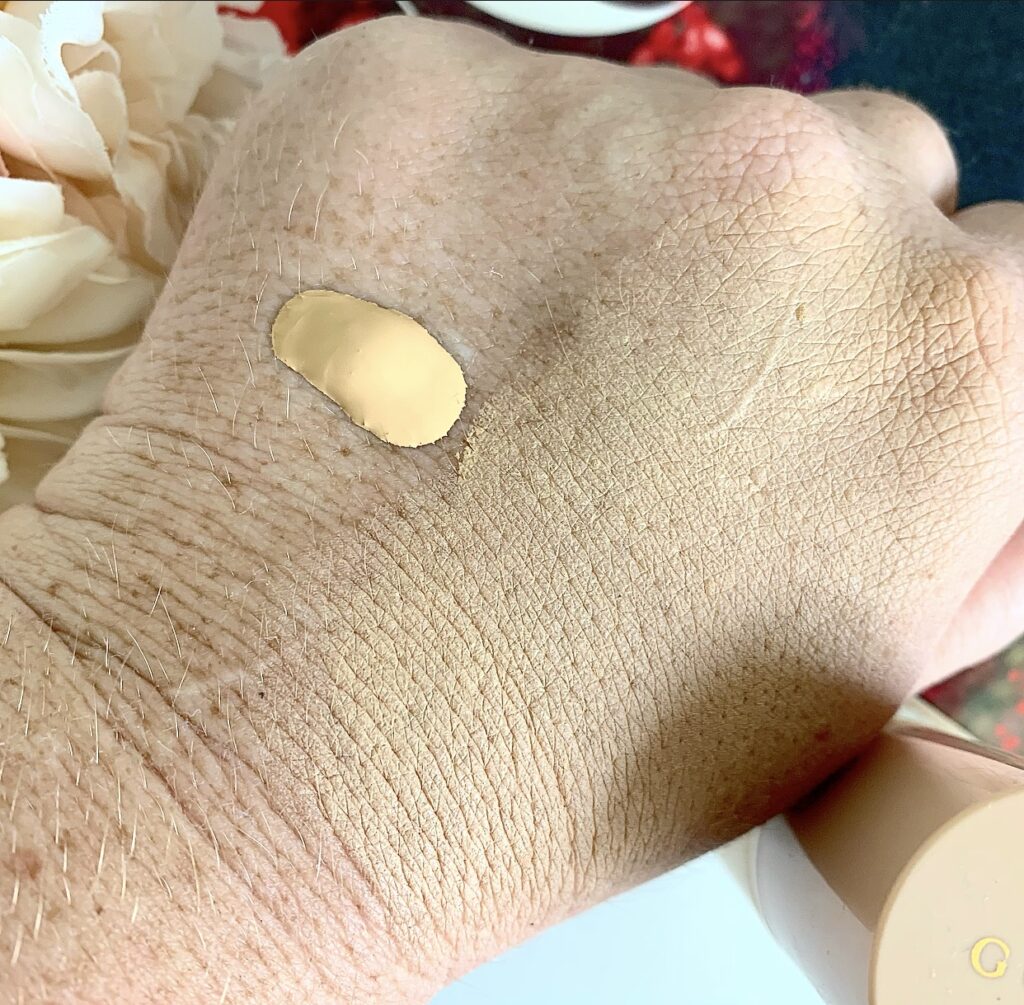 The foundation is separated into four undertone families. Cool, Warm, Neutral and Olive. Though it should be noted that the Olive undertone only shows up on the deeper end of the shade spectrum. So there might be some wiggle room for a shade expansion in the future. For the record, I bought the shade 180W. And while it's a smidge yellow for me, as a shade, I can make it work on my skin.
Now I have to talk about applying this foundation…
*Deep sigh*
I've tested quite a few foundations for this blog. So when I tell you that none have given me a harder time to apply than the Gucci Natural Finish Foundation, I mean it with my whole heart. The consistency of the foundation is liquidy, but not excessively runny. Which made it really easy to dot onto the skin. But when it came to blending, that's when it got tough. I found that my hands got me the best coverage without looking splotchy (the result of using a sponge) or streaky (the result of using a brush).
The biggest gripe that I have with the Natural Finish Foundation came to setting it. Now, I always set my foundations with powder (living in NW Queensland will do that to you). But because this foundation wouldn't settle, anytime I applied powder to it, it would lift. Especially in my T-Zone area. It didn't matter whether I was wearing primer or no primer, this happened. The only way I could get it to work for me was if I dipped into my powder with a dry sponge and very quickly apply it. The end result was that my chin and nose looked cakey due to the amount of powder I had to use in that area. But a hit of setting spray did help alleviate that.
The Natural Finish Foundation is described as being a medium buildable coverage and a natural finish (you don't say?). In any case, on it's own, I do have to agree with both statements. When it's applied with nothing else, it does look very natural. And while my freckles do peek through, I wouldn't want to build this foundation up more. It's actually quite lightweight on the skin as well. It only feels heavy because of the powder I have to use to set my T-Zone.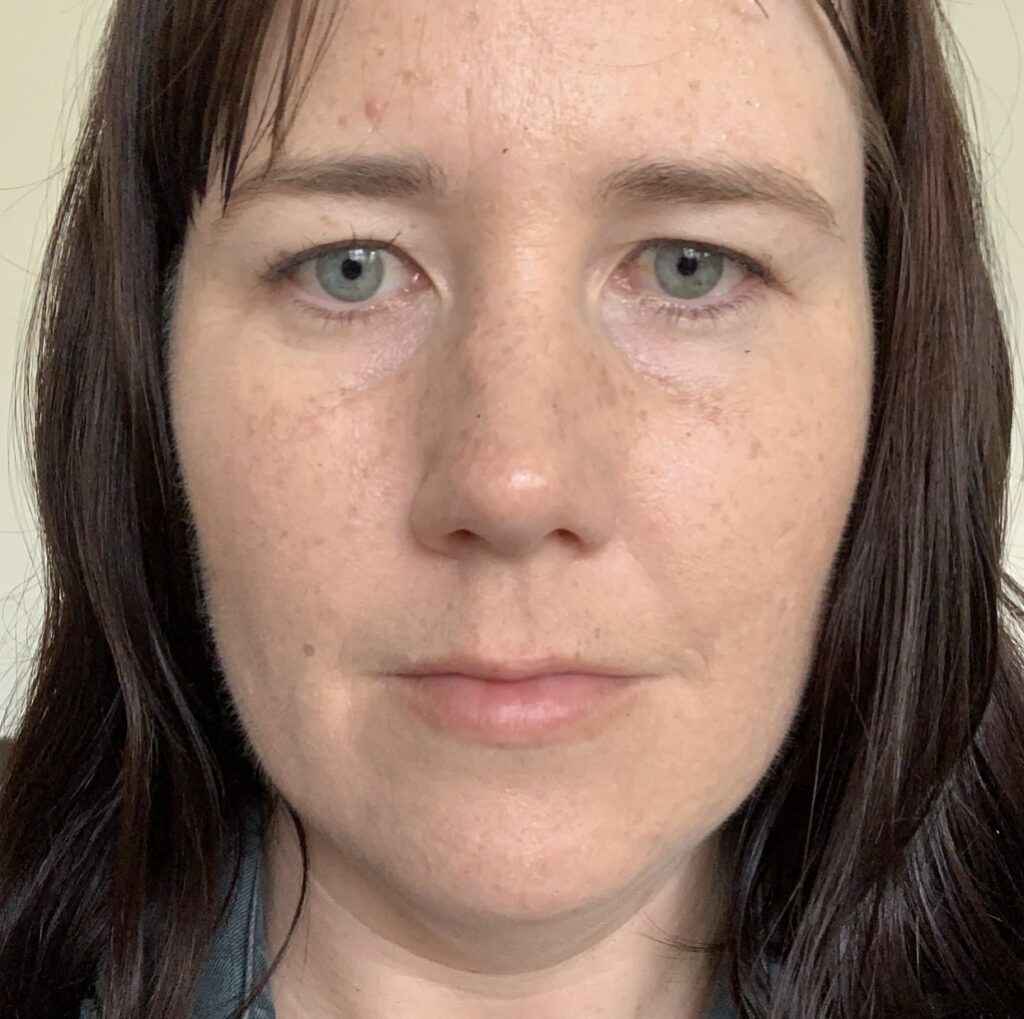 I've worn this foundation pretty consistently for the last three weeks and overall, I have to say that it wears surprisingly well. While I did have some fading on my forehead because of my work hat, it held on better than I expected everywhere else. I was mostly surprised to see that it survived through multiple humid days in both Mount Isa and Townsville. The only real complaints I have are the same ones I have for most foundations these days. It sank into my lines. That's about it.
Overall, I'm torn on this one. The Gucci Natural Finish foundation wears incredibly well on my skin. I just hate the amount of work I had to put into getting it there. I'm not totally writing this foundation off (I might revisit it in winter when my skin is drier). But for $98, it's way too much money and I have $20 foundations that work for me so much better. Get it if you desperately want to try it, But I can't in good conscious give it my thumbs up.
Have you tried the Gucci Natural Finish Foundation. And if you have, let me know in the comments how it went for you.
Cheers and love
Emily xo