When it comes to higher end brands, few people get me more excited than Huda Kattan. She is a genuine inspiration of mine. Having made her start in the blogging world back in 2010, she has gone on to having one of the biggest beauty brands in the world! But despite my love of many of her products (her eyeshadow palettes are a definite standout), I hadn't tried any of her base products in ages.
So when a few of my favourite YouTubers started raving about the new #FauxFilter Skin Finish Foundation Stick that launched back in October, it piqued my interest. I picked it up a little while ago now and I've been testing it behind the scenes. So, if you want to know if the Skin Finish Foundation Stick is worth the hype, just keep reading!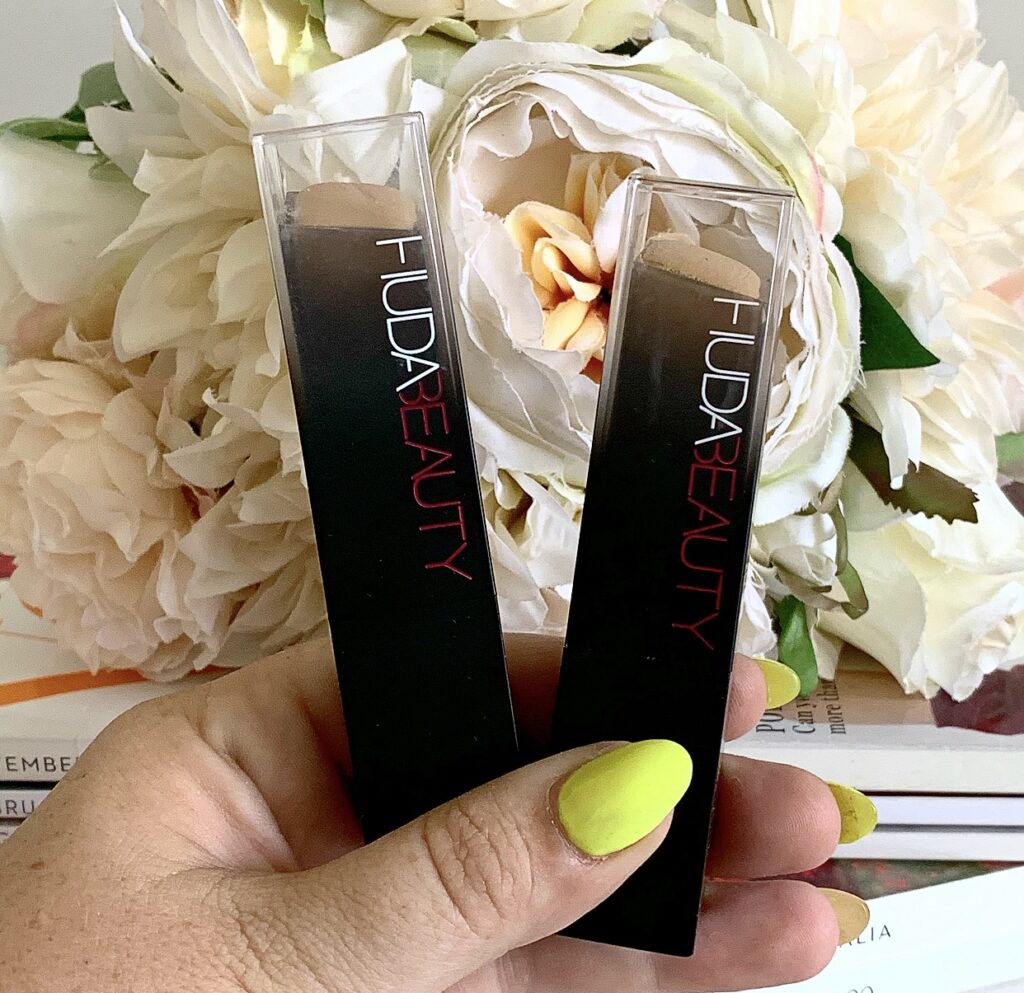 HUDA BEAUTY #FAUXFILTER SKIN FINISH FOUNDATION STICK – $57.00 – hudabeauty.com (39 shades available)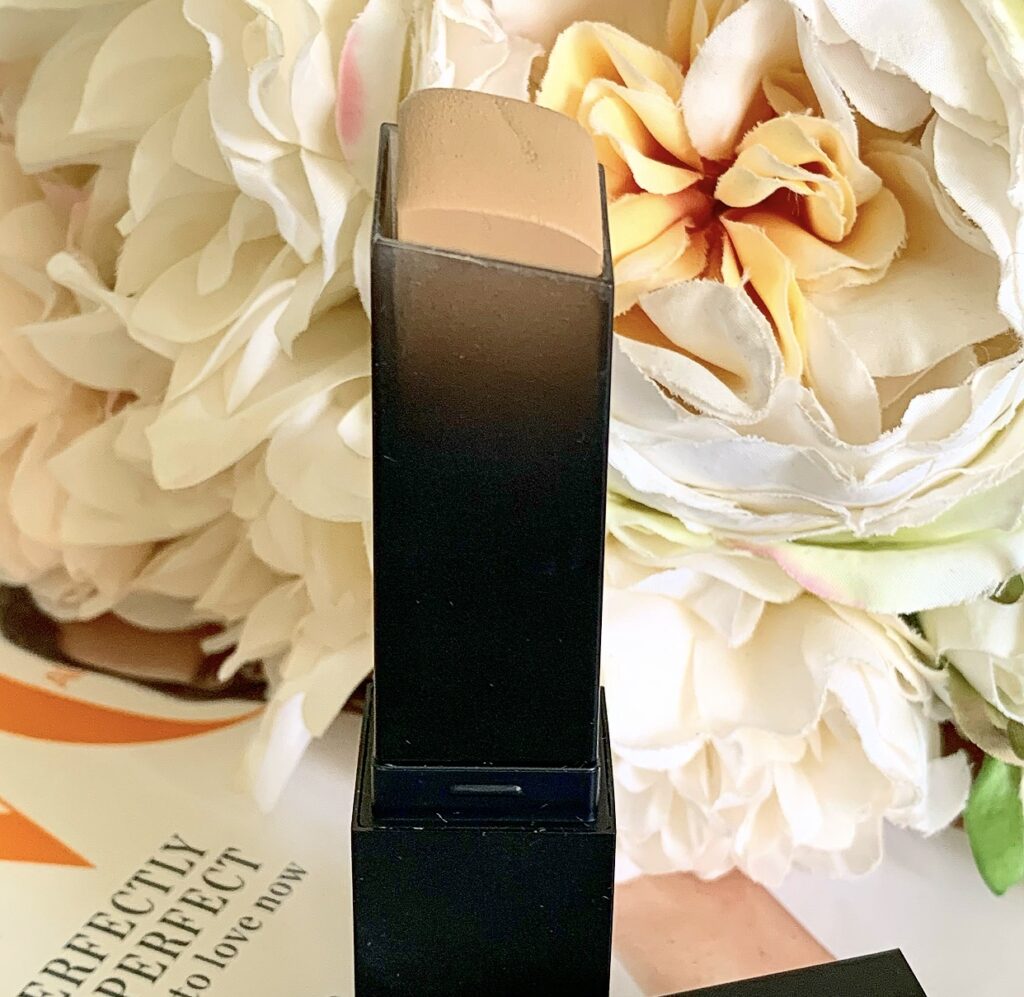 Starting with the packaging, the Faux Filter Skin Finish Foundation Stick is housed in a very sleek black acrylic packaging. The cap is clear but fades into an opaque black ombre. It's probably the most streamline packaging I've seen for a foundation in a while and it's very much in line with the aesthetic of Huda's other face products (The Luminous Matte Foundation bottle has a similar ombre) The Skin Finish Foundation Stick is cruelty free, fragrance free, vegan and contains 12.5g of product.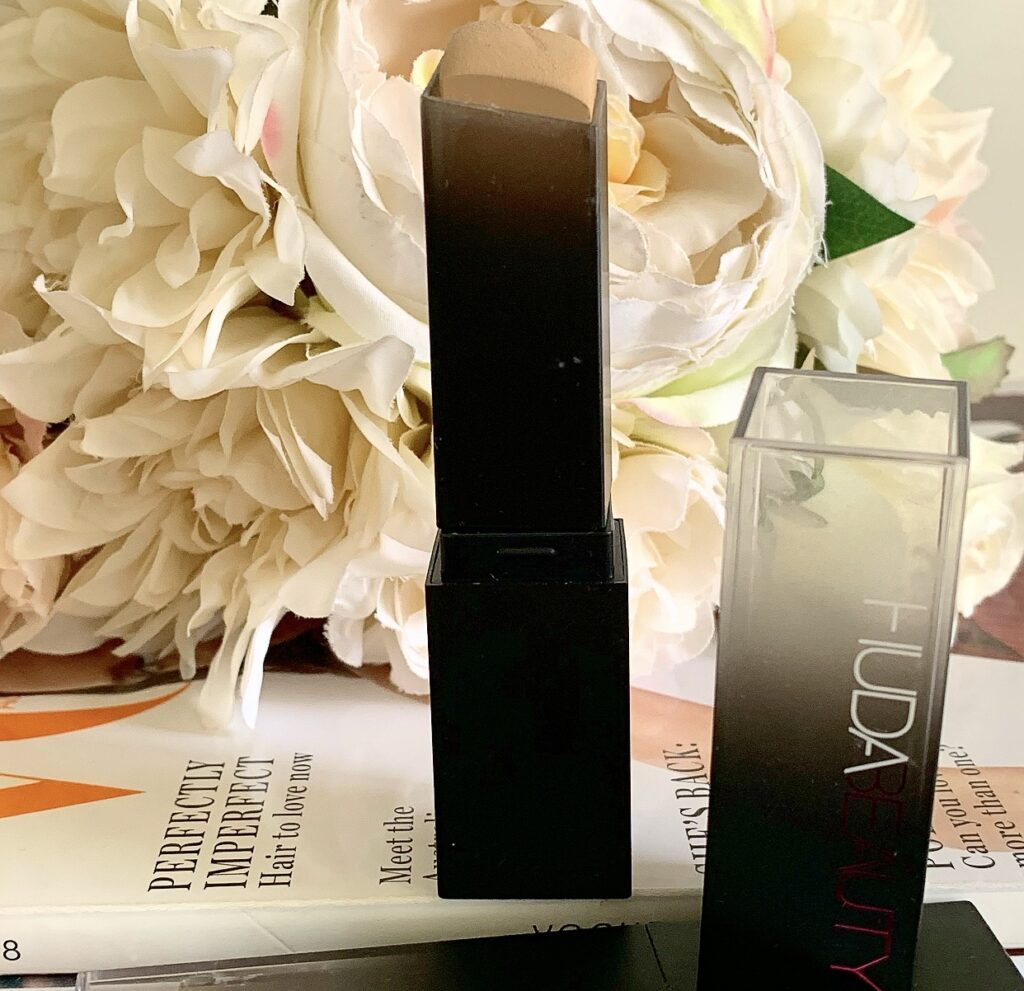 The Skin Finish foundation stick has 39 shades in their range. With a pretty decent spread from lightest to darkest. Having said that, there some room for improvement in terms of the undertones. For me, I found that a lot of the shades ran on the warm side. Even the neutral and beige shades have a lot of yellow/golden undertones in them. The shades are supposed to align with the shades in the liquid foundation. But I feel like my more pink toned friends might struggle to find a shade that works for them and I would love to see an expansion in the future.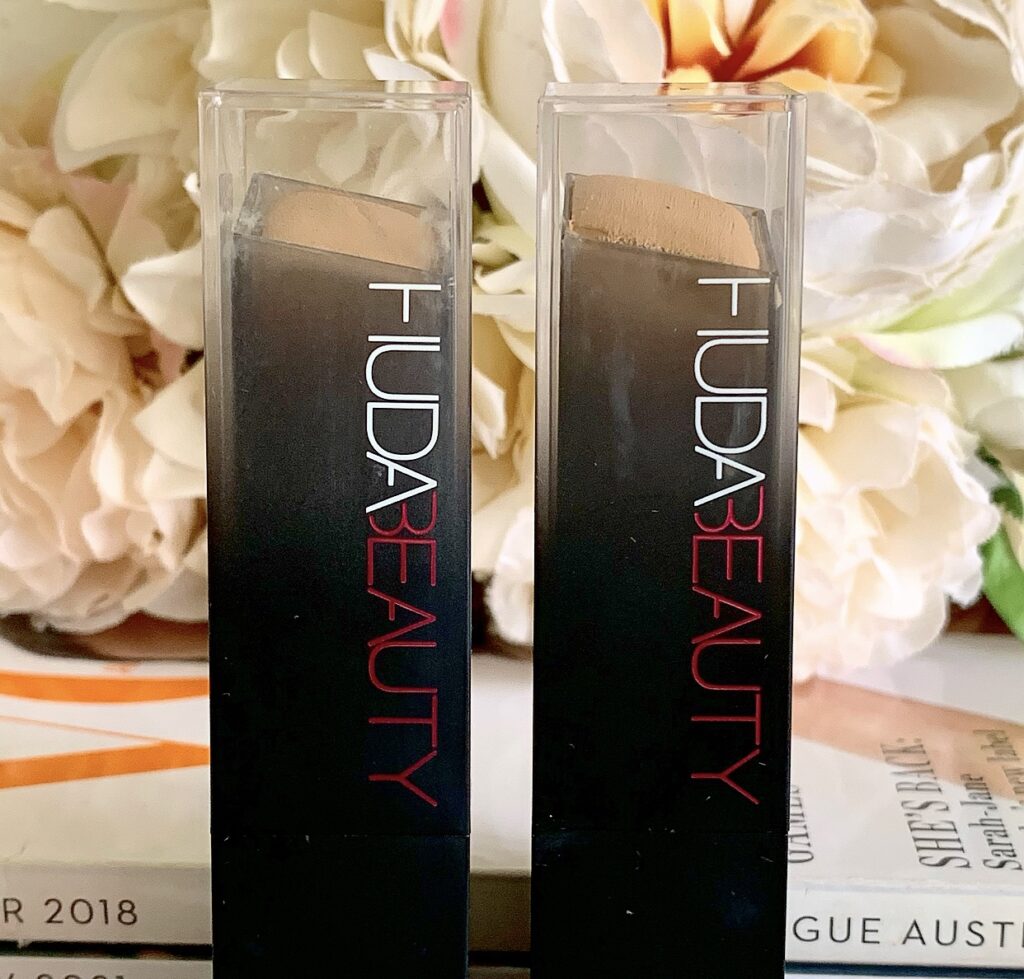 As for the shade that I found works for me, well, I had quite the adventure. I initially went with 230N Macaroon. Which is described as being a light with golden neutral undertones. And after one wear, it was apparent that it was way too dark for me! I knew I had to get a lighter shade.
After some sleuthing around (Temptalia's foundation matrix strikes again), I ended up going with 210B Chai. Described as being a light with beige undertones. While it's still not a 100% match, It's one I can pull off more easily in the summer months when I have a tan. And I might yet go back for a third shade that is more winter appropriate.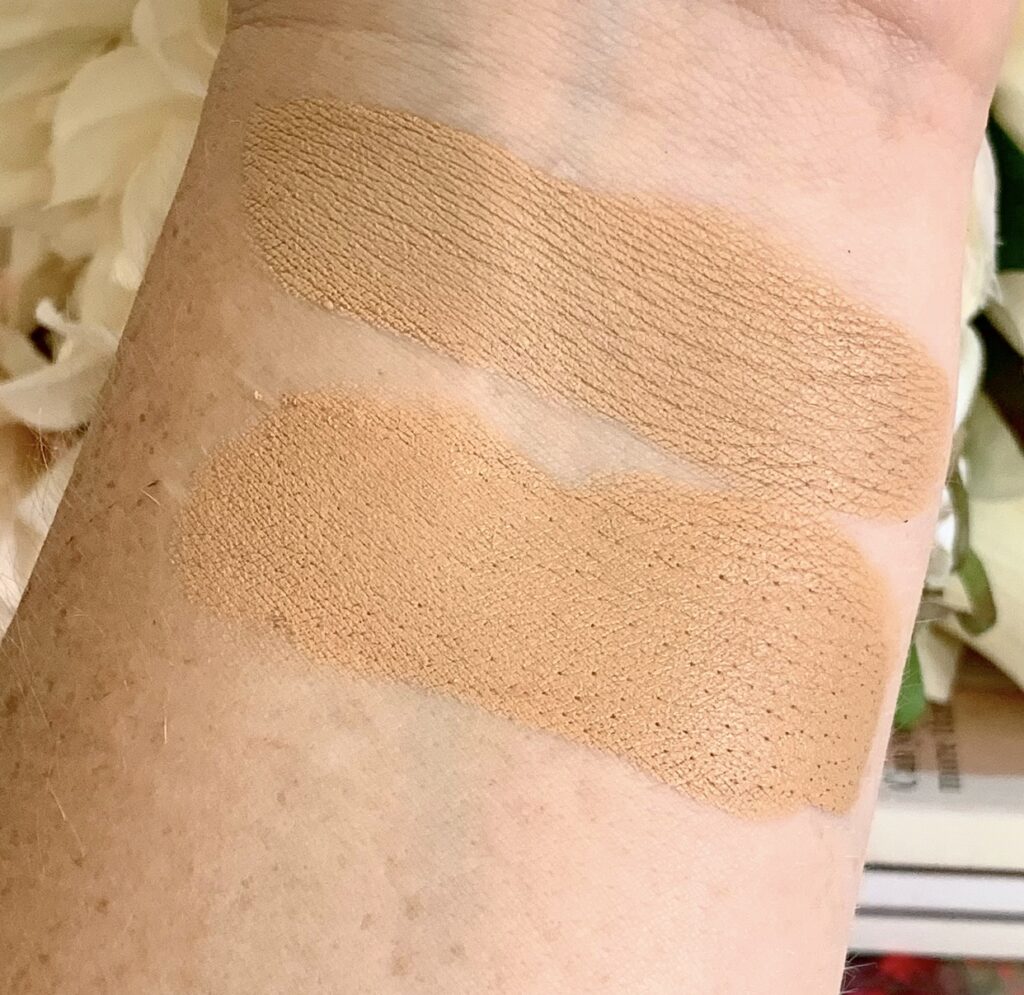 The Skin Finish Foundation stick might be one of the easiest foundations that I've had to apply to my face in ages! The formula is so creamy and smooth. It glides onto the skin. And it's a breeze to blend out with either a sponge or a brush. Having said that, I did prefer the finish with a brush (I'm obsessed with the Huda Beauty Buff and Blend Foundation brush that I picked up recently). I do feel like I have to use a bit of foundation to get adequate coverage. But it does layer pretty easily.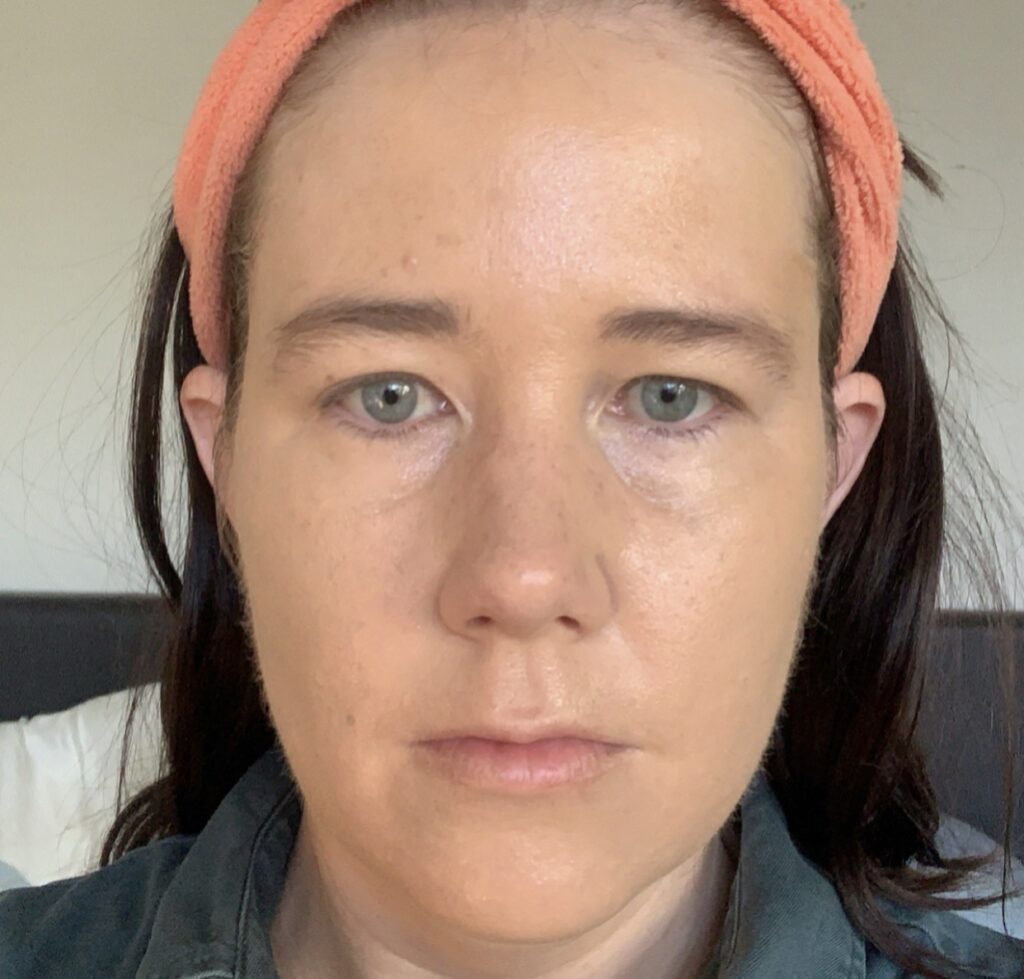 The Skin Finish Foundation Stick is described as being a medium buildable coverage with a natural finish. And I definitely agree that it's buildable, I do draw the line at natural. If you're someone who likes a matte finish, this is not the foundation for you. On me, it was very dewy. And I did have to set it with powder to reduce a lot of that dew. Having said that, I do love the finish on me. It just looked like I had a glow and it was a comment that I got fairly often when I was wearing this foundation. I'll be curious to see how this wears when my skin is on the drier side.
I tested this foundation for about a month behind the scenes and I have to say I'm pretty impressed. It did rub off from when I was wearing my hat during work (as you can clearly see in the after). But the rest of it stayed pretty much put for well over 10 hours of wear. I didn't have a lot of sinking in my fine lines or my pores. It didn't cling to dry patches or crack anywhere. And my other products did layer on top really well. I did find that I got a little shiny late in the day, but a light hit of powder helped with that.
One thing I did discover with this foundation is that It actually wore better when I didn't use a setting spray. Your mileage might vary with this one, but in my case, this foundation transferred so much more when I used a setting spray. And I did experience a lot more fading and rubbing off as a result no matter the amount of powder I used. If you're someone who is naturally quite oily, I would be curious to see how this works for you.
So, all in all, I have to give the FauxFilter Skin Finish Foundation Stick a big ole thumbs up. Especially for those with combo/dry skin. It's currently my new favourite foundation and I'm so in love with it. It hasn't launched at Sephora Australia to my knowledge. So if you're apprehensive about picking the wrong shade, I would wait until then. But if you're confident about your shade, I strongly recommend picking it up. Have you tried the #FauxFilter Skin Finish Foundation Stick? Let me know in the comments below
Cheers and love
Emily xo