The beginning of the year is one of the most exciting times for Aussie beauty lovers. That's because this is when all of the exciting new releases start hitting our shores. And one of the most anticipated releases was the Maybelline Lemonade Craze Palette, which is what I will be chatting about today. So if you want to know if I'm crazy for the Lemonade Craze? Just keep reading!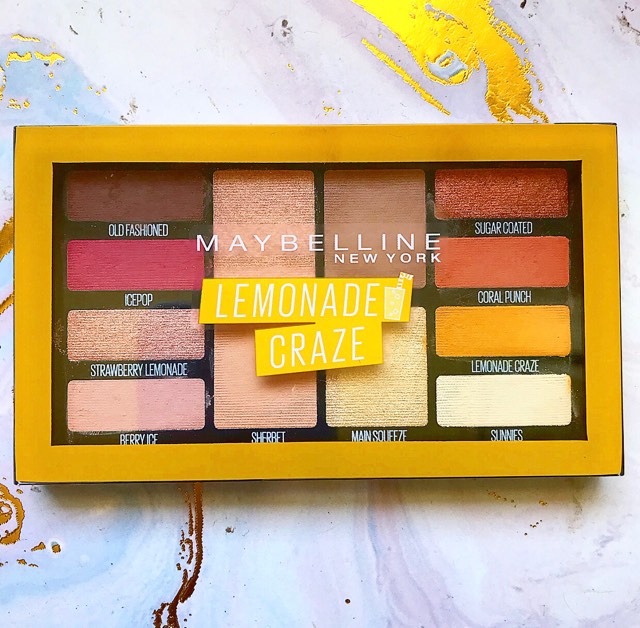 MAYBELLINE LEMONADE CRAZE PALETTE – $28.95 – priceline.com.au
Starting with the packaging, the Australian version of this palette is a little different to the version that was released in the US. The Australian version is more rectangular and the layout of the shadows is different as a result. With it being more in line with the previously released Total Temptation palette from last year. Though it does keep the bright yellow trim, which helps it stand out. It's also very small and sleek, which makes it easy for me to store in my collection. There is no mirror, but the lid is clear so you are able to see the shades up close.
The palette has a citrusy scents to it, which I personally do not mind. Having said that, it's quite faint and it doesn't linger for all that long. I would still advise caution to those who are sensitive to fragrance or to those who don't like scented products.
There are 12 shades in the palette. Eight mattes and four shimmers. All of which lean more neutral/warm in terms of its colour story. There are definitely some fun colours like Lemonade Craze (Yellow) and Ice Pop (Raspberry Red), but overall, the palette is quite wearable, with it containing the necessary neutrals that I love to use.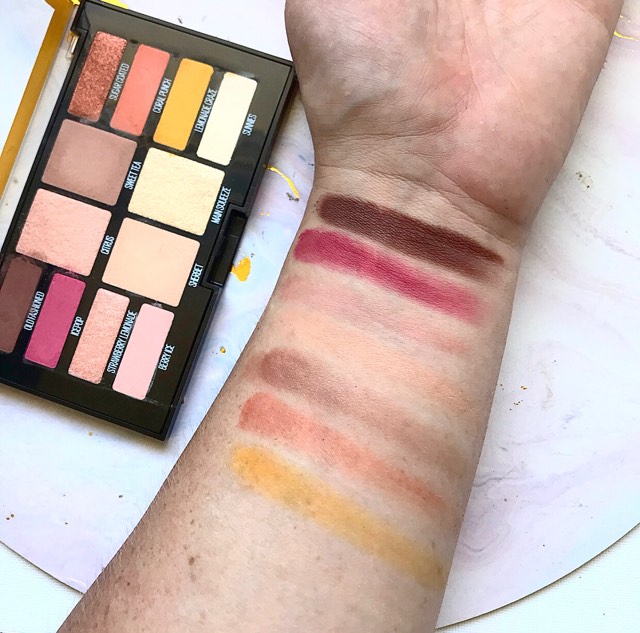 The mattes are across the board ok. They aren't the most pigmented shadows, but they are fortunately quite buildable and they blend out pretty easily. The shades I've get the most amount of use out of are Old Fashioned (Deep Brown), Sweet Tea (Taupe) and Lemonade Craze (Yellow) and fortunately, they are some of the best performers in the palette in my opinion. If I have one major criticism, it's that the mattes are very powdery when you dip your brush in and as a result, the palette gets very messy.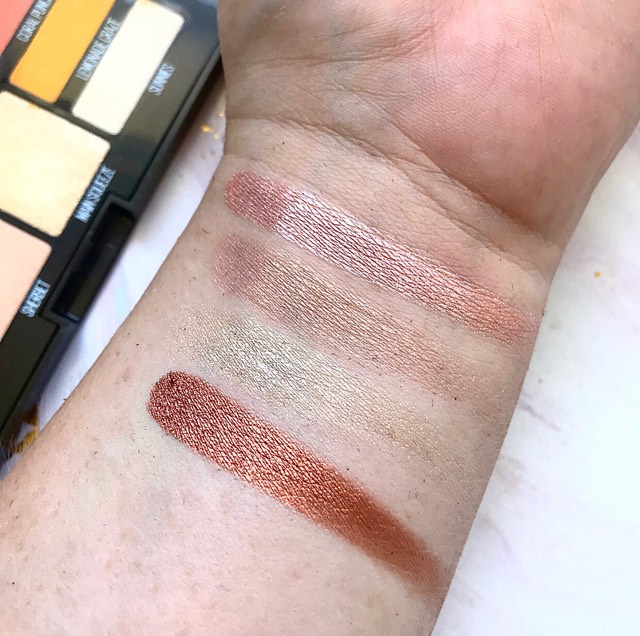 The shimmers are a bit of a mixed bag as well. Sugar Coated (Copper) is by far the standout shade out of the entire palette. To the point where I'm slightly annoyed that the rest of the shades aren't as good. The other three shimmers are ok but they have two major faults. One, they are quite glittery (especially Citrus and Main Squeeze). And two, Citrus and Strawberry Lemonade are way too similar a shade to have both in the palette. I would keep Strawberry Lemonade as it is the better of the two shades, but I would replace Citrus with another colour. Having said all of that, they do apply to the eye nicely (Citrus and Main Squeeze perform better wet) and they last a really long time.
It might sound like I'm being overly critical, but I will say that this is easily the best palette Maybelline has ever bought out. I do recommend it, especially if you're a beginner or wanting to dip your toe into some different warmer colour. But absolutely do not pay full price for this. Wait for a sale. Let me know down below if you have tried the Maybelline Lemonade Craze palette!
Cheers and love
Emmie xo