The Matte Liquid Lipstick trend is still going strong and as a result, the drugstore has really been stepping up to the plate with their versions. Maybelline launched their newest Liquid Lipstick midway through last year in The States and they have now arrived here in Australia!
MAYBELLINE SUPERSTAY MATTE INK LIQUID LIPSTICK – $19.95 – priceline.com.au (10 shades available)
Shade 15, Lover chosen for review.
Before I get into this review, as this is the first time that I'm doing something like this, I should probably briefly mention the three things I always look for in my liquid lipsticks.
Colour payoff and opacity
Longevity
Ease of removal
Ok, now that that's sorted, time for the review!
Starting with the packaging. This is easily some of my favourite packaging for a drugstore liquid lipstick. The lid is a crisp white but for each of the 10 shades, the bottle is the same colour as the shade of lipstick, with a matte finish. As someone who sorts her lipsticks by shade, this is a feature that I always like.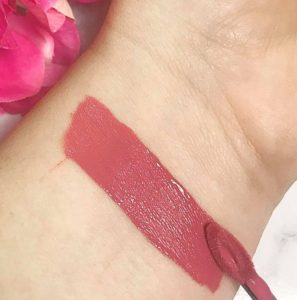 The applicator has the triangular tip at the end, which allows for precise application (especially around the cupid's bow area). The applicator also has indents on both sides to allow extra product to be picked up. This I'm personally not a fan of because it becomes very easy for me to pick up way too much product. When I first tried the lipstick on, I found that I had a difficult time applying it and it took me three attempts to get it to a presentable level. The trick is that a little goes a long way with this product.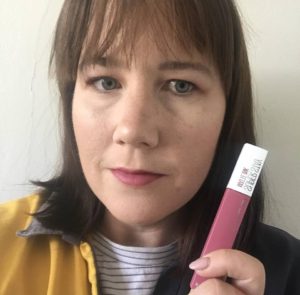 Once I did get it on, I was genuinely surprised to discover just how opaque the colour was. There was minimal streaking when I did apply it correctly. One thing I did find, and it may just be me, is that the colour of the lipstick deepened slightly as time wore on. The other thing that I noticed immediately was how sticky the formula was. At no stage while wearing this did it ever feel like it had dried down fully. Despite this, once it had dried down, it did not budge. For the first five hours, there was not flaking or fading with this lipstick and I was very impressed. It did break down a bit when I had lunch but that is to be expected with most liquid lipsticks. If you ever do need to do touch ups, it's easier to remove the product and reapply as this is not a lipstick that layers well. Some may take issue with this, but it's something that I don't have a problem with.  While it wasn't exceptionally drying on the lips, I was able to layer a lip balm on top of the lipstick without disrupting the product too much.
When it came to removal, I found that the easiest way was to use an oil based remover as simply using a water based remover didn't break the product up as easily.
Overall, I did enjoy The Maybelline Superstay Matte Ink liquid lipstick and I would happily purchase more from the range. While the stickiness may be too much for some, it wasn't a dealbreaker for me and the longevity of the product far outweighs any minor issues I had.
Cheers and love
Emmie xo