When I did my Fenty foundation review a few months back, I mentioned that the brand's launch sparked something of a makeup revolution. And there have been a ton of amazing changes in the makeup world as a result. However, one of the big things that came out of Fenty's success was an explosion of other celebrities launching their own cosmetic lines to varying degrees of success.
One of the more high profile brands to launch out of this wave of celebrity lines was Rare Beauty, founded by singer and television star Selena Gomez. And I would be lying if I didn't say that I rolled my eyes when it was announced. But this ended up being one of the more critically acclaimed and successful launches of the bunch. And when Rare Beauty arrived in Australia in early August, I was incredibly excited and picked up a few things to test out. One of which being the Liquid Touch Weightless Foundation. I've been trialing it for the past month and I have a ton of thoughts. So, let's get into the review!
RARE BEAUTY LIQUID TOUCH WEIGHTLESS FOUNDATION – $48.00 – sephora.com.au (48 shades available)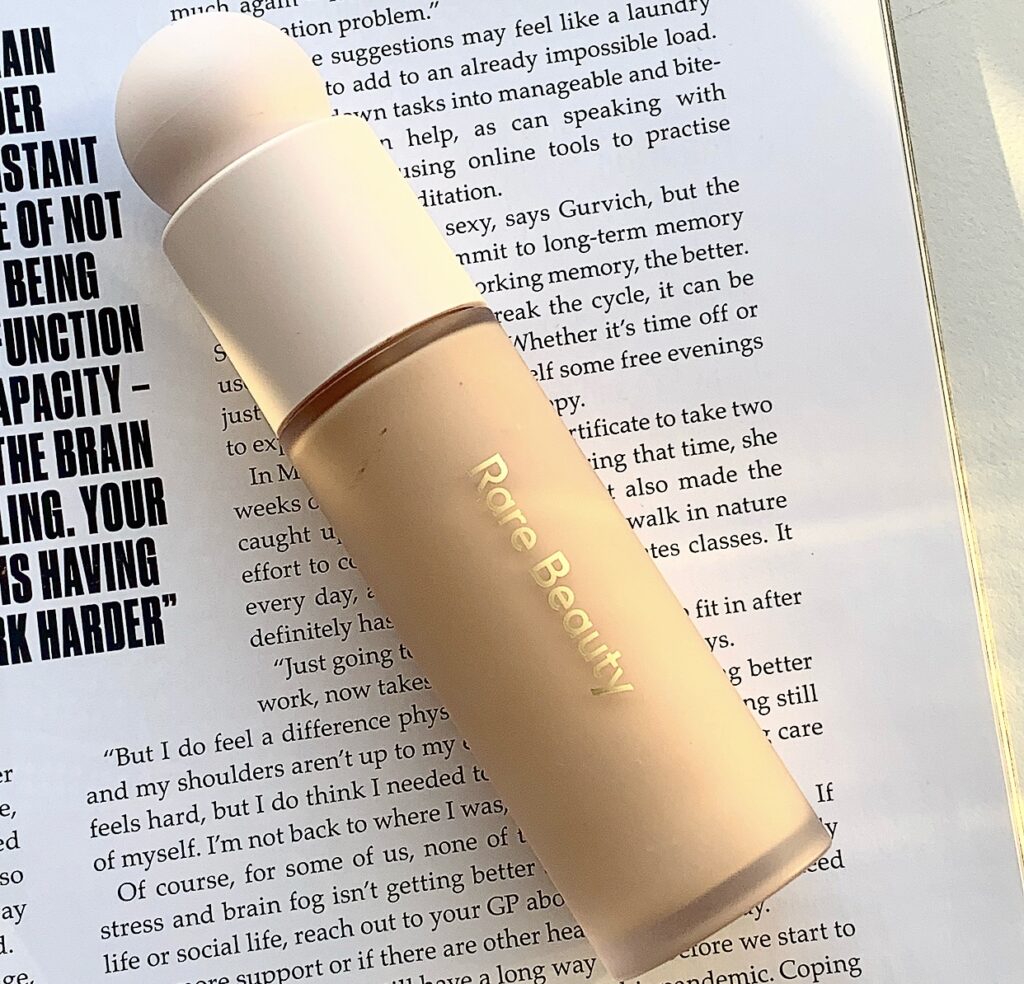 The Rare Beauty Liquid Touch Weightless Foundation is housed in an acrylic bottle with a ivory topper and gold detail. The bottle is very sleek and feels very well made. The Liquid Touch Foundation is cruelty free, vegan, and contains 30ml of product.
The Liquid Touch foundation doesn't have a pump. Instead, it has a large doe foot applicator. It's one of those doe foot applicators that has the divot in the middle that holds extra product. I know that some people don't like doe foot applicators for their foundation, mostly for hygiene reasons. But I don't mind it. It's been said in interviews that the reason why Gomez went with a doe foot was for accessibility. For people who live with arthritis or other autoimmune diseases like Lupus (which Gomez does), a doe foot applicator is much easier to use than a pump. Also, the cap that the applicator is attached to is very easy to hold onto.
The Liquid Touch Foundation launched with 48 shades. They are broken into six different shade categories, with eight shades in each category. Each of the shade ranges has a good mixture of undertones. And I reckon that it's one of the stronger foundation launches that I've seen in terms of shade range availability. I wear shade 190W – Light Medium with Warm Gold Undertones. And it's actually a really good match for me. I, as always, used the Temptalia Foundation Matrix. But if you're able to, I would go in store and see the shades for yourself.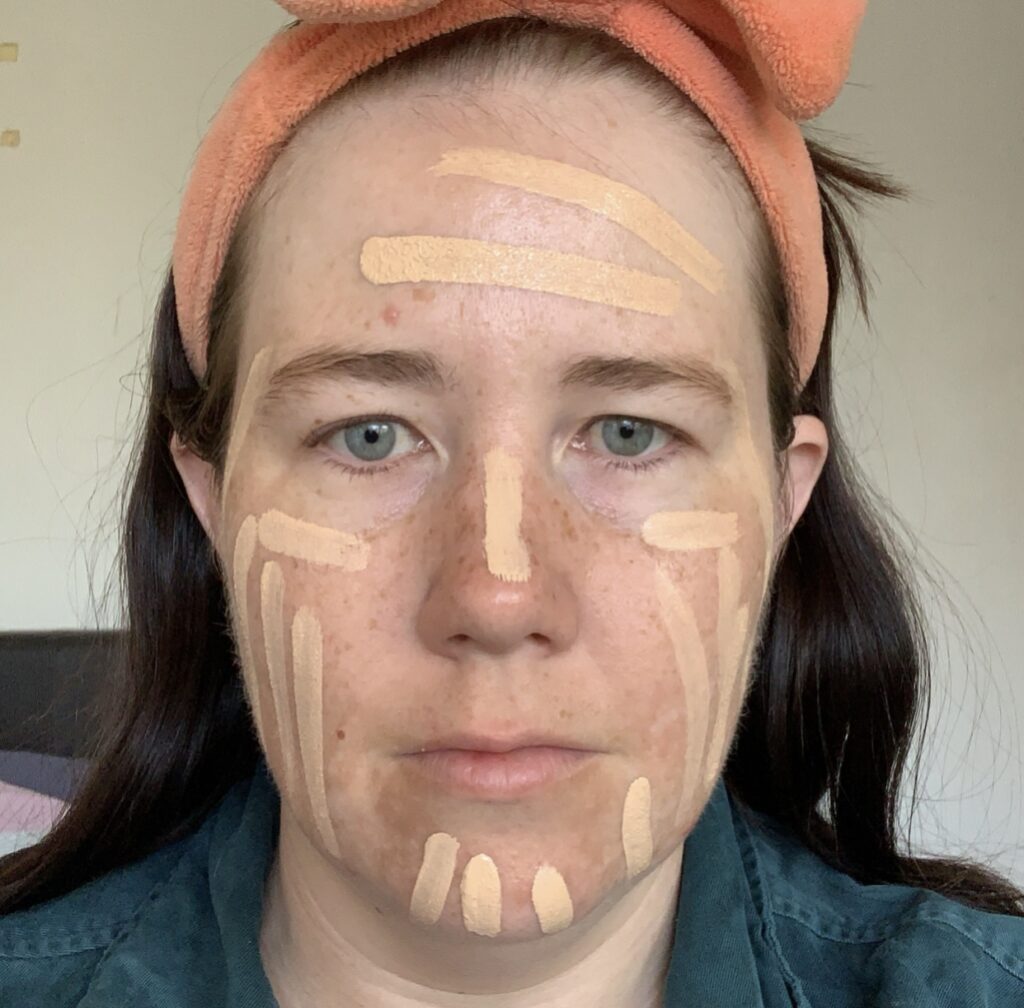 Applying this foundation first time was interesting. When I looked it up on the Rare Beauty website, it said to use the 'less is more' approach. Meaning that you're supposed to start with a dot, blend that out. And then add another dot if you desire more coverage. Now, that might work if you have more or less perfect skin. But I am an acne scarred angel with hella scarring. I definitely wanted more coverage. I think the amount you, dear reader, will need will entirely depend on you. The above photo is what I used on the regular. And that did a pretty dang good job.
In terms of application, I tried all three techniques (brush, sponge, fingers). And I found that brush and fingers worked the best for me. The thin, serum like consistency meant that my sponge did soak up a lot of the foundation and I didn't get the desired coverage.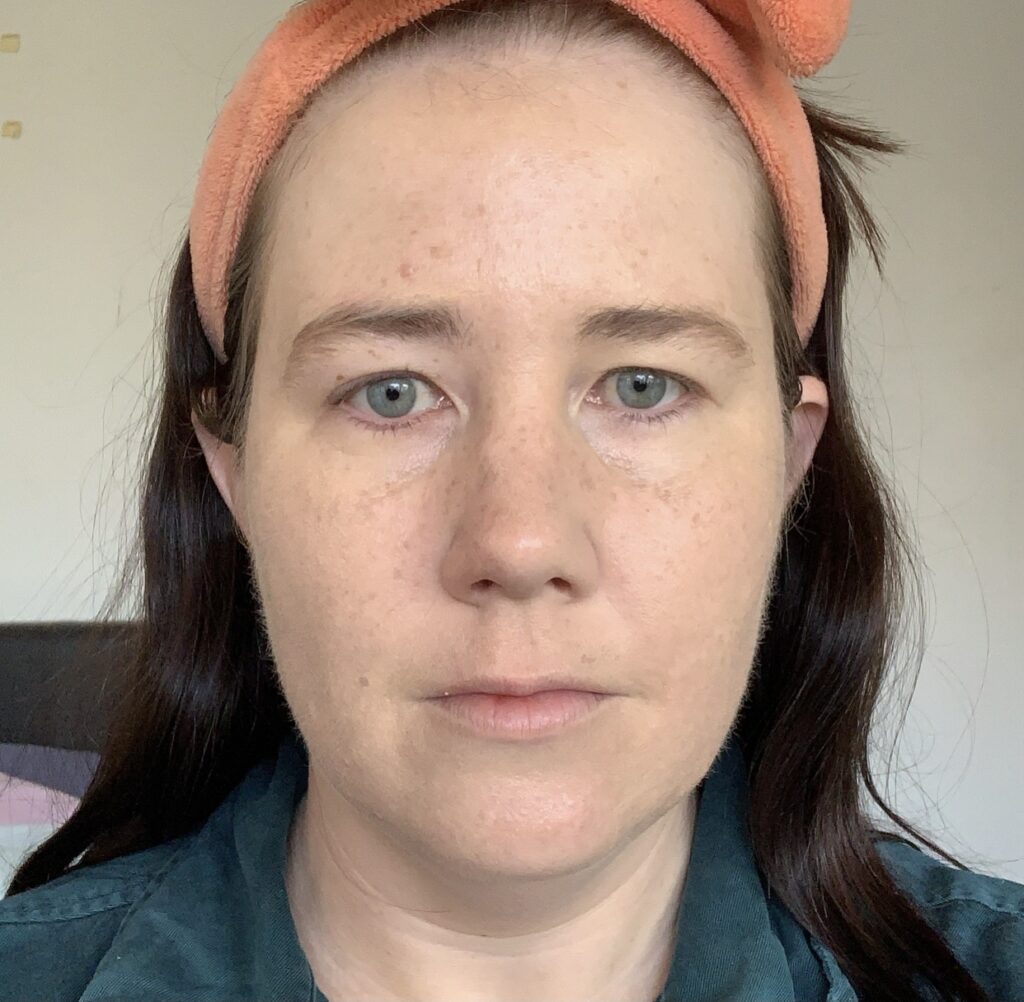 The Liquid Touch Foundation is described as a medium bulidable foundation with a soft matte finish. I would agree that it's a good medium coverage. Enough to even things out, but my freckles were still visible. As for the soft matte claim, well, comparing this to the Fenty Pro Filt'r foundation I reviewed recently, this is the more matte finish by far. We are getting into the warmer months and while my skin is getting more oily, I did notice that this foundation did want to cling onto the one or two dry patches I still had.
I also opted out of wearing a primer with this foundation. More often than not, I would wear this on top of my sunscreen and that would be enough. The Rare Beauty website does recommend this foundation for normal/combination skin types. And if you fall into either end of the oily or dry spectrum, then you should wear a primer underneath.
And now, the all important wear test. And we have had some especially warm days as of late. So, knowing that, the foundation has worn really well. I did experience some fading around my nose (ahh, hayfever). And I did really want to hit my face with powder around the 6 hour mark as I was beginning to look real shiny. But besides that, no cracking or settling into my fine lines or pores for the most part. It also didn't lift around my upper lip area.
So, should you buy the Rare Beauty Liquid Touch Weightless Foundation? I'm going to go with yeah, do it! I won't sit here and say that it's a gamechanger by any means. But it's a good, no nonsense foundation that is easy to apply, feels like nothing on the skin and wears well. I can see this becoming a fave during the summertime especially. Have you tried the Rare Beauty Liquid Touch Weightless Foundation? Let me know in the comments below!
Cheers and love
Emily xo