A few months back, I was given the opportunity by the Sand & Sky trial team to test out their now best selling Enzyme Powder Polish. I had a lot of fun with that product and it quickly became a favourite. So, I was over the moon when they reached out again last month to test out their brand new range! That being the Tasmanian Spring Water line.
The range consisted of two all new products. The Splash Serum and The Hydration Moisture Cream. Both of which are launching today as you're reading this! I've spent the last four weeks playing around with them behind the scenes and I have some thoughts about both. So, if you want to know if I'm ready to take the plunge into Tasmanian waters, just keep reading!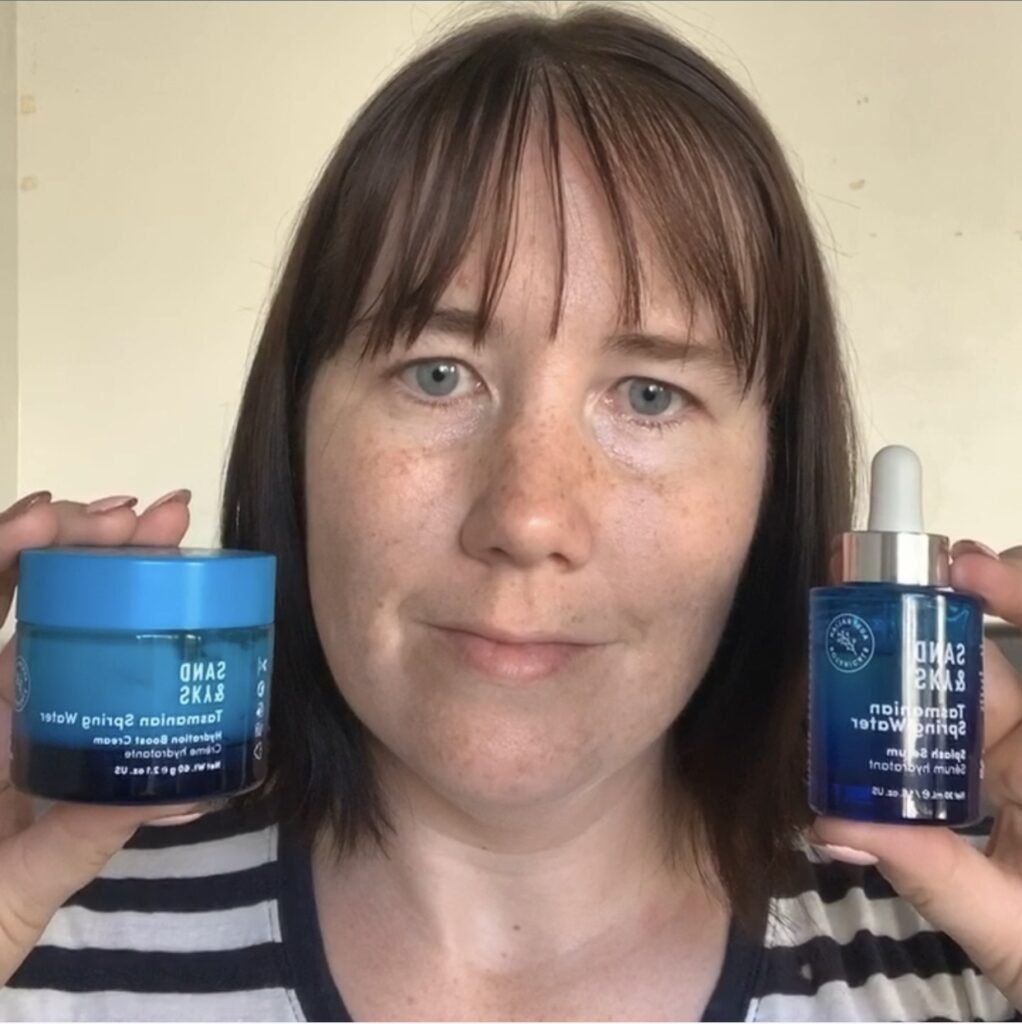 SAND & SKY HYDRATION BOOST CREAM – $79.90 – sandandsky.com.au
SAND & SKY SPLASH SERUM – $82.90 – sandandsky.com
*PR sent for review*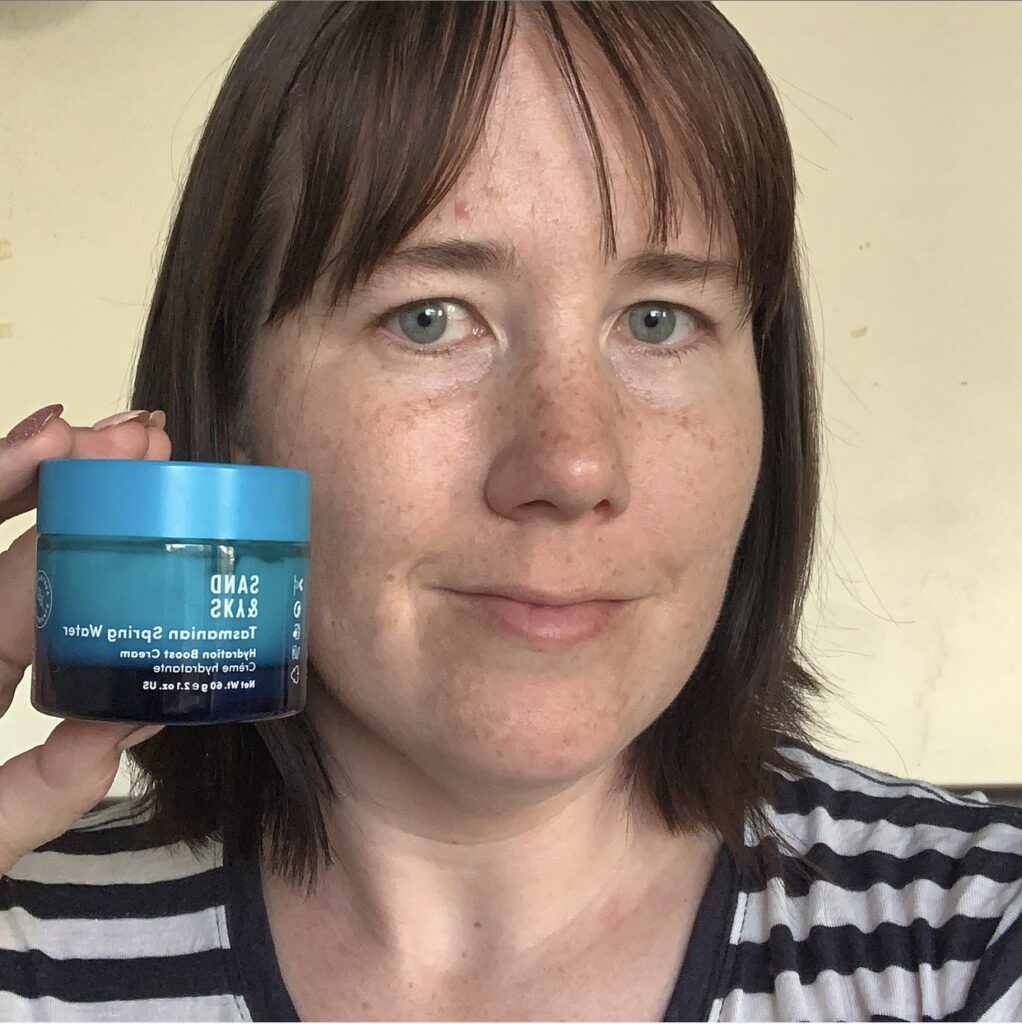 I'll start with the moisturiser first. The product is housed in a see through, blue glass jar which is recyclable. The glass is quite weighty and solid. And it works well with the theme of hydration. The Hydration Boost Cream is made with a vegan formula, is cruelty free and contains 60g of product.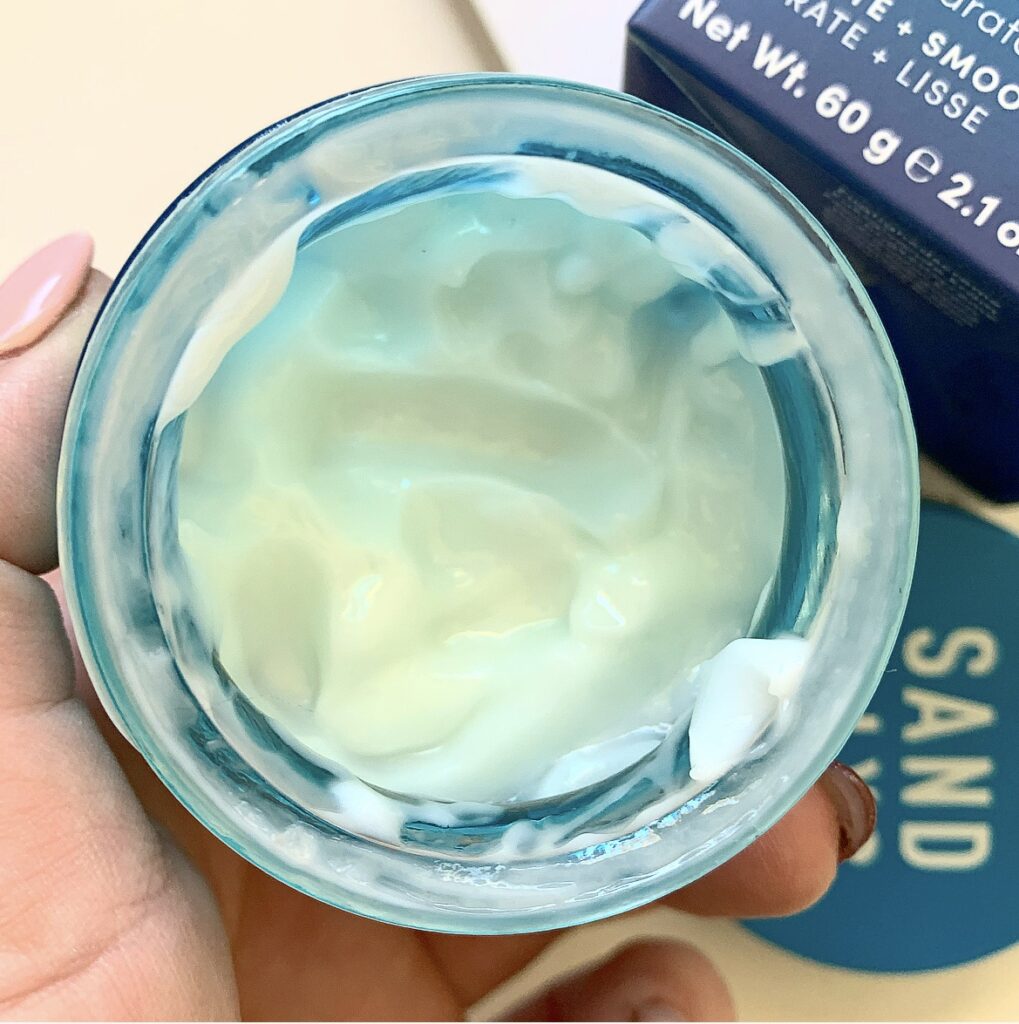 The consistency of the Hydration Boost Cream is said to be a gel-cream texture. And on that, I have to agree. The consistency it most reminds me of is the Tatcha Water Cream, only maybe more gel like. It's so light and it soaks in very quickly.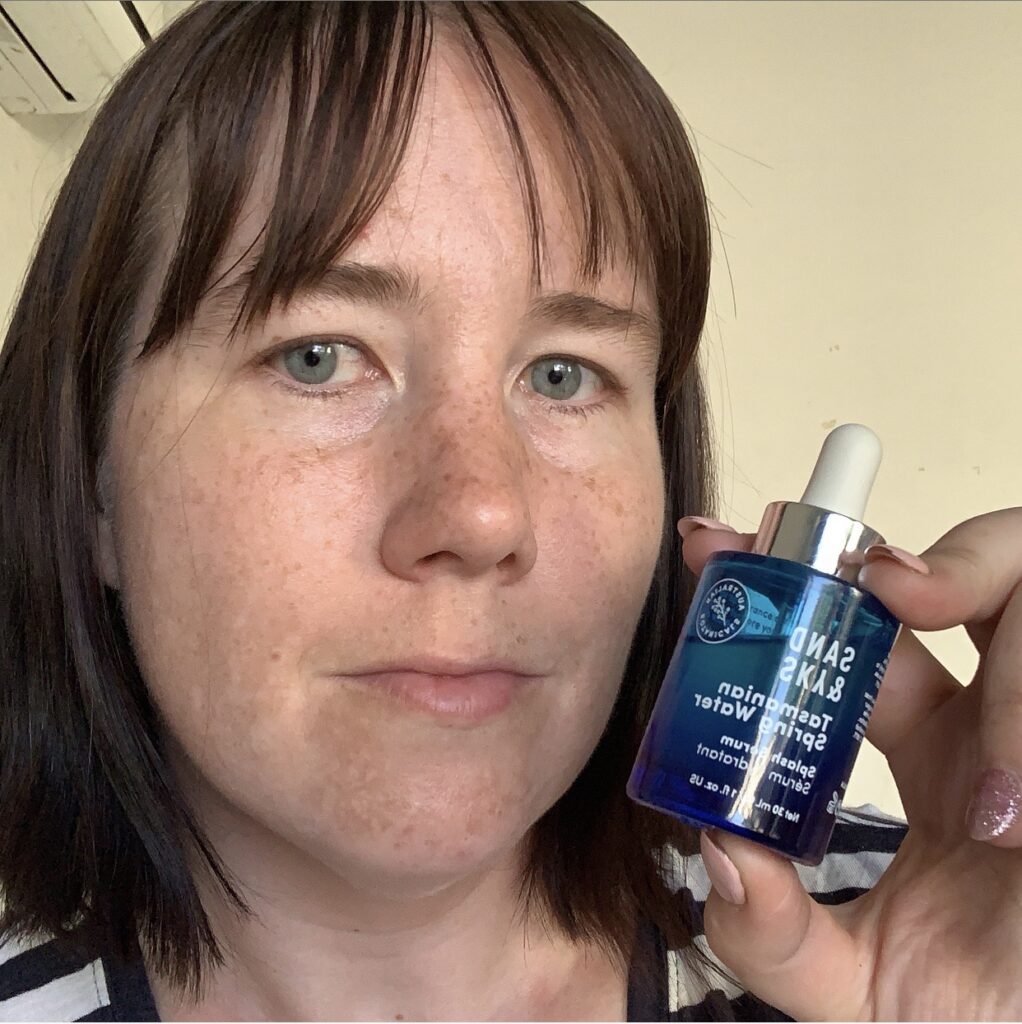 Now, let's talk Splash Serum. It, like the Hydration Boost, is housed in a solid blue, see through glass bottle. The product is dispensed with a dropper, not unlike the Dreamy Glow Drops. It too is a vegan formula, cruelty free and contains 30ml of product.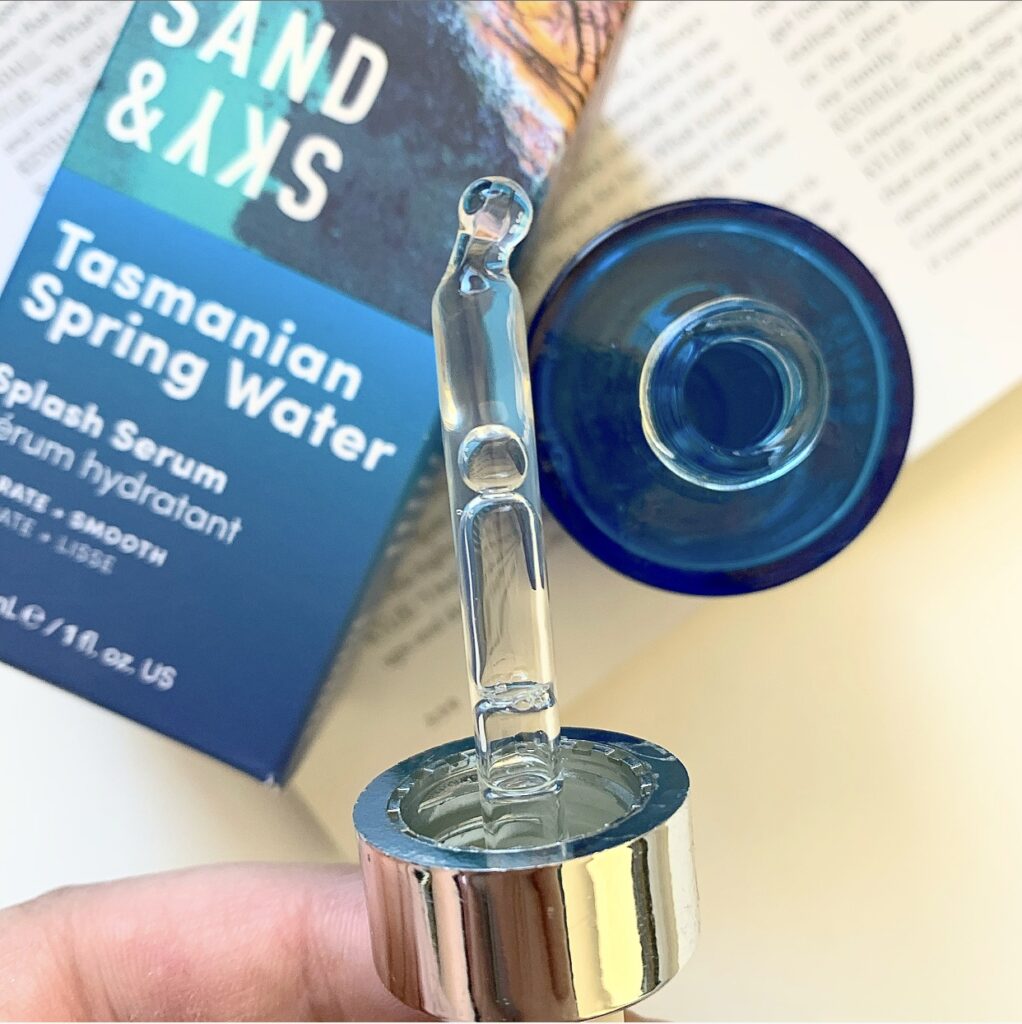 The consistency of the Splash Serum is quite interesting compared to other Hyaluronic Acid based serums I've tried. It has a little bit of body to it so it's not super runny. If we are comparing it to the Dreamy Glow Drops, this is the less runny of the two, by far. This is also a product where a little goes a long way. But I'll touch on that in a bit.
But before we continue, I figured we could spend a moment talking ingredients. Tasmanian Water is the key component here. The waters of Mole Creek Karst National Park are some of the most pristine and mineral filled in Australia. With skin loving minerals like Calcium and Magnesium. Both products also contain two different types of Hyaluronic Acid, to help attract and retain moisture in you skin. And in turn, helps to keep your skin looking fuller and more youthful by smoothing fine lines and wrinkles.
Where the two products differ is the little extra's Sand & Sky has added. The Splash Serum contains Bifida Ferment to help improve the skin's barrier to environmental aggressors and actively helps the skin repair itself over continuous use. The Hydration Boost Cream's big selling point is Red Algae Extract. Which some studies have shown can help offset the damage that UVB's can cause by creating something like a second skin (please note: offset is not the same as prevent. My final step is always sunscreen). So, both are great for you skin's barrier, but in slightly different ways.
When I first used both of these, it was something of a mixed bag. I used the serum on it's own. And while I did enjoy it, I found that it left my skin a little tacky. Which is a fairly common thing with me and Hyaluronic Acid's. It was through a little bit of experimentation that I discovered the best way of using it for me. And it was through combining it with other serums.
Hyaluronic Acid tends to be very forgiving when it comes to mixing and it's a popular choice to add in with more temperamental ingredients. I use The Splash Serum in the morning combined with my Vitamin C and at night, it works very well with my Retinol's and AHA based serums. I especially love it mixed in with an oil of some description.
The Hydration Boost Cream, however, I fell in love with straight away! This is the real MVP of the collection. It's all about that texture. It soaks right into the skin and leaves my skin so soft and hydrated. And I also found that it makes a really great primer for makeup because it just smooths everything out. I apologise for not saying more about it, but this is one of those products that is better experienced than spoken about.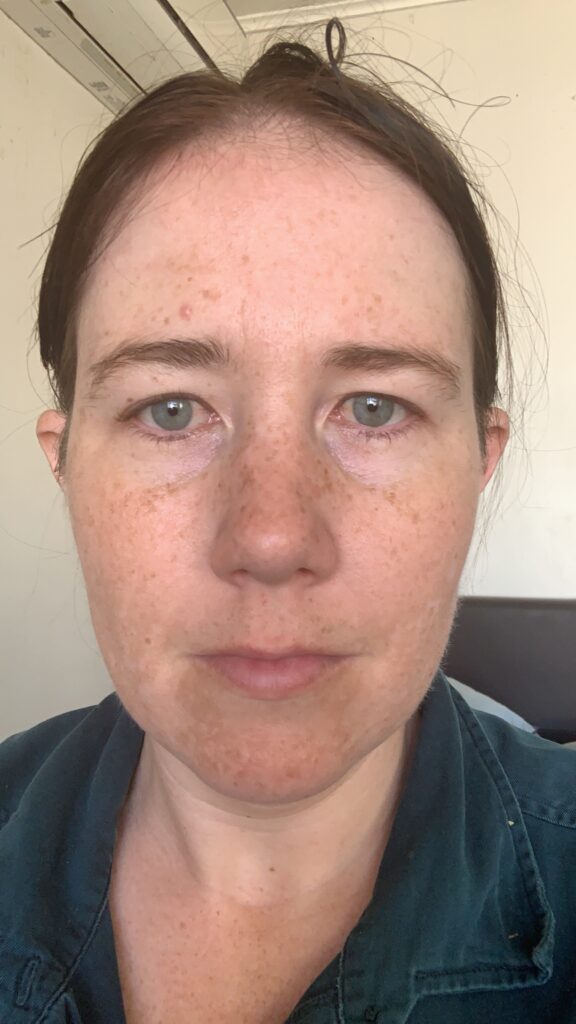 And that's the new Tasmanian Spring Water collection. Like I previously mentioned, both of these products launch today! And both of them get a big ole thumbs up from me. Let me know if you're going to pick either of these up. And if you do, let me know what you think of it. I would like to thank Elise and the team over at Sand & Sky for once again inviting me to be on their trial team.
Cheers and love
Emmie xo