Out of all of the palettes that I have featured both on here and my Instagram, the ones I get questioned about the most would have to be the Pat McGrath Mothership's. And it's easy to see why. At nearly $200 a pop, many of you guys want to know if they are actually worth the hype. And to answer that now, I own four now. I plan on getting the other now five. They are worth the hype.
But in all seriousness, one of the other questions I get is how the shadows actually look. How well they translate out of the pan. So, that's what I'm going to do today. I've gone through all of the Mothership palettes that I own so far and I've swatched them out. And hopefully in the future, you can use this page as a resource for future PMG purchases! So, let's do the fun thing!
*Em's note* I've done this in order of purchase as opposed to numeral order.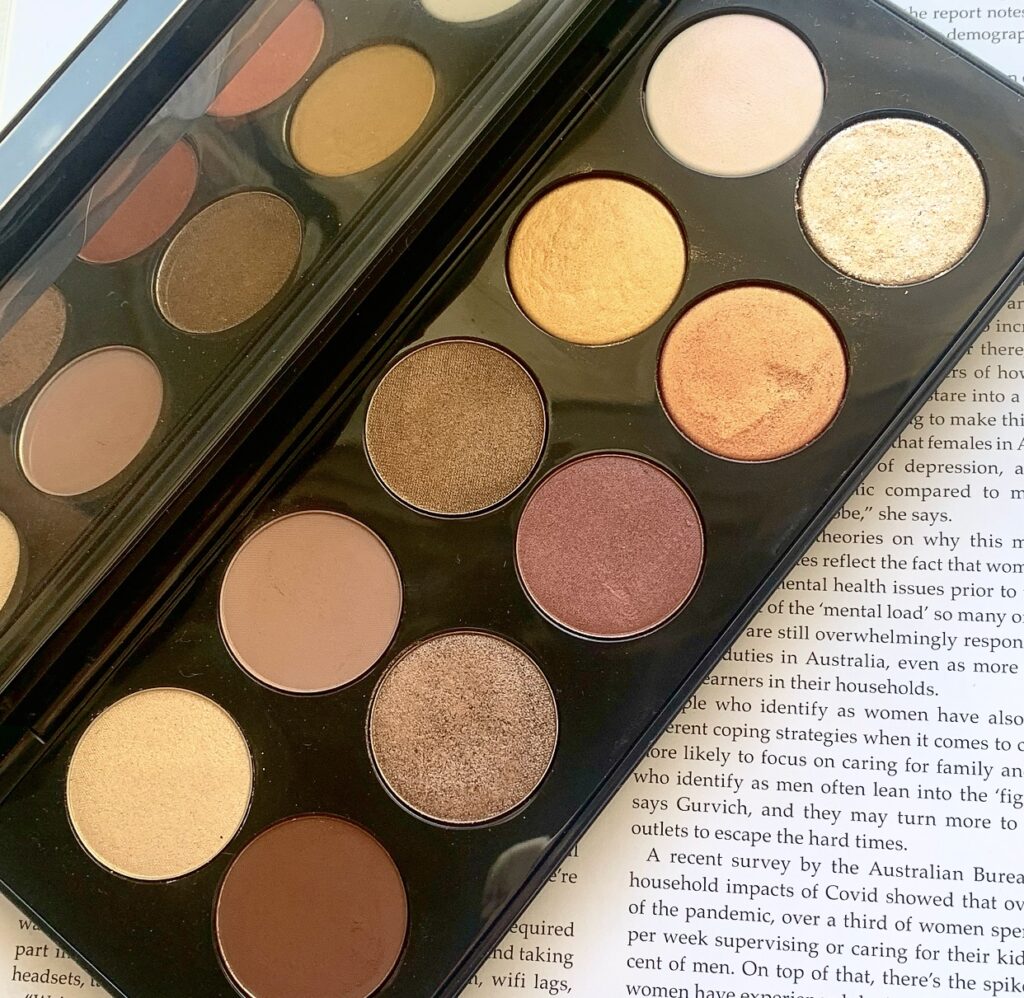 PAT MCGRATH MOTHERSHIP VII: DIVINE ROSE – $195.00
From Pat McGrath – A potent provocation of lush floral shadows envelop the lids in a breathtaking bouquet of finishes. Vibrant golds, lascivious roses, peach provocateurs and exquisite bronzes captivate the eyes with next-level divinity, unprecedented blendability and unlimited multidimensional effects.
Divine Rose, my first love. I fell in love with this palette almost instantly and I waited nearly a year for it to land back in stock after it immediately sold out. I adore the soft peaches and mauvy tones in this palette. It's actually what I wore when I had my delayed wedding photo's taken (ahh, Covid). And it will always have a special place in my heart.
SHADES FROM TOP TO BOTTOM – Skinshow Nude (shimmer), Velouria (matte), Sable Bronze (shimmer), Refined Gold 002 (metallic), Iridescent Pink 003 (white to pink shift), Xtreme Mahogany (matte), Love Lace (shimmer), Rose Dusk (satin matte), VR Rose Venus (multichrome), Astral Solstice (glitter).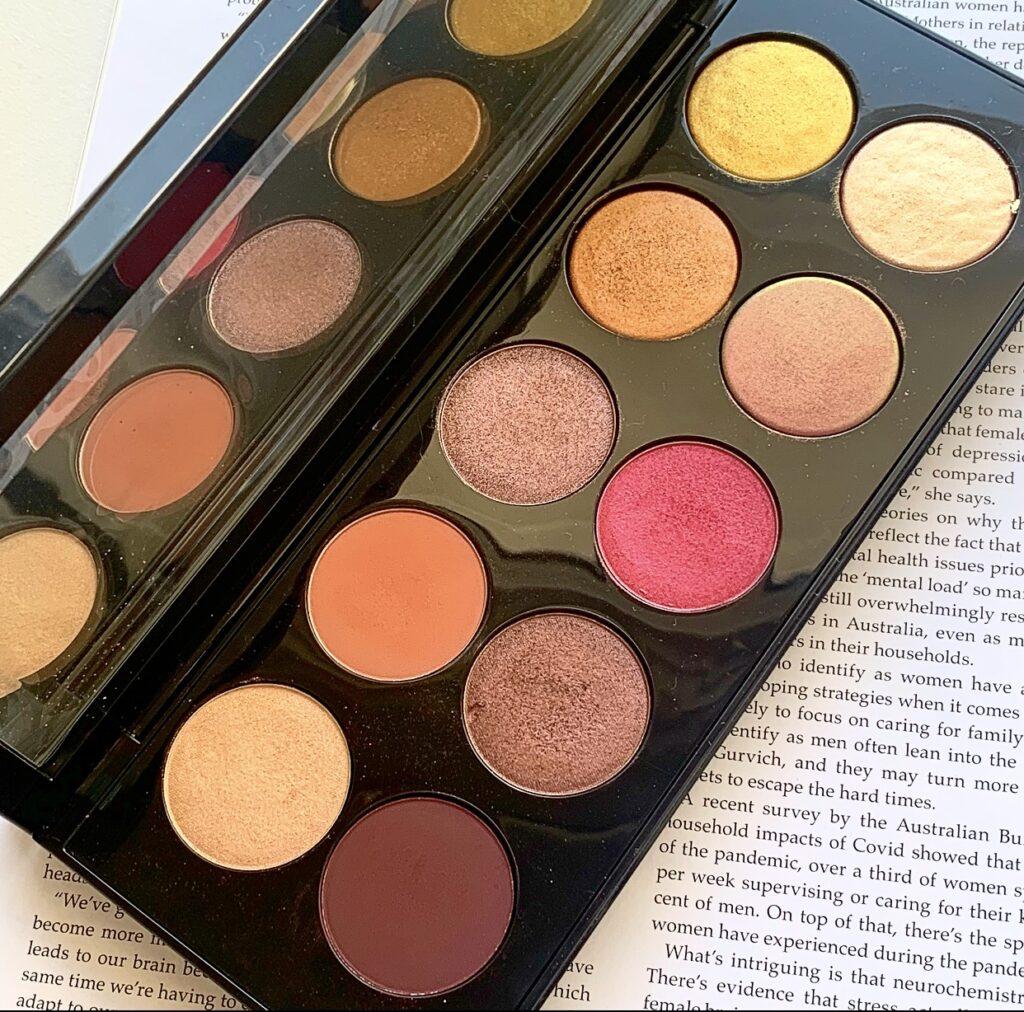 PAT MCGRATH MOTHERSHIP VIII: DIVINE ROSE II – $195.00
From Pat McGrath – Luxuriate in an avant garden of couture colour with Mothership VIII: Divine Rose II. This provocative Eye Palette transforms the blushing beauties of the instantly iconic Mothership VII: Divine Rose into a glittering grandiflora bouquet of 10 brilliantly blendable pigments that elevate eye artistry to the heavens in sublime shades, ranging from petal-soft pink, peach, rosé and burgundy to gilty golds, brazen bronze and astral champagne. 
Futuristic finishes abound, inspiring looks both everyday-exquisite and extraterrestrial-extreme via mesmerising mattes, supernova shimmers and gleaming glitters, molten metallics, along with an otherworldly triochrome. Adorn eyes in fiercely multidimensional chromatic shine with this aliengelic arrangement. There's only one rule: BLOOM WITHOUT CAUTION.
To this day, I have no idea why I initially rejected this palette. I guess I though the shades wouldn't work well on my skin tone (as a side note, this would be STUNNING on deeper skin tones). But this has quickly become my most used out of the four I own. This palette also has my favourite VR shade in VR Sextraterrestrial. It's a pink that shifts to green! No picture will do it justice. It has to been seen in person.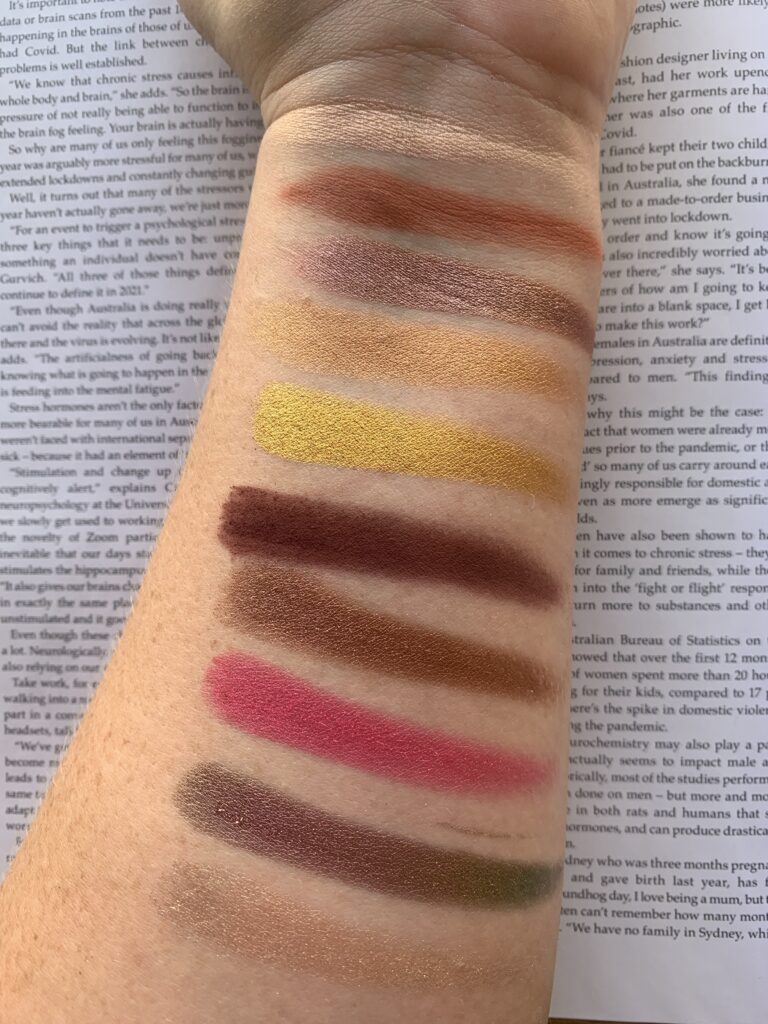 SHADES FROM TOP TO BOTTOM – Skinshow Opal Rose (shimmer), Naked Blush (matte), Eleganza (shimmer), Bronze Rose 005 (metallic glitter), Gold Lust 001 (metallic), Xtreme Burgundy (matte), Divine Dusk (shimmer), Rose Seduction (satin matte), VR Sextraterrestrial (multichrome), Astrial Pink Moon (glitter)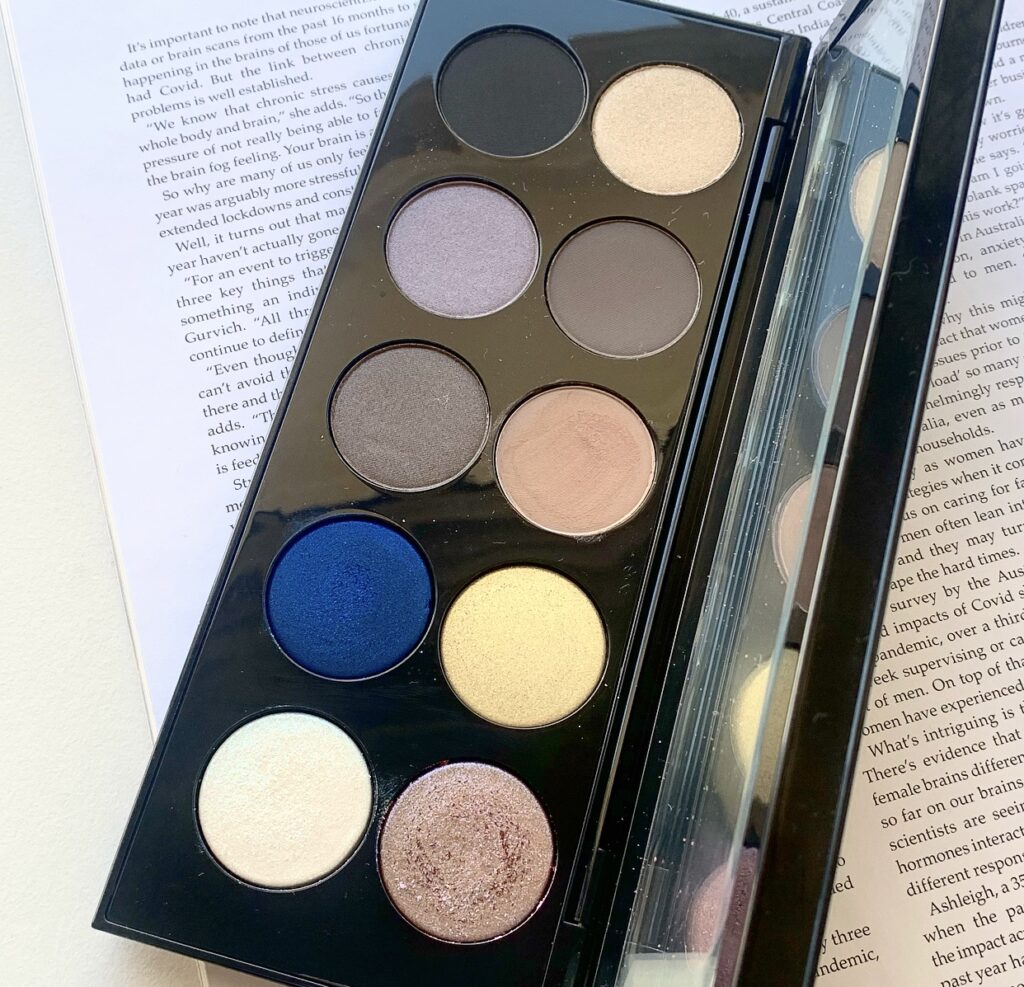 PAT MCGRATH MOTHERSHIP I: SUBLIMINAL – $195.00
From Pat McGrath – A captivating collection of 10 cult-classic shades in brilliant blues and violets, mesmerizing jewel tones, lustrous golds and signature matte neutrals that offer pure vibrant colour saturation and diamond sparkle intensity, all married in one iconic palette.
The OG! This was the palette that started it all. I remember everyone losing their minds over this palette back when it launched. And I always lusted for it from afar. Out of the four I own, it's easily the most wearable because of it's good balance of neutral shades. If you're a makeup newbie and you have the cash (or access to one hell of a sale), this would be the palette I would start off with.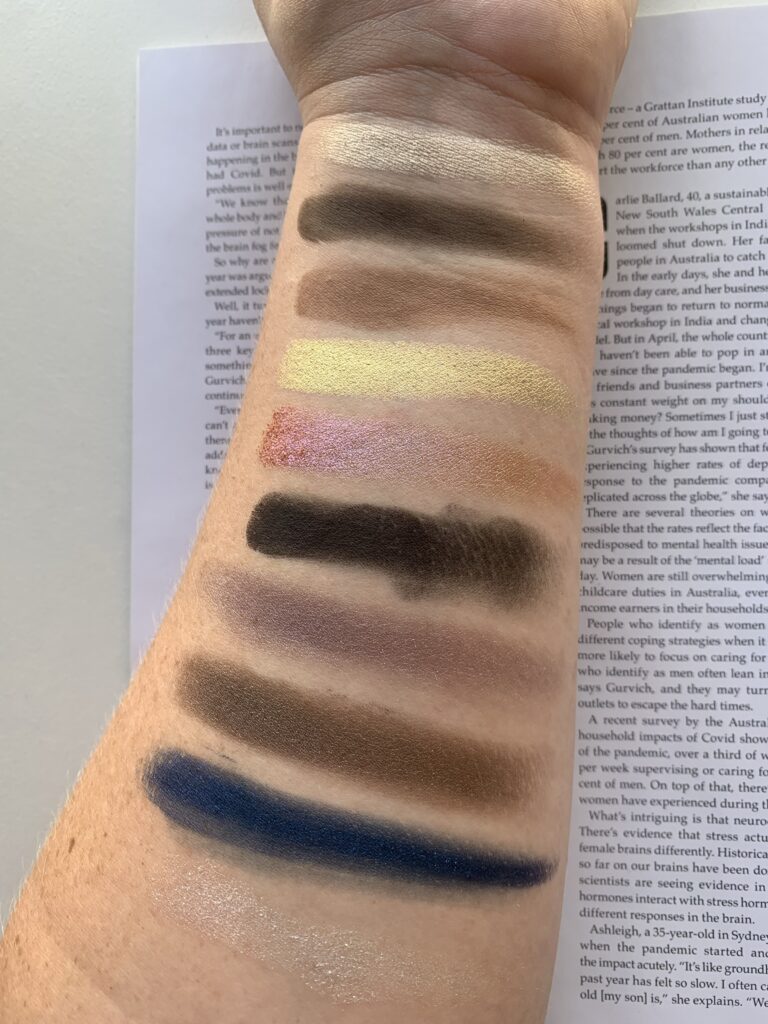 FROM TOP TO BOTTOM – Skinshow Nude (shimmer), Depth (matte), Ultimate Taupe (matte), Pale Gold 002 (metallic), VR Violet (multichrome), Xtreme Black (matte), Lilac Dust (satin matte), Substance (satin matte), Blitz Blue (metallic), Astrial White (glitter)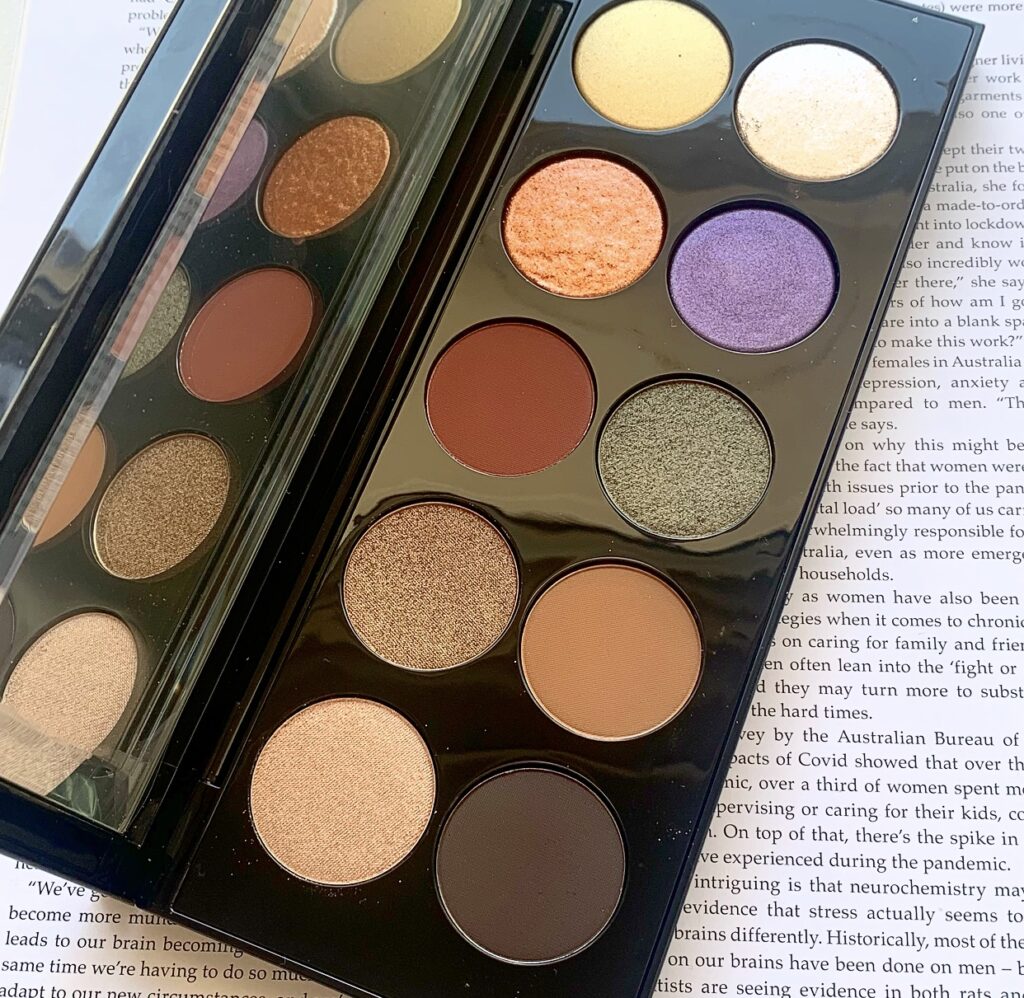 PAT MCGRATH MOTHERSHIP VI: MIDNIGHT SUN – $195.00
From Pat McGrath – Ten richly pigmented shades and seven next-generation formulas highlight, line and define the eyes for endless luxury and unlimited looks. Elevate your artistry with captivating coppers, bold bronzes, covetable crimsons, glowing golds and venomous violets, mix and layer to create multidimensional effects. Each hue releases infinitely smooth and blendable pigments with uninhibited buildability.
Now, this is the newest addition to my collection (literally, it just arrived last week). So, I haven't had a chance to play with it. But I'm already in love with this palette. This is definitely a more earthy toned palette in comparison to some of her other palettes. But this would be an amazing fall palette. I can't wait to see what looks I make with it.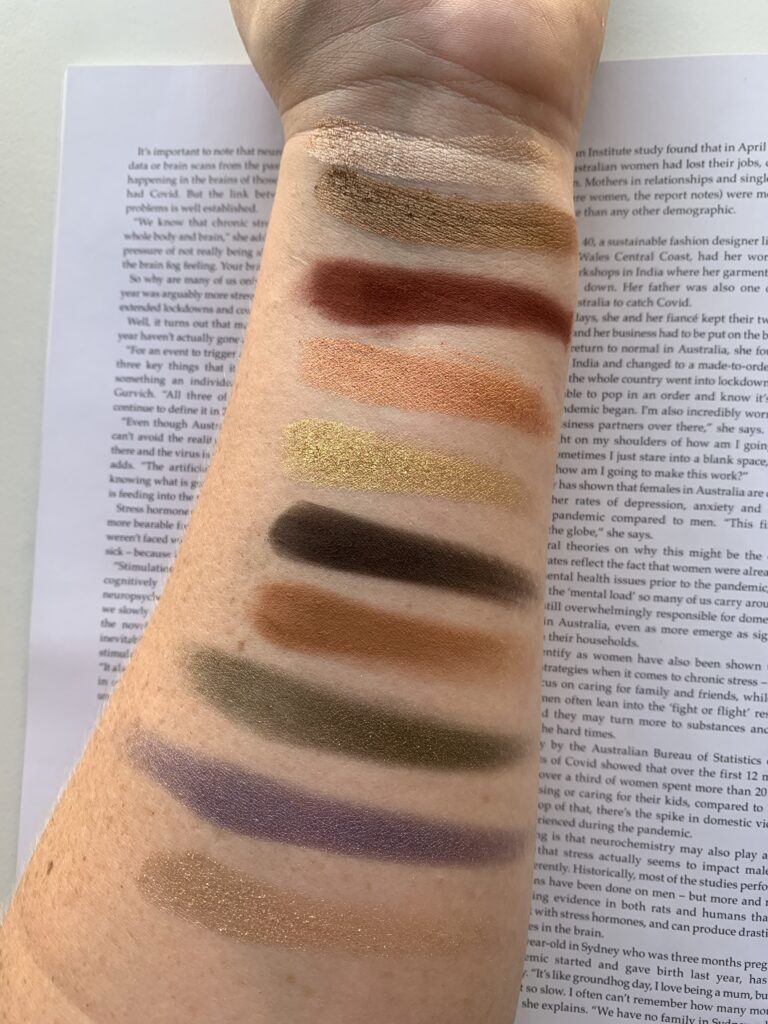 FROM TOP TO BOTTOM – Skinshow Moon Glow (shimmer), Bronze Eclipse (metallic), Vermillion Venom (matte), Blood Moon 005 (metallic glitter), Jubilee (metallic), Xtreme Dusk (matte), Taboo (matte), Wicked Envy (shimmer), Blitz Orchid Violet (shimmer), Astral Solstice (glitter).
And that is my current Mothership collection! I do sincerely love each and every single one of these palettes and I can't wait to get my hands on the other five. So yeah, stay tuned for a future part 2! Which is your favourite of the four that I have? And do you own any of the other Motherships? Let me know in the comments below!
Cheers and love
Emily xo