Well, it's the second week of the year. And if you've been following me since the beginning, you know exactly what that means!
That's right, it's finally time for my 2020 Best in Beauty awards. Over this week, I'll be talking about all of my favourite products from 2020. Part one (AKA, the post you're reading now) will be all of my makeup faves. And on Friday, I'll be talking all things skincare.
Before I dive in, I want to chat just quickly about my rules. Regular readers will be somewhat familiar with how I go about this;
These are all products that I first used in 2020 (though many of them are 2020 releases)
I made the decision to leave off products that were limited edition as I want these to be products you can try for yourself year in, year out.
I will also note that I have no foundation in my favourites this year. While there were foundations that I reviewed and enjoyed this year, I have made the decision to exclude any foundations that have less than 30 shades in their line from being considered in my favourites or being reviewed on this site. And this is something that I wish to carry through into the new year. Anyways, enough serious stuff, onto the favourites!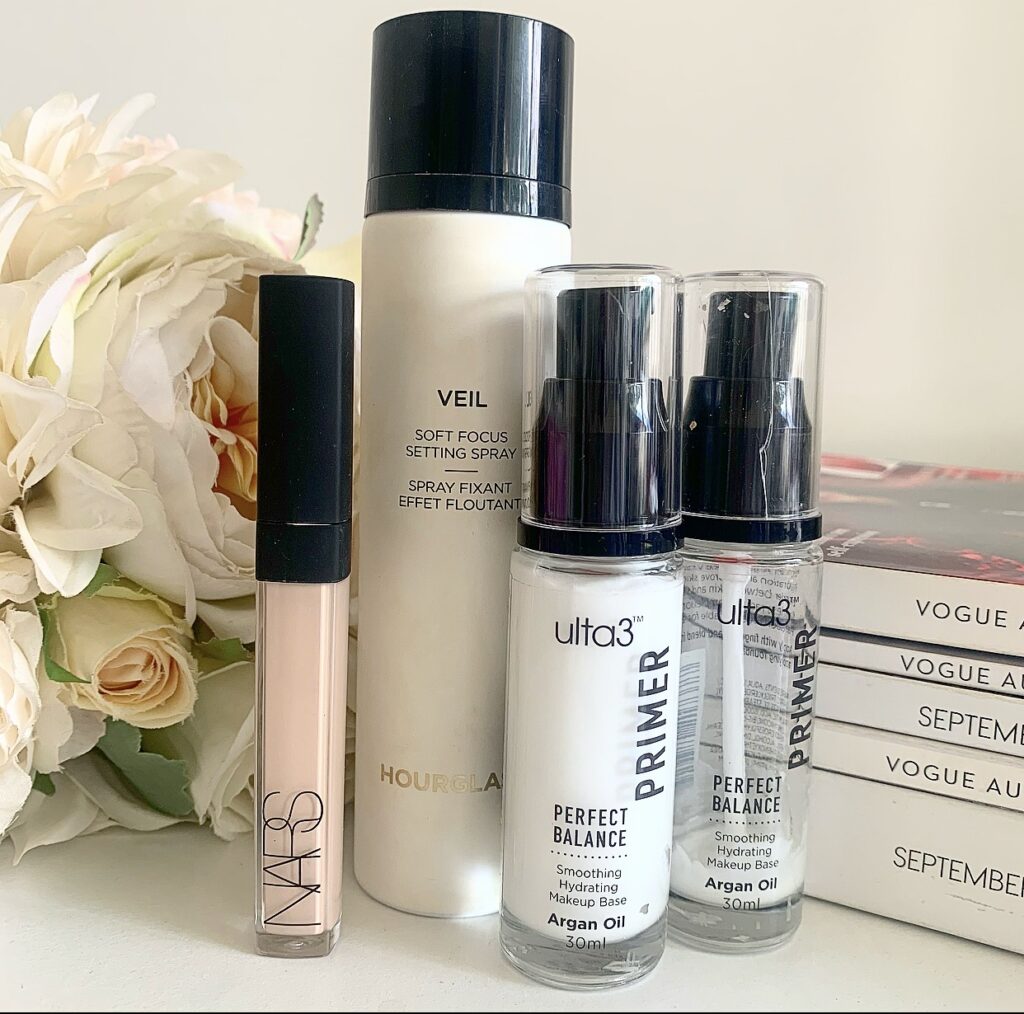 BEST IN BEAUTY – FACE
Starting with primer, The ULTA3 PERFECT BALANCE PRIMER – $9.95 has been my go to primer basically all year. It's smoothing without feeling slippery and all of my foundations agree with it. Heck, I loved it so much, I've already finished a whole bottle! For concealer, the NARS CREAMY RADIANT CONCEALER – $48.00 really lived up to the hype for me. It's the sort of concealer that I can wear on it's own and trust that it won't move around on me throughout the day. And for setting sprays, the HOURGLASS VEIL SOFT FOCUS SETTING MIST – $77.00 is just so perfect! The mist is so fine and it does a great job of setting everything down.
BEST IN BEAUTY – CHEEKS
2020 was the year that I fully embraced cream products. So it's no surprise that many of them made it into my favourites. First of all, I have to gush about the CHARLOTTE TILBURY HOLLYWOOD FLAWLESS FILTER – $65.00. This might be my product of the year! It just adds the perfect amount of glow to the skin and it's so versatile. For cream bronzer, the WESTMAN ATELIER FACE TRACE CONTOUR STICK in BISCUIT – $77.00 might just be the most perfect contour shade ever made for me. The formula is unreal and it's impossible to screw up. And for those times when I want a bit of flush to my cheeks, the MAC GLOW PLAY BLUSH in BLUSH PLEASE – $48.00 has been my go to since I bought it. I have seen the Glow Play blushes in quite a few favourites posts this year and they are so worth it!
I do, however, still have a soft spot for powders. And there were a few products that really caught my attention. I spent most of 2020 trying to hit pan on a different bronzer, but when I wasn't using that one, I was adoring the FENTY BEAUTY SUN STALK'R BRONZER in BUTTA BISCUIT – $46.00. So, so good. I also have been loving the NATASHA DENONA ALL OVER GLOW FACE & BODY HIGHLIGHTER $59.00. It's more subtle than the highlighters that I'm used to, but as someone who has been leaning towards less blingy highlighters, it's great for everyday use.
Finally, I have to give a very special shout out to the MIDAS COSMETICS X NEONMUA DUSK TO DAWN FACE PALETTE in NOON – $36.00. What an absolute knockout! I truly cannot fault this palette. I know I just said that I'm leaning towards more subtle highlights, but for those occasions where I do want a blinding highlight, the highlighter in this palette does just that. But the real standout for me is the blush. I need this in a single straight away.
BEST IN BEAUTY – EYES
Well, we all saw it coming. The PAT MCGRATH MOTHERSHIP VII: DIVINE ROSE – $195.00 being in my end of year favourites is such a no brainer, I'm just going to skip straight to the other two.
First of all, the HUDA BEAUTY NUDE OBSESSIONS EYESHADOW PALETTE in MEDIUM – $58.00. Easily my most used palette of 2020. And for sure my go to neutral palette. And continuing my love of cream products, the MECCA MAX ZOOM SHADOW STICKS – $18.00 have been so perfect for those lazy makeup days where I want to put something on my lids, but don't feel like doing too much (which came often in 2020).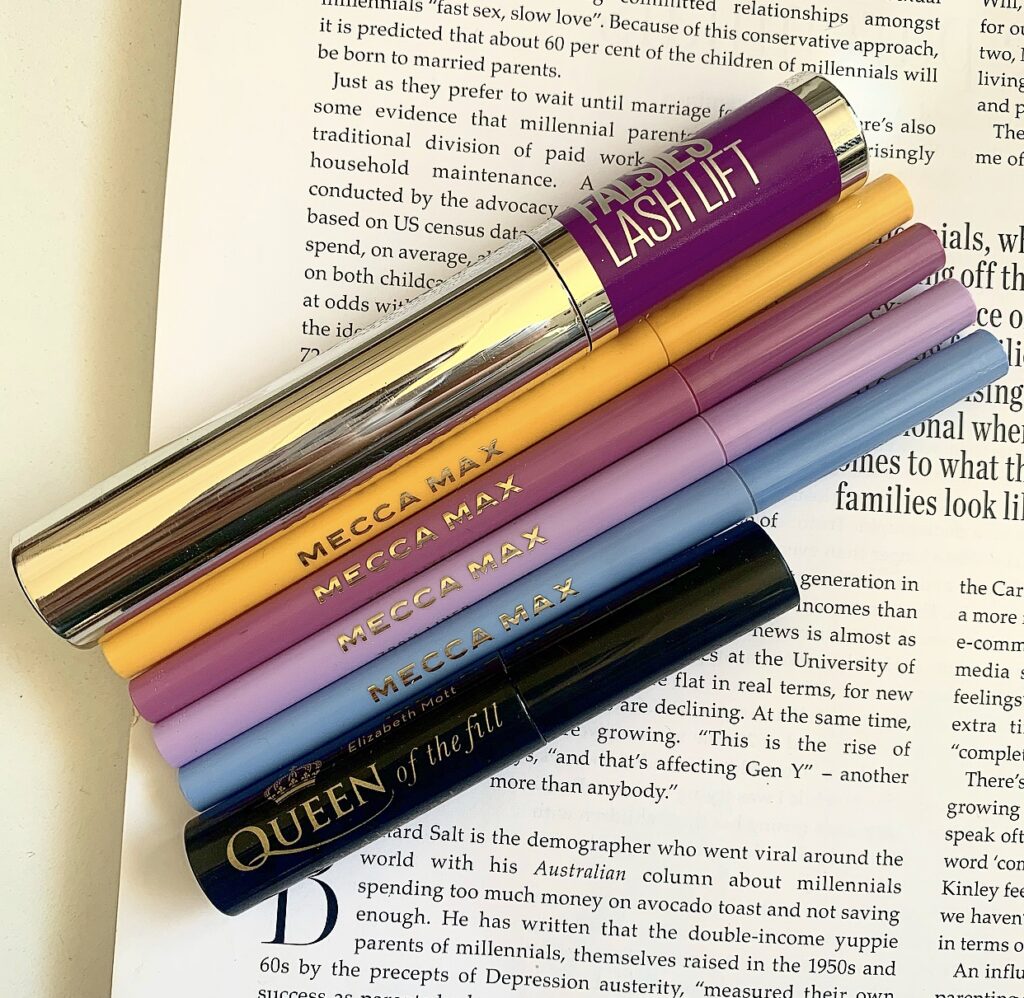 And now, the biggie. My mascara of the year was easily the MAYBELLINE THE FALSIES LASH LIFT MASCARA – $24.95. This one did get spoiled during a Q&A I did, but again, if you were following me closely, this isn't a huge surprise. What might be a surprise is that I actually have a favourite liner! The MECCA MAX ZOOM LINER $16.00 have impressed me so much. I wear them so often, I think I finally know how to do a wing. Lastly, brows. And while I had been considerably more lazy with my brows in 2020, when I was doing stuff with them, the ELIZABETH MOTT QUEEN OF THE FILL BROW GEL – $20.00US was more often than not what I was wearing.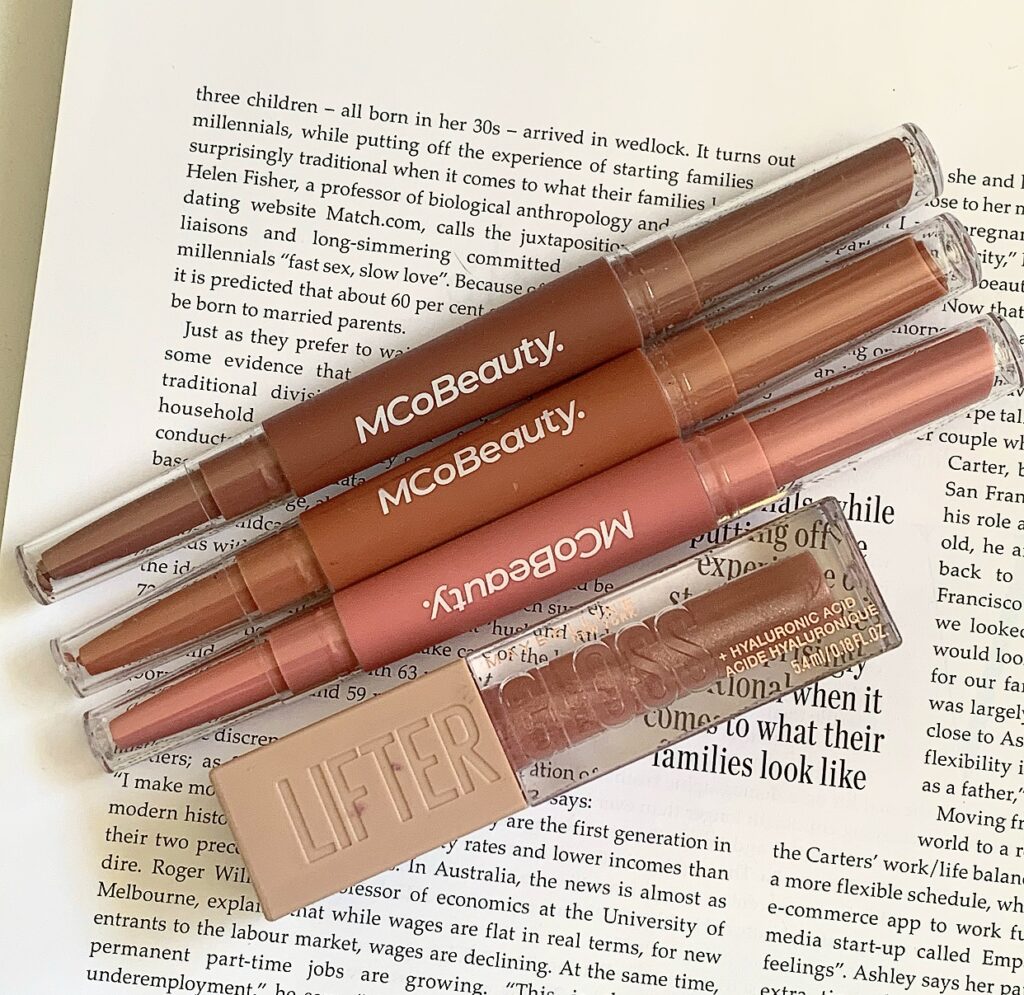 BEST IN BEAUTY – LIPS
I can fortunately keep this one short. As like most people, I wasn't wearing a ton of lip products in 2020. But the standout lipstick for me was the MCOBEAUTY DUO LIPSTICK & LINER – $12.00. These are so long wearing and they smell delightful. And for gloss, again surprising absolutely no one, the MAYBELLINE LIFTER GLOSS in MOON – $18.95. Just an incredible formula and it adds the right amount of sheen to the lips.
And that is my Best in Beauty! Before I wrap this up, I have a few quick honourable mentions. The MAC LOVE ME LIPSTICK in LAISSEZ FAIRE (wore it on my wedding day), the FENTY GLOSS BOMB LIP LUMINIZER in SWEET MOUTH, the MECCA MAX OFF DUTY BLUSH STICK in PINCH, the ULTA3 BASE BOOST HYDRATING DROPS* and finally, the NARS AFTERGLOW EYESHADOW PALETTE (would have made the list were it not limited edition). Let me know some of your 2020 faves in the comments below. And stay tuned for Friday for my skincare faves!
Cheers and love
Emily xo