And we are back with Part 2 of my Best in Beauty Series. Today, we will be chatting about my favourite skincare of 2020. Unsurprisingly, this was a much harder list to narrow down because Lord knows I used a lot of new skincare last year. But there were definitely quite a few standout products that I cannot wait to share with you all. So, if you want to see my top skincare products from last year, just keep reading!
*Em's Note* Some of the products featured were sent in PR. I will indicate those products with an Asterisk.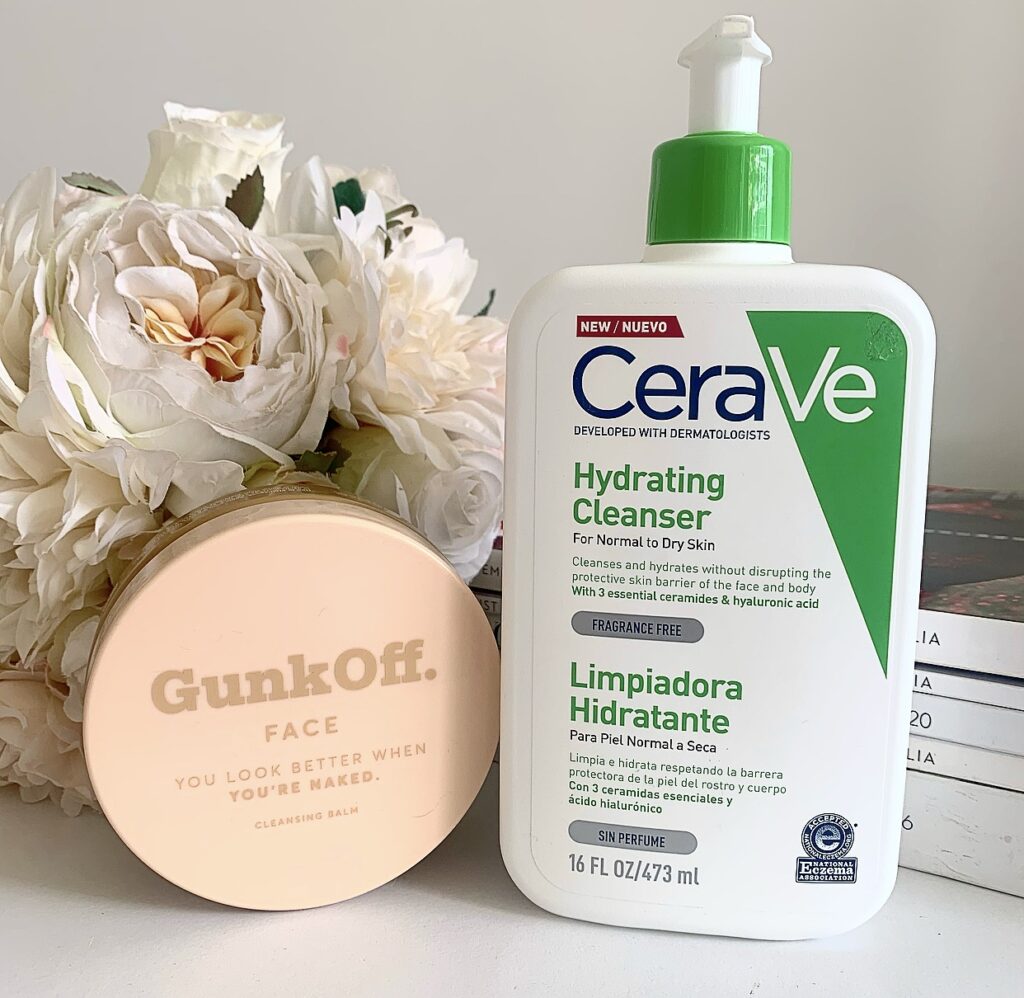 Starting with cleansers, and there were two that absolutely impressed me this year. The first of which being the GUNK OFF MAKEUP REMOVING CLEANSING BALM – $48.00. The formula of this stuff is top notch! It's fragrance free (so no eye irritation for me), it melts onto the skin and it leaves my skin feeling so very nice. I've actually almost used this up so a new one is definitely in my future.
The other will be a surprise to pretty much no one. The CERAVE HYDRATING CLEANSER – $18.99 ticks all of my boxes. It's a great cleanser for skincare beginners because of how gentle it is. But it leaves my skin feeling cleansed without feeling stripped. It's loaded with great, hydrating ingredients and it's so affordable.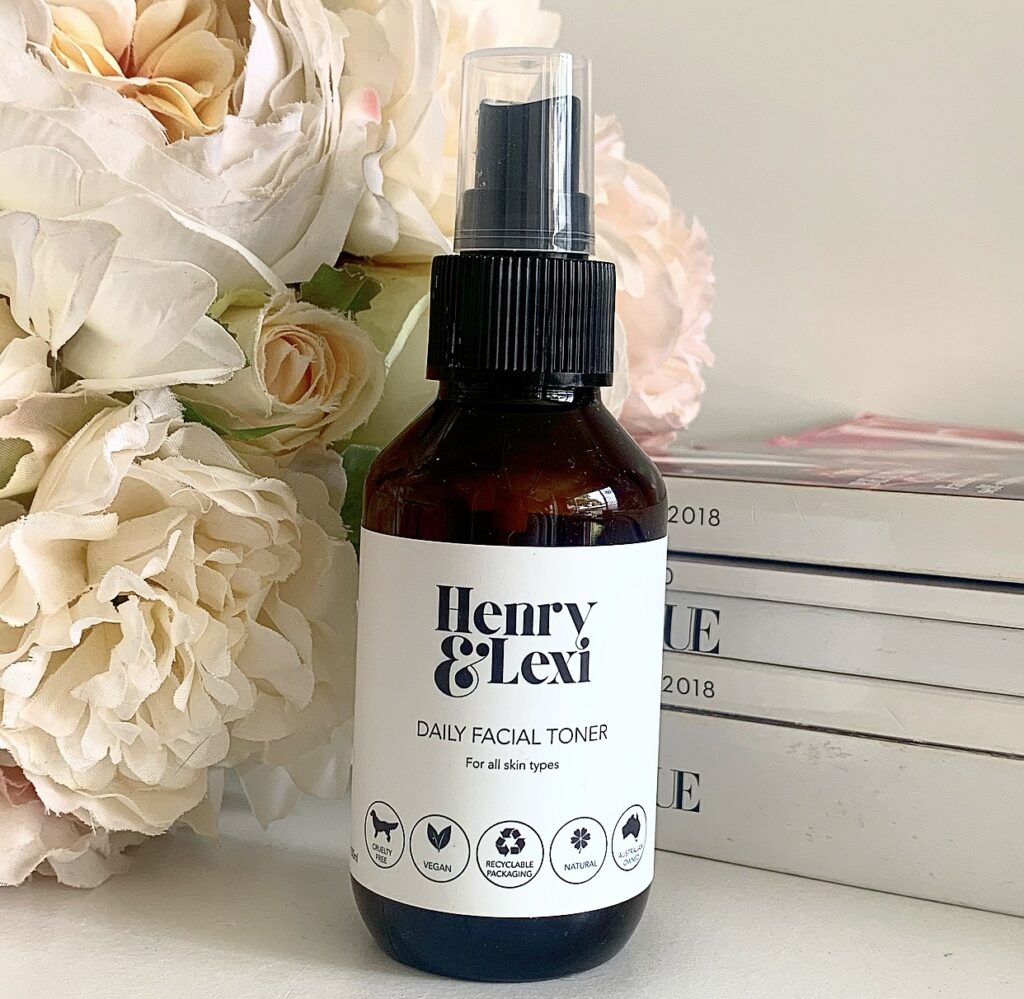 Next up is toner. And when I tell you that this one just made it onto this list. I've only been using it for about a month, but I'm that blown away by it, I had to tell you. It's the HENRY & LEXI DAILY FACIAL TONER – $44.95*. First of all, they nailed the sprayer on this. It spritzes out just the right amount of product without being too much. As for the toner itself? It's lovely. Very soothing and calming on the skin. And it genuinely smells like my mum's ginger punch. I'm a little obsessed with it.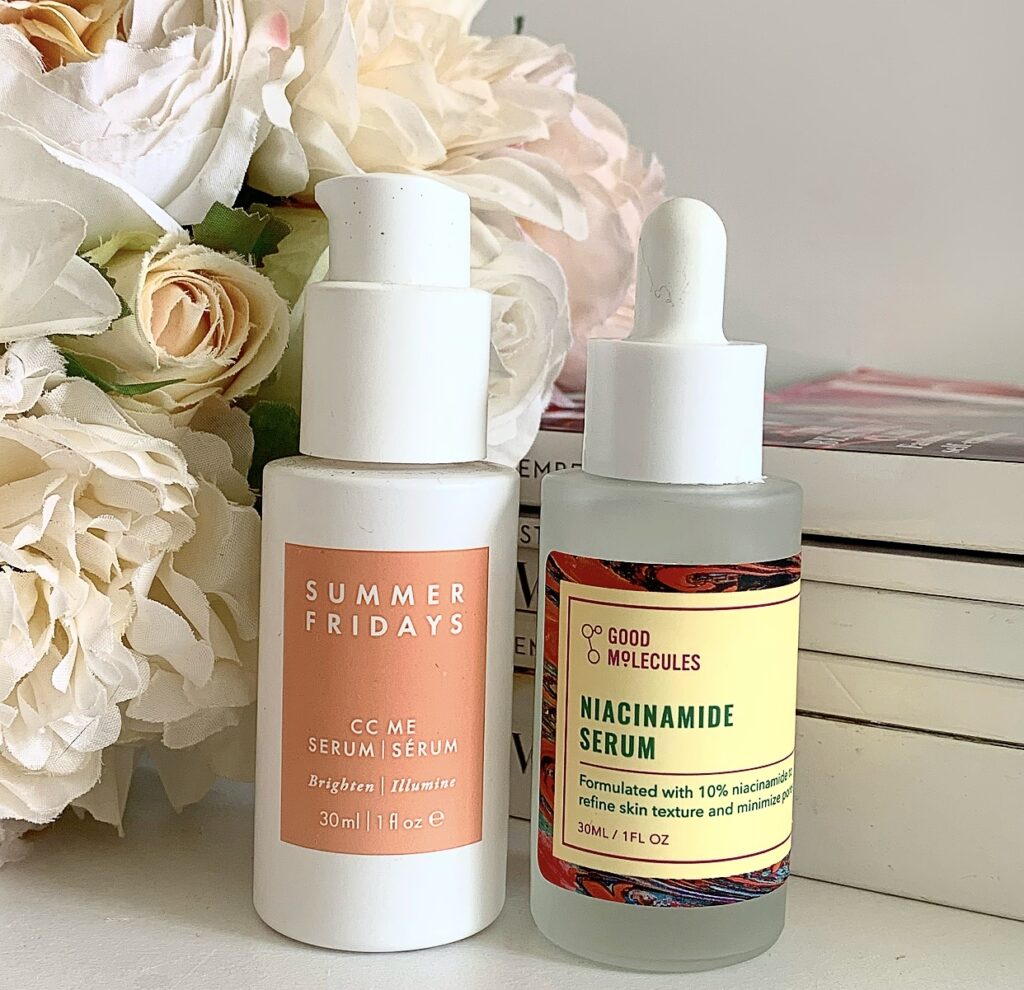 Ok, serum time. And there was a lot of competition in this cateory. But two stood out from the crowd. First of all, the SUMMER FRIDAY'S CC ME SERUM – $103.00. This is one of those products where if you've been following me throughout the year, you won't be surprised. Because I HAVEN'T BEEN ABLE TO SHUT UP ABOUT THIS STUFF! It's the first Vitamin C serum that my skin genuinely agreed with. And I noticed a huge reduction in my acne scarring while I was using it.
The other big fave was the GOOD MOLECULES NIACINAMIDE SERUM – $6.00US. Shitty packaging aside, this stuff helped in a big way when my skin was playing up throughout the year. It's a very lightweight formula that soaks into the skin quickly without leaving it feeling tacky.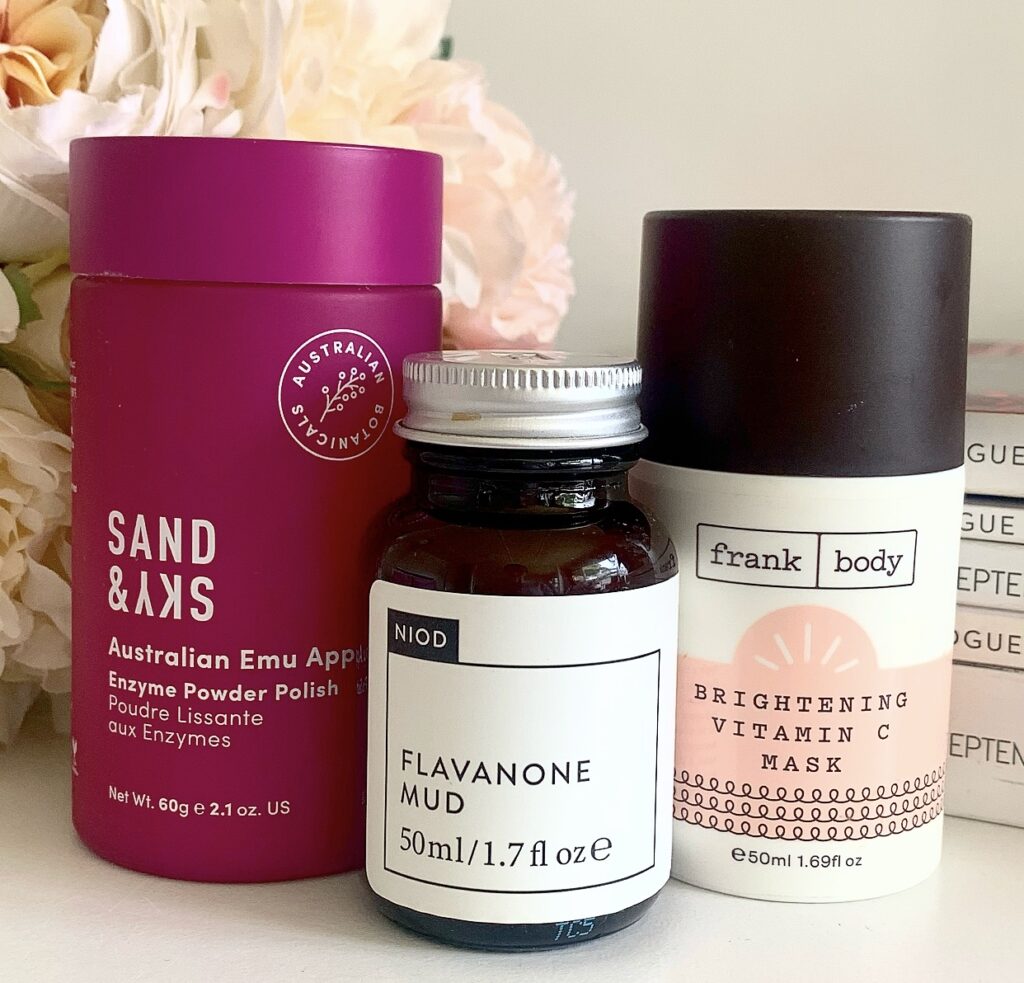 2020 was the year that I finally gave powder exfoliators another chance. And out of all the ones that tried, the SAND & SKY ENZYME POWDER POLISH – $72.90* will be the one I repurchase first. It's such a fine, non gritty powder. But it packs such a punch.
Now onto masks. And it can't be a year end favourites without hearing me simp for the NIOD FLAVANONE MUD – $59.00. This actually did the impossible. It knocked the Sand & Sky mask from the top of my favourite masks list. Because the Flavanone mask is, by far, the most intense mask I've ever tried. But oh boy, is it effective. This is my Sunday night staple and I'll never be without it.
Another mask that I quickly because obsessed with was the FRANK BODY BRIGHTENING VITAMIN C MASK – $19.95. I loved this especially in the mornings for those occasions when my skin is a bit dull and could use a pick me up. It's quick and it's damn effective.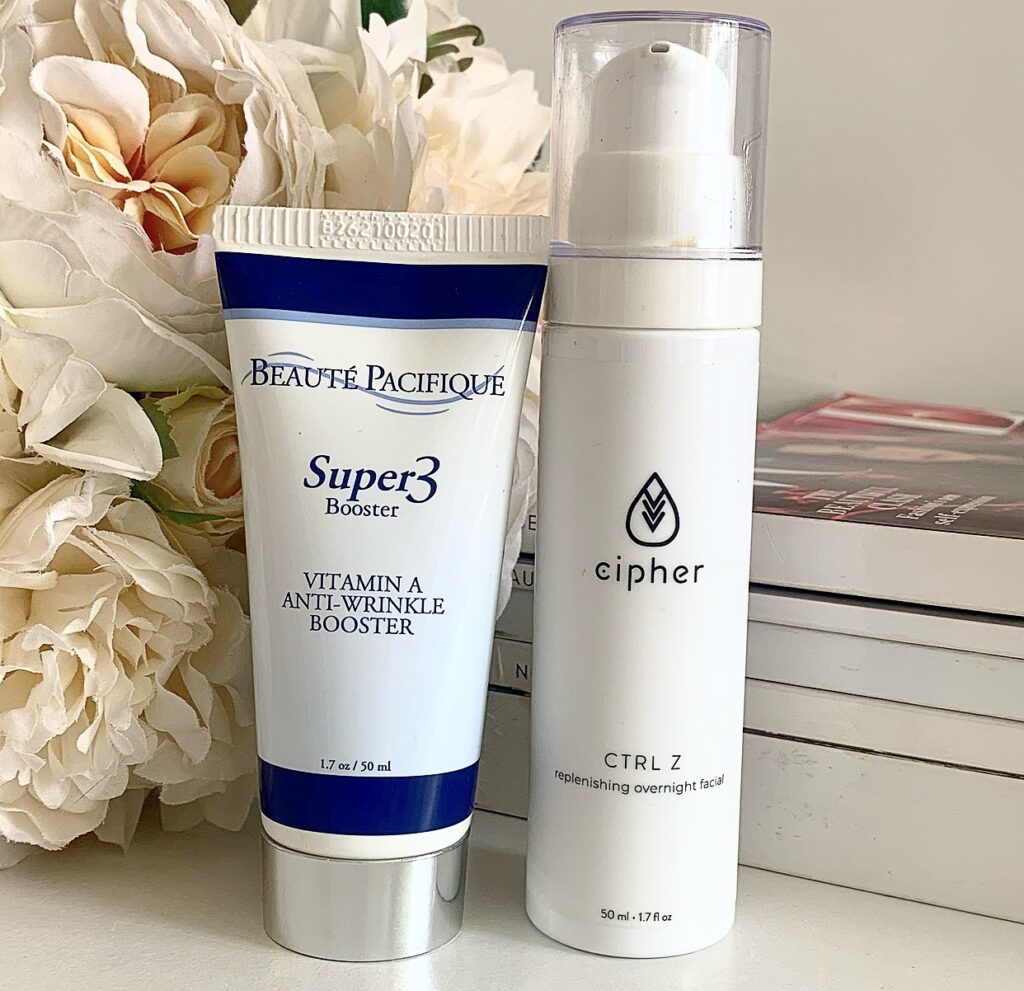 Another product that I experimented with a lot was Retinol. And god help me, I think I finally found the one in the BEAUTE PACIFIQUE SUPER 3 BOOSTER VITAMIN A ANTI-WRINKLE BOOSTER – $107.00*. Yes, the name is long, but this stuff works quick. My breakouts have dramatically reduced over the time that I've been using this and my skin visibly appears more youthful and smoother.
Working hand in hand with the Retinol was the CIPHER SKIN CTRL-Z REPLENISHING OVERNIGHT FACIAL – $148.00. The best way to describe this stuff would be if the TLC Serum and Good Genes had a skincare baby. It tingles on the skin in the best possible way and I cannot recommend it enough.
Now, it's time to talk Moisturiser. This was the hardest category to fill because I really did try so many throughout the year. But for my dry skin, none of them impressed me more than the SAND & SKY HYDRATION BOOST CREAM – $79.90*. This really felt like a splash of water to the skin. A little bit went such a long way and again, at the risk of sounding like a broken record, it left my skin feeling so dang good!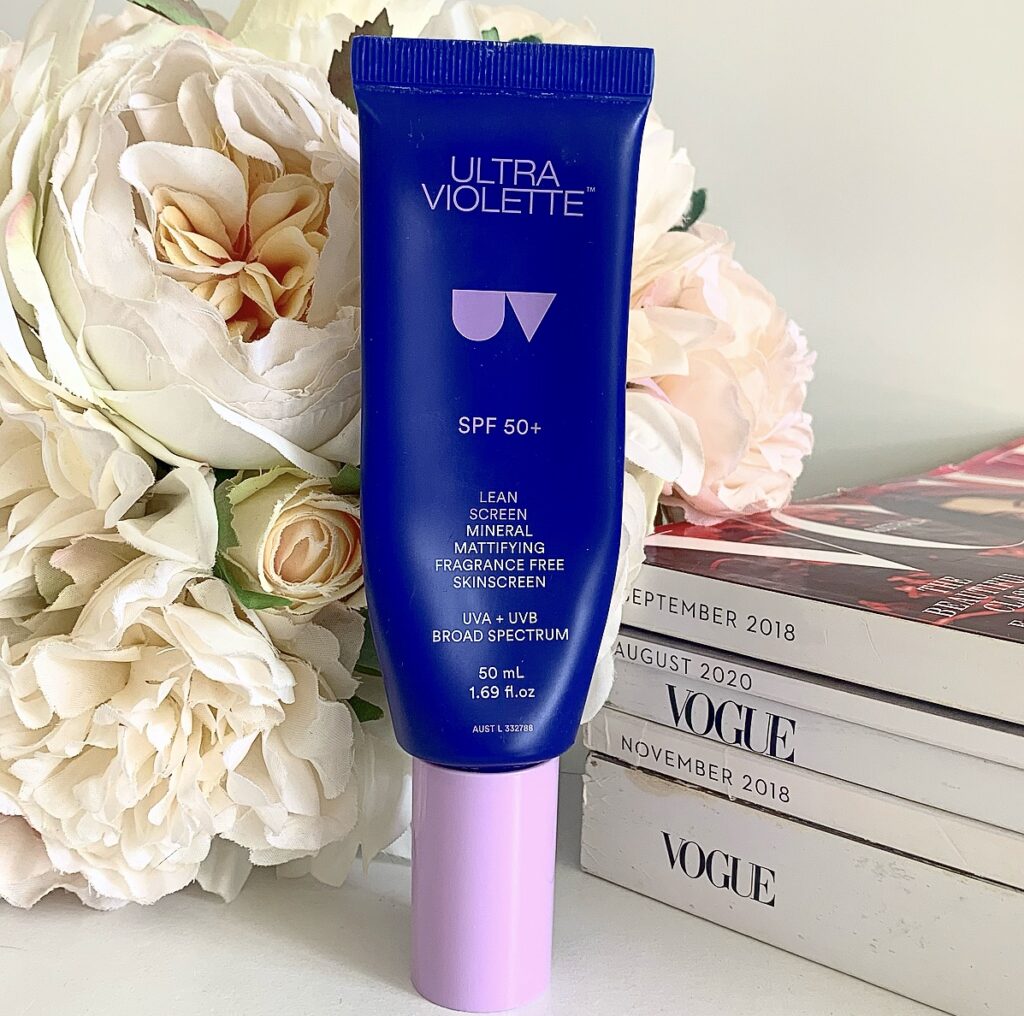 Final category is sunscreen. And while I was tempted to put Queen Screen down as my favourite two years in a row, I wanted to instead give the honour to the ULTRA VIOLETTE LEAN SCREEN SKINSCREEN – $45.00. This was the first mineral sunscreen I truly fell in love with. It's a thicker texture, but it smooths onto the skin so easily and because it's got a slight tint, it doesn't have a ghastly white cast like some mineral sunscreens do. It works well with my moisturisers and my makeup and yeah, can't really fault it (Queen Screen is still my Holy Grail tho).
And those are my skincare favourites for 2020! And seeing as this is the last of my Favourites posts, it means that I can finally put 2020 to bed and go full steam ahead with 2021. What was your big skincare standout from 2020. Let me know in the comments below!
Cheers and love
Emily xo