And it's garbage day!
All jokes aside, I actually used up a lot less this month than I would normally go through. But some of the things I did use up were pretty big and exciting. So, if you want to see what I used up in April, let's dive right on in!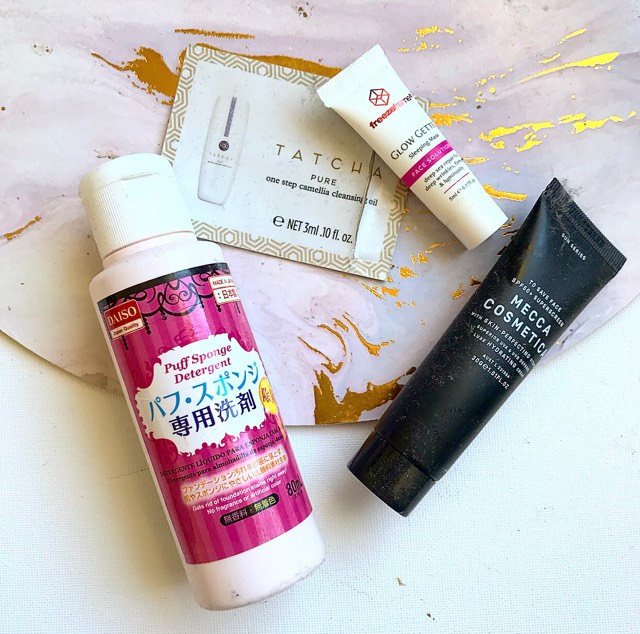 TATCHA ONE STEP CAMELLIA CLEANSING OIL – $23.00 – $115.00
I scored a sample of this a few months back which I was very excited to try. And while it did do a really good job at removing my makeup, in all honesty, I do prefer using a solid balm as my makeup remover as opposed to a liquid oil.
DAISO PUFF AND SPONGE DETERGENT – $2.80
This is as good as everyone says it is! I used the crap out of this to clean not only my sponges. But my concealer and my foundation brushes too. I already have a drawer full of back ups of this so I won't be running out any time soon
MECCA COSMETICA TO SAVE FACE SPF 50+ SUPERSCREEN – $18.00 – $40.00
This stuff is fantastic! It's the first sunscreen that I've come across that doesn't break me out and the fact that it's an SPF 50+ is a huge plus in it's favour. I have another sunscreen that I want to pick up first, but I'll probably repurchase this in the future
FREEZEFRAME GLOW GETTER SLEEPING MASK – $59.00
I used this up a while ago so I don't totally remember my thoughts about it. What I do remember is that the idea of sleeping with a mask on was one I didn't much like. So I'll be popping this in the 'not a repurchase' pile.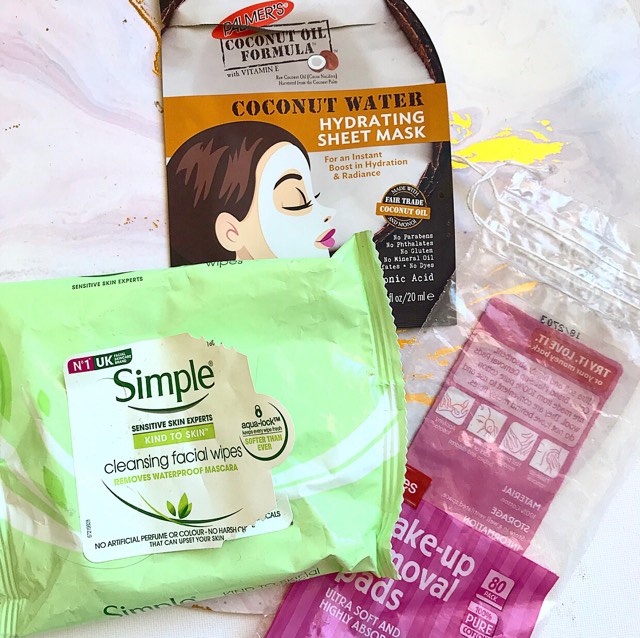 SIMPLE CLEANSING FACIAL WIPES – $7.49
I finally used up the last of my makeup removing wipes! And while I will say that these are my favourite ones, I have since transitioned to using my Face Halo to remove my end of day mascara.
COLES MAKEUP REMOVAL PADS – $1.50
These were fine. I have nothing else.
PALMERS COCONUT WATER HYDRATING SHEET MASK – $4.99
This was definitely one of the more interesting sheet masks that I've used. The cloth itself was surprisingly thick and not overly saturated. It also has patches that you could put over your eyes, which was nifty. I would look into grabbing some of the other masks in this line. The coconut scent on this one was too unpleasant for me to seek this one out again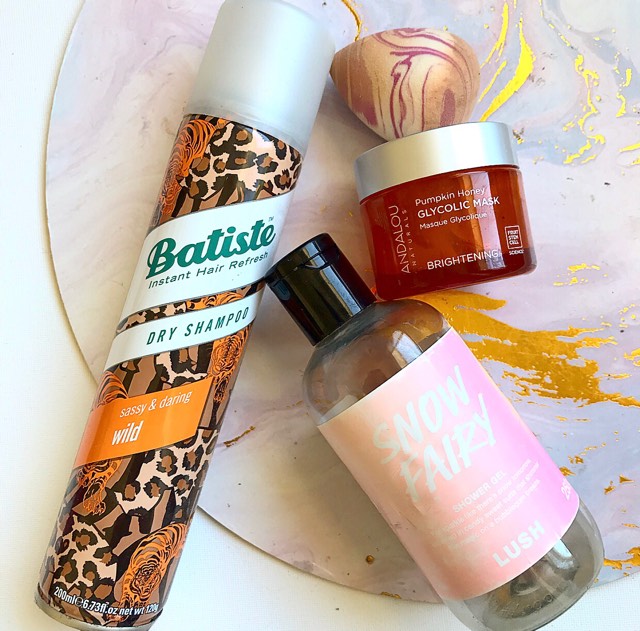 BATISTE WILD DRY SHAMPOO – $9.99
Wild is still my favourite scent from Batiste. But I think that when I run out of my next dry shampoo, I pick up something from a different brand. I still recommend this though.
LUSH SNOW FAIRY SHOWER GEL – $18.50
This is my favourite body wash, bar none! I will absolutely pick up another bottle during the Christmas in July release because I miss it already
ANDALOU NATURALS PUMPKIN HONEY GLYCOLIC MASK – $22.99
This stuff is fantastic! It tingled without feeling painful and it left my skin looking glowing and refreshed. I would definitely buy this again in the future!
KMART BEAUTY SPONGE – $3.00
I still love these sponges and I'll definitely be repurchasing it. I just have a few other sponges that I would like to get through first.
And those are my empties! Did you finish any big products this month? Let me know in the comments. And as always, have a great day!
Cheers and love
Emmie xo