Ok folks. We all know why we are here. I have makeup empties and I want to tell you all about them. Once again, you'll notice a lot of minis/samples. The Sample Cleanout is still going well. So, let's do this!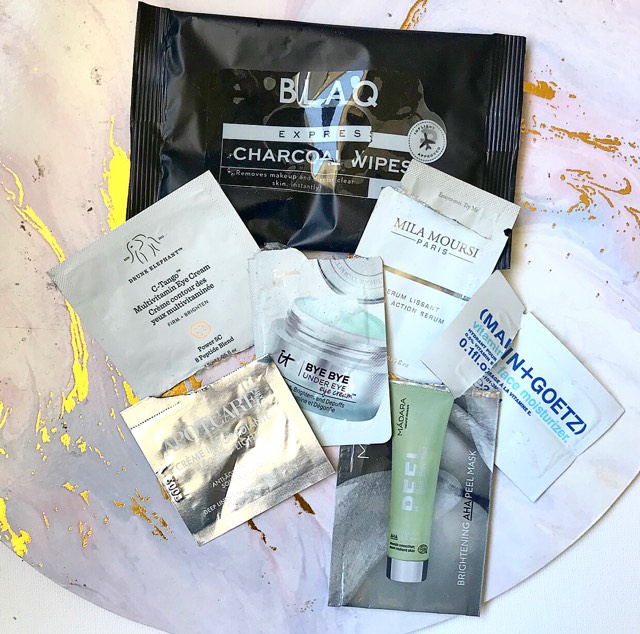 BLAQ EXPRESS CHARCOAL WIPES – $5.99 – priceline.com.au
These were actually really cool! They were nice and saturated with product and they worked well at removing my swatches. I don't actively buy cleansing wipes anymore, but I do recommend these.
MILA MOURSI PARIS DUAL ACTION SERUM – $238.00 – mecca.com.au
I've always been under the believe that single use serum samples are pretty pointless because you have to use them for quite some time to know if it's working. In any case, I won't be buying this because it's over $200 and I'm #poor.
MALIN + GOTEZ VITAMIN E FACE MOISTURISER – $76.00 – mecca.com.au
Had a really weird scent that I found unpleasant. Wouldn't purchase.
MADARA BRIGHTENING AHA PEEL MASK – $39.95 – nourishedlife.com.au
I like my brightening masks a little stronger then this one. But if you're a beginner to peels and the likes, this would be a good starting off point. I wouldn't repurchase but I do recommend it.
IT COSMETICS BYE BYE UNDEREYE EYE CREAM – $68.00 – sephora.com.au
This I actually loved! It's somewhere between a gel and a cream and it soaks into the undereye area gorgeously. I would consider buying this.
DRUNK ELEPHANT C TANGO MULTIVITAMIN EYE CREAM – $98.00 – mecca.com.au
I actually found this to be quite similar to one of my favourite eye creams, the Ole Henriksen Banana Bright Eye Cream. In fact, I found it to be so similar, that I believe you should just buy the Ole Henriksen instead. Because it's almost half the price for the same amount of product.
APOT.CARE IRIDO-RADIANT TEXTURE CREME LIGHT – PRICE UNKNOWN
I sincerely do not remember using this. And I'm pretty sure I didn't use it that long ago. To add insult to injury, apparently Mecca doesn't even sell this anymore so I can't even find a price for it. Yeah, I won't be buying the full size.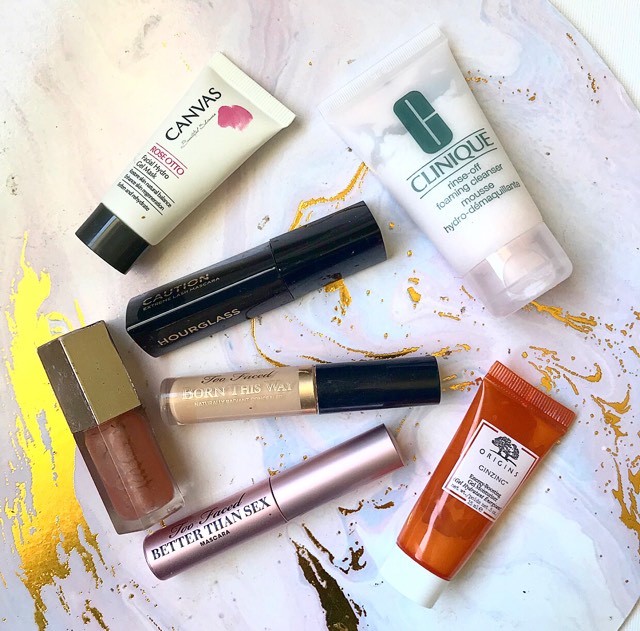 FENTY BEAUTY GLOSS BOMB UNIVERSAL LIP LUMINIZER – $30.00 – sephora.com.au
This was in my year end favourites. Such an amazing lip gloss. I wouldn't repurchase it immediately but I do miss having it.
TOO FACED BETTER THAN SEX MASCARA – $18.00-$35.00 – mecca.com.au
I just mentioned this in a 'products I regret buying' post, so I won't spend too much time here. Suffice it to say, this is a declutter and it needs to go.
TOO FACED BORN THIS WAY CONCEALER – $18.00-$43.00 – mecca.com.au
Another favourite from my year end empties. This is such an underrated concealer. I do want to try the updated version sometime in the future, but I wouldn't say no to this one again.
ORIGINS GINZING ENERGY BOOSTING GEL MOUSTURISER – $45.00 – mecca.com.au
An oldie but a goodie. I think I like this better in the winter months when my skin needs that extra boost of hydration. But I still love it.
CLINIQUE RINSE OFF FOAMING CLEANSER – $38.00 – mecca.com.au
This was a declutter. I went to use it the other night and it was very chunky and it smelt foul so I'm assuming it's gone bad. Consider this a reminder to use your samples!
HOURGLASS CAUTION EXTREME LASH MASCARA – $21.00-$44.00 – mecca.com.au
LOVE THIS MASCARA! A definite repurchase for me in the future. I can already hear my wallet weeping.
CANVAS ROSE OTTO FACIAL HYDRO GEL MASK – $98.00 – canvasbeauty.com.au
I used this when my skin was having a bit of a fit. The rose scent is very strong and it does linger but it does leave your skin nice and hydrated. I wouldn't say no to this in the future, especially with winter coming up.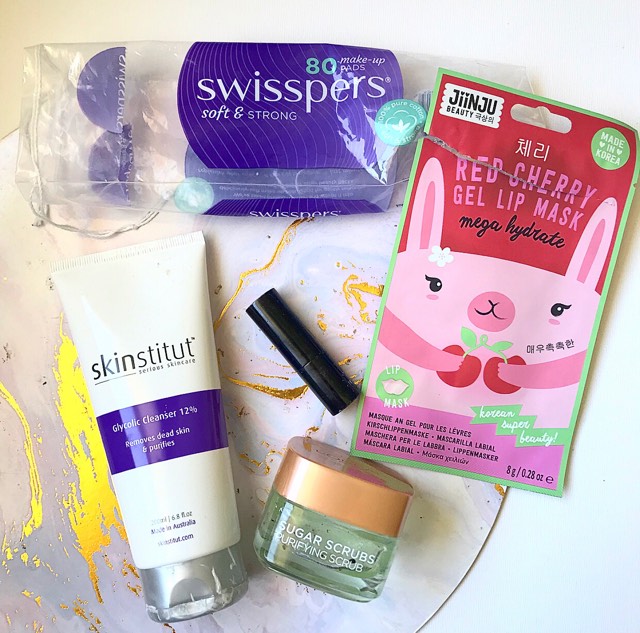 SWISSPERS COTTON MAKEUP PADS – $3.79 – priceline.com.au
I go through these like water. I probably won't buy them again though because I found ones that are cheaper and better.
SKINSITIUT GLYCOLIC CLEANSER – $49.00 – adorebeauty.com.au
You already know. This is bottle no. 3 for me and it is a beloved favourite. The only reason why I haven't repurchased it is because I want to try something new. But this one is highly recommended by me.
L'OREAL PURIFYING SUGAR SCRUB – $19.95 – priceline.com.au
This is the second one of these that I have gone through. Easily one of my favourite scrubs out there! It makes my skin feel super smooth and it smells so nice.
FACE BY R VITAMIN C LIP TREATMENT – $36.00 – The Skin Coaches Mount Isa
Can we take a second to appreciate the fact that I used up an entire lip balm? I loved this so much and if I didn't have 4-5 other lip balms in my collection, I would repurchase in a heartbeat.
JIINJU RED CHERRY GEL LIP MASK – $5.00 – woolworths.com.au
I still think lip masks are dumb, but this one wasn't too bad. It was a nice size, it didn't slip around and it did leave my lips nice and soft the next day. I would consider repurchasing in the future.
And that's what I used up this month! I have to say, I'm pretty proud of the amount I used up. What were some of your favourites that you used up. Let me know down below!
Cheers and love
Emmie xo