And another month is drawing to an end. Wow, 2020 is already starting to fly by. In any case, the end of a month means it's time for me to do the deep dive into my empties and chat about the faves and fails of what I used up this month. So, without further adieu, let's get started!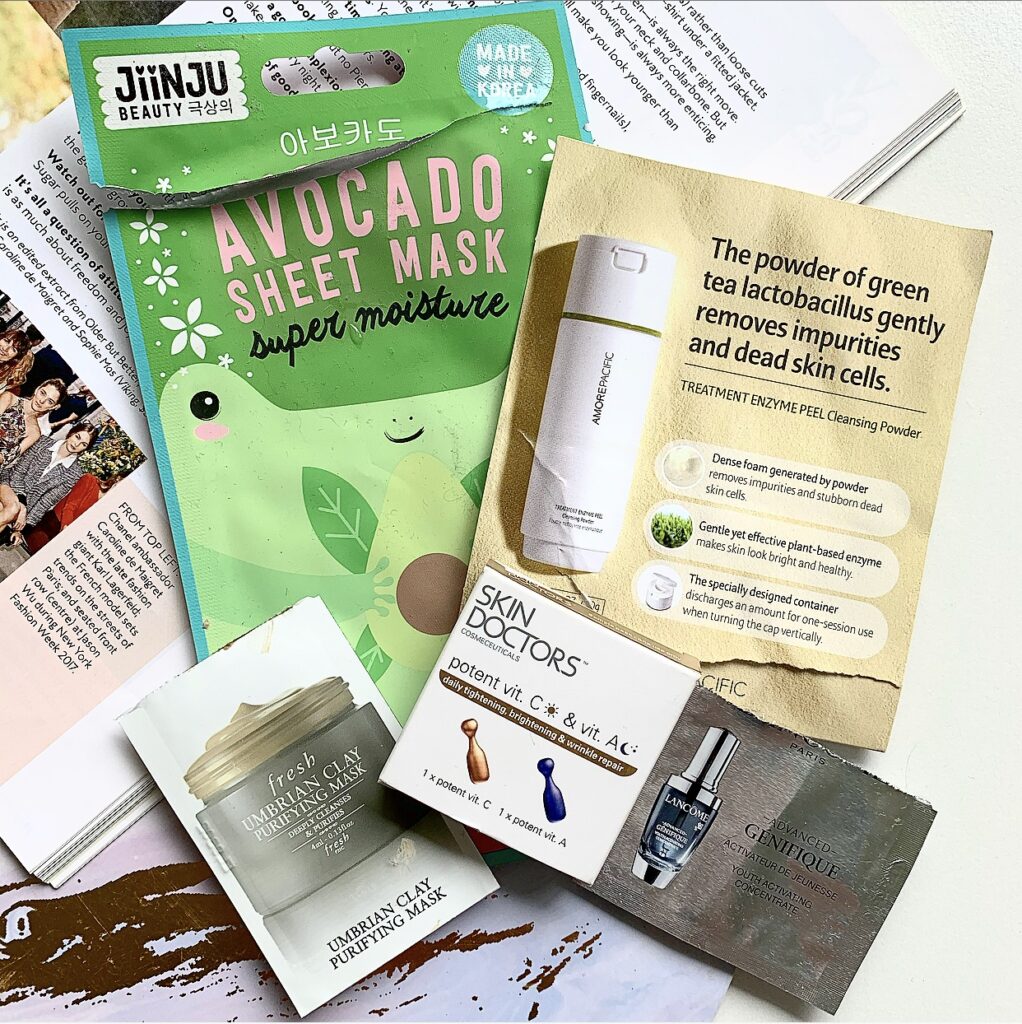 JIINJU BEAUTY AVOCADO SHEET MASK – $5.00
I have a big ole stack of these in my fridge and I love using them on hot, humid days. I will definitely keep repurchasing.
FRESH BEAUTY UMBRIAN CLAY PURIFYING MASK – $83.00
I used this right at the start of the month so my memory is admittedly a little foggy. I'm pretty sure I liked it but not enough to spend that much.
SKIN DOCTORS POTENT AMPOILES – $59.99
Now these, I really enjoyed. They are little capsules that you burst and then massage onto your face. I especially loved the Vitamin A capsules. They left my skin so smooth! I would genuinely consider picking them when I run out of my current retinol.
LANCOME ADVANCED GENTIFIQUE – $105.00
You know, one day I'm going to bite the bullet and actually buy this because I do love it whenever I get a sample. Which reminds me, I think I still have another sample of this somewhere.
AMOREPAFICIC TREATMENT ENZYME PEEL CLEANSING POWDER – $96.00
Out of the four AmorePacific samples that I went through this month, this is the one I would actually consider buying. I do have a soft spot for powder cleansers like this and my skin felt amazing after using it.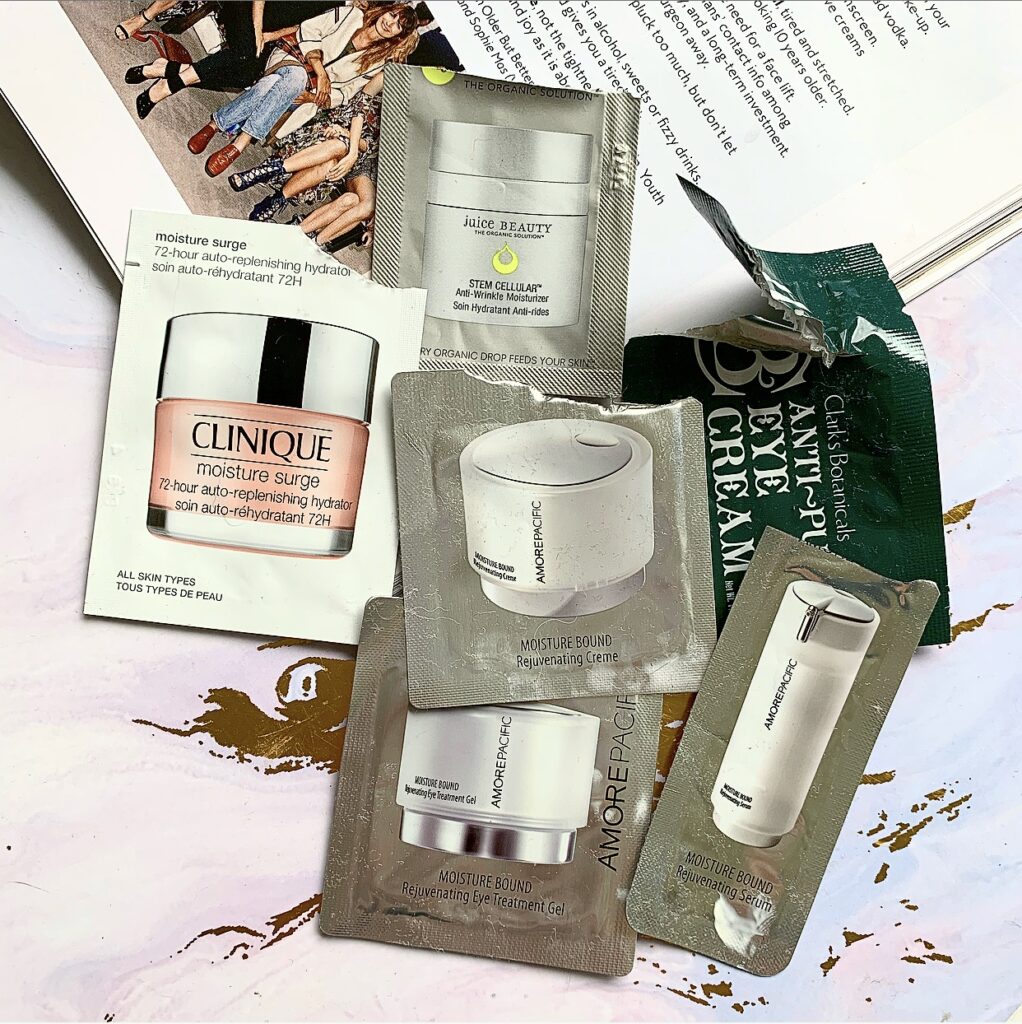 AMOREPACIFIC MOISTURE BOUND REJUVENATING CREME – $240.00
Now to the Never-Buys! Holy Moly, for $240, this better come with a whole new face! No thanks.
AMOREPACIFIC MOISTURE BOUND REJUVENATING SERUM – $160.00
Yeah, no.
AMOREPAFICIC MOISTURE BOUND REJUVENATING EYE TREATMENT GEL – $136.00
Ok, fine, I'll stop jesting. But admittedly, I don't remember a single thought I had about any of these three Moisture Bound products. So, I shall continue to live my life without them.
CLINIQUE MOISTURE SURGE 72 HOUR AUTO-REPLENISHING HYDRATOR – $65.00
Now this is a goodie. I've been through countless jars and even more samples. I will happily have this back in my routine one day in the future.
JUICE BEAUTY STEM CELLULAR ANTI WRINKLE MOISTURISER – $112.00
Juice Beauty is a brand I've admittedly been interested in (they have a peel mask that is super intense that I have my eye on). As for the moisturiser, I actually enjoyed it. It was light weight and it soaked right into the skin. I would actually pick this up.
CLARK'S BOTANICALS ANTI – PUFF EYE CREAM – $136.00
You know, I didn't think much about this eye cream. Then I saw the price. I'm still laughing. Yeah, no mate.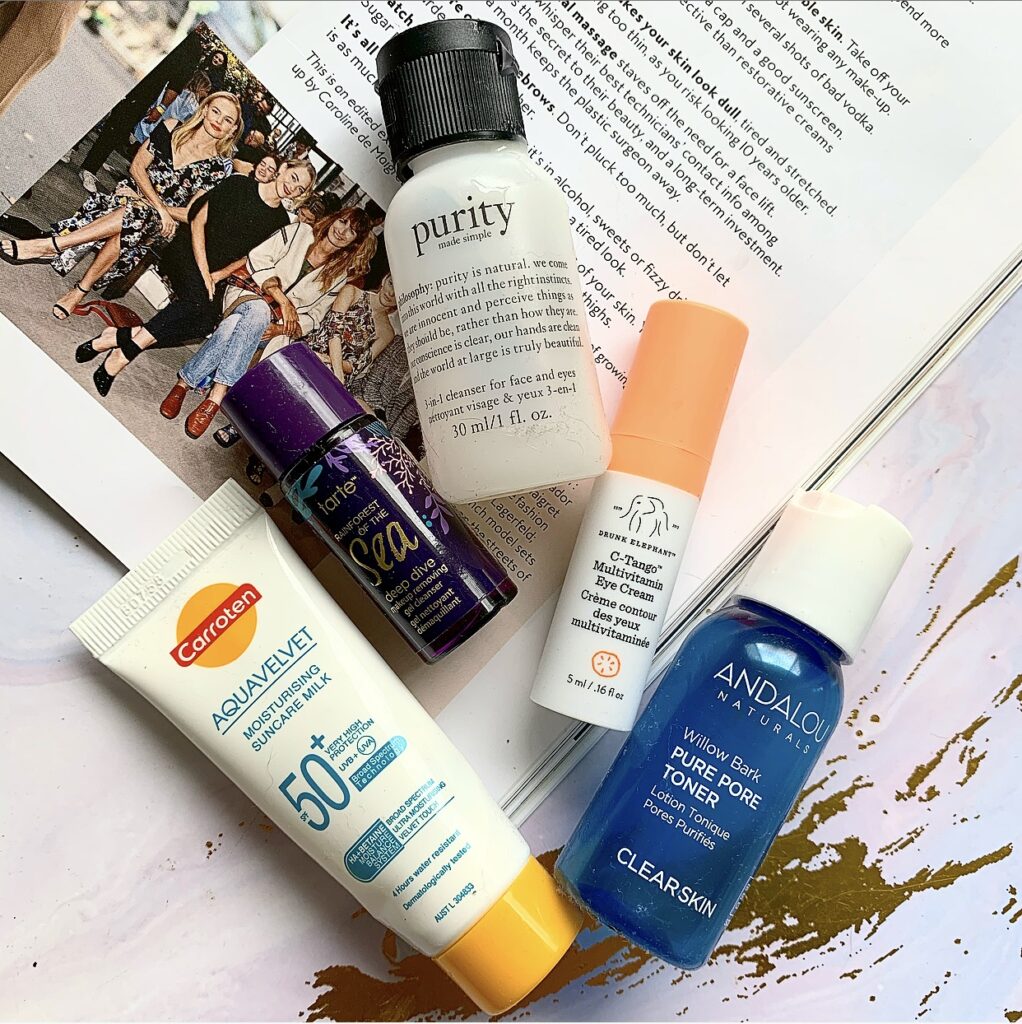 PHILOSOPHY PURITY MADE SIMPLE 3 IN 1 CLEANSER – $52.00
I have to admit, it was a real blast from the past using this again. It's not a bad cleanser, but I can't handle the scent of it anymore. Not to mention, my current favourite cleanser is half the price. I probably won't repurchase.
CARROTEN SPF 50+ AQUAVELVET MOISTURISING SUNCARE MILK – $17.99
It's sunscreen, so I used it. Having said that, it did have a funky smell. Not bad, just weird.
DRUNK ELEPHANT C-TANGO MULTIVITAMIN EYE CREAM – $96.00
This is now the largest sample of this that I've had and I can now say definitively that the Ole Henriksen Banana Bright eye cream is better.
TARTE RAINFOREST OF THE SEA DEEP DICE CLEANSING GEL – $38.00
Got given this as a part of a giveaway. I liked it enough. Found the scent to be a little too strong for my liking. Wouldn't necessarily repurchase but I wouldn't not use it again.
ANDALOU NATURALS WILLOW BARK PURE PORE TONER – $19.99
I scored this as a freebie with my Andalou Naturals order and I really liked it. Especially first thing in the morning because it had a hint of minty freshness. Would consider grabbing the full size.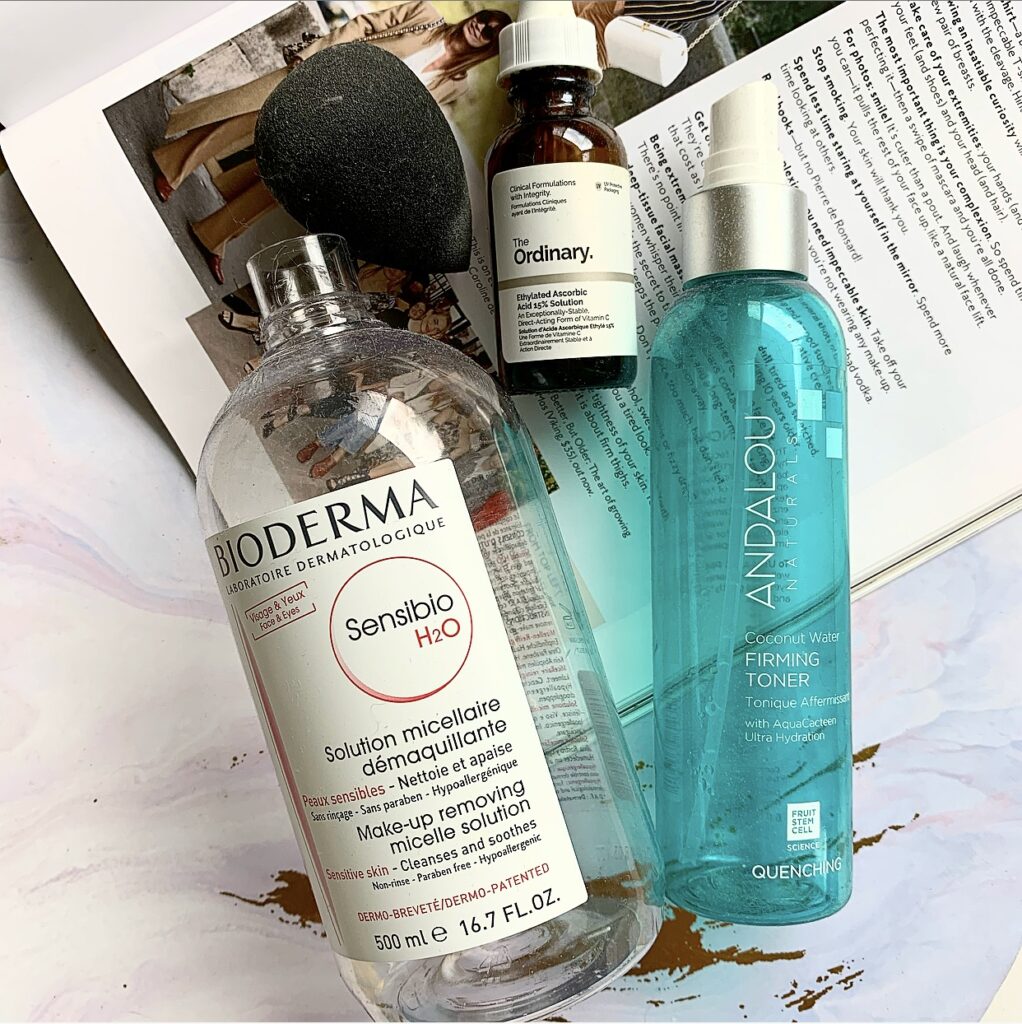 BIODERMA SENSIBO H20 MICELLE SOULTION – $29.95
A repeat repurchase, you already know how I feel about Bioderma. I actually have just been buying new bottles and refilling my upside down pump bottle.
ANDALOU NATURALS COCONUT WATER FIRMING TONER – $19.99
Another toner from Andalou Naturals. I actually didn't mind this at all either. It was very refreshing. If I have one complaint, I wish it wasn't in a sprayer because I find the spray to be a little intense. But I would certainly consider buying this again.
THE ORDINARY ETHYLATED ASCORBIC ACID 15% SOULTION – $30.00
This is apparently the most stable form of Vitamin C that The Ordinary sells. In all honesty, it didn't do that much for me so I probably won't repurchase.
MODELROCK BASE MAKER SINGLE SPONGE – $9.95
Guys, it's actually happened! I finally found a sponge that I love more than the Kmart one! The Modelrock one is so squishy and bouncy and soft and I'm so gutted that I now have to part with it (I've been using it since last May). I will definitely buy another one soon.
And those are my February empties! Gotta say, I'm feeling pretty accomplished. Now, onto March!
Cheers and love
Emmie xo