Before we start, can I just say how nice it is that I'm actually doing a monthly empties at the end of the month. It's just a nice way to end July in my eyes. Anyways, we are here to talk empties once again. And it's mostly samples and smaller things so this should hopefully be a short one. So, let us begin!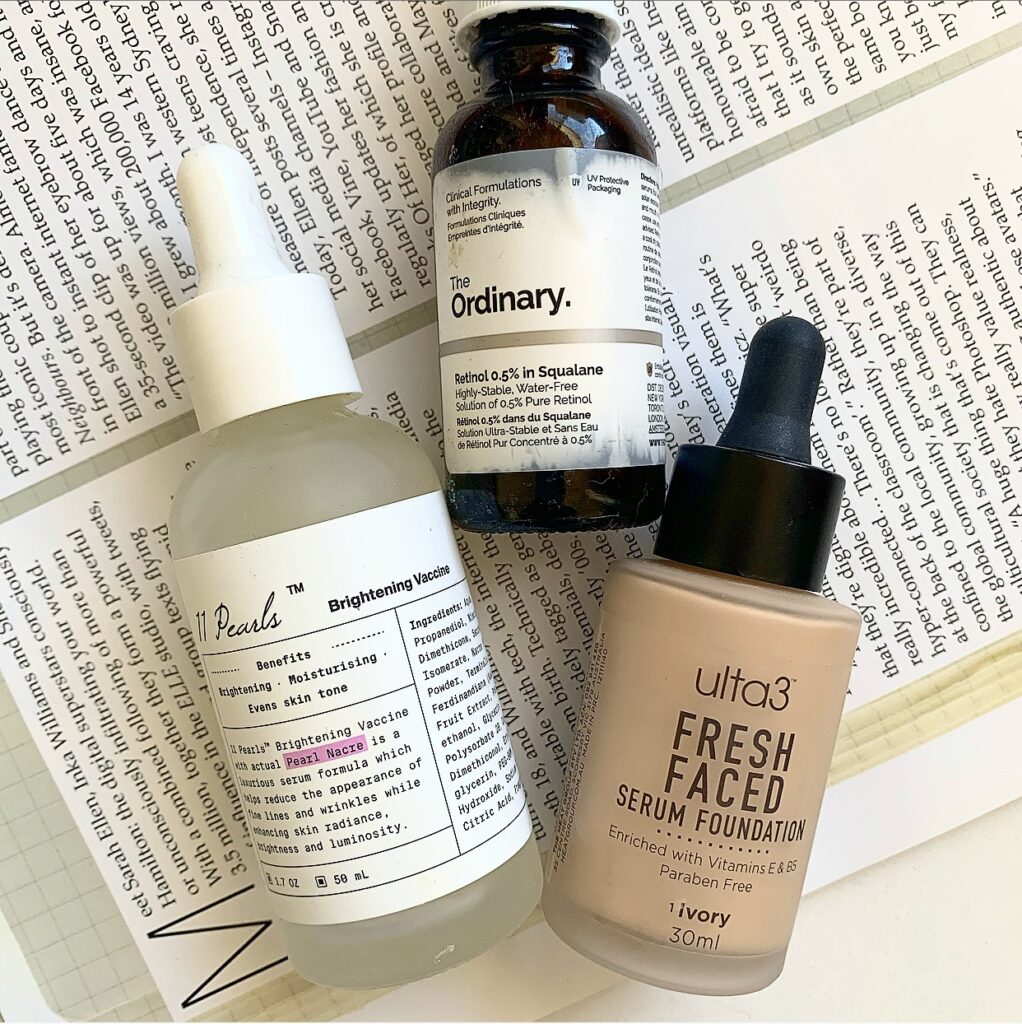 11 PEARLS BRIGHTENING VACCINE – $29.95
I'll start with a few declutters. Firstly, this. I was so excited to see this in my Bellabox a few months back. I love a good Niacinamide serum when my skin is acting up. However, my breakouts were getting worse for a while there and I managed to narrow it down to this product. It's still pretty full, so I might give it to a sibling who might like it more.
THE ORDINARY RETINOL .05% IN SQUALANE – $9.80
As far as 'babies first Retinol's' go, this one is really good! I absolutely noticed a difference in my skin when I was using this on the regular. It has been over six months since I started using it and I've noticed that it's not quite as effective as it was when I started using it (I was using it twice a week for a while there). If you guys have any retinol recommendations, let me know down below.
ULTA3 FRESH FACES SERUM FOUNDATION – $12.95
This was probably one of the first foundation reviews that I ever did for Emmie's Beauty Life. And even though the shade range is trash (4 shades?!), I do remember liking the formula and how it wore. I intended on giving this another shot now that I'm reviewing another Ulta3 foundation (review coming soon). But when I went to apply it, I quickly noticed it's peachy scent has gone sour. Which means this has sadly gone bad. So, it has to go.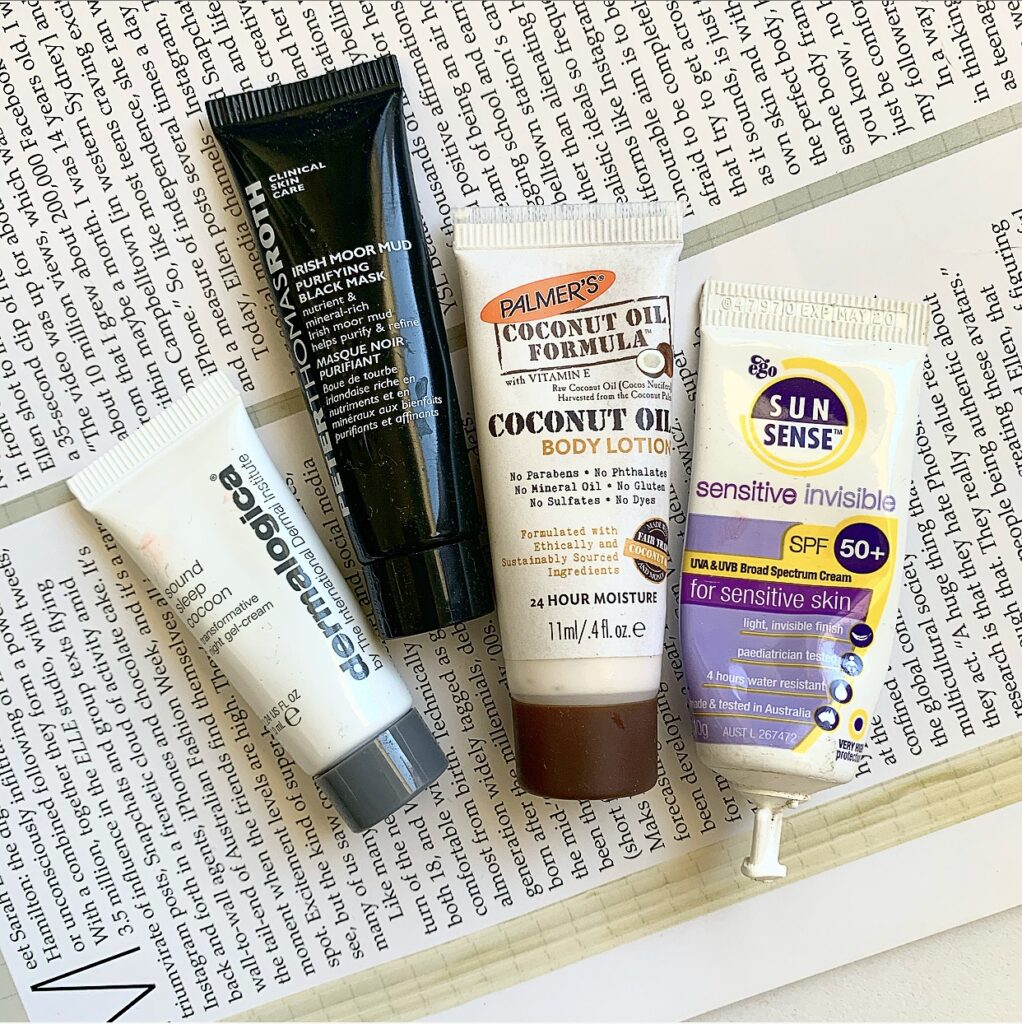 DERMALOGICA SOUND SLEEP COCOON TRANSFORMATIVE NIGHT GEL CREAM – $124.00
Seriously, the only lavender scented product that doesn't give me a searing migraine! And it's so light and lovely in consistency too. One day, when I don't have a ton of moisturisers to use up, I will buy this
PETER THOMAS ROTH IRISH MOOR MUD PURIFYING BLACK MASK – $99.00
Wow, what a letdown! I was so excited to try this mask because of the hype surrounding it. And what I got was a sludgy, black mess that felt awful on my skin and was a pain to rinse off. I'm glad I got it in my Bellabox because now I know I can save my money for the pumpkin one.
PALMERS COCONUT OIL BODY LOTION – $7.39
I'm always happy to see samples of this and I always use them. One day, I might actually buy a full size.
SUNSENSE SENSITIVE INVISIBLE – $10.95
It's sunscreen. Wear it, you ding dongs!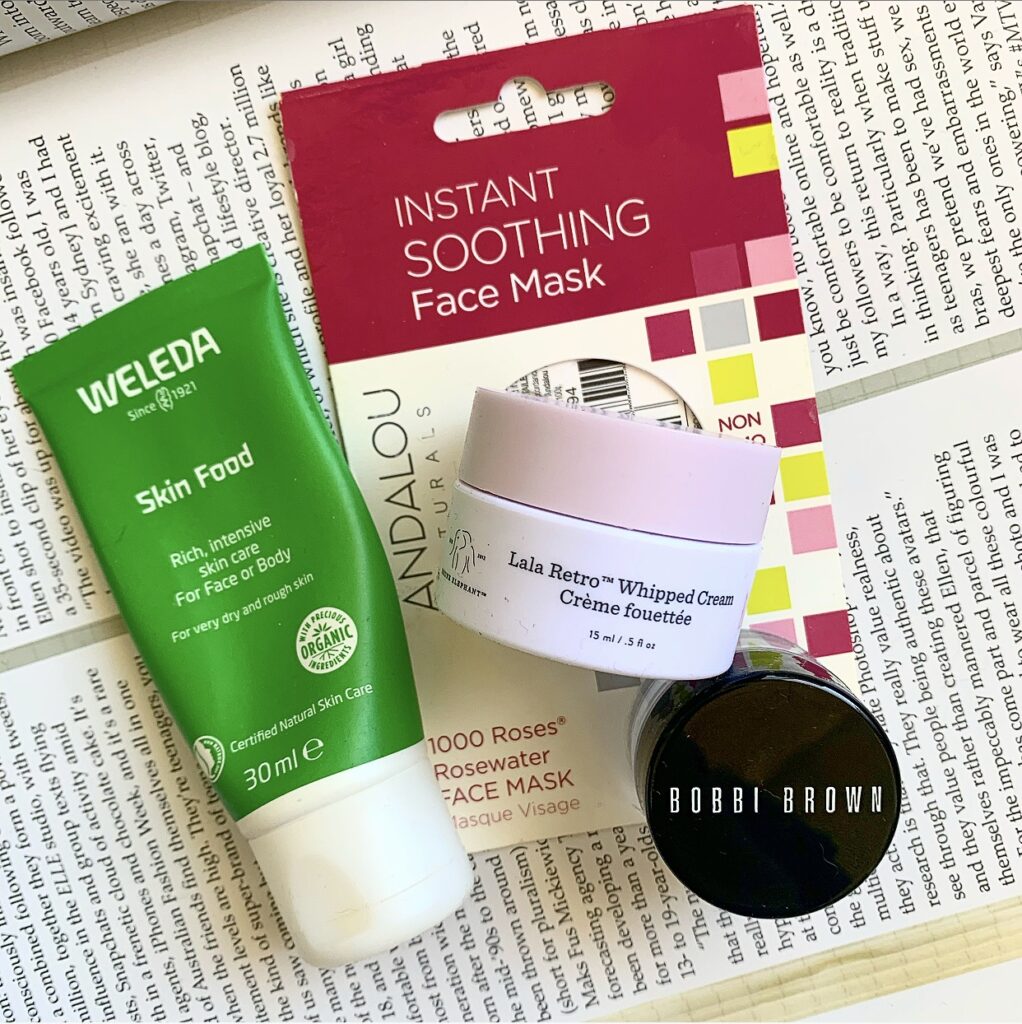 WELEDA SKIN FOOD – $14.95
I was kindly gifted this by a friend and wow. This stuff is insane! It's probably the thickest body moisturiser I've ever used. And the scent was super intense. Your mileage will vary as to much much of the scent you're willing to put up with. For me, it was too much. So I won't purchase.
ANDALOU NATURALS 1000 ROSES ROSEWATER FACE MASK – $5.99
I used this way back at the start of the month. So my recollection of it is fuzzy now. I remember not hating the scent but also not thinking this was as good as other Andalou Naturals masks that I've tried.
DRUNK ELEPHANT LALA RETRO WHIPPED CREME – $96.00
I no longer stand by or support Drunk Elephant. Please see last month's empties as to why. I had this and chose to use it it. I will not be using again.
BOBBI BROWN HYDRATING WATER FRESH CREAM – $88.00
Now this was genuinely lovely. It was very similar to Tatcha's Water Cream in consistency. Very thin but super hydrating! I might actually buy this because I liked the sample so much!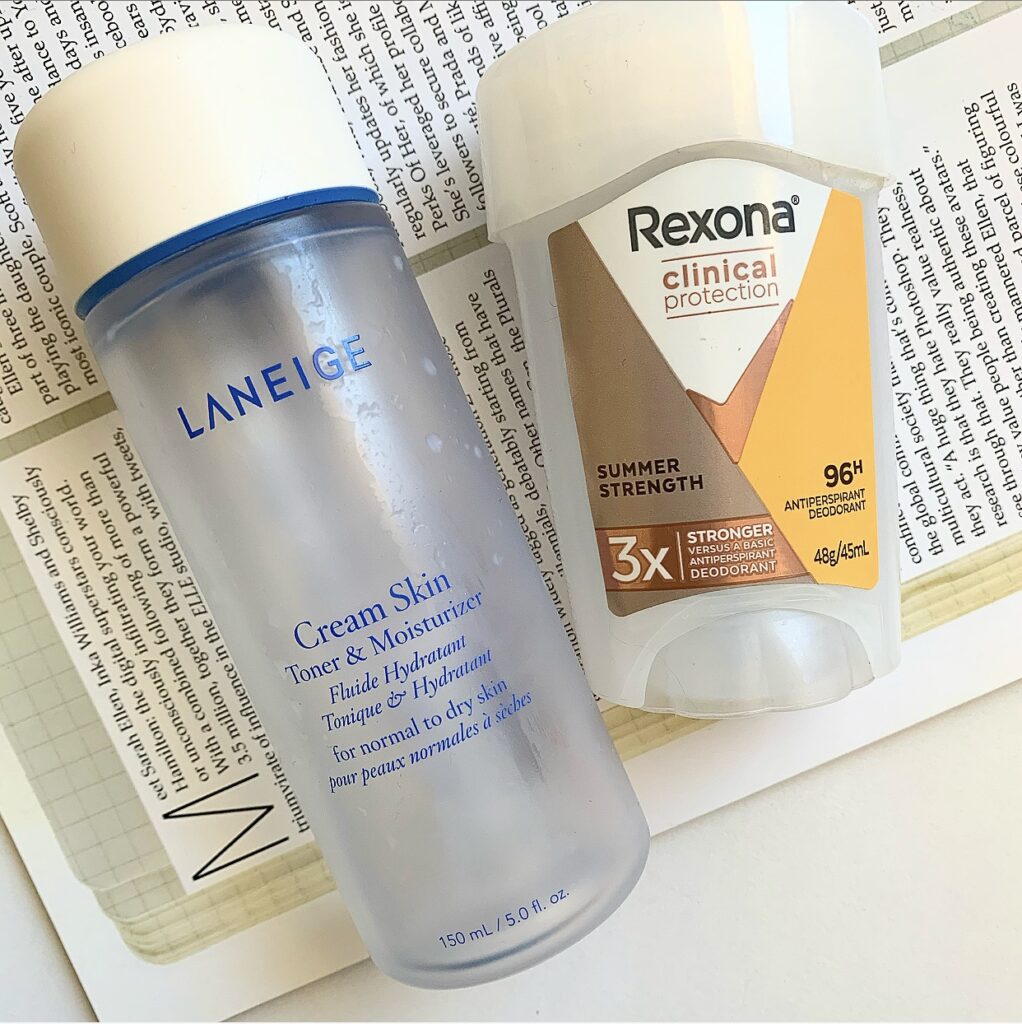 LANEIGE CREAM SKIN TONER AND MOISTURISER – $41.00
I did a brief review of this a few months back. And now having finished it, I stand by that review. This is a fine product, but I don't see what the hype is. Maybe it's because I already use a ton of hydrating products in my routine, I didn't notice this adding anything. I probably won't repurchase at this stage.
REXONA CLINICAL PROTECTION SUMMER STRENGTH – $12.99
This was my baby step into going aerosol free. And while it still has a lot of not great ingredients in it, by gosh does it work! Seriously, I got a ton of product out of it (I think I bought it back in January) and it left me dry and smelling fine. If you're someone who wants to go aerosol free but isn't quite ready to commit to going full natural with deodorant, this is a great one.
And those are my July empties! Not as many as I would like (I had every intention of doing a Sample challenge and then didn't), but still a decent round up overall. What were some of your product accomplishments this month? Let me know down below!
Cheers and love
Emmie xo