And I'm back on the empties grind. Honestly, I surprised that I used up as much as I did because the box was quite empty until the very last minute. So if you want to know what I used up, just keep reading!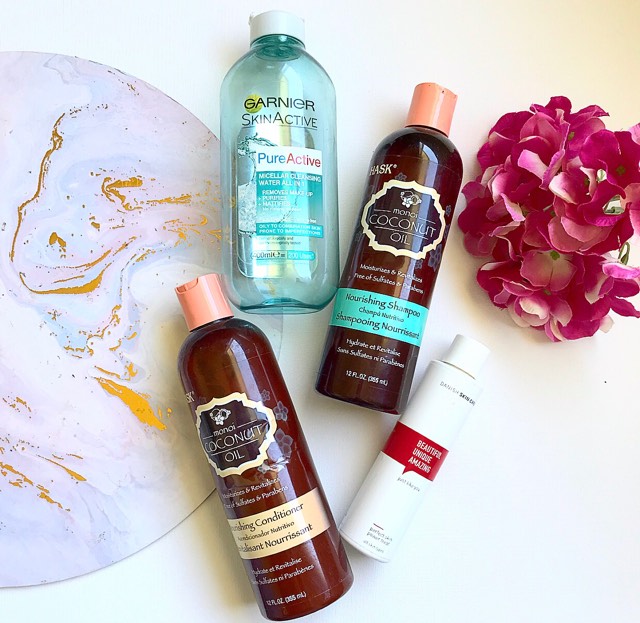 HASK MONOI COCONUT OIL SHAMPOO – $15.00 & HASK MONOI COCONUT OIL CONDITIONER – $15.00
These I'm lumping together because I'm getting rid of both of them. If you have super dry hair (and I mean straw like hair), I might recommend these to you, but for me, it made my hair feel greasy and weighed down. I have since swapped to something better suited for me.
DANISH SKINCARE PERFECT SKIN POWER TREAT – $52.00
I got this as a freebie back at the beginning of the year (Shaaanxo is a fan of this brand). It has a butt ton of great ingredients (Salicylic Acid, Niacinamide), but I'm not sure if it did anything for my skin. I probably won't repurchase
GARNIER SKIN ACTIVE MICELLAR WATER FOR OILY/COMBO SKIN – $13.99
Out of all of the Garnier Micellar Water's I've tried, this is probably my favourite. It was the most gentle on the eyes and hey look, I didn't break the cap! I'll probably pick this up again.
HELP@HAND MAKE UP PADS – $1.00
You know what, for $1, these weren't bad at all. They don't pill or split apart when wet. I like these and I will repurchase!
L'OREAL UNLIMITED MASCARA – $29.95
This was a mascara that I liked the first time I used it and ended up loving by the end. The formula is one that definitely improves with age. I wouldn't say no to picking this up again in the future, but I would buy it on sale.
SMASHBOX SUPERFAN MASCARA – $18.00-$29.00
Oh my god! This is so good! And really underrated apparently. I love how fanned out my lashes looked when I wore this. I would definitely pick this up again.
CLARISONIC RADIANCE BRUSH HEAD – $35.00
I already have a new one. Enough said.
PANTENE REPAIR AND PROTECT FOAM CONDITIONER – $9.99
While I didn't end up hating this as much as I thought I would, in all honestly, I probably won't be rushing out to repurchase it. It's fine, but not life changing.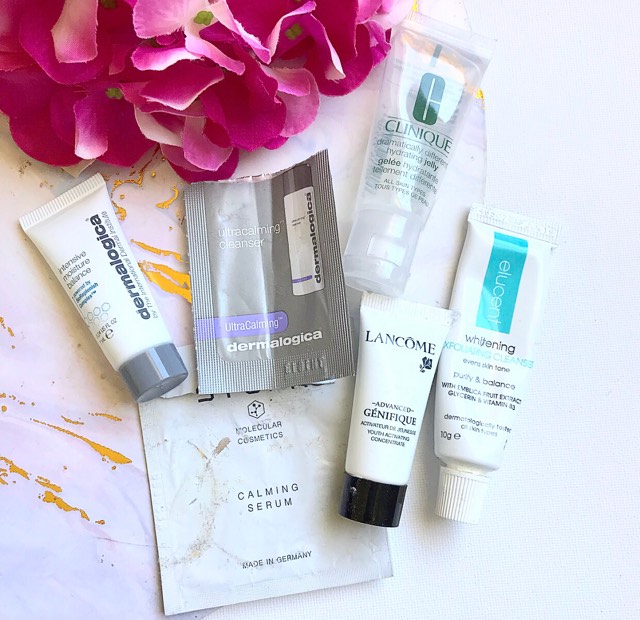 DERMALOGICA INTENSIVE MOISTURE BALANCE – $75.00
Ooooh, I really liked this one. A bit too much during the day, but amazing at night. Especially now that we are heading into winter. I might look into this one more when I run out of my current night cream.
DERMALOGICA ULTRA CALMING CLEANSER $57.00-$90.00
I have no complaints about this either. Dermalogica really doesn't do a lot wrong in my eyes when it comes to skincare. Why don't I use them more often?
LANCOME ADVANCED GENIFIQUE YOUTH ACTIVTOR – $100.00-$159.00
I've used this plenty times before and I still love it. One day I'll buy the full size.
CLINIQUE DRAMATICALLY DIFFERENT HYDRATING JELLY – $29.00-$49.00
While I'm not that big of a fan of the Dramatically Different range from Clinique (Moisture Surge is where it's at for me), I wouldn't say no to picking this up.
DR. BARBRA STRUM CALMING SERUM – $332.00
I actually used this sample up last month and it must have gotten lost in the shuffle. Luckily, I remember it pretty well. I used this while my skin was freaking out while I was testing the Revlon Candid Foundation. And I will say that I did notice an immediate difference. Will I pick it up for real though? Probably not. Shit's expensive.
ELUCENT WHITENING EXFOLIATING CLEANSER – $29.99
This I surprisingly loved! I got quite a bit out of the sample, it didn't aggravate my skin and it left my skin soft and smooth. I would definitely look into picking this up.
And that's another round of empties done! How has your year been. And have you finished any products that are exciting? Let me know below!
Cheers and love
Emmie xo