OK, here's the thing.
Over the last two years, I have made myself known through this blog as the Queen of Trash. The Empress of Empties. The Governess of Garbage. I go through a lot of skincare, is what I'm saying. And a lot of you did notice that I skipped over last month's empties. There is a good reason for that.
I only used up one product in March…
Fortunately, I more than made up for it in April. And I have a fairly sizable empties for you. So, let's do the fun thing!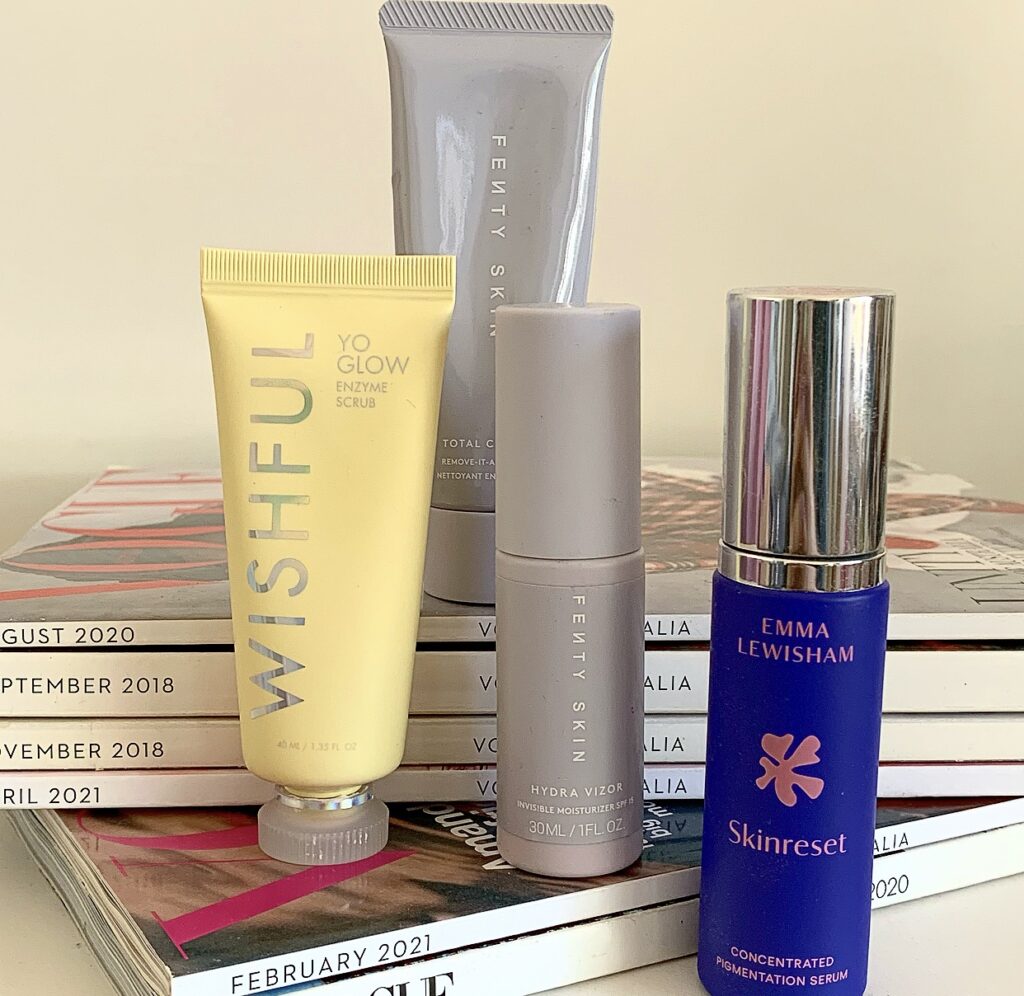 FENTY SKIN HYDRA VIZOR INVISIBLE BROAD SPECTRUM SPF 15 SUNSCREEN MOISTURISTER – $52.00
Let's start with my sole March Empty. And while I do agree with the criticism that the scent is a little on the strong side, I did enjoy the texture of this quite a bit. It's a lovely, light summer moisturiser that I would consider grabbing again.
FENTY SKIN TOTAL CLEANSE'R REMOVE-IT-ALL CLEANSER – $36.00
This one however requires a tangent. As a cleanser, I didn't like this. It was a bit too much for my skin and left me feeling a little squeaky. But the scent of this took me all the way back to 2005. Does anyone remember the old Body Shop fragrance sets? There was one particular scent that I adored. I think it was the pink one. And I was gutted when The Body Shop discontinued that range. Rihanna. Miss Fenty. I would sell you my left tit if it meant that you released the scent of this cleanser as a perfume. Because I want it. Please?
WISHFUL YO GLOW ENZYME SCRUB – $40.00
I've tried a few of these kinds of enzyme scrubs in my time. And the common complaint that I've had is that they can be difficult to rinse off. The Yo Glow rinses off like a dream. And it leaves my skin looking and feeling amazing! I already have this sitting in my cart. I just want to use up a few other scrubs first.
EMMA LEWISHAM SKIN RESET CONCENTRATED PIGMENTATION SERUM – $140.00
This one however, I couldn't wait. I've already repurchased. The difference it's made to my skin over the last 3 months is unbelievable. An utter game changer that I refuse to not have in my routine.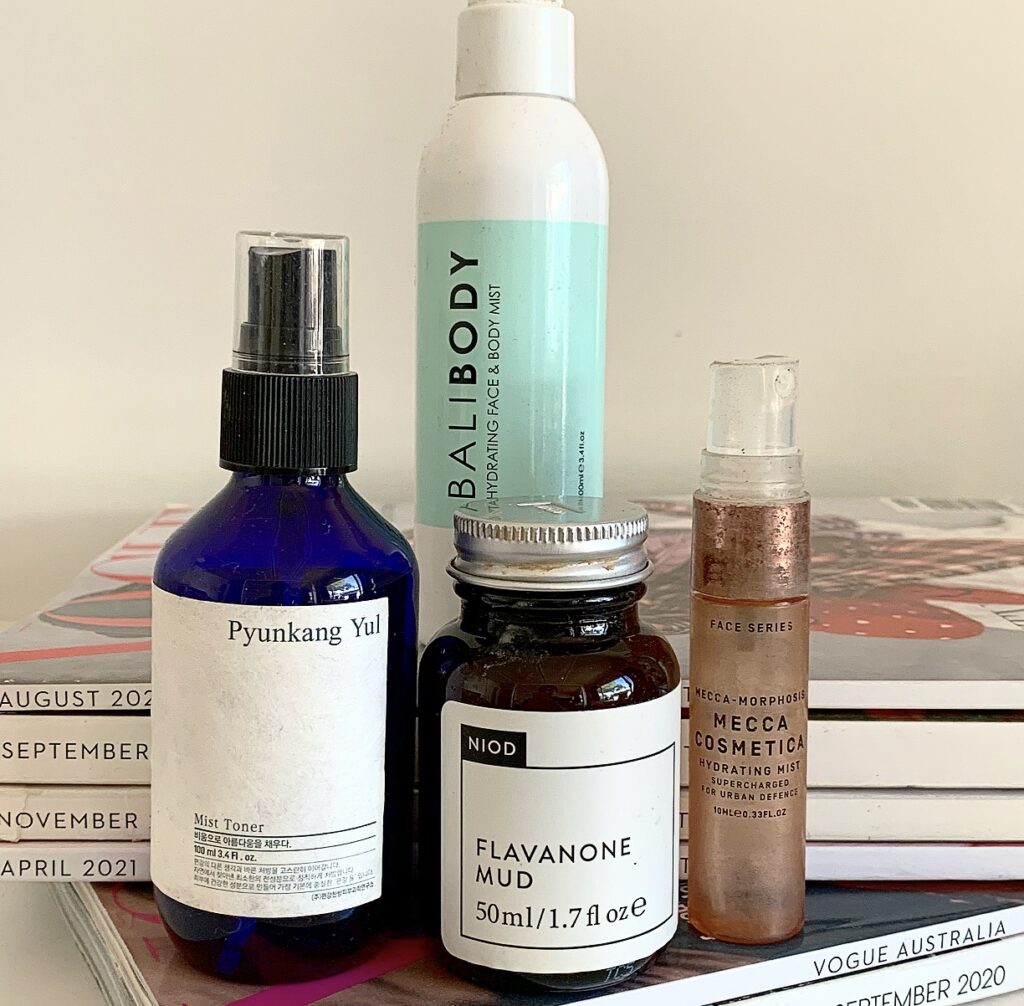 PYUNKANG YUL MIST TONER – $18.00
This was a lovely, soothing toner that I would strongly recommend to anyone who has issues with fragrance. And it has a really good sprayer to boot. I might actually keep the bottle and decant some of my existing toners into it.
NIOD FLAVANONE MUD – $59.00
Another complete game changer to my routine. The only reason why I haven't already repurchased is because I wanted to use this up first (it's not the kind of product that I want sitting around)
BALI BODY HYDRATING FACE & BODY MIST – Possibly Discontinued?
This was from one of my very first PR reach outs. And while this is a brand that I don't necessarily recommend, I did enjoy this mist. It had a refreshing cucumber scent and it was great on a hot summer's day. I can't find it on the website however. So it might be discontinued.
MECCA COSMETICA HYDRATING MIST – $30.00
Got this in a Beauty Loop a millennia ago. And I'm pretty sure I used this up a while ago. I just took it out of my handbag a few weeks back. I am also a trash monster,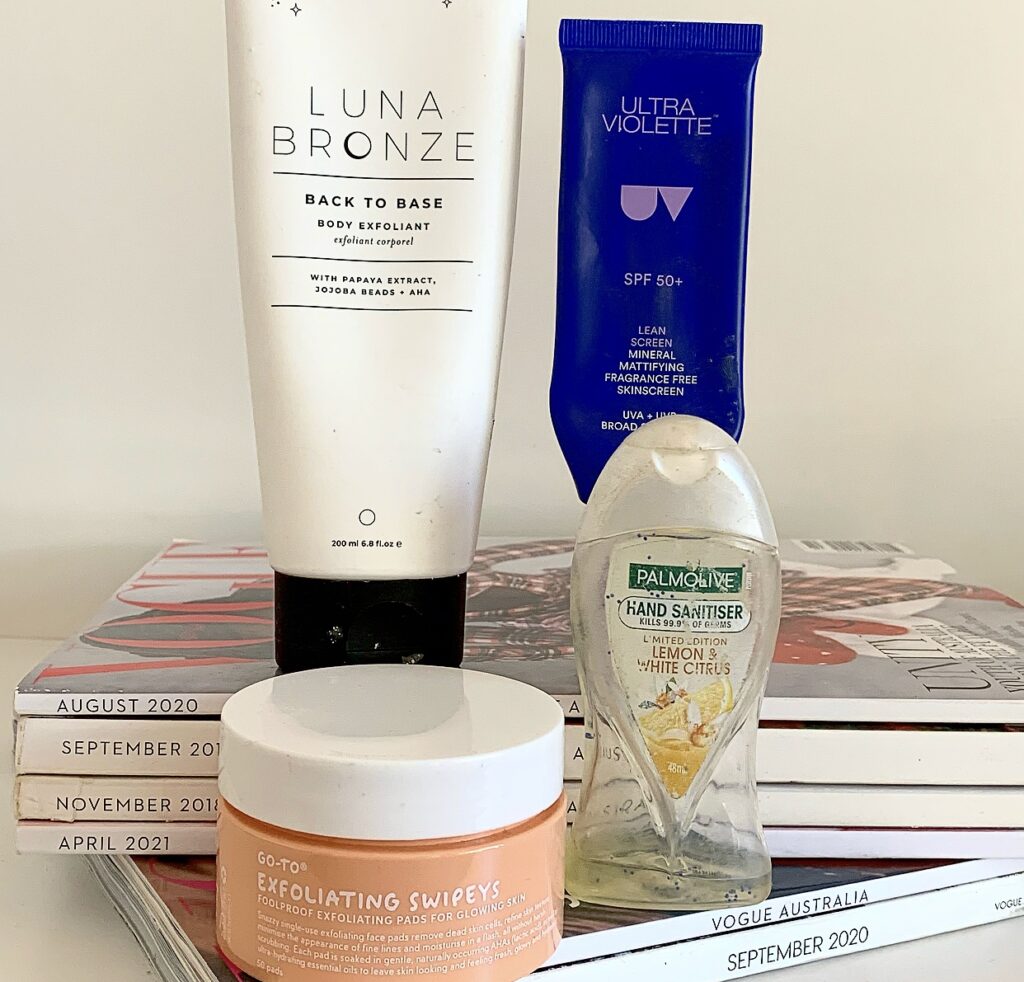 LUNA BRONZE BACK TO BASICS BODY EXFOLIATOR – $39.95
Now this stuff was fun! A great body scrub in it's own right. But where it excelled was removing fake tan. You apply it to dry skin, leave it for a few minutes, and then scrub it off with a loofah. A little on the pricey side, but very good.
ULTRA VIOLETTE LEAN SCREEN MINERAL SKINSCREEN – $45.00
It's sunscreen. Wear it!
GO TO EXFOLIATING SWIPEYS – $46.00
Another one that I loved. It's actually the first time that I've tried a product like this and had it not reek of alcohol. However, it is my hope that Go To brings out this AHA formula in a liquid form so I can use it with my cotton rounds.
PALMOLIVE HAND SANITIZER in LEMON & WHITE CITRUS – $3.69
It's hand sanitizer. Use it!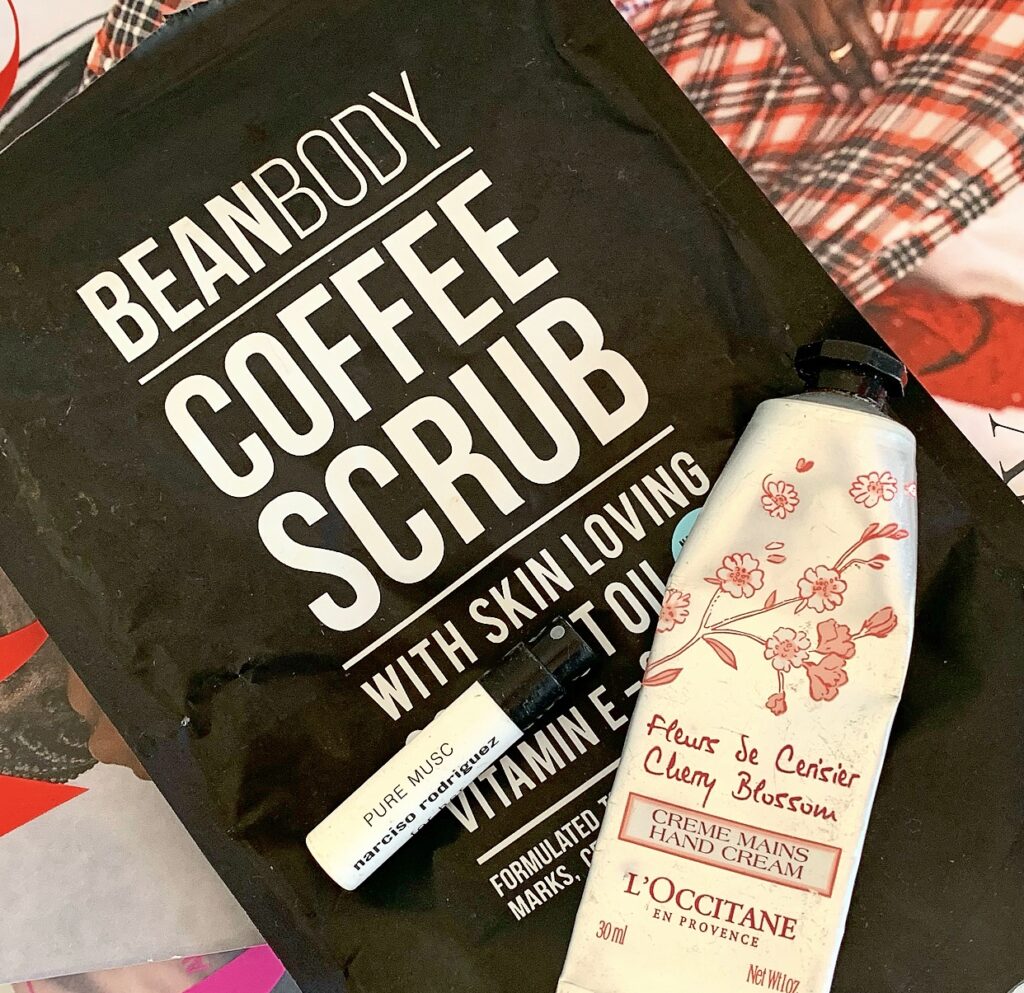 BEAN BODY COFFEE SCRUB – $22.95*
Got sent this a while ago. And I did enjoy it a lot. I'm a simp for coffee. Worried that this might be discontinued too as I struggled to find a place that had this in stock.
NARCISO RODRIGUEZ PURE MASC – $106.00
I can hardly remember what this smells like anymore, it's been that long since I used it. But I probably wouldn't purchase the full size.
L'OCCITANE CHERRY BLOSSOM HAND CREAM – $15.00
Loved this hand cream for years. But I've moved on to better things. Like the Sanitizing Hand Cream (which I'm in love with)
And those are my empties! There were a lot of faves here that I'm sad to see gone. And a few products that you probably won't see again. What was something major that you used up? Let me know in the comments below!
Cheers and love
Emily xo