And just like that, September is now in the rear view mirror. It was actually a great month in general. And an especially good one for empties. Oh yes, after 3 straight posts of not a whole lot, September's empties is a biggie. That is mostly because I finally got around to using some of the samples that I had been hoarding for way too long. And I definitely have some thoughts on a lot of them. So, if you want to see what I used up in September, just keep watching!
*Em's note* Some of the products featured were sent in PR. I will note those purchases with an asterix.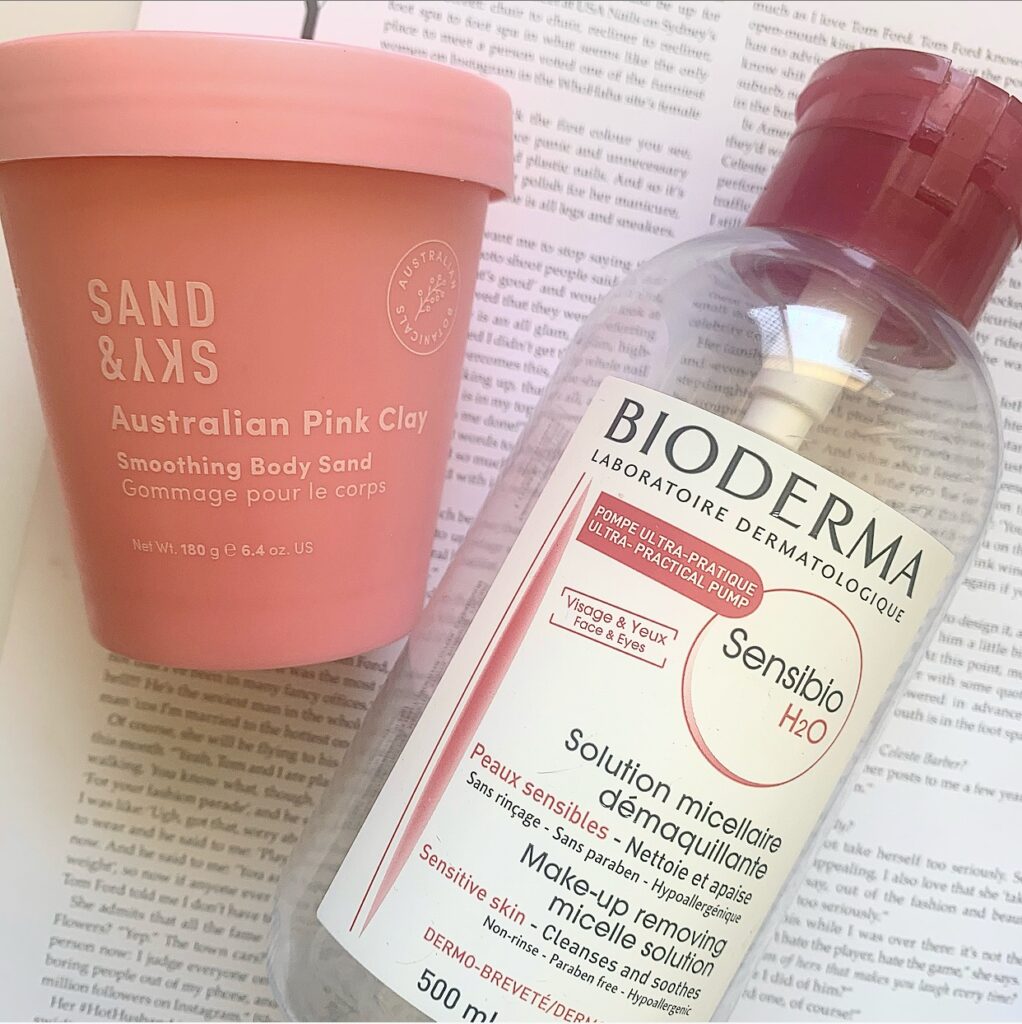 SAND & SKY AUSTRALIAN PINK CLAY SMOOTHING BODY SAND – $49.90
This might just be my favourite body scrub to date! Having said that, I can see how it's not for everyone. This is a very gritty, exfoliating scrub and it left me feeling so smooth. I loved using it on my legs after I shaved them. I also love the tub and I'll probably use it for housing some of the other body scrubs in my collection. A certain repurchase!
BIODERMA SENSIBIO H2O MICELLE SOULTION – $29.99
My third bottle done and dusted. I love using this first thing in the morning. I did notice that the pump was starting to go on this so when I bought my newest one, I got a new pump for it. You will see this in my empties again.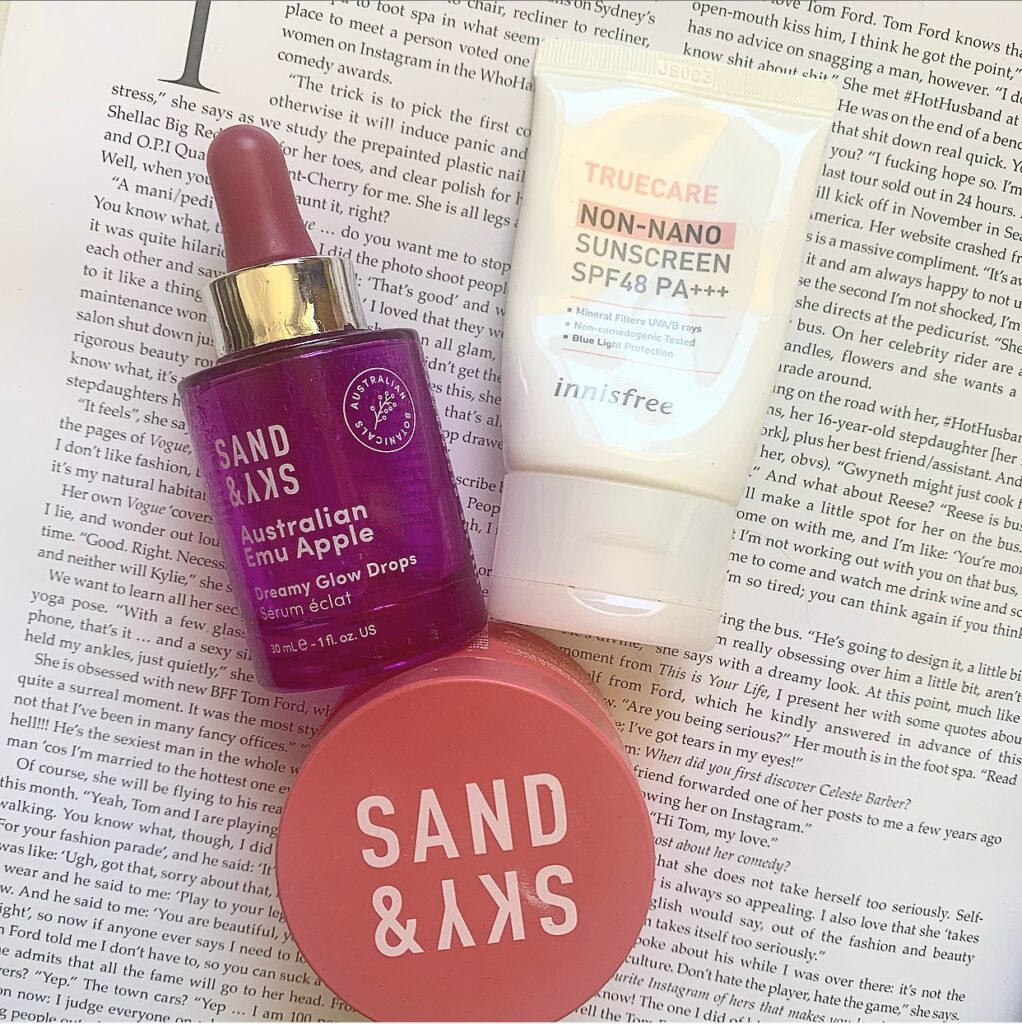 SAND & SKY AUSTRALIAN EMU APPLE DREAMY GLOW DROPS – $74.90*
Oh wow, this genuinely surprised me with how good it was. I used this both morning and night and it left my skin with the loveliest of glows. I will definitely repurchase!
SAND & SKY AUSTRALIAN PINK CLAY POREFINING FACE MASK – $69.90
I have truly lost count on the number of jars I've been through over the years. Still my favourite clay mask of all time.
INNISFREE TRUECARE NON NANO SUNSCREEN SPF48 PA+++ – $5.70US*
I reviewed this back at the start of the month. And while I stand by my review, I think that maybe I was a little harsh on it. It's not a terrible sunscreen by any means. But the cast it leaves on the skin does take a little while to sink in. Ultimately, it wasn't for me.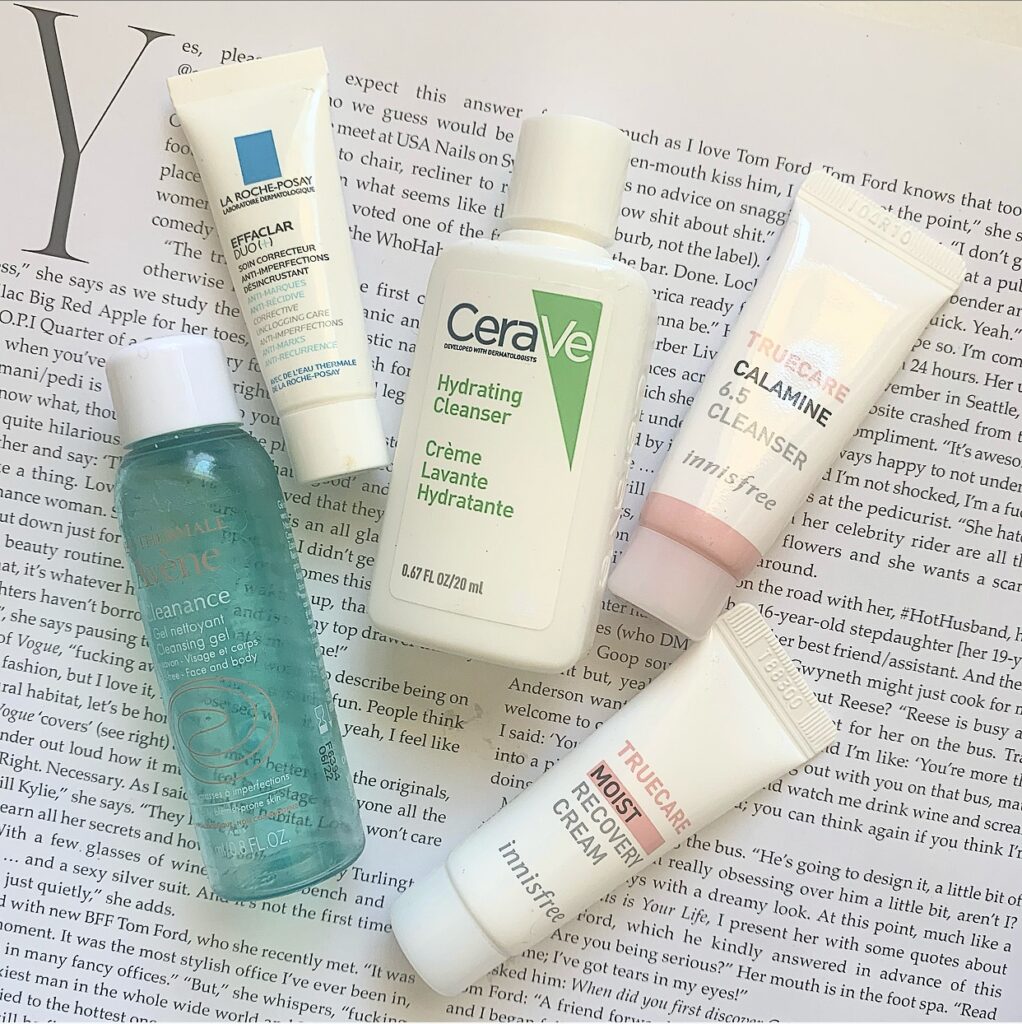 LA ROCHE POSAY EFFACLAR DUO ACNE MOISTURISER – $31.95
Been through so many samples of this over the years, it's pointless for me to buy a full size! Great if you have acne prone skin.
AVENE CLEANANCE CLEANSING GEL – $24.95
A nice little blast from the past for me. Didn't leave me feeling stripped or squeaky.
CERAVE HYDRATING CLEANSER – $14.99
I still have my full size in my bathroom. By far, my favourite drugstore cleanser.
INNISFREE TRUECARE CALAMINE 6.5 CLEANSER – $21.30*
This I enjoyed quite a bit. Had a pleasant Chamomile scent to it and it left me feeling refreshed. I would look into this one in the future.
INNISFREE TRUECARE MOIST RECOVERY CREAM – $30.49*
Honestly, this too! It's probably a little thick for summer. But for winter, this was lovely and hydrating without feeling overbearing on the skin.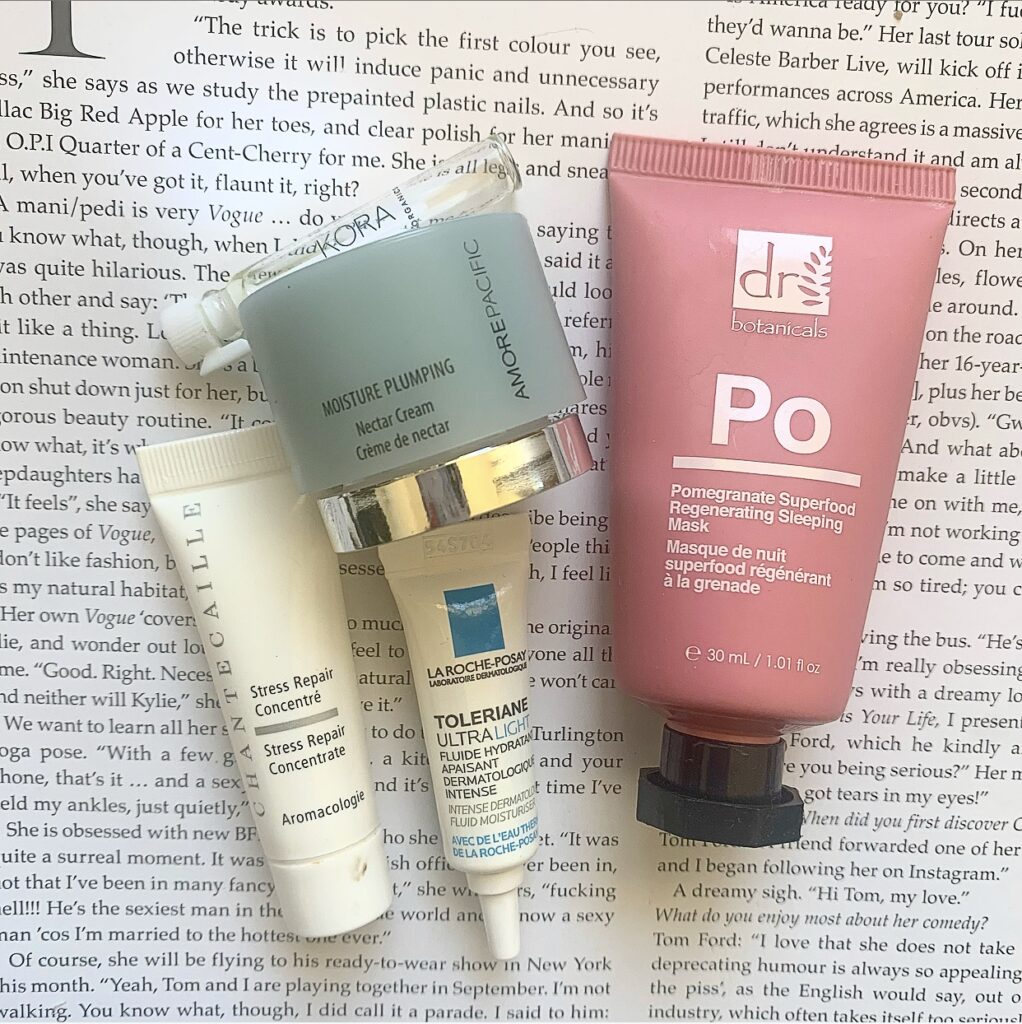 CHANTECAILLE STRESS REPAIR CONCENTRATE – $317.00
For that price, I should have woken up with a new face. No.
AMOREPACIFIC MOISTURE PLUMPING NECTAR CREAM – $256.00
See above response.
LA ROCHE POSAY TOLERIANE ULTRA LIGHT DAILY MOISTURISER – $41.95
Probably a little too light for me. I prefer something with a bit more body. Still a nice formula.
DR BOTANICALS POMEGRANATE SUPERFOOD REGENERATING SLEEPING MASK – $22.75
I had this for quite a while and I did enjoy it during the winter months. I probably wouldn't seek it out, but it's good.
KORA ORGANICS NONI GLOW FACE OIL – $83.00
I honestly forgot I had this. And I was quickly reminded why I hoarded this sample for as long as I did. This is a gorgeous oil. I just can't justifiy the price!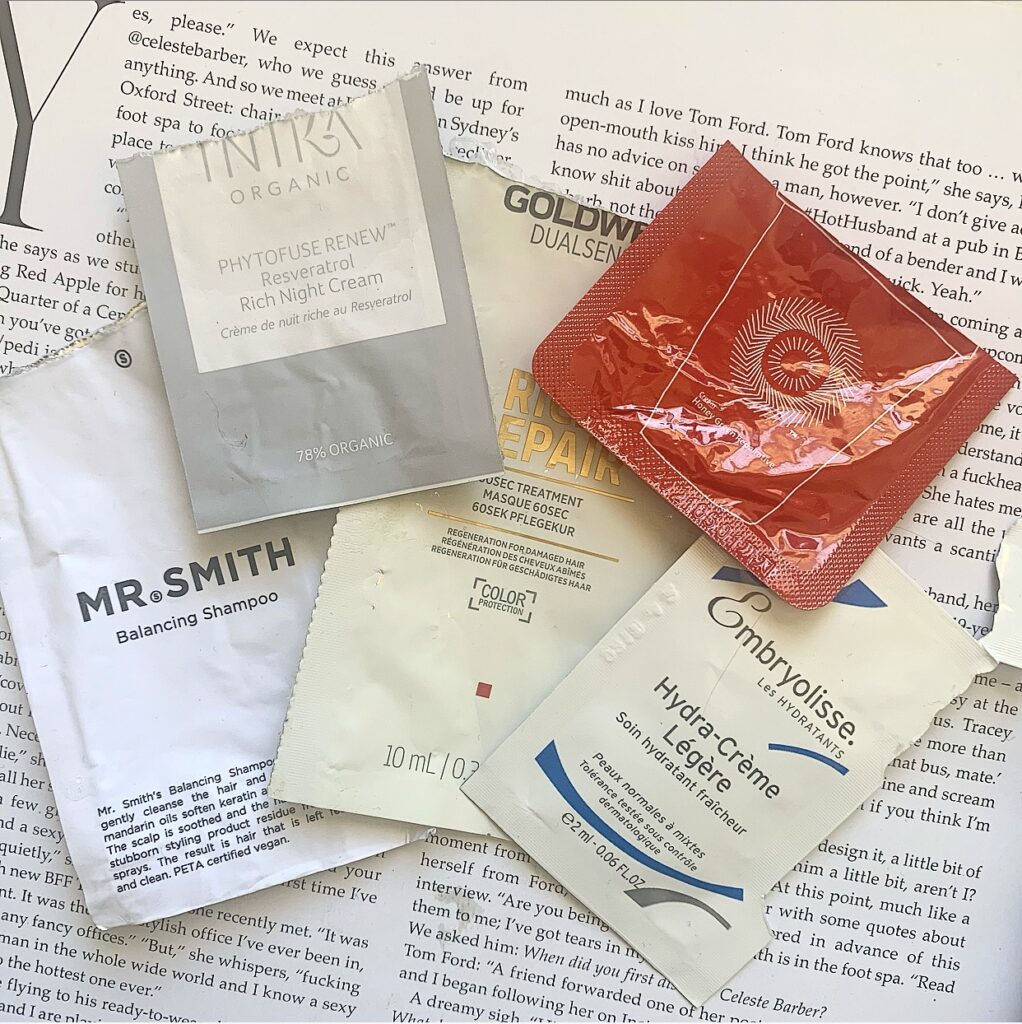 MR SMITH BALANCING SHAMPOO – $35.00
Not a bad shampoo at all. Left my hair feeling nice and clean. Also had a nice scent. I might look into Mr Smith in the future.
GOLDWELL RICH REPAIR 60 SECOND TREATMENT – $28.50
OH MY GOD! THIS IS SO GOOD!!! This left my hair so soft and smooth. I will be seeking this out sooner rather than later.
INIKA ORGANIC PHYTOFUSE RENEW RESVERATROL RICH NIGHT CREAM – $89.00
Sadly, I don't really remember this one. It was probably fine.
HARU HARU WONDER HONEY GREEN REPAIRATIVE CREAM – $47.60*
Don't really remember this one either. Soft of remember a honey scent that I liked.
EMBRYOLISSE HYDRA-CREME LEGERE – $31.25
Not gonna lie, when it comes to moisturisers, it tends to have to be bad for it to make an impact on me. So, when I say I don't remember, assume that it was fine.
GO TO BEAUTY TRANSFORMAZING SHEET MASK – $9.00
I took a friend's advice when I used it and wore it before doing my makeup. Game changer! This mask is pricey, but it left my skin looking and feeling amazing. If I wasn't trying to cut back on sheet masks, I would pick up a set of these!
INNISFREE TRUECARE PHA TONER PADS – $28.14*
Same with these guys. I enjoyed them. But I do prefer to just buy a bottle of toner and use my hands to apply.
WRINKLES SCHMINKLES LIQUID EXFOLIATION PEEL – $24.95
Honestly, same as above. Just give me the liquid peel in a bottle. Having said that, this did smell like sour wine.
ALPHA-H ESSENTIAL SKIN PERFECTING MOISTURISER SPF15 – $59.95
Now, this one I remember. Because it was so bad. It felt sticky and it balled up on my face. Also hated that it was tinted. Wouldn't purchase.
LANCOME ADVANCED GENIFIQUE YOUTH ACTIVATING CONCENTRATE – $105.00
Finally, this is one of those products that I'll never buy, but will happily keep using the samples. Unless Lancome wants to send me a bottle (come on Lancome, help a sister out)
And those are my September Empties! Like I said, this month was a biggie. And I still have more samples to use! Such is the life of a beauty obsessive. What did you use up in September? Let me know in the comments below!
Cheers and love
Emmie xo