And we are back with yet another round of my favourite people getting me to spend my money. If you aren't familiar with this series, well, it's in the title. I'll be chatting about products that my fellow bloggers love and my own personal thought about them after trying them for myself!
This time however, I'm doing a skincare roundup. These are all products that I've been using for a fair while now (well, most of them anyway). And I can't wait to tell you all my thoughts. So, let's dive in!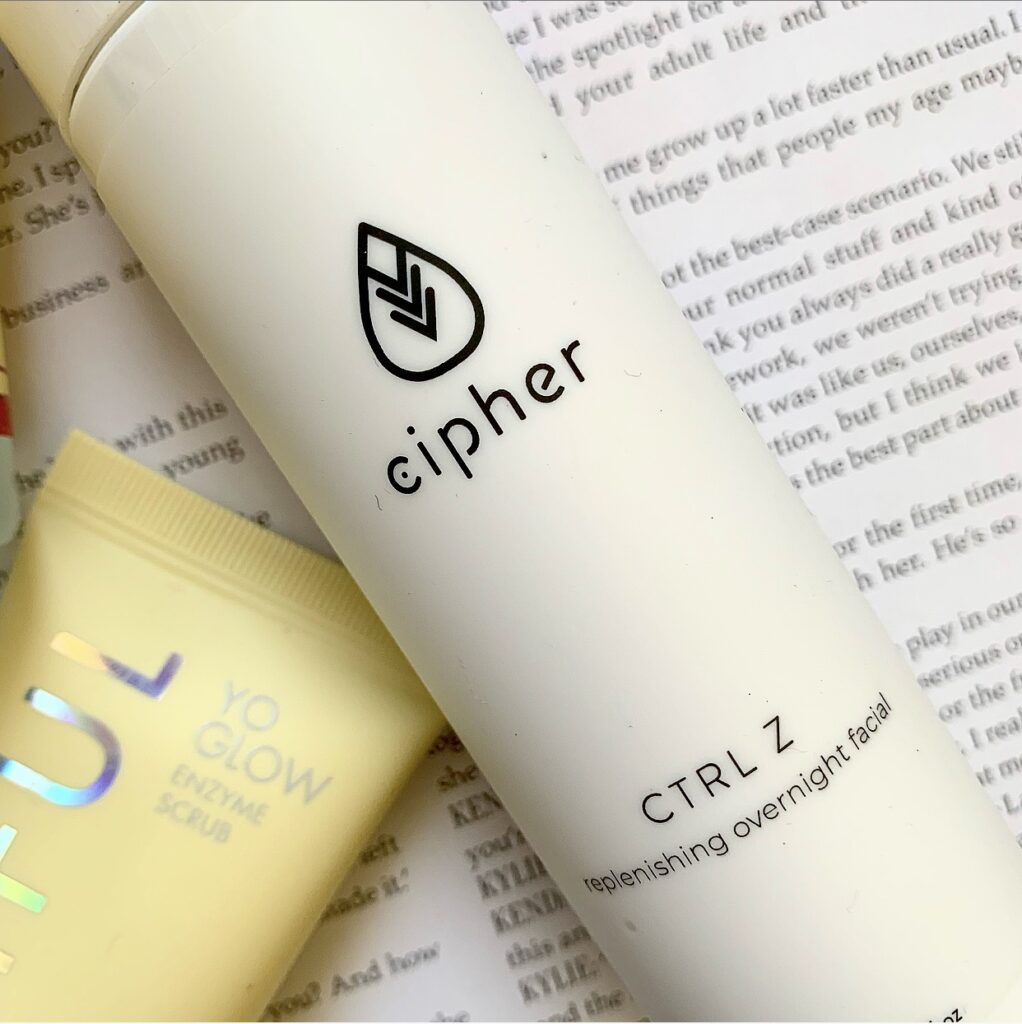 CIPHER SKINCARE CRTL-Z REPLENISHING OVERNIGHT FACIAL – $148.00
RECOMMENDED BY – All My Shitty Makeup
For those who might not know about them, Cipher Skincare is an Aussie owned skincare range that has been wildly popular on Instagram for it's amazing products. I had been eyeing off said products for a while, deciding which one I wanted to try first. And when Ksenia gave the CRTL-Z serum the tick of approval, I knew I has to try it
MY THOUGHTS – Holy Moly! This stuff is no joke. I was using another chemical exfoliator from a different brand before I started using this and this one blows it out of the water! It has a noticeable Lactic Acid scent to it (Lactic Acid ranks high on the ingredient list). And it has a strong tingle to it. I've been using it for six months now and I'm still only using it twice a week. But I can't argue with the results. My skin is noticeably clearer and more glowy whenever I use it. A strong recommendation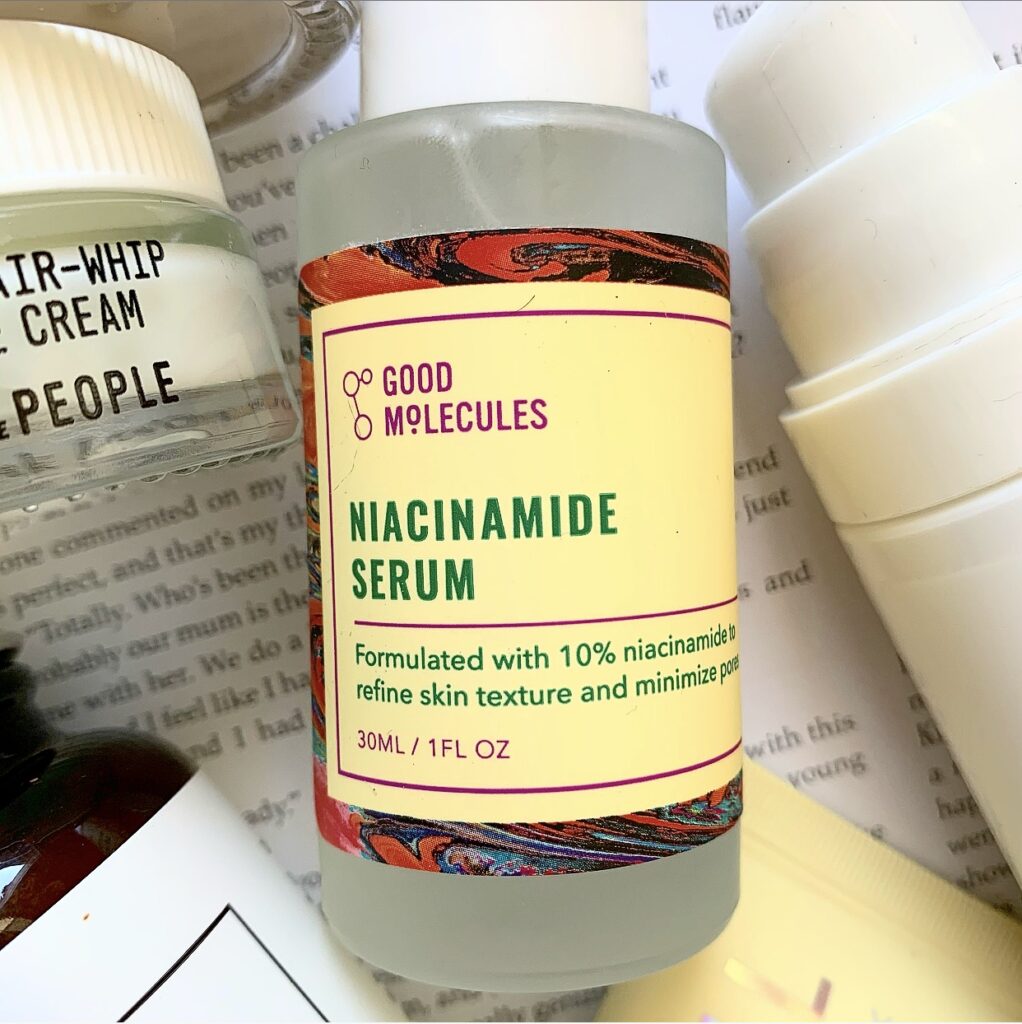 GOOD MOLECULES NIACINAMIDE SERUM – $6.00US
RECOMMENDED BY – The Beauty Roast
Good Molecules launched onto the beauty scene a few years ago as an alternative to The Ordinary. And while they don't have the wideness of variety of The Ordinary, they did have the right price on their products. I placed an order to give them a go a few months back and I remember the Spice Queen, The Beauty Roast, saying that the Niacinamide Serum was where it's at. So, yeah, add to cart.
MY THOUGHTS – As a serum, I don't have much to say. It's fine, I guess. I use it 2-3 times a week with my retinol to help fade my acne scarring and it does a good job at that. Now that that's out of the way… OH MY GOD! THE PACKAGING ON THIS SUCKS SO HARD!!! I thought I was going crazy the first time I used this because I couldn't get any of the products to go into the dropper. I even took the stopper out to see if that helped. The only way I can use it is if I very gently tip a little bit out. Also, the fact that I can only buy it through Beautylish is a pain in the butt too. All in all, it's not bad, but I might stick with The Ordinary when I finish this.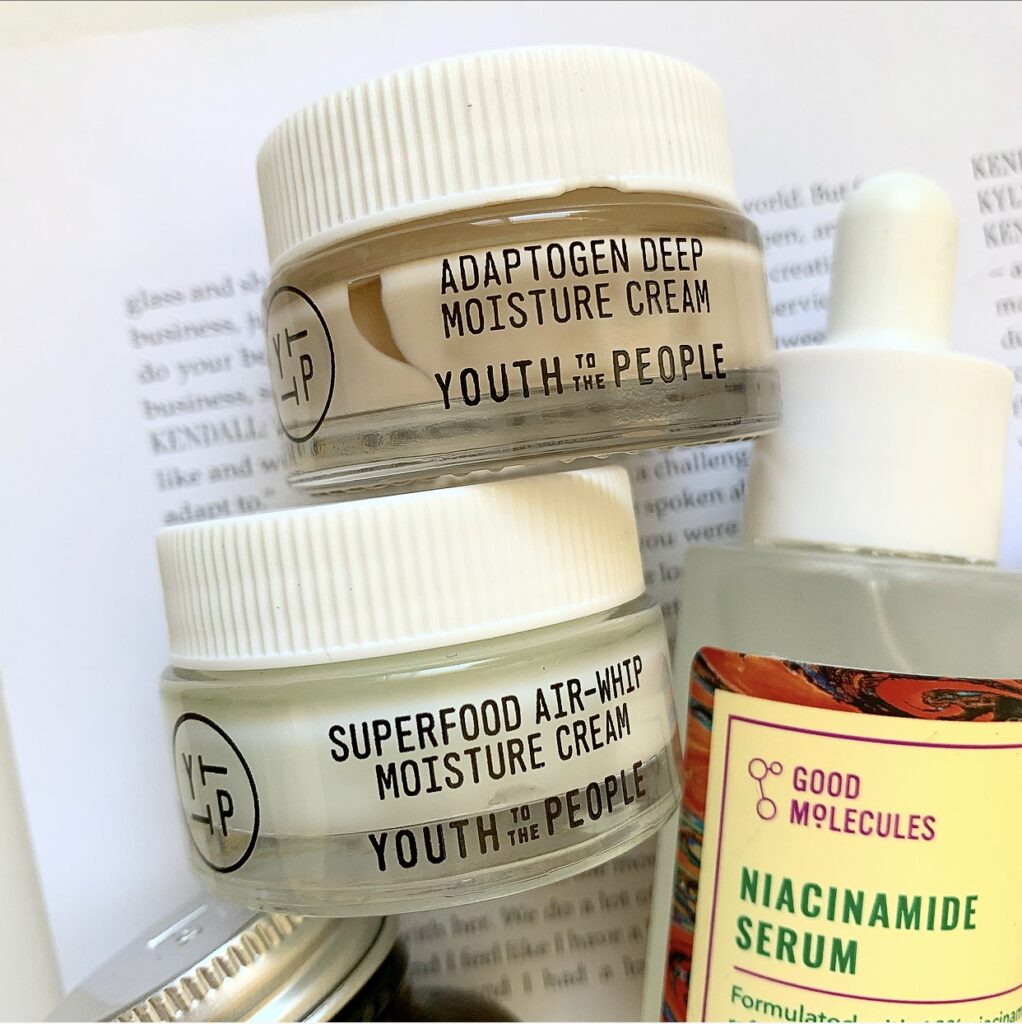 YOUTH TO THE PEOPLE THE YOUTH MINI'S KIT – $75.00
RECOMMENDED BY – Maddies.Makeupmess
If you were to look in my bathroom cabinet, you first thought would probably be 'wow, she has a lot of moisturiser'. The thing is, I have dry skin, so I'm always going to be testing new ones out. During a recent Sephora sale, I spotted the Youth To The People Mini's kit. And I remembered Maddie raving about that kit. Especially for the mosturisers.
MY THOUGHTS – I'm only going to talk about the moisturisers in this kit (though for the record, both the cleanser and oil in this kit are great too). Because the moisturisers were the two products I was most interested in. Staring with the Moisture Cream, and this one really doesn't rise above ok. It's a nice, light moisturiser. But I've tried better. The Adaptogen Cream however might be a new fave! It has more body to it and it's so deeply hydrating. I recall an occasion where I overdid it with the actives and I slathered this on immediately. My skin definitely needed it and it left me feeling soothed and hydrated. I suspect this might be too much come Summer, but for next Winter, I'll definitely be picking a full size up.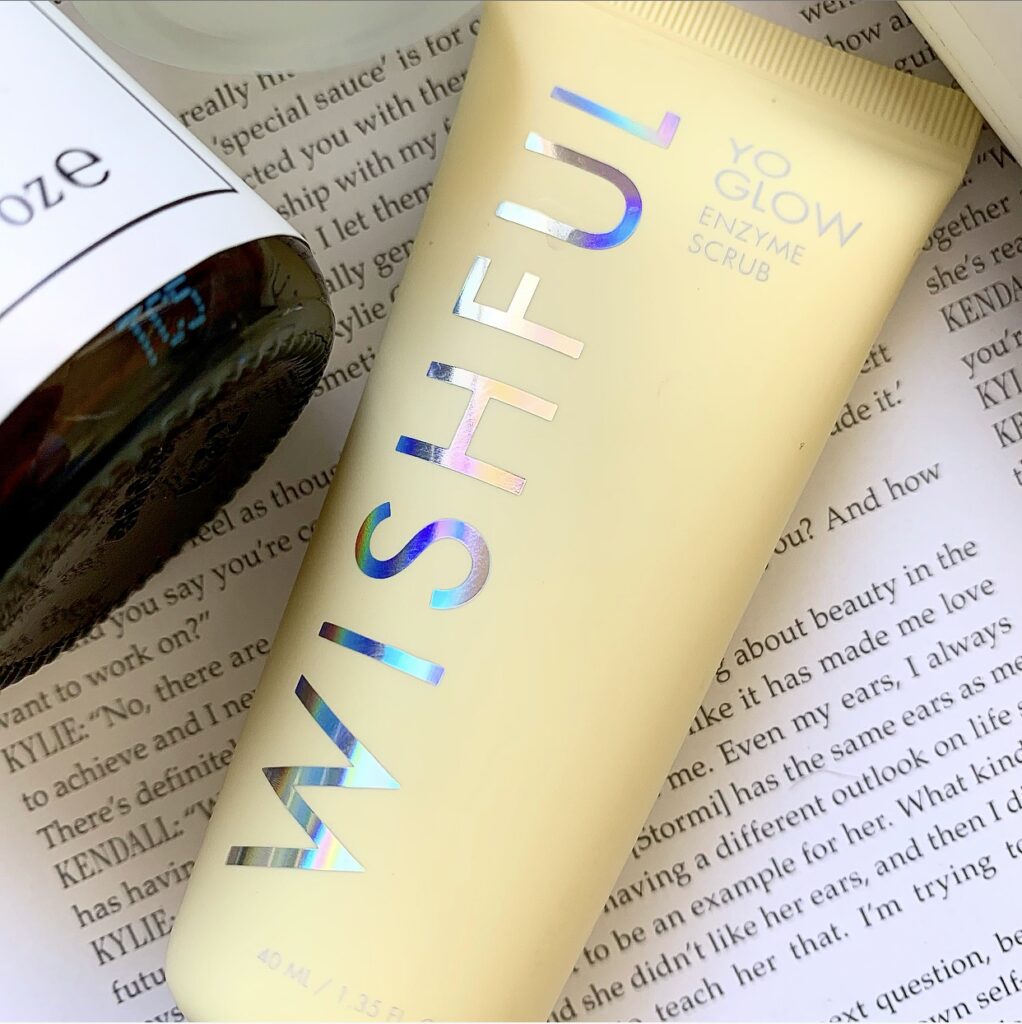 WISHFUL YO GLOW ENZYME SCRUB – $73.00
RECOMMENDED BY – Ms Hannah E
From my own personal experience, nothing gets more of a raised eyebrow from me than a makeup brand releasing a skincare line. Don't ask me why, I just do. And my eyebrow was raised super high when Huda Kattan, owner of Huda Beauty, announced Wishful Skincare earlier this year. Their first big launch was the Yo Glow Enzyme Scrub. A product that I recall getting good buzz, but I had zero interest in. That changed when the Reigning Skincare Queen, Hannah English, raved about it! And when I saw that they had a mini, I decided 'fuck it'.
MY THOUGHTS – I've now been using this for around a month and I have to say, dang Huda! Way to make me eat my words! Because this kinda rocks! It's basically one of those liquid enzymes that 'ball up' once rubbed onto the skin (fun fact, that's not your skin balling up, that's the product). The main reason why I enjoy this more than other enzymes that do similar things (besides the fact that it leaves my skin so soft and smooth) is that this is so easy to rinse off once done! Some of the others I've tried cling to my peach fuzz and can become painful to remove. If I have one drawback, I'm not wild about the scent. It kind smells like men's cologne to me. But otherwise, this is a goodie!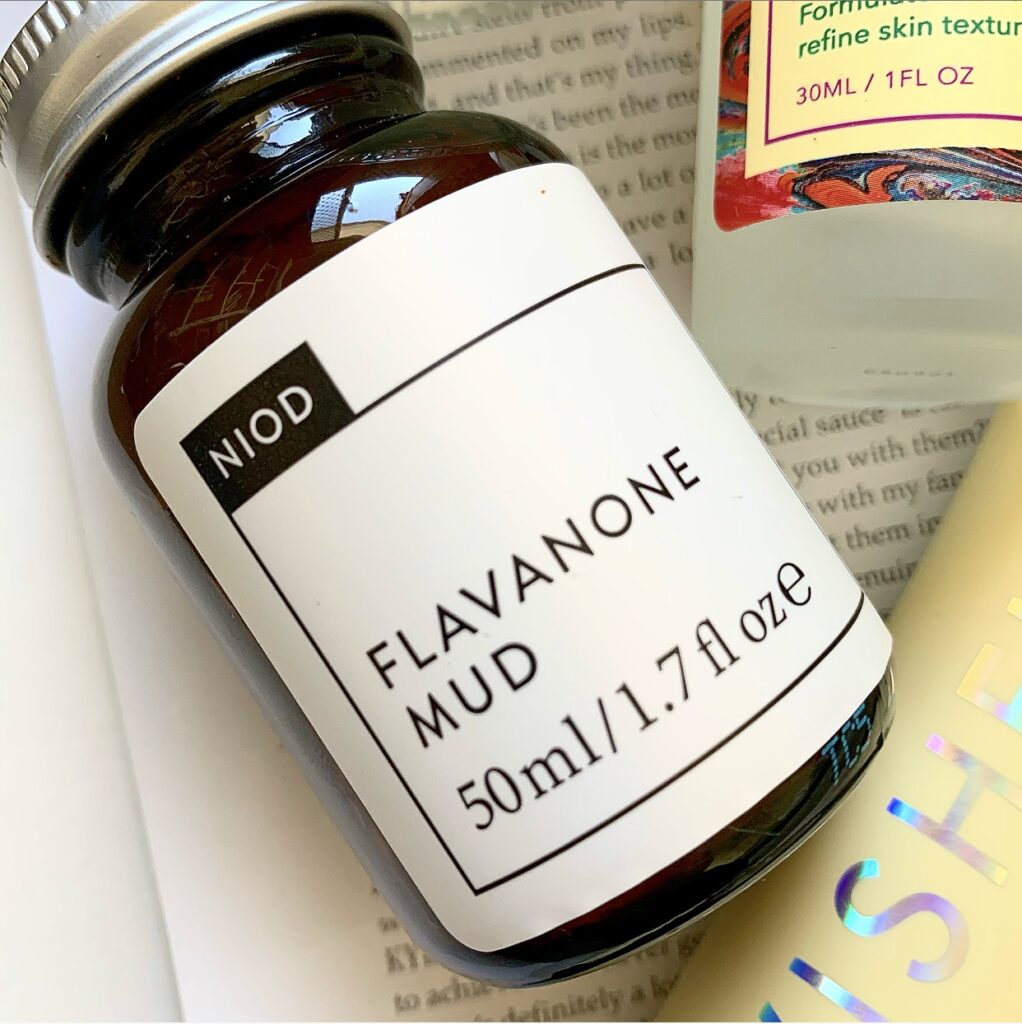 NIOD FLAVANONE MUD – $59.00
RECOMMENDED BY – Basically everyone that has tried it.
I love a good mud mask a few times a week. My favourite of course being the Sand & Sky mask. But I had been on the lookout for something a little deeper cleansing. As luck would have it, everyone on my feed started raving about the Niod Flavanone mask saying that it's a game changer. I liked the sound of that so I had to have it!
MY THOUGHTS – I like to describe my skin as being like old boot leather. It can take a hell of a beating. So when I tell you that the Flavanone mask is easily the most intense mask I've ever tried, I'm not kidding in the slightest. The tingle on this makes the Cannacell Mask from Andalou Naturals look soothing. And in my opinion, it might be too intense for some. Hell, it was almost too much for me (bombing my face with the Adaptogen Cream helped). But again, I can't argue with the results. I've only used this mask 3 times, but the difference in my skin is so real. My nose is so smooth and it feels like all of the gunk has been sucked clean from my skin. I strongly recommend this, but if you can, get a sample first!
And these are some of my top picks from my fellow bloggers! Have you tried any of these products for yourself? Let me know in the comments below!
Cheers and love
Emmie xo