Well, its been more than a minute since I last did one of these posts. I've been a little guilty of buying things sight unseen, so to speak. But I have made a few purchases as of late that were influenced by you guys. So, I figured that it was time for me to chat about them
Now, if this is the first that that you are seeing one of these posts, let me tell you about them real quick. Basically, the idea is that I test out products that my IG friends either love or hate and let you know how I get on with them. I've done four of these posts in the past (I have a category for them now). And they are some of my favourites to do. Se, let's dive on in!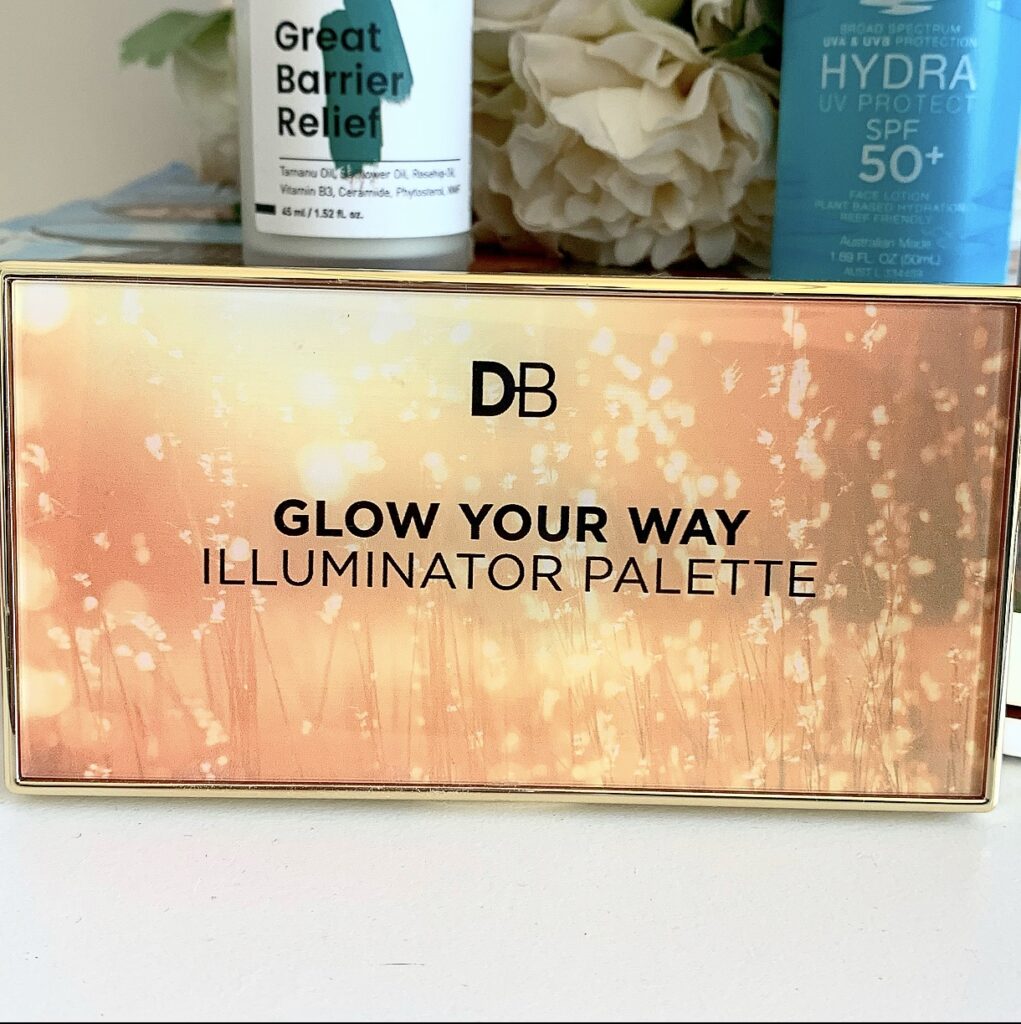 DESIGNER BRANDS GLOW YOUR OWN WAY ILLUMINATOR PALETTE – $15.99
RECOMMENDED BY – JessBeautyLover
I've had a soft spot for Designer Brands for years. They have a ton of products in their line that I utterly adore. But I'm yet to find a highlighter from them that I love. They always pull grey on me. So when I saw Jessica over at JessBeautyLover rave about their new highlighter palette, I decided to look into it.
MY THOUGHTS – I have to say, this is a gorgeous little palette. The formula is very interesting. Not quite a cream, not quite a powder. There is no kick up when I apply it with a brush. However, more often than not, I apply these with a sponge. I find the middle shade, Spritz, to be the most accommodating to my skin tone. The other two shades do pull a little grey on me. But I actually love them as a one and done eyeshadow.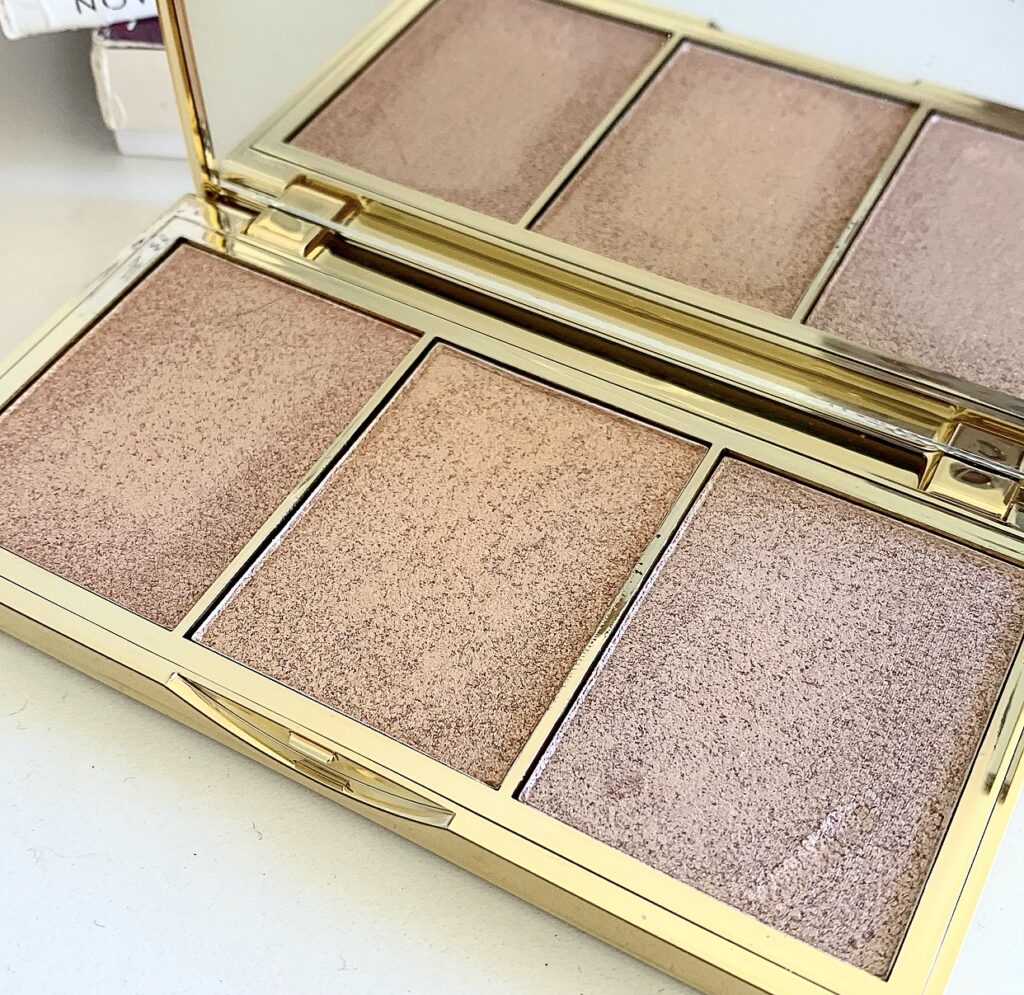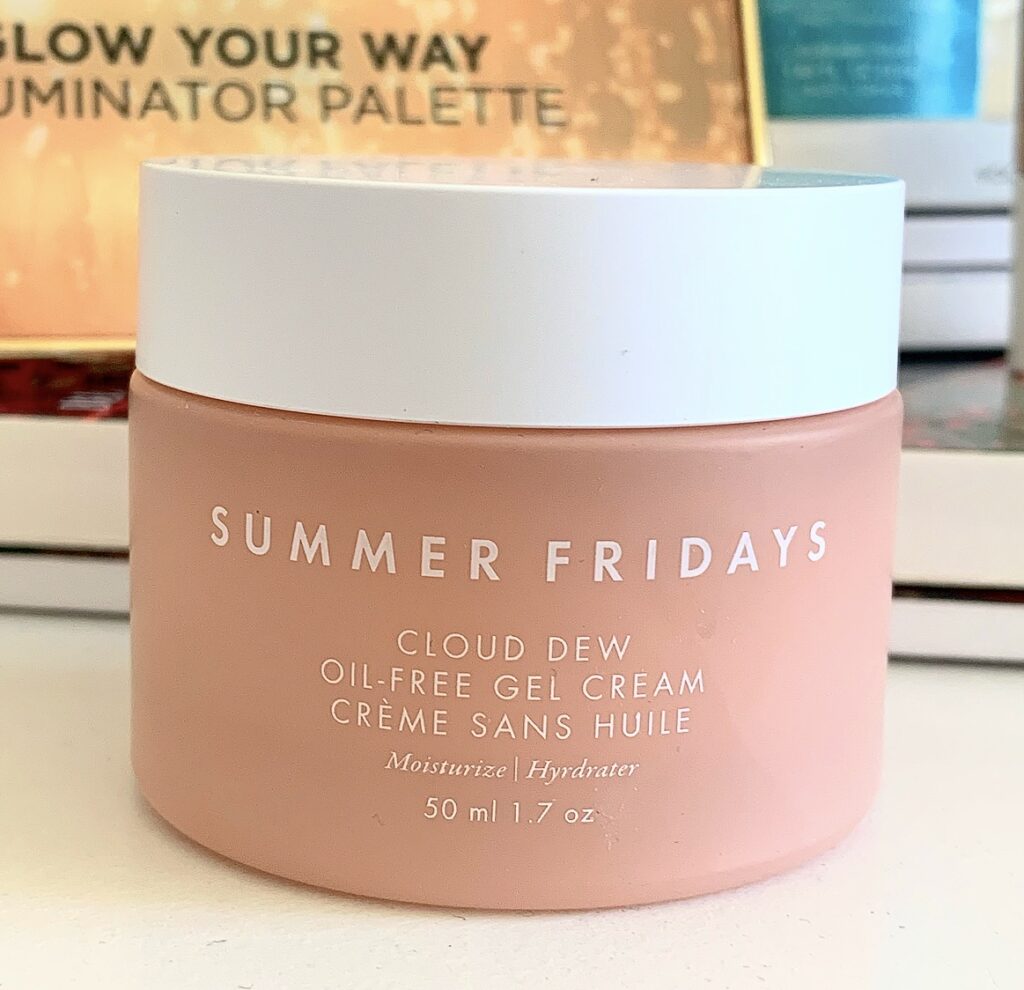 SUMMER FRIDAYS CLOUD DEW OIL FREE GEL CREAM – $67.00
RECOMMENDED BY – Dirty Boys Get Clean
I usually don't take a lot of convincing when it comes to Summer Fridays. They have been impressing me for a while now with their quality. But when Matt over at Dirty Boys Get Clean announced that this had been the moisturiser that he had been using behind the scenes for months, and that it really was the best moisturiser that he had used in a while. Well, that started the countdown for it to launch in my brain because I had to try it.
MY THOUGHTS – This. Moisturiser. Is. Everything! Oh my god, they knocked it out of the park with this one. The formula is so light and silky smooth. It soaks into the skin with ease and leaves my skin feeling utterly amazing! I think I'm in love.
BONDI SANDS HYDRA UV PROTECT SPF 50+ FACE LOTION – $22.95
RECOMMENDED BY – Beauty By Hiuy, Katie's Cosmopolitan, Harper's Glow
I'm an easy lay when it comes to sunscreen. My love of Ultra Violette is well documented here. But I have been dipping my toe into other brands as of late. And when I saw a bunch of my favourite skincare ladies sing the praises of the new one from tanning brand, Bondi Sands, it quickly landed in my cart.
MY THOUGHTS – My feelings on this are pretty mixed. On the positive side, I love that the packaging is made of recycled plastic. I also like how sleek it is. It's good for chucking in my bag. As for the sunscreen itself, it's a very light, thin formulation. And for me personally, it takes a little while to fully apply it to my face. I usually have to dot, rub, wait 15 seconds and then do another section of my face. Once it is on the skin, it's very hydrating. And I do mean very hydrating. It almost borders on too hydrating for me. It's quite similar to the Supreme Screen from UV in that it never feels settled on my skin. And because of that, I struggle to wear makeup on top of this sunscreen. I suspect that my combo skin will love this in winter. But this is a not right now for me.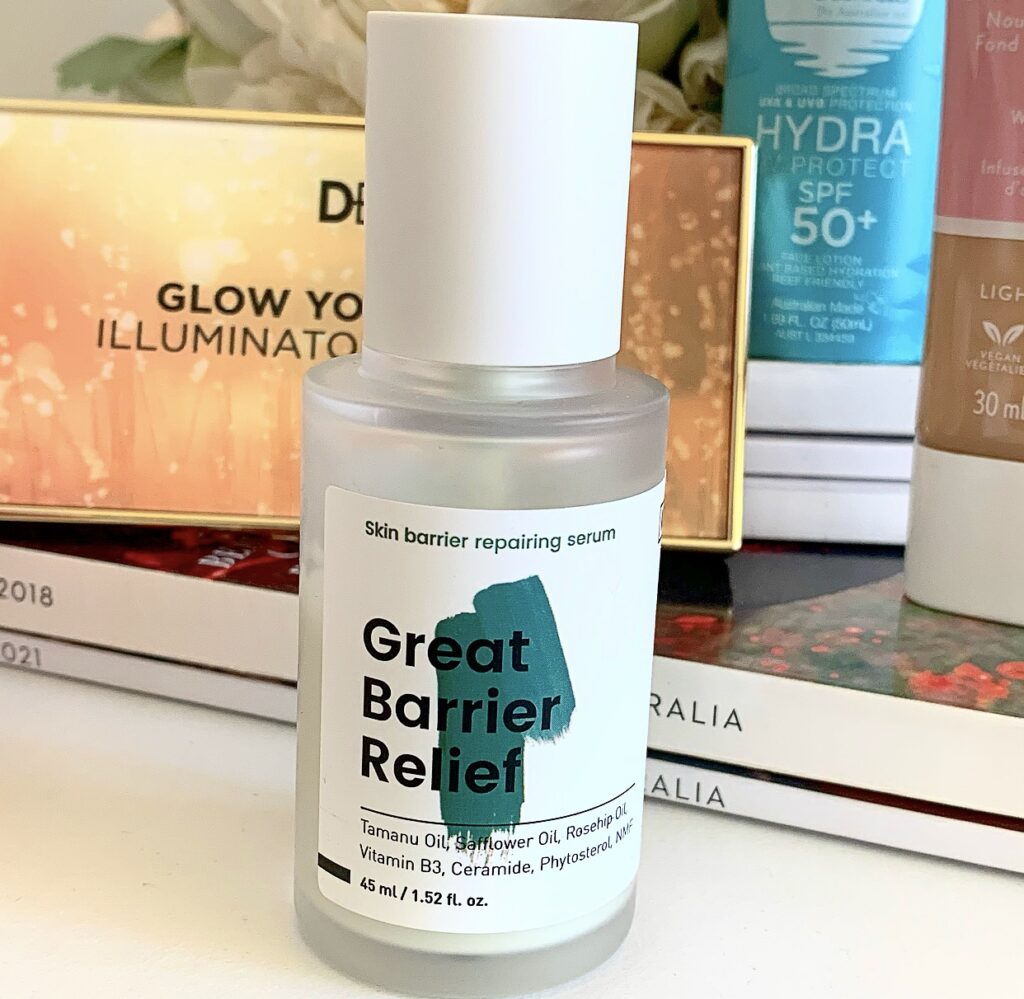 KRAVE BEAUTY GREAT BARRIER RELIEF – $65.00
RECOMMENDED BY – The Makeup Treasury, Turna Tries Beauty, Serenity Days
My knowledge about K-Beauty is still somewhat limited. But even I know that Krave's products are some of the most beloved in the Korean Skincare community. The top three I constantly see talked about are the Beet The Sun SPF, the Kale-Lalu-YAHA Toner and the Great Barrier Relief. The latter easily being the most hyped up on my feed…
MY THOUGHTS – And now that I've used it for a few months, I can see why! First of all, I love the way this smells. Then again, I really love green juices. There is a collective ton of amazing ingredients in this product that work so well in healing and soothing my skin. I mostly use this on retinol nights and nights where my skin needs that soothing boost. I could easily replace a considerable chunk of my skincare routine and replace them with the Great Barrier Relief, it's that good.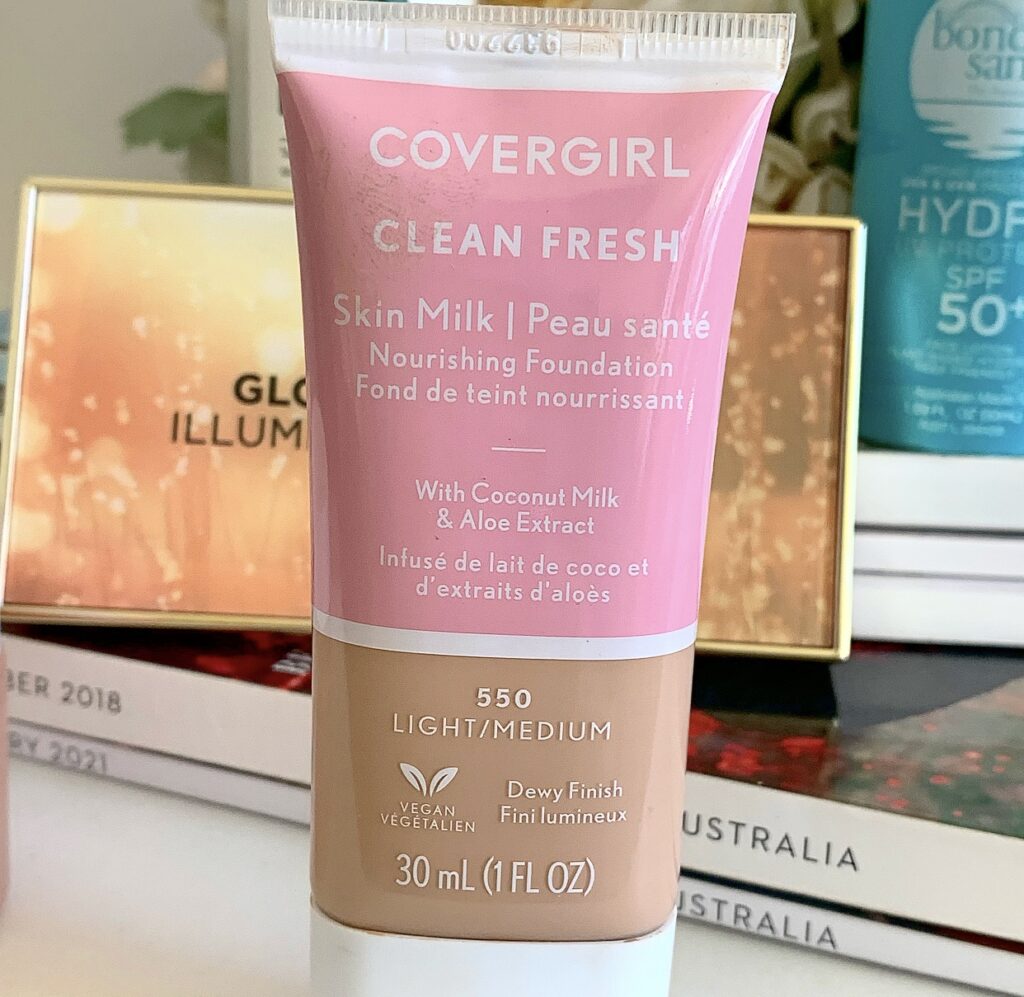 COVERGIRL CLEAN FRESH SKIN MILK FOUNDATION – $19.95
RECOMMENDED BY – Rolly.Mag, Maddies Makeup Mess, Beauty With Lauren (well, sort of)
Fun fact about me. While I do love trying out other people's favourite products, I love testing out people's failures more. There is a real curiosity factor there for me. So when I saw some of my fellow bloggers drag Covergirl's newest foundation launch to filth, I immediately thought 'challenge accepted'
MY THOUGHTS – Well, I did give this the review treatment last year. But here is the Cliff Note's version. Shade range is trash, but the foundation is actually really good! This has been my 'slap it on and go' foundation since I got it. Works well with my skin and it lasts great in the heat. Didn't expect that at all. Also, it smells like yeast. Just thought I'd warn you.
And that's it for another 'Instagram Made Me Buy It'! I hope you enjoyed it. Let me know in the comments below if I have influenced any of your recent purchases.
Cheers and love
Emily xo