Around this time last year, I took part in the Most Expensive Full Face Challenge that I saw Samantha Ravndahl do on her Youtube channel. You guys really seemed to enjoy that post (and I've seen a few of you recreate your own version), so I decided to do it again. Just to see how far I can go.
So, like last time, I didn't set that many rules. My one goal was to not to use repeat products (I used the same brow pencil, but that's it). And I have to say, I really loved the look I created. So, if you want see how I did and what products I used, just keep reading!
*Em's note* I mentioned this last time, but I'll repeat it anyway. Due to inflation, some of the products featured here are more expensive than they were when I bought them. All pricing is current at time of writing.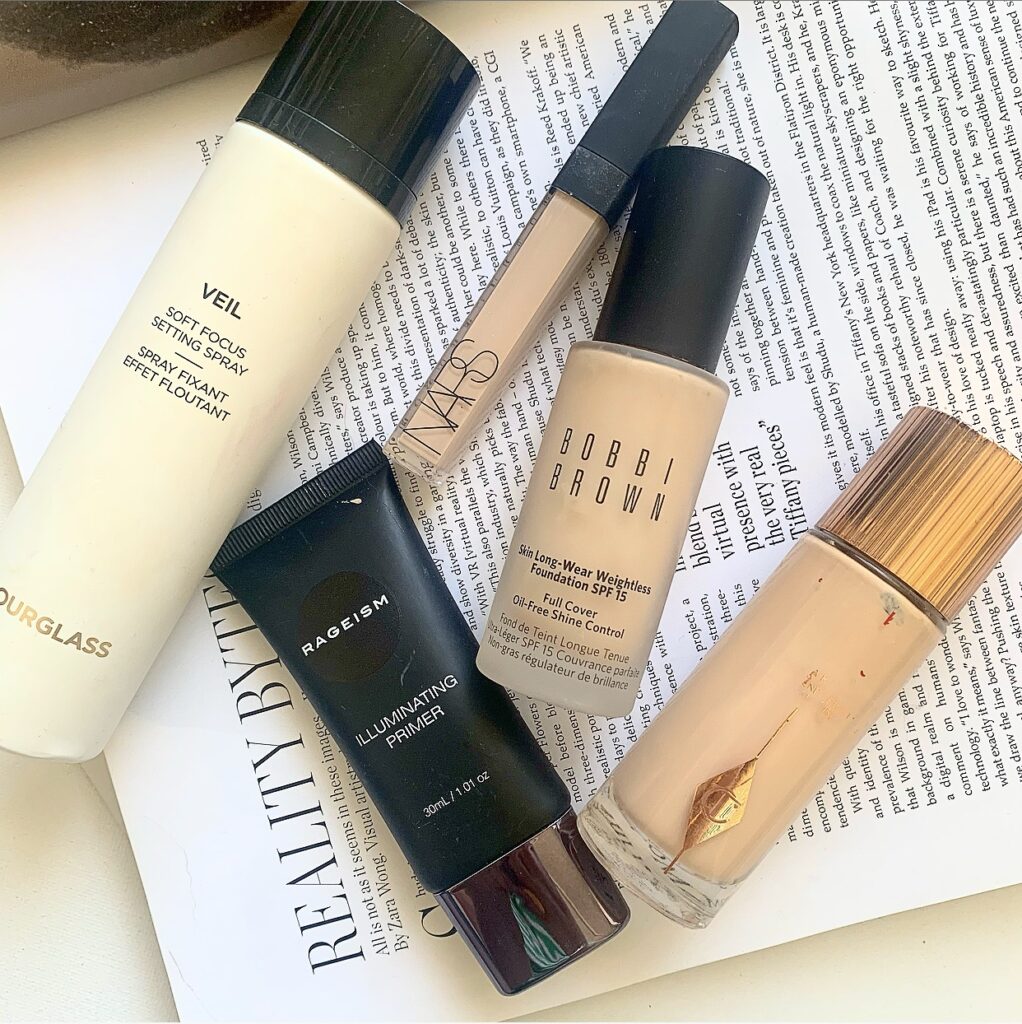 Starting with primer, I tried out the RAGEISM ILLUMINATING PRIMER – $65.00. I won this in a giveaway and it's actually really nice. It gives a good glow without looking glittery. For foundation, I went with the BOBBI BROWN SKIN LONG WEAR WEIGHTLESS FOUNDATION – $72.00. I reviewed this a little while ago on here and while it's not my favourite foundation, it worked surprisingly well with the primer.
When I did this last time, I went with what ended up being a fairly matte look. This time around, I was craving that glow, so I added a little bit of the CHARLOTTE TILBURY HOLLYWOOD FLAWLESS FILTER – $65.00. If you have been following me for a while, you already know that I adore this stuff. You can tell from my beat up bottle that it's well loved. For concealer, I used for the very first time the NARS RADIANT CREAMY CONCEALER – $48.00. I was saving it for when I used up my Shape Tape but now that I've tried it, I want to play with it a little more. After powdering (which I'll chat about in the Cheek section), I set my base down with the HOURGLASS VEIL SOFT FOCUS SETTING SPRAY – $77.00. Not gonna lie, I kinda hate how much I love this setting spray. The mist is super fine and it sets down everything beautifully.
BASE – $327.00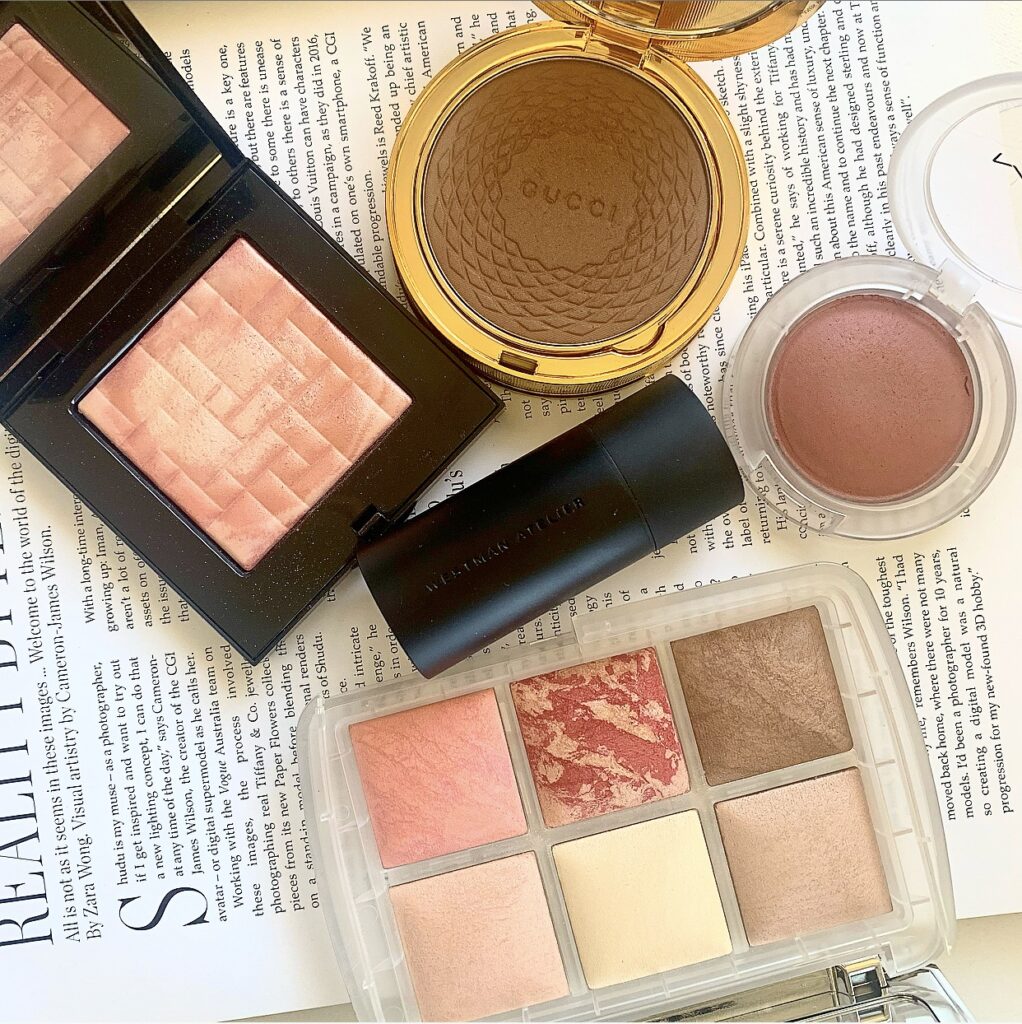 Getting into cheeks. I started with some light sculpting using the WESTMAN ATELIER FACE TRACE CONTOUR STICK – $77.00. Again, I apologise, but this is a game changer for me. It's just so easy to use and it blends like a dream. Speaking of blending like a dream, I'm also obsessed with the MAC GLOW PLAY BLUSH in BLUSH, PLEASE – $48.00. I used this on the apples of my cheeks and on the tip of my nose (I'm kinda into that look right now). I set down everything by mixing the two Ambient finishing powders from the HOURGLASS AMBIENT EDIT GHOST – $117.00. The palette was limited edition, but the shades I used (Diffused Light and Dim Light) are both permanent shades.
Once everyone was set down, I wanted to intensify my bronzer. So, I dipped into my GUCCI POUDRE DE BEAUTE ECLAT SOLELI BRONZER – $95.00. And let me tell you, it broke my heart to use it, but it is a nice bronzer. $95 is an insane price though. Don't be me. Finally, because I still wanted all of the glow, I used the BOBBI BROWN HIGHLIGHTING POWDER – $80.00 on my high points and on my nose.
CHEEKS – $417.00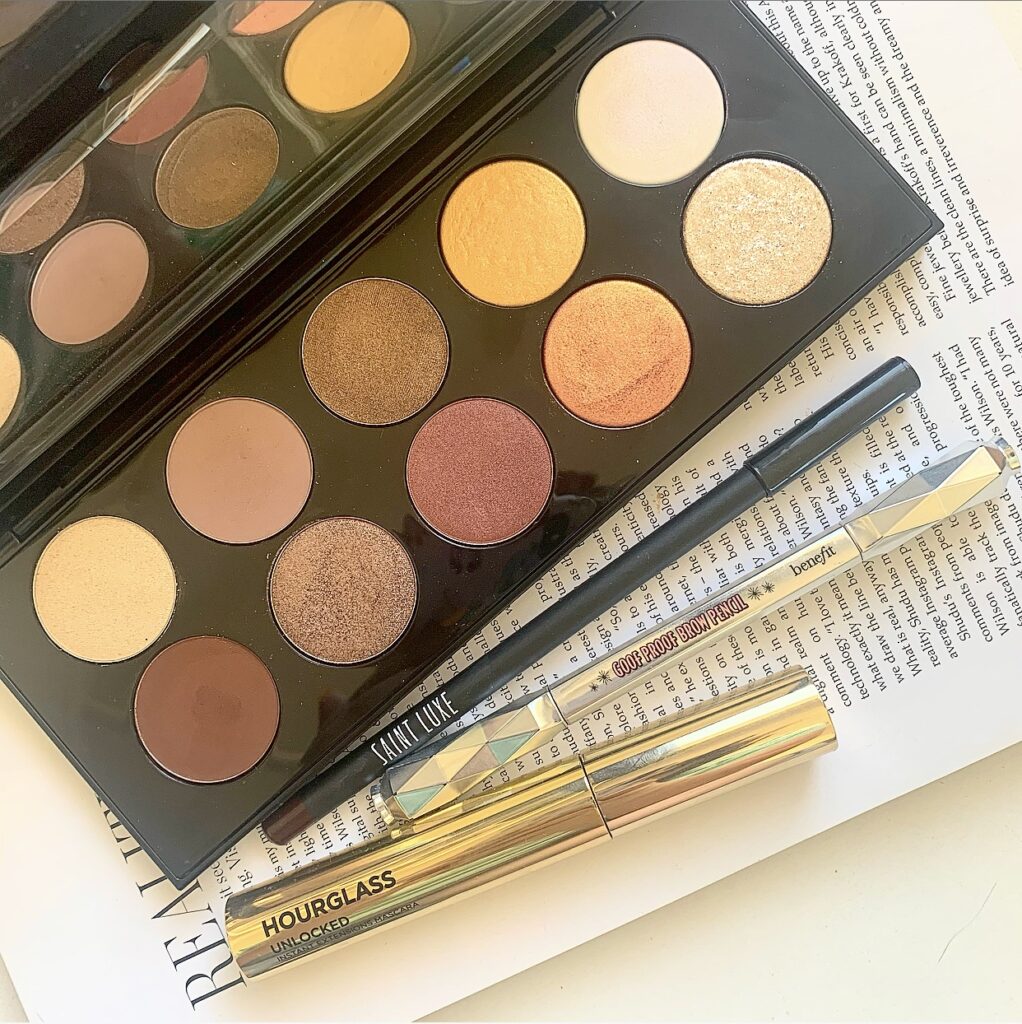 Now it's time for eyes. I quickly ran the BENEFIT GOOF PROOF BROWN PENCIL – $45.00 through my brows just to tidy them up. Then I broke out the big guns. The PAT MCGRATH LABS MOTHERSHIP VII DIVINE ROSE EYESHADOW PALETTE – $195.00. I know that you, dear reader, are death glaring me over that price. But the Pat McGrath shadows are the real deal. And if you see a palette you like on sale, do not hesitate! I used Velouria in the crease. I then mixed Love Lace and Iridescent Pink 003 on the lid. I mixed Iridescent Pink 003 and VR Rose Venus for the inner corner (the VR shades are worth the price alone TBH). And finally, I mixed Velouria and Xtreme Mahogany on my lower lashline. I loved the look I created and I can't wait to recreate it.
Because my look was on the smokey side I figured that I should pop a little eyeliner on. And I used the SAINT LUXE BEAUTY LUSH EYELINER – $40.00 (sold as a eye liner/lip liner duo). This was a lovely pencil that helped tie the look together. I then used the HOURGLASS UNLOCKED MASCARA $46.00 on my lashes. I reviewed this recently as well, so check out that review for my thoughts.
EYES – $326.00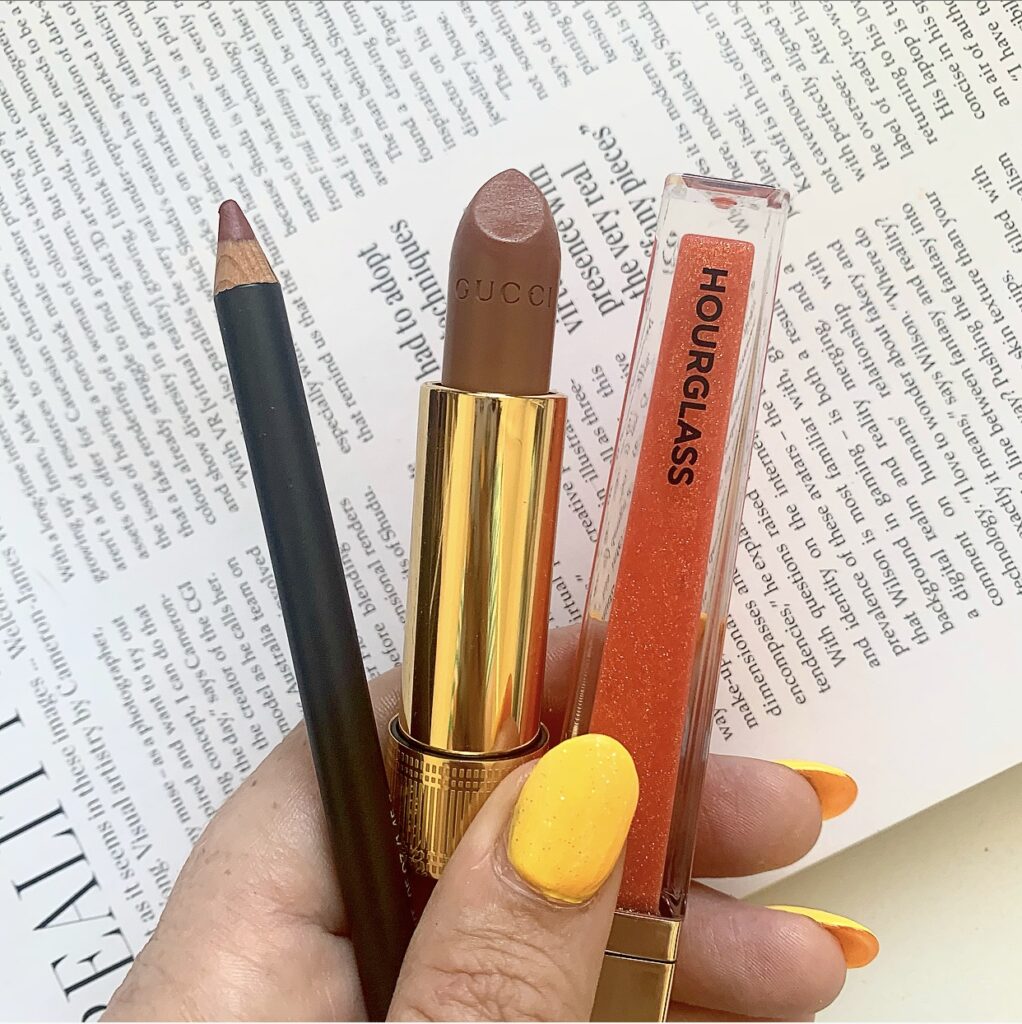 And of course, we end on lips. This also ended up being a combo that I enjoyed. I lined my lips with the MAC LIP PENCIL in CHICORY – $30.00. It's a lovely, warm peachy brown shade. For lipstick, I used the GUCCI ROUGE À LÈVRES SATIN in 104 PENNY BEIGE – $57.00. I want to play with this shade a little more, but it felt super creamy when applied to the lips. Also, the neutral tone help cool down the warm tones of my lip liner. And to end it all, I added a dab of the HOURGLASS UNREAL HIGH SHANE VOLUMISING LIP GLOSS in MECCA GLOW – $48.00. Now, this shade was limited edition, but it's still available online. These glosses are pricey, but so gorgeous and they last forever on the lips.
LIPS – $135.00
GRAND TOTAL – $1205.00 *pulls at shirt neck*
Well, I certainly went bigger than last time. And here is the end result!
Yeah, no picture was ever going to do those PMG shadows justice.
Like last time, if you do decide to take part in this challenge, let me know! I would love to see your results. And I'm kind of curious now to see if I can dupe any of the products I used with more affordable versions. Let me know if that's something you want to see.
Cheers and love
Emmie xo