And I'm back with another addition to my Spotlight On series. And this one might be my favourite one. Because I'm talking about a brand that I feel like is constantly underrated in the Aussie Beauty scene. And that brand is Ulta3!
Ulta3 has been one of my quiet faves for many years. But they have really been popping over the last few years with some great new product launches. And I thought it would be fun to talk about what I rate from them. So, let's dive on in!
*Em's Note* While I did buy the majority of these products with my own money, I am fortunate enough to get sent PR from Ulta3. Any products that were sent in PR will be marked with an asterix.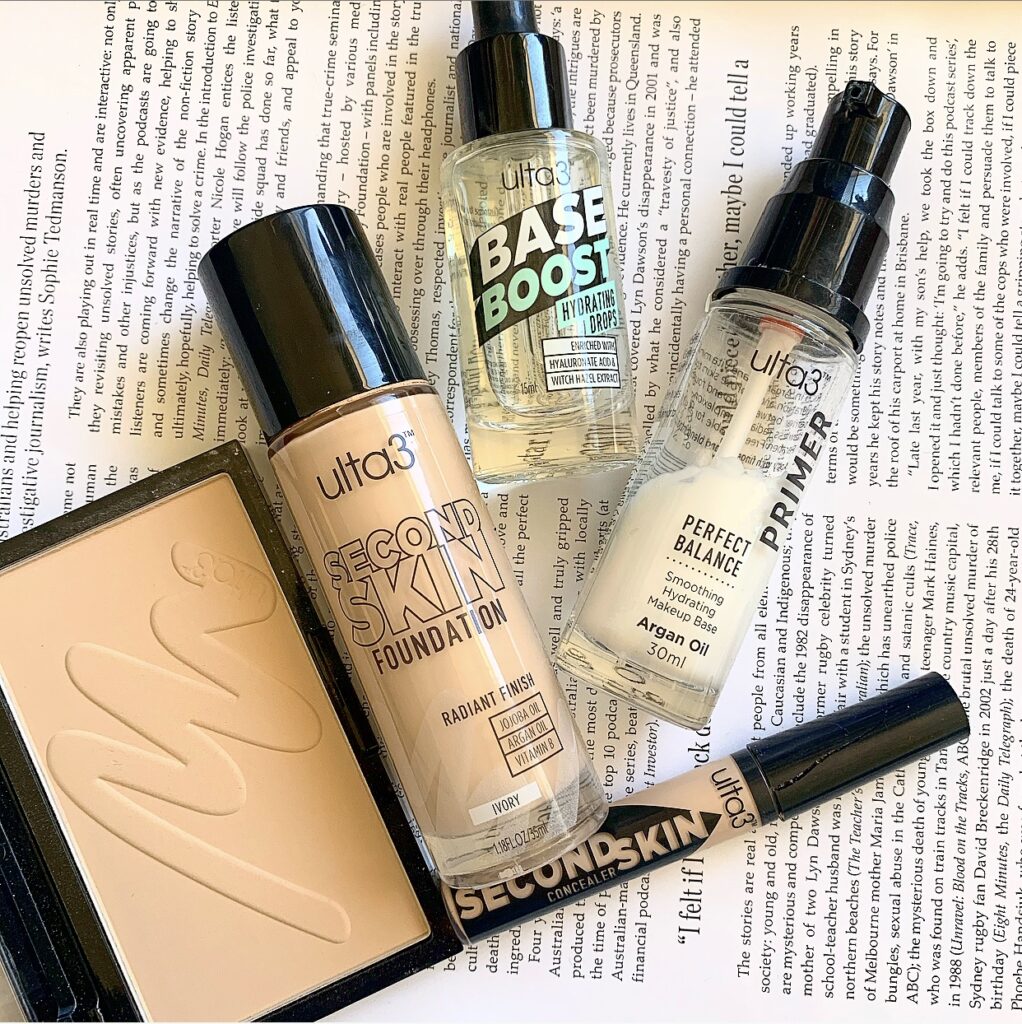 Starting with the base products, the ULTA3 PERFECT BALANCE PRIMER – $9.95 has been one of my favourite primers for a while (you can see how much I've used). It just smooths everything out without feeling heavy or silicone-y. I also love to add a few drops of the ULTA3 BASE BOOST HYDRATING DROPS – $10.95* to any primer or foundation that I happen to be using. Especially my more mattifying ones just to bring a little extra moisture to the party.
Speaking of the Base Boost Drops, they were a part of the Second Skin collection that Ulta3 launched a few months back. I've spoken about the ULTA3 SECOND SKIN FOUNDATION – $11.95* here before and I stand by that review. It's a great foundation for day to day wear. Shade range needs improvement. What I didn't mention in that review was the ULTA3 SECOND SKIN CONCEALER – $7.95*. It's so good! Medium coverage without drying my under eyes out. I've also been loving the ULTA3 SECOND SKIN PRESSED POWDER – $10.95* for when I want a little more coverage on my base.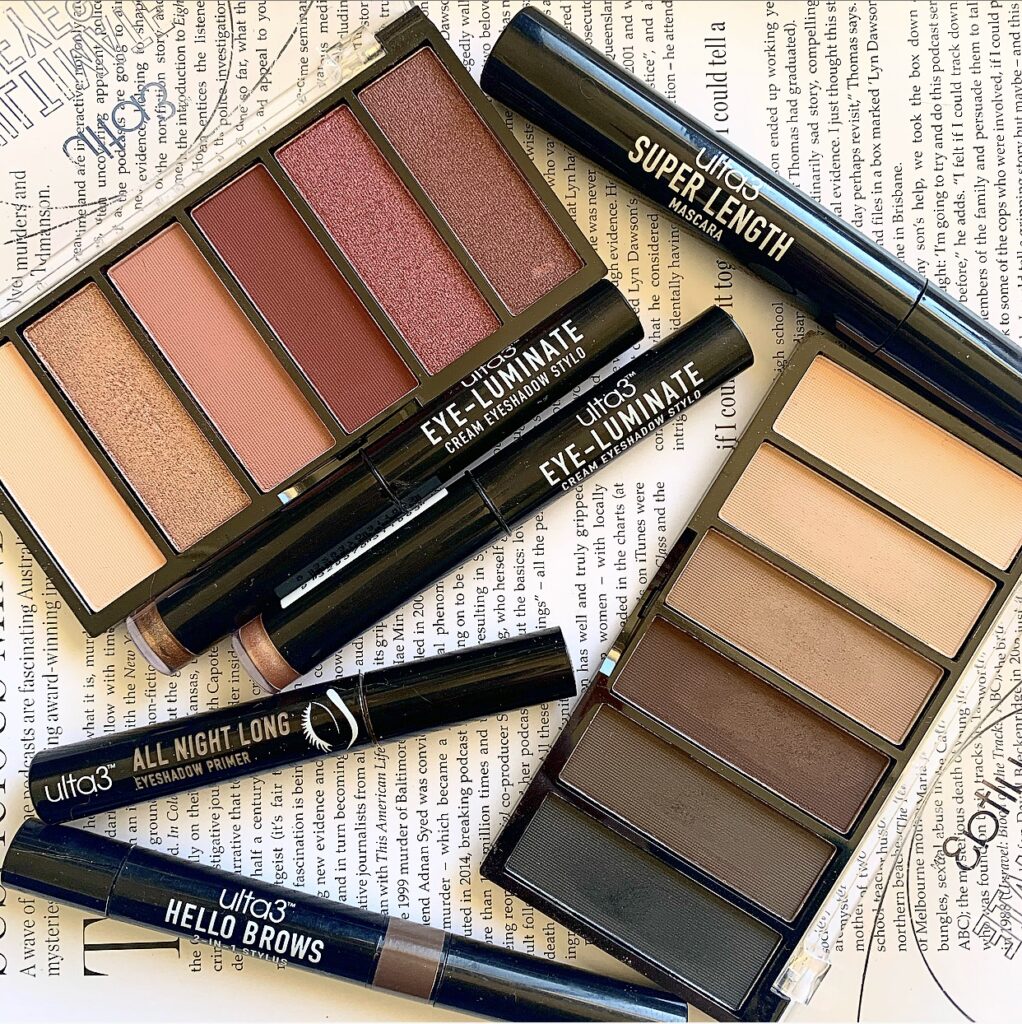 Now onto eyes. And one of my absolute favourites from Ulta3 are their eyeshadows. The ULTA3 ULTIMATE EYES EYESHADOW PALETTES – $10.95 are fantastic quality. The mattes are so blendible and the shimmers are so creamy and soft. I hope they bring out more of these one day! I also adore the ULTA3 EYE-LUMINATE CREAM EYESHADOW STICKS – discontinued for my lazy makeup days (please bring these back!). And for those moments when I want my shadows to last all day, I break out the ULTA3 ALL NIGHT LONG EYESHADOW PRIMER – $6.95*. It's comparable to the Urban Decay Primer Potion in it's quality.
For my lashes the ULTA3 SUPER LENGTH MASCARA – discontinued has been a go to of mine behind the scenes for the last few months. I believe it's been replaced by the Go To Great Lengths Mascara. Which I have, but haven't tried yet. Finally, the ULTA3 HELLO BROWS 2 in 1 EYEBROW STYLUS – $9.95 is so great for people who have bushier brows like me. The pencil is on the thicker side, which I do like. And the gel is so good!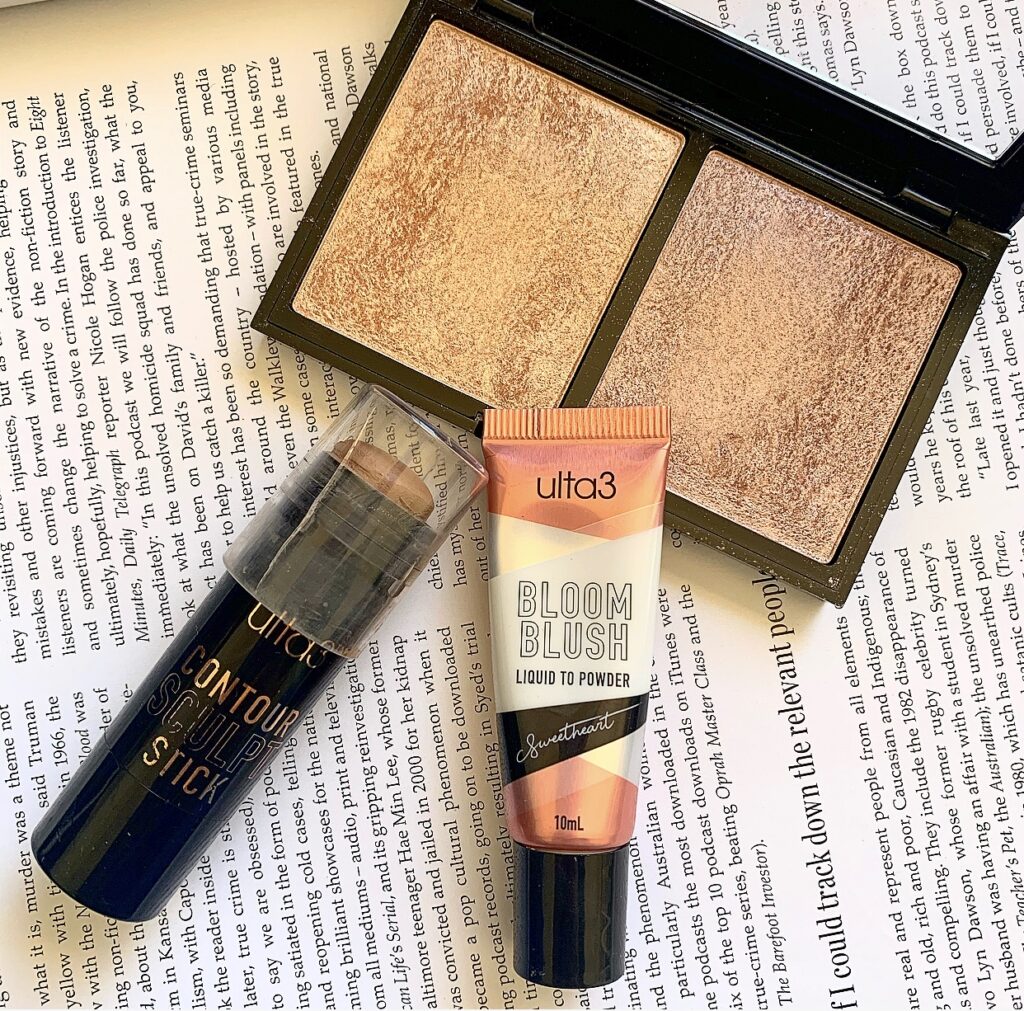 Moving into cheek products, and I feel like I should just skip over the ULTA3 SCULPT CONTOUR STICK – $9.95. Because let's face it, you all already know I love it to bits and this post is long enough already. What I haven't mentioned though is the ULTA3 BLOOM BLUSH – limited edition. This was the product that finally convinced me to give creams a go and I adore it. A little does go a very long way. And because you know I gotta have that glow, the ULTA3 DREAM DUO BAKED HIGHLIGHTER – $10.95 is everything! I do have a fondness for the more champagne side. But for my more bronzey days, I love mixing both shades for an intense, summertime glow.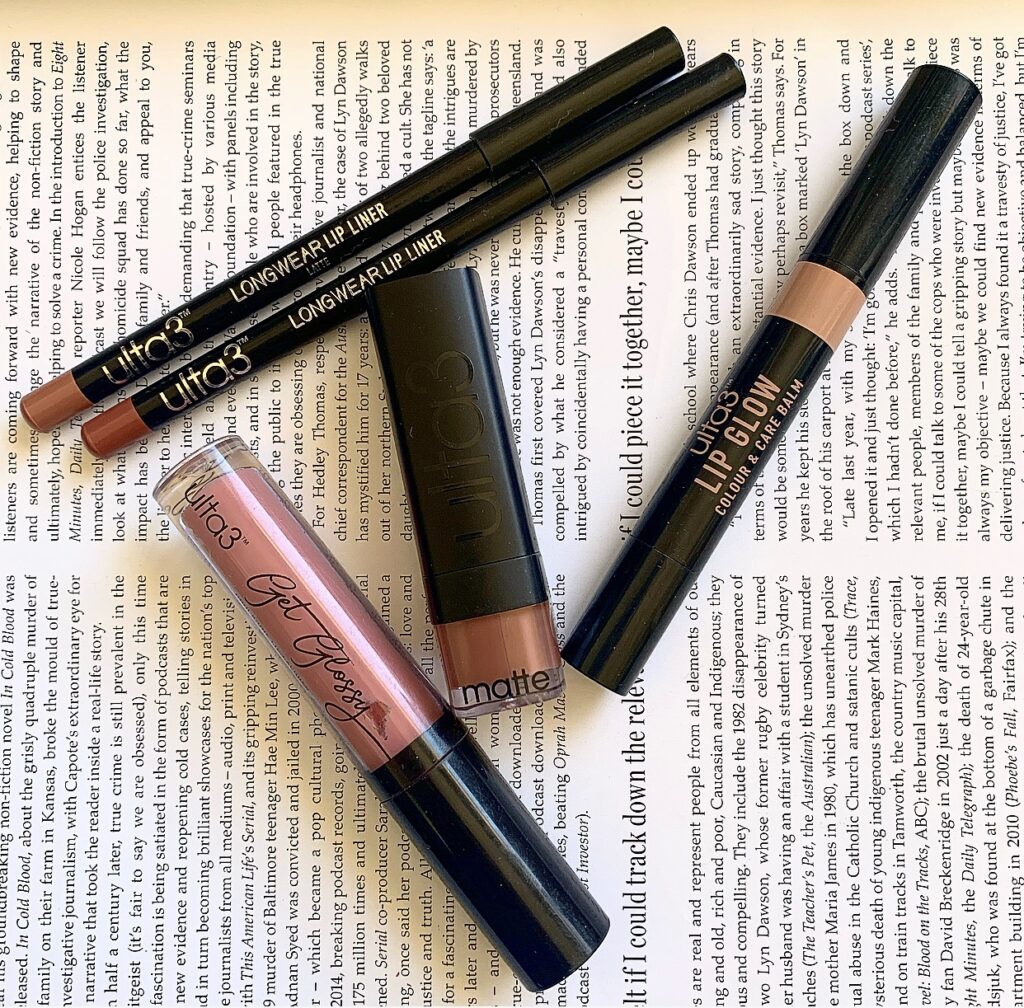 If we have to talk about a quintessential Ulta3 product, it has to be their lip products. The ULTA3 MATTE LIPSTICKS – $4.95 were what introduced me to the brand in the first place! So pigmented, so creamy and excellent shade range to boot! They are in my top two favourite products from Ulta3. But they also have a ton of other great lip products. The ULTA3 LONGWEAR LIP LINER – $4.95 are probably my favourite wooden lip liners on the market. The ULTA3 GET GLOSSY LIP LACQUER – $7.95 are great to add a little glossiness to your lips and the ULTA3 LIP GLOW BALM – $7.95 basically lives in my handbag (seriously, I had to grab it out of my bag for this shot).
Wow, this post ended up being longer than I thought. I do seriously love Ulta3 and if you spot them at your local pharmacy, definitely check them out. Have you tried anything from Ulta3? Let me know in the comments below.
Cheers and love
Emmie xo